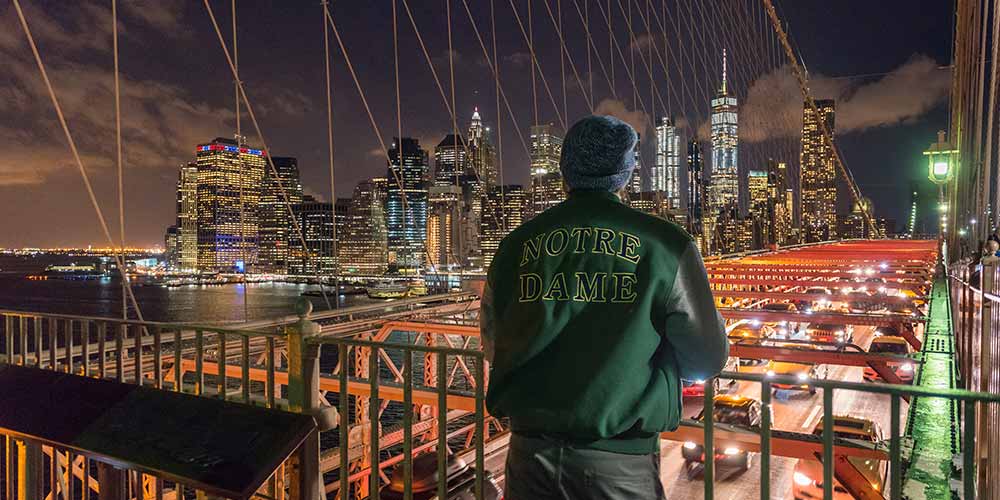 Brooklyn Bridge
If you're going to spend 14 hours on a bus, Katz's Delicatessen is a quintessential introduction to the city.
Katz's credits its success to a strong sense of community. With transportation lacking around the Lower East Side in the early 20th century, residents – including newly immigrated families – created a community for themselves.
Transportation remains at the center of culture and community, and just a short bus ride from the deli, Lady Liberty stands tall, the city lights bouncing off the East River, casting a glow against the skyline as it stretches into the night.
There are plenty of breathtaking views in this city but this one — standing atop the Brooklyn Bridge, a 3,640-foot stretch of granite, steel and cable wire — might be the most iconic.
"Standing on the Brooklyn Bridge, built in the 19th century and still serving the people of New York today, was awe-inspiring," – Adam Kuczynski
"Walking across the bridge, you're not intimidated by traffic," says Westerink. "You're not aware of it. You're floating above it. It's buzzing underneath you and you're out there with this majestic set of cables and these towers looking at all the water and that city around you and there's this massive explosion of towers like none other in the world."
Cables weave across the bridge, anchored on both sides, as stringers hold and hang the deck where students stand and take it in. "There was something about seeing New York City for the first time from far out of the city, [and] observing the vast differences in building size, shape, design and location," says CJ Klein.
Construction began in 1869 and lasted 14 years. The project was plagued by challenges, including the death of chief engineer John A. Roebling shortly after work began. His son Washington Roebling fell ill shortly after taking over. He insisted on leading construction from his bed, and his wife, Emily Roebling, was instrumental, acting as a liaison between her husband and workers down at the site.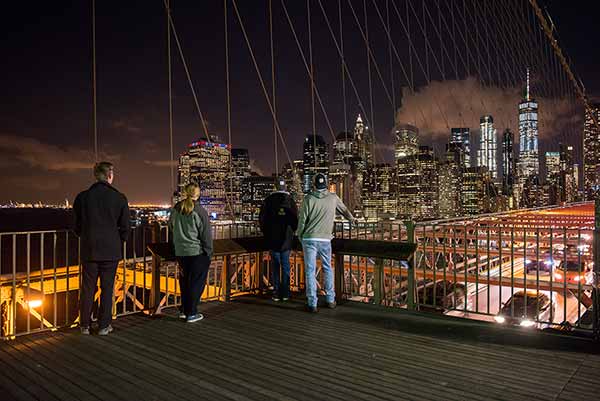 The bridge marked the first use of caisson technology, inverted cylindrical tubes sunk into the ground, which allowed workers to build underwater. "The cabling technology for such a long span was totally different. It was groundbreaking," says Westerink. "They were reinventing the concept of a suspension bridge. We try to get students to think about the technological changes and then, of course, the iconic nature of this bridge that's been around for more than 125 years."
When it opened to the public in May of 1883, 150,000 people and 1,800 vehicles crossed the Brooklyn Bridge. Today, according to the city's Department of Transportation, more than 120,000 vehicles, 4,000 pedestrians and 2,600 cyclists take in a very different view each day. "Students love getting that view of the city," Westerink added. "You very much realize why New York is there."