King Fok, class of '18, was 6 years old when his family moved from Hong Kong to Oregon, leaving behind everything they knew, from family and friends to middle-class jobs. Chasing the classic immigrant dream, his parents made these sacrifices because they hoped to give their three children better opportunities, especially in education.
Just two years later, Fok pointed to his hip bone and told his parents in Cantonese that he was in serious pain. He was diagnosed with Perthes disease, a rare childhood condition that interrupts blood flow to the rounded ball at the top of the femur bone and causes degeneration in the hips.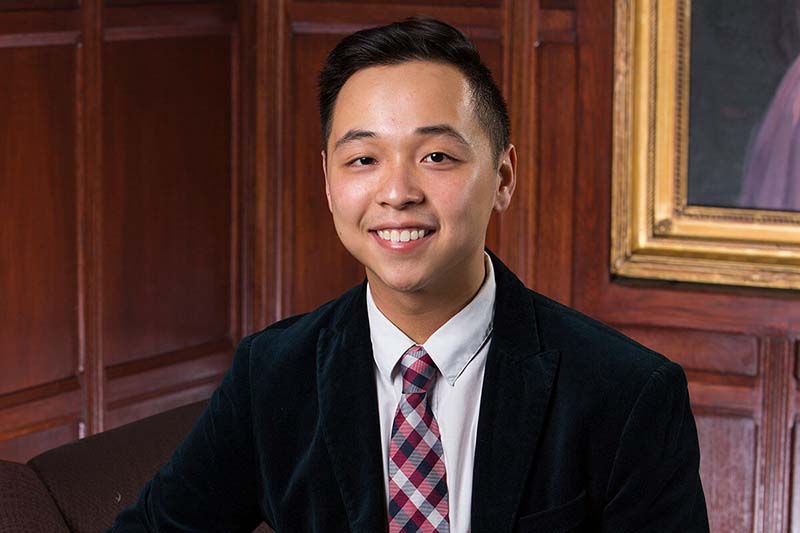 He had to withdraw from sports and recess, and soon found himself on crutches and later in a wheelchair. His parents' jobs here did not offer adequate health insurance, so they could not afford the necessary orthopedic treatment to minimize the damage.
The family spent all their savings and eventually got him into a hospital research study. Fok's young eyes were opened to how socioeconomics can impact health.
"I wouldn't be able to walk now if they didn't decide to pursue treatment despite all odds," he said during a conversation in July.
"It's definitely been one of the main influences in my life — my decision to go into medicine, I think, just who I am in general, and what I want to do in my life. I had to grow up a lot. From the outside looking in, a lot of people felt I got dealt a really bad hand, that it was a curse or something. But in retrospect, I really think it was a blessing because it taught me how to stand on my own two feet, to kind of embrace adversity."
That bounce-back grit combined with a boundless curiosity about people and cultures has defined King Fok's approach — from his unlikely acceptance to Notre Dame to his world travels for volunteer work and research to his care of COVID-19 patients while still a student at Harvard Medical School. He humbly credits the financial aid he received along the way as the key that unlocked so many opportunities and aims to pay that generosity back by providing health care to people regardless of their economic means.
Fok's parents had manager jobs in a booming Hong Kong economy. But, he said, they not only foresaw political chaos when China took control, they also felt that the intense education system differentiated student outcomes too early. They decided to move to Portland, Oregon, with Fok and his two older sisters, but it was a struggle from the start.
"The more I started to learn about Notre Dame — the mission of nurturing the mind, body and soul — that was everything I was looking for in a college education."
"A lot of those skills and those networks don't transfer over," Fok said. "They were in and out of jobs. Financially they struggled a lot. They never showed that when I was young, that they were reconciling in a foreign place. It wasn't until I was older that I realized they did all that for us."
Fok said his oldest sister became the primary caregiver while his parents worked long hours. A quick learner now fluent in four languages, he became the primary translator. His older sisters both went to the University of Oregon, and Fok figured he would too.
But a chance meeting with his oldest sister's friend led him to learn about the Evans Scholarship for golf caddies. He jumped in enthusiastically and made some money carrying golfers' clubs around the course, and he researched different schools that had Evans scholars.
"The more I started to learn about Notre Dame — the mission of nurturing the mind, body and soul — that was everything I was looking for in a college education," he said.
But Fok was put on the waitlist rather than admitted, so he nearly canceled a planned trip to South Bend. His mother persuaded him to go anyway, and he met with Don Bishop, associate vice president for undergraduate enrollment. Fok said he fell in love with the campus after walking through the Main Building to the Grotto and taking a tour with two students who were Evans scholars.
Just as he was starting to regret getting his hopes up, Bishop called and asked him to return. He'd met with the admissions committee and they decided to give Fok a spot. What did he say to impress Bishop and the committee so much they changed their minds?
"I think they just liked my mom," he said with a laugh. "It was the biggest news ever."
In high school, Fok said, he was interested in everything, from languages to the arts and sciences. He arrived at Notre Dame planning to major in Spanish and science pre-professional studies.
"The bottom line is that financial aid was crucial to my time here."
"Then I took my first sociology class and thought, 'I really like this,'" he said. "It's about connecting people, about how things come to be the way they are, about culture, about society. I realized that some of the goals and ambitions I want to do to make things sustainable, I needed to learn a way to look at things from a systemic perspective. It taught me so much about how to engage with other people, especially now when I'm seeing patients."
He discovered a second love in international development studies (IDS), where he said he was drawn in by the culture of people passionate about changing the world. It fit his background, as well as his available options.
While many of his friends and roommates were able to fly home for fall, spring and summer breaks, that option was financially difficult for Fok. So he found a series of programs, paid through the school, that would take him around the world.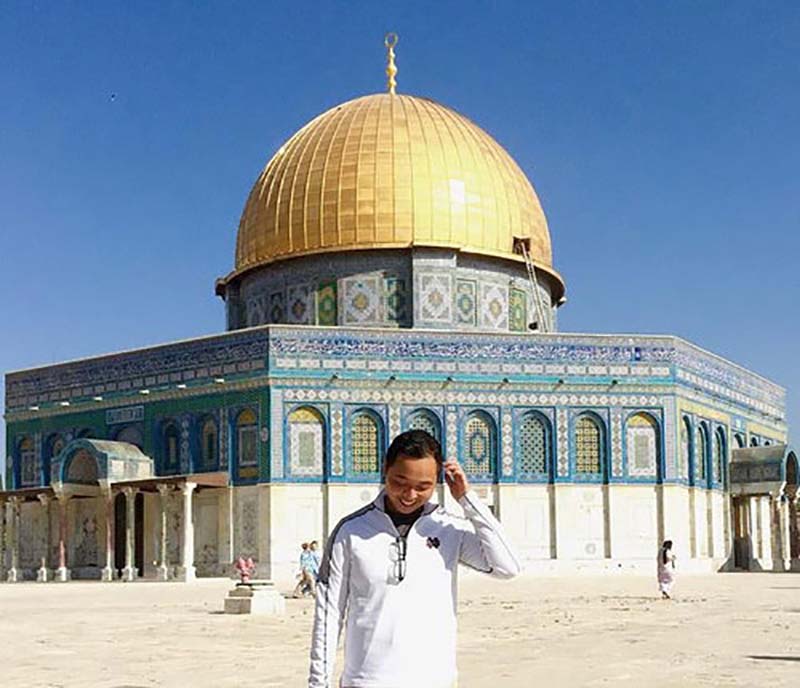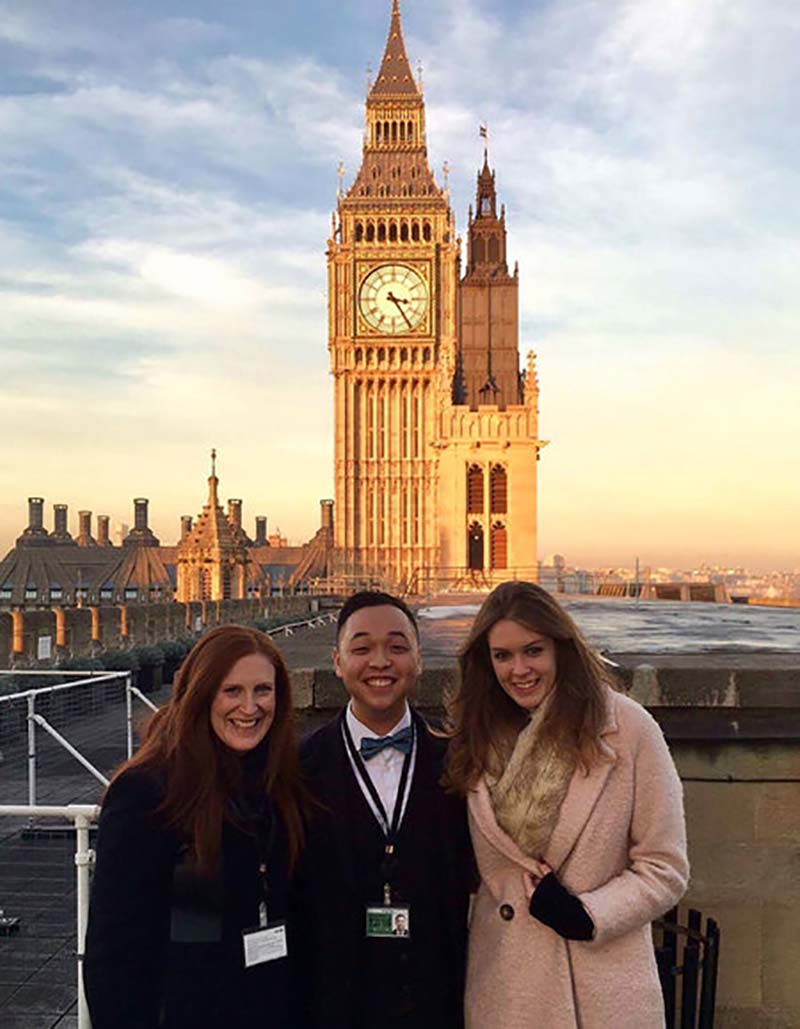 "I did miss home sometimes, but in the end it really worked out and I probably wouldn't be at Harvard if it wasn't for the opportunities to do those things over breaks," he said. "The bottom line is that financial aid was crucial to my time here."
He studied abroad in Jerusalem the summer after his first year, traveled to Mexico with Campus Ministry over fall break his sophomore year, and did service in Nicaragua with Global Medical Brigades during spring break of his sophomore year. The following summer, he spent time in Peru volunteering and translating for doctors in health clinics and hospitals. As a junior, he studied for a semester in London, where he worked with a member of Parliament and minister for schools at the United Kingdom House of Commons. Other seminars brought him to Washington, D.C., and Atlanta to discuss health care and access.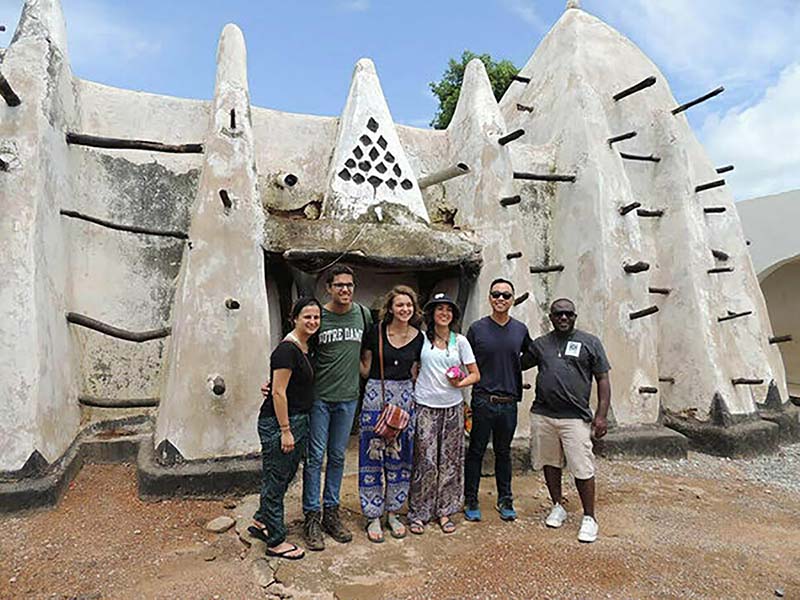 But Fok's most significant undergraduate experience was probably his two summer research trips to Ghana. His capstone project for his IDS minor was a study of the social and structural barriers to health care for amputees in Ghana, and his senior thesis examined how these barriers influence patients' decision whether to pursue treatment. He had done some biology work in the Harper Cancer Research Center early on and realized that he preferred field work to lab work.
"I like interviewing people, talking to people, getting to know them, about their story and making sense of how we're all connected," Fok said. "I left Ghana that first summer with more questions and I had to go back and conduct more work understanding different influences on their ability to express what they want. It reminded me of myself in some ways because there were barriers to being able to access orthopedic care."
After graduating from Notre Dame in 2018, Fok volunteered at an orphanage in South Africa called Open Arms, which he learned about through the Center for Social Concerns. He then earned a master's degree in global health and policy at Queen Mary University of London the following fall.
"My experience in South Africa confirmed for me that I needed to do the master's program," he said. "The township there was devastated by the AIDS epidemic and suffered a lot of repercussions from apartheid legislation. That made me understand there are systems involved that are bigger than what I'm able to provide as one person. There needs to be some systemic change."
His classmates in London were from all walks of life and countries across the world. Combined with his travels, he said learning from his peers was the best education. "It helps me imagine a health system that works for everyone, especially for us in the U.S.," he said.
"I'm learning a lot every day. I don't know what specialty but I know I want to work with different people from all ages and cultures and learn from their stories."
At Harvard, Fok said spent most of his first year in the classroom before the pandemic. Like many medical students, he began volunteering at a hospital. First, it was small things like translating for people who spoke Cantonese or Mandarin and checking on their access to food and housing. He also helped assemble protective equipment and COVID-19 curriculum used to educate other health care workers.
By his second year, he was more hands-on as he began hospital department rotations: psychiatry, neurology, radiology, pediatrics, obstetrics, internal medicine and surgery. He found something to like in each rotation and still hasn't decided where to specialize. "I just have a lot of interests and need to take some time to figure it out," he said as he enters his third year in medical school.
Working with COVID patients in the hospital taught him the limits of making plans. It was a complete change in direction for his medical school experience. "So much changes all the time, so it's hard to really expect anything," he said.
Fok said his twisted path so far has taught him to trust he'll find his way even if he's not sure of his exact destination. He's a long way from the kid who moved across the world to start fresh, or the one who struggled to walk or find orthopedic care. All he needs now are the broad outlines: hands-on field work, disaster medicine and humanitarian relief, and eventually working on international policy.
"I'm learning a lot every day," he said. "I don't know what specialty but I know I want to work with different people from all ages and cultures and learn from their stories."