From humble beginnings, Notre Dame stands today among the leading research universities in the nation and the pre-eminent Catholic university in the world. It has risen to that point due, in large part, to the generosity of donors, the expert management of those gifts through the endowment, and the revenue the endowment has produced through a slow and steady investment strategy guided by principles grounded in Catholic social teaching.
Investments that Matter
The ultimate value of the endowment is the difference it makes in the affordability, accessibility, and excellence of a Notre Dame education. The largest portion of the endowment payout each year goes to financial aid, while the endowment also provides vital support for a number of faculty positions and research centers and institutes that are engaged in solving humanity's most pressing challenges.
Affordability
Notre Dame meets the full demonstrated financial need of each student, thanks to the generosity of people like Frank Belatti, who established a fund that has made a Notre Dame education more attainable for many young scholars.
Accessibility
The University's endowment-fueled financial aid makes it more possible for first-generation students to have access to a Notre Dame education.
Excellence
The endowment provides funding for world-class faculty, but also for library holdings, ongoing and new research programs, institutes and centers devoted to pressing issues of the day. One such unit is the Wilson-Sheehan Lab for Economic Opportunity, which studies the most effective means for lifting people out of poverty.
How the Endowment Works
1

Alumni and friends of the University make contributions that are invested in perpetuity by the Investment Office team.

2

These contributions are placed into unique funds which are typically directed toward the support of a specific purpose of the donor's choosing. The University's endowment is actually a collection of over 7,400 individual funds, most of which carry such donor restrictions.

3

As a result, the great majority of endowment funds cannot be redirected by the University to other needs that may arise.

4

Notre Dame's endowment funds are invested in a highly diversified, multi-asset class investment portfolio weighted toward long-term growth. A portion of the returns generated are made available each year for spending in the form of "endowment payout."

5

Notre Dame aims to balance the needs of current students and programs with that of future generations. The University targets a level of endowment payout to keep pace with current asset growth and rising costs, while retaining sufficient investment levels to buffer against market volatility and protect future purchasing power from inflation.

6

Endowment payout supports a wide range of programs, but financial aid receives the largest share. During the 2021-22 academic year, endowment payout provided more than $145 million in need-based financial aid to undergraduate students.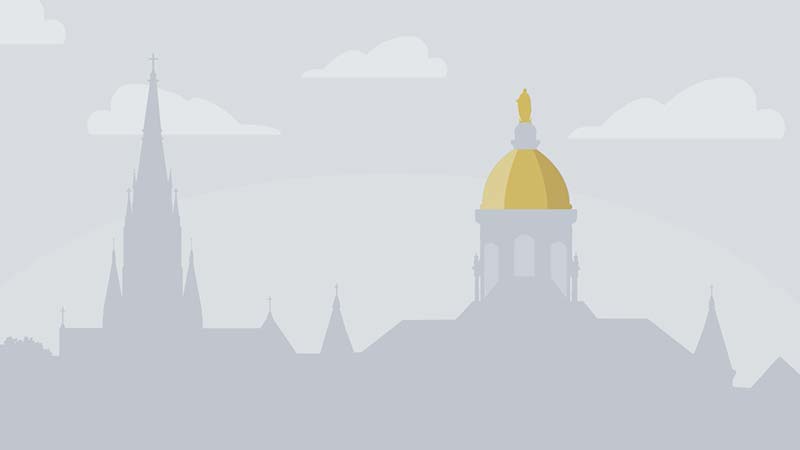 How the Endowment is Used
Note: Endowment payout for operating purposes, fiscal 2022
Financial Aid Growth
Notre Dame meets the full demonstrated financial need of each undergraduate student.