As a junior in high school, Jessica Pedroza had never heard of the University of Notre Dame. The thought of attending a private university in a Midwestern city wasn't even on her radar as she grew up some 1,800 miles away in the Phoenix area.
As the daughter of Mexican immigrants, she would be a first-generation college student. But actually getting into and going to college seemed like an almost impossible task. She spent hours on her own reading and researching, trying to understand the Free Application for Federal Student Aid (FAFSA) and the college application process, praying not to make a mistake. Every step in the process was a puzzling challenge.
"It was so beautiful. I could picture myself on campus."
With the help of several local and national programs and her Xavier College Preparatory High School counselor, she began to dream big. After hearing Notre Dame and Xavier alumna Haley Scott DeMaria speak at her high school, Jessica decided to learn more about the Catholic university with the Golden Dome. On a spring visit to campus, she fell in love with Notre Dame.
"Everyone was so welcoming and nice," she said. "It was so beautiful. I could picture myself on campus." And while Jessica would become a first generation college student in her family, her list of firsts didn't stop there.
Jessica was offered a spot as a member of the inaugural cohort of the newly endowed AnBryce Scholars Initiative at the University of Notre Dame and she received an AnBryce Scholarship, completing her college application puzzle and helping make her dreams come true.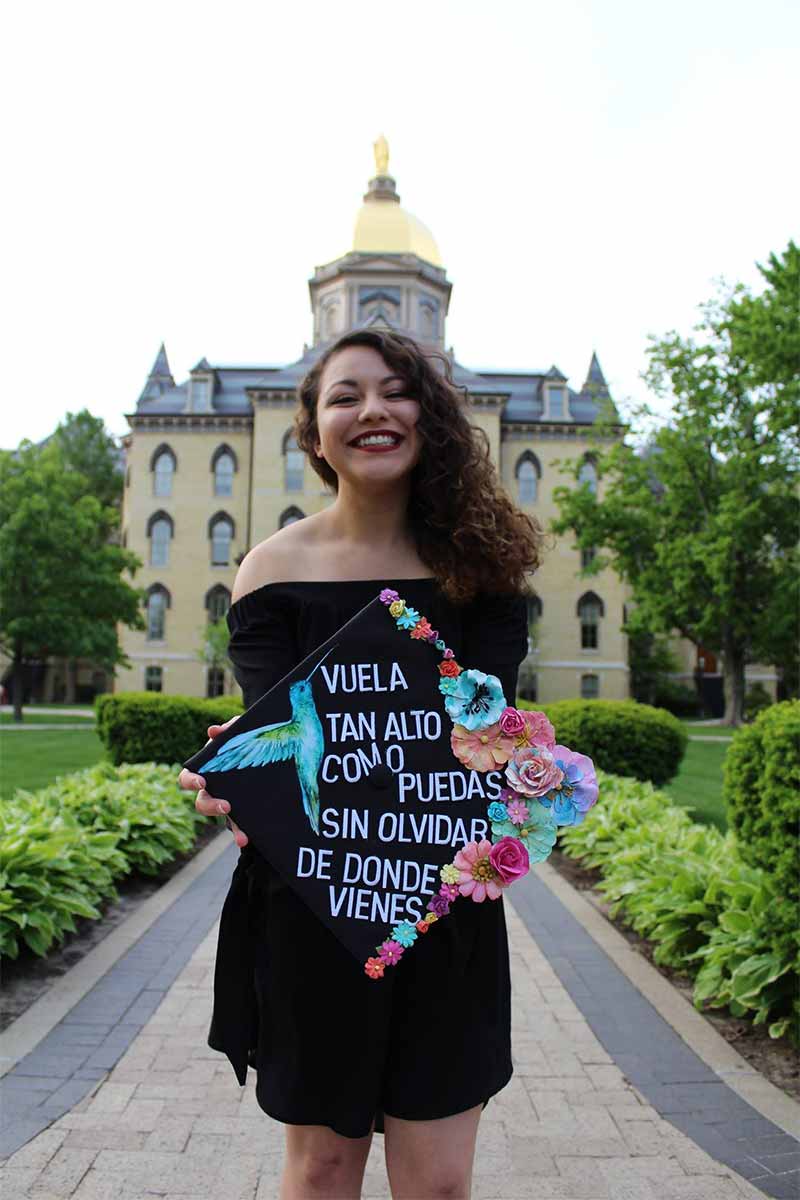 The AnBryce Scholars Initiative, a cohort model program, provides intensive, individual advising and mentoring to scaffold and support students' academic trajectories. As an AnBryce Scholarship recipient, Jessica received funding to cover the published cost of attendance, including tuition and fees, room and board, as well as the estimated cost of books, transportation and personal expenses. In keeping with the program's mission to fully support students with leadership capacities, a high degree of academic promise and demonstrated financial need, funding is also provided for supplemental programmatic experiences including a global immersion trip, a dedicated writing and rhetoric section, connections to the AnBryce Foundation, networking trips and experiences, access to a personal and professional development series, and financial help above and beyond college expenses, including health insurance.
With the start of the 2021-22 academic year the program is welcoming its ninth cohort of students. Thanks to the initial benefactions and strong returns from the University's endowment, the AnBryce Scholars Initiative has provided a Notre Dame education with wraparound services to more than 60 students.
"I moved to Notre Dame alone and didn't have the means or the transportation to go to stores to buy the things I needed," Jessica said. "Coming from Arizona, I didn't have a winter coat or snow boots for my first winter in South Bend. There was no one to help me plan for what I might face. I didn't want to burden my parents with expenses that quickly added up, like equipping my dorm with necessities, books, winter clothing, technology, etc. Luckily, my scholarships covered most things so I didn't have to reach out to my parents."
But the financial burden alone was not all that weighed on Jessica.
"As the first in my family to attend college, it was a culture shock for me to navigate ND coming from a lower-income family than many students at ND and also being Latina," she said.
"1stG-ND is my biggest pride and joy from my Notre Dame experience. I wanted students like me to find others who understood their situation and help them see that they aren't alone.
Jessica and a classmate saw the need to build a network for their first-generation peers where students of similar backgrounds could come together to help and support one another. During their sophomore year, they started 1stG-ND, a student organization for first-generation college students. Starting a student organization that endures at Notre Dame is no small feat. They spent countless hours working through the process to become a recognized club on campus, including developing a constitution, defining the mission of the group and recruiting a board before they could even get approval to be up and running. Today the club boasts of significant member numbers and an important presence on our campus in conversations around equity, educational access and student success.
"1stG-ND is my biggest pride and joy from my Notre Dame experience," Jessica said. "I wanted students like me to find others who understood their situation and help them see that they aren't alone.
"Many of us felt isolated and different from the first day on campus. 1stG-ND was a way to form a community within the campus community. We could help each other. We shared our challenges and stories, but more importantly, we could share resources and advice. I wanted us to see that we don't always have to frame the conversation with a deficit mindset; we could empower each other and realize we're an asset to Notre Dame and that we have unique skills, experiences and perspectives that we bring to the table."
Now five years after its founding, 1stG-ND continues to thrive on campus. Jessica still speaks at campus events, continuing to inspire and encourage today's students who remind her of herself.
"Scholarships gave me the opportunity to graduate without the burden of debt," Jessica said. "It was a blessing. I could focus on my studies and the other things that were important to me like 1stG-ND. With this freedom, I also had a choice in my career. I didn't have to take just any job to be able to pay off debt."
Her passion for equity and support still rings true today. After graduating with a political science degree in 2017, she went on to teach elementary school for three years before accepting a fellowship with the Congressional Hispanic Caucus Institute, where she received leadership development and public policy training centered on promoting community and Hispanic culture, social responsibility, civic engagement and self-empowerment. Her work focused specifically on education policy both at UnidosUS and as a legislative fellow. Now as a legislative assistant in the office of U.S. Rep. Ruben Gallego, she serves as the primary liaison on issues such as education, health care, gun violence and broadband internet access.
"At Notre Dame, I explored and solidified my passion for education," she said. "And while I loved teaching, I found that I could expand my reach by working on effective education policy outside of the classroom. Throughout my career, I want to work to break down the many barriers that students face in education today, from funding to gun violence. Informed by my personal and professional experiences, I want to advocate for equity for all."