Campus
Found in Translation
In 50 years of overlooked letters, French class discovers new insights into Father Sorin and the early days of Notre Dame
October 12, 2022
Editor's note: In honor of the 180th anniversary of the University's founding in 1842, we are re-publishing this story that gives insight into the mind of Notre Dame's founder, Rev. Edward Sorin, C.S.C.
"Je vous le dirai franchement et sans détour Monsieur Martin, plus j'y réfléchis, et plus je reste convaincu que le Ciel a des dessins d'amour et de miséricorde sur cette oeuvre que sera dite désormais de Notre Dame du Lac."
Stories of founder Rev. Edward Sorin, C.S.C., are legend at the University of Notre Dame.
From the moment he arrived in the wilds of northern Indiana in November 1842, Father Sorin had a clear vision for founding a Catholic university that "could not fail to succeed" — one that would become a powerful force for good in the world.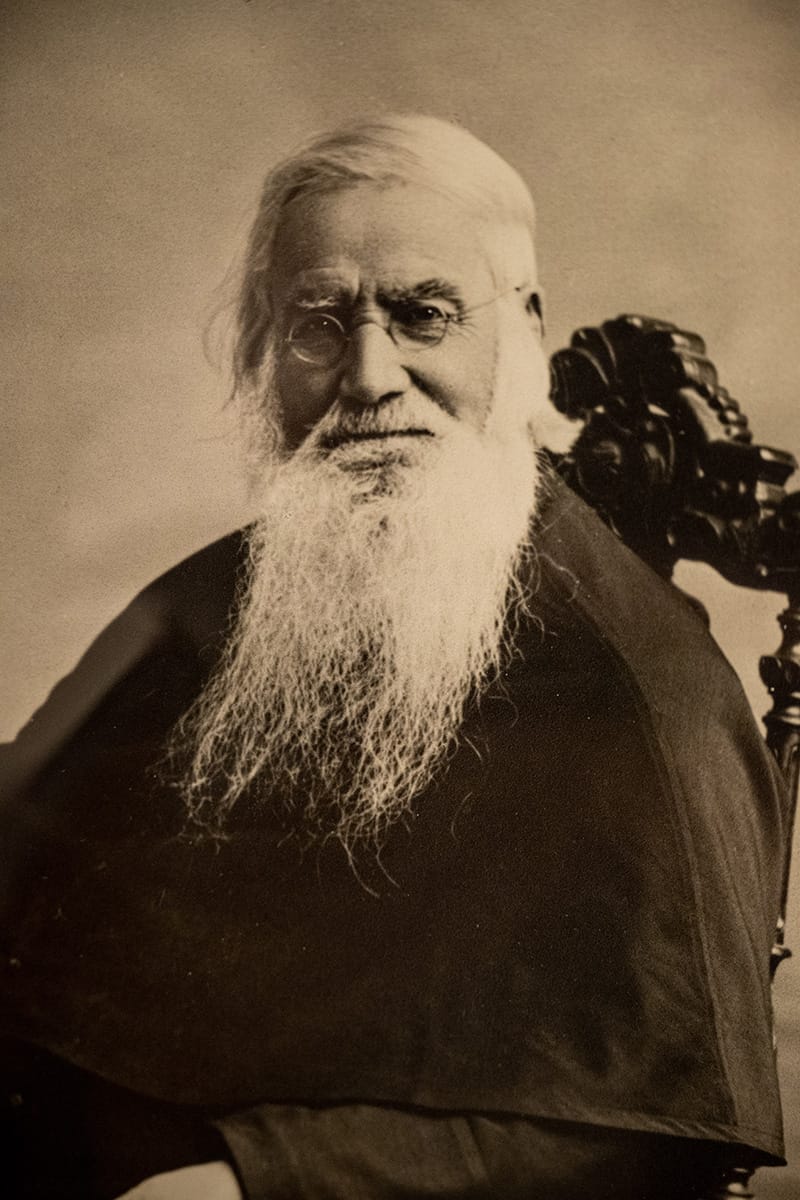 Nearly 180 years later, the University continues to build upon the strong foundation he laid, staying faithful to that vision as it has become a preeminent research institution with a tremendous global reach and unwavering Catholic character.
But now, thanks to a trove of never-before-translated letters and a class taught by Rev. Gregory Haake, C.S.C., an associate professor of French, Notre Dame students are getting the chance to learn more about the young French priest defined by his unshakeable faith and determination — through his own words — and to share what they are uncovering with the world.
"I say this frankly and directly, Mr. Martin: the more I reflect on it, the more I am convinced that Heaven has designs of love and mercy for the work at Notre Dame du Lac."
— Father Edward Frederick Sorin de la Gaulterie, C.S.C., Jan. 5, 1843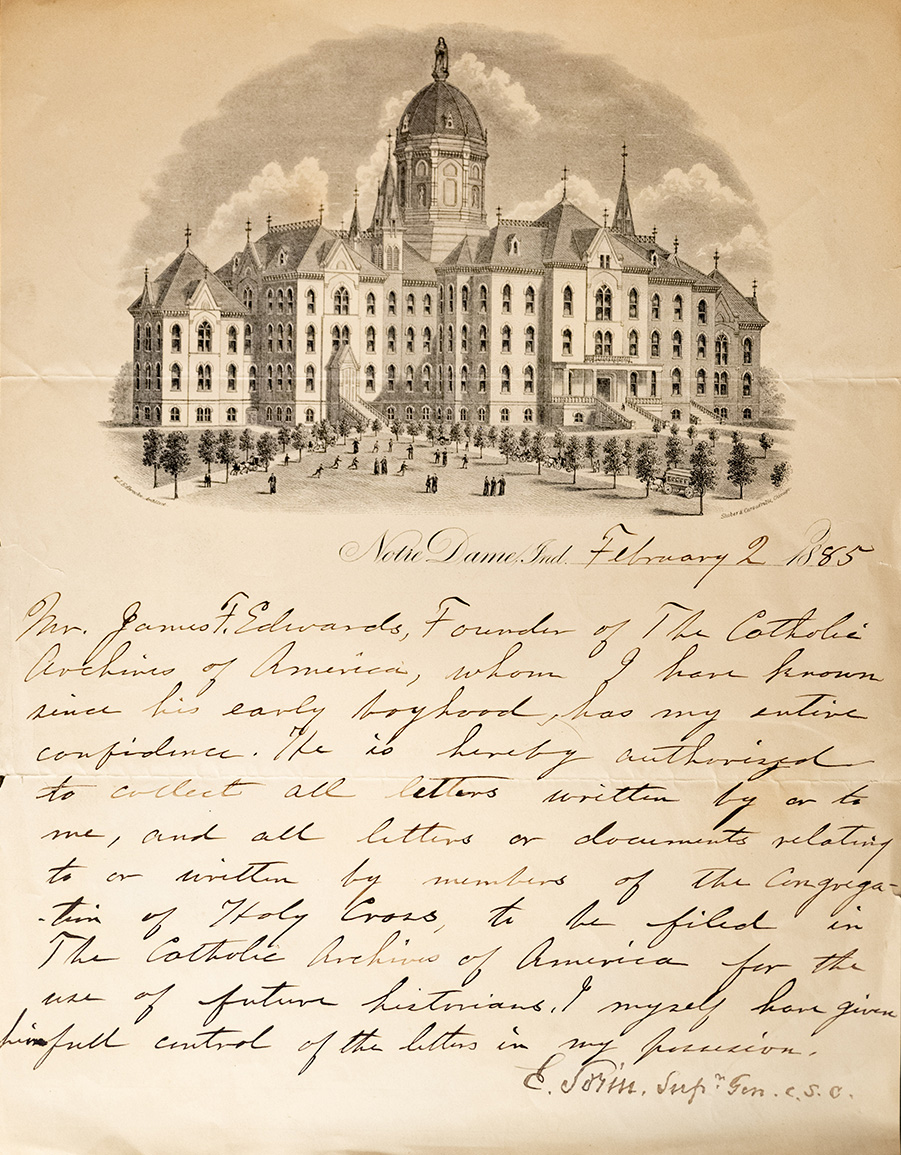 The Sorin Translation Project began in 2019 when a Notre Dame archivist, who was sorting materials received from the Congregation of Holy Cross, discovered boxes containing hundreds of letters written in French, both to and from Father Sorin, that had not been translated or even transcribed.
The archivist reached out to Sonja Stojanovic, an assistant professor of French and Francophone studies, who was able to incorporate a couple of the letters into her translation course that semester, before enlisting the help of Father Haake.
In spring 2020, they created a new course, Sorin in Translation, which focuses entirely on creating transcriptions and translations of the letters. Father Haake has now taught the course three times and hopes to continue to offer it for years to come.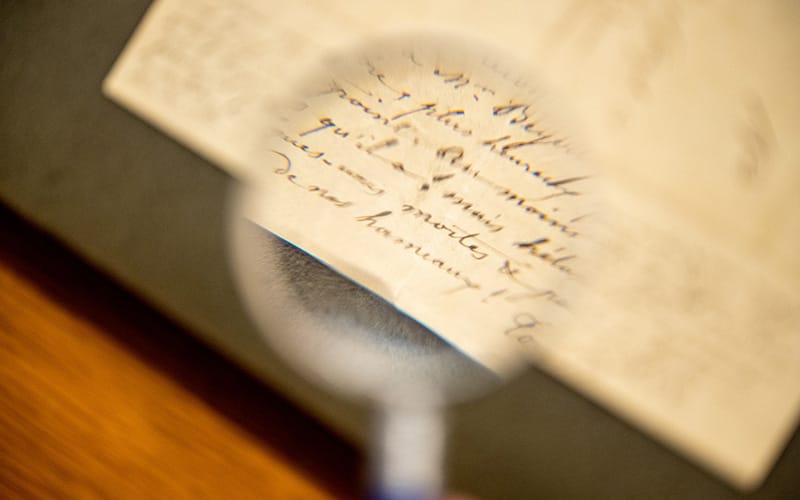 "I'm passionate about Father Sorin. I have loved learning about him and getting to know him through his letters and through studying his history," he said. "But I'm not interested in producing a hagiography. Father Sorin was very focused on God and on sharing the gospel. But, like all of us, he had flaws, and these letters, in some cases, expose those flaws. You really feel like you get to know his personality when you read his letters. The words he uses, the expressions he uses, the tone of the letters — you just feel like you know him better as a person. And that's one of the greatest things about this project."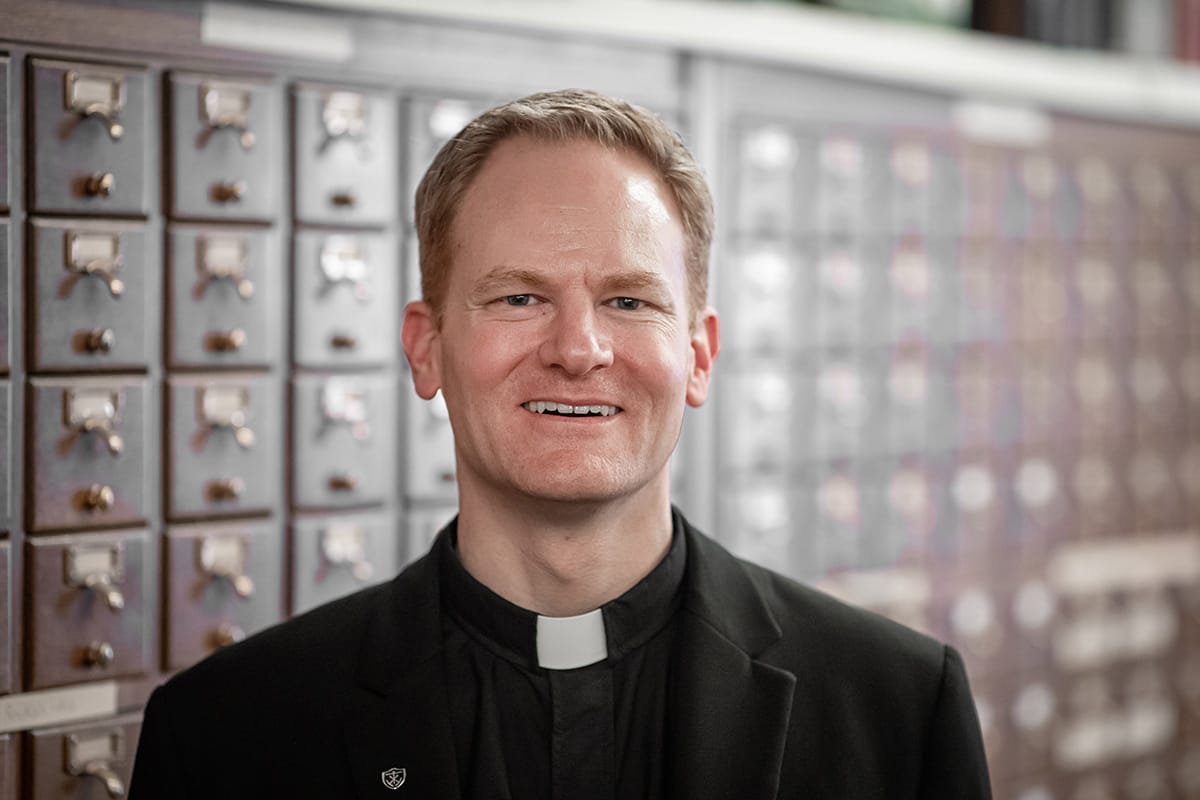 Jack Konrad, a junior biological sciences major with a supplementary major in French, took the class last spring and was drawn to the idea of engaging with authentic documents and doing such meaningful work.
"It was a really genuine way to practice my French and at the same time give back to Notre Dame," he said. "I really enjoyed meeting with other students who possess a similar passion for French and history, and the chance to make a direct contribution to the University in this way."
The correspondence spans nearly 50 years of Father Sorin's life, but Father Haake's classes have started at the beginning, working with letters just before and after his arrival in South Bend.
The letters paint a vivid picture of life in the mid-19th century amid the challenges of building a university — from the cost of building supplies ($1,250 for bricks and $250 for wood) to the politics of fundraising to an unexpected request from the city of South Bend to move the University within city limits (which was declined).
Before taking the class, Konrad knew certain aspects of the University's rich history, but said he had never really taken the time to think about how it all began.
"Notre Dame really did have humble beginnings, and that's evident in this correspondence," he said. "Given that many of our letters were written to Father Sorin, we also got a glimpse of how people responded to his requests. The topics often dealt with administrative issues surrounding Holy Cross in the U.S. or Notre Dame in its early days, but the letters also contain plenty of emotion, disagreement, inside jokes and other elements that really bring this era of Notre Dame to life."
In the class, students work in pairs to transcribe and translate the documents and often spend several weeks on a single letter before bringing their work to the full class for peer review.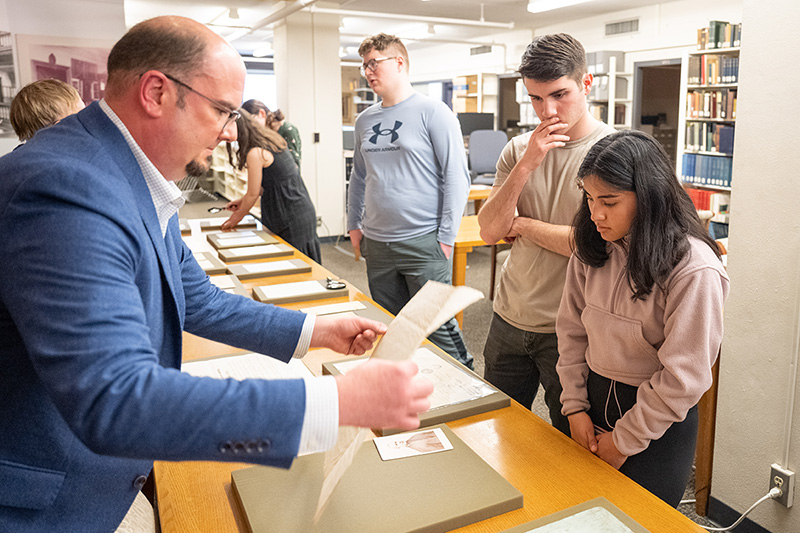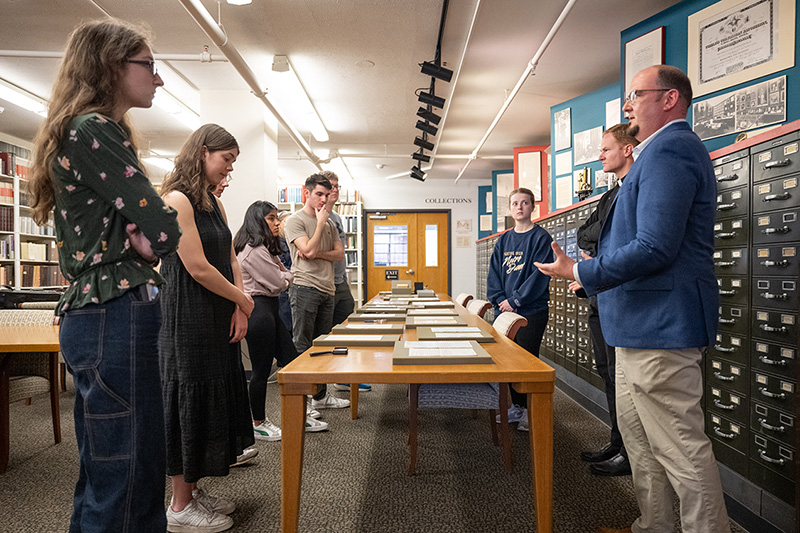 It is a far more challenging task than it may first appear, said junior Dan Krill, who took the class last spring. The use of unfamiliar idioms and colloquialisms from 19th-century French, references to unknown people or places and handwriting that is difficult to decipher all add to the complexity.
"On the first day of class, we did a practice translation, and that's when I realized, oh, it's not going to be that simple," said Krill, a computer science major and French minor. "There are so many things to consider, so many historical and linguistic questions, but it's also really cool. It's almost like solving a puzzle when you're piecing this whole message together."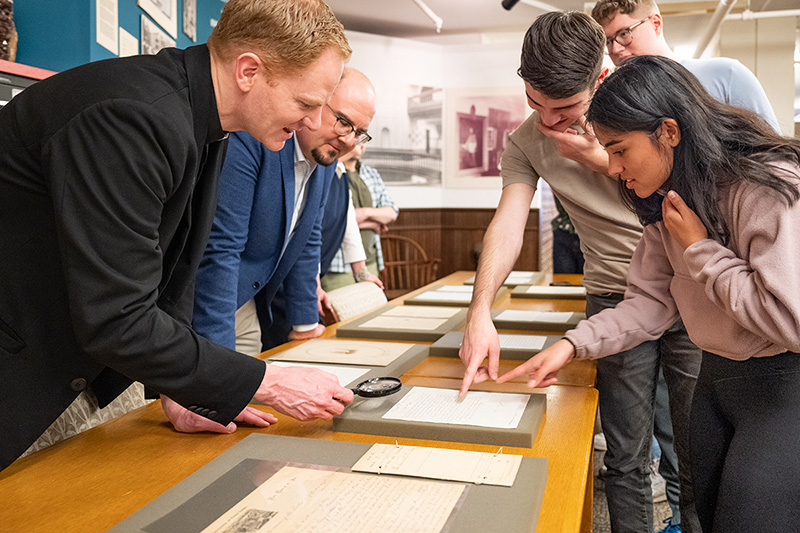 One letter in particular stood out to both Krill and his partner from the class, junior Monica Leon, who is majoring in political science and French. The letter, which was written to Father Sorin from a Brother Julien who sought to come to the U.S. to work at the University after having taken his vows, seemed indecipherable to them on their first reading.
It was only when Father Haake challenged the pair to read the letter aloud that they began to understand that Brother Julien, who had not had much formal education, was writing phonetically. The moment allowed them to think about the French language in a new way.
"There were a lot of spelling and grammatical errors that made the language really difficult to understand at first," Leon said. "But Father Greg encouraged us to read the letter out loud and sound out the words, and that's when it started to make sense. And it ended up being such an interesting exercise. I'm so grateful for Father Greg's guidance and help throughout the entire process."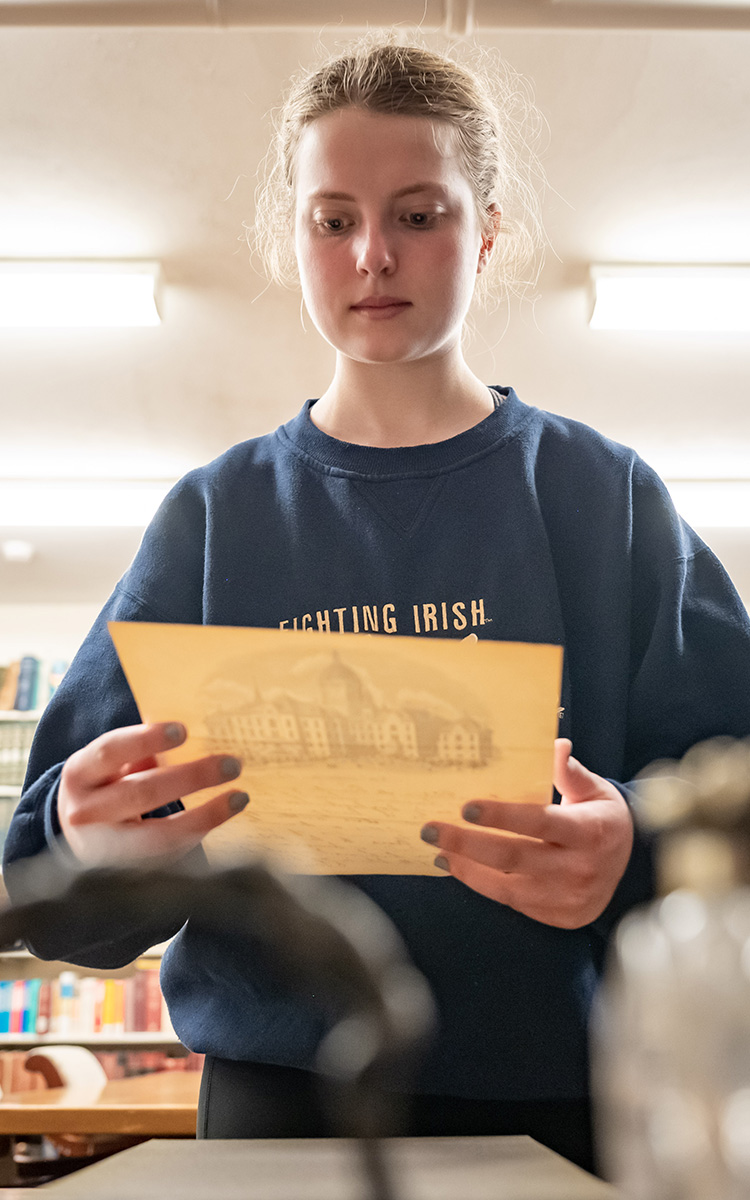 While the students typically work with high-quality PDF copies of the letters, Father Haake also sets aside a day each semester for the class to visit the University archives to view the original letters, along with other artifacts from Father Sorin, including a Bible, a passport, a pair of his glasses and a pen set.
Even though the class was only one credit, it was a deciding factor for Leon in choosing to pursue a French major — and an experience that has given her a deeper appreciation of the University's mission and founder.
"You know, there's the side of Notre Dame that everyone knows. It's a prestigious school, a great football team, but it's so much deeper than that," Leon said. "Notre Dame really cares about the community and the world. There are so many students here who are passionate about going out into the world to do service. And that's exactly what Father Sorin wanted for Notre Dame, and I like to think that he would be proud."
Father Haake, who is spending this year as a faculty fellow of the Notre Dame Institute for Advanced Study, plans to focus on Father Sorin's personal correspondence with his family when he teaches the class again next year, including letters to and from his nephew Rev. August Lemonnier, who became the University's fourth president.
With funding from the Vernon Brinck Family, Father Haake is also working to launch a website that will feature a digital exhibit of the letters alongside their transcriptions and translations. He hopes the translated letters will not only be a valuable resource for scholarly research, he said, but provide inspiration to the Notre Dame community.
"I look to Father Sorin when I'm having difficult days in my job as a priest and a professor, and I think of his perseverance, his zeal and just his abounding energy for this place and for educating young people," Father Haake said.
"He wanted Notre Dame to make a difference in the world. He wanted to make people's lives better, and he was relentless in doing it. It's that spirit and that energy that inspires me, and I hope he inspires others, too."
"Voilà pourtant notre maison commencée, Dieu sait quand elle sera finie."
"Yet our house is begun, God only knows when it will be finished."
— Rev. Edward Frederick Sorin de la Gaulterie, C.S.C., Sept. 3, 1843