Community
Rallying Around Puerto Rico
Notre Dame groups explore hurricane recovery efforts
After Hurricane María caused severe damage to Puerto Rico in September 2017, critics said federal government aid was too little, too late. Other organizations saw the need and decided to step in, including Notre Dame. Here are four recent efforts.
Listening to Puerto Rico
The day Hurricane María hit Puerto Rico, Marisel Moreno talked briefly on the phone to her mother there, who said the home's walls were shaking and it sounded like a jumbo jet was trying to land on the roof. After that, her mother struggled to recharge her phone because her power was off for more than three months.
"People in the diaspora felt so helpless," said Moreno, an associate professor of Latina/o literature at Notre Dame, referring to the more than 5 million Puerto Ricans living outside the island. "We wanted to go back, but didn't want to become a further burden on resources. One of the first things I did was send a box with headlamps, batteries and dry goods. We wanted to do more … we wanted a Notre Dame response."
In April 2018 Moreno and her husband, Thomas F. Anderson, chair of the Department of Romance languages and Literature, heard from Associate Provost Elliott Visconsi about an online project called a "teach-out" in use at the University of Michigan. Teach-outs are free and open online learning courses intended to activate public engagement around timely social issues.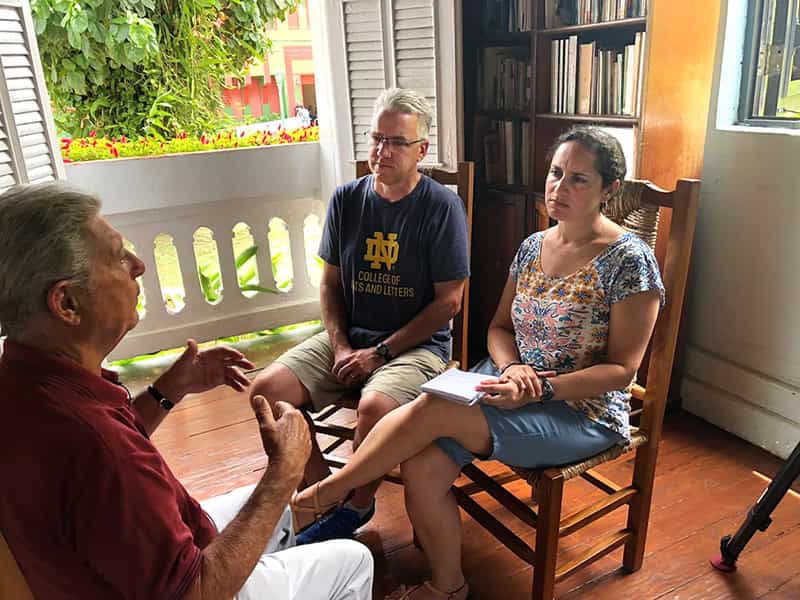 The universities teamed up to create "Listening to Puerto Rico," and quickly decided that rather than lecture, the focus should be on creating awareness and support by hearing directly from Puerto Ricans. Notre Dame and Michigan sent separate teams to Puerto Rico in the summer of 2018 to record video interviews that have grown to a collection of more than 30.
In one example, Moreno's cousin, Juan Catalá, described the total loss of his coffee plant nursery in the mountains. The third-generation coffee farmer wasn't eligible for agricultural insurance because he was running a nursery rather than a farm.
"I had to arrive on foot," Catalá said. "The road was unrecognizable. The farm looked like a desert, like someone had burned it down. Not a single leaf."
Of more than 150,000 coffee plants, only about 6,000 of the smallest survived, and Catalá had to sell them at a loss to raise investment funds. He hopes to rebuild so that he can re-employ people in the region. He has also led efforts to improve education on self-sufficient food production to help the island prepare for future disasters.
In another interview, Samuel Lind, an artist from the town of Loíza, said, "The hurricane was a teacher." It taught the people of Puerto Rico that they must learn to be self-sufficient, that they must rebuild themselves, and that they must cling to art and culture as a "spiritual salvation."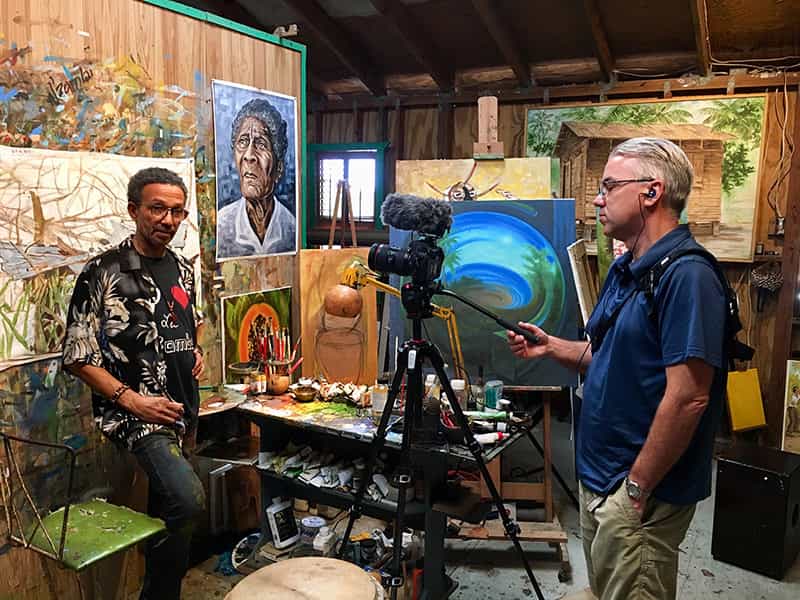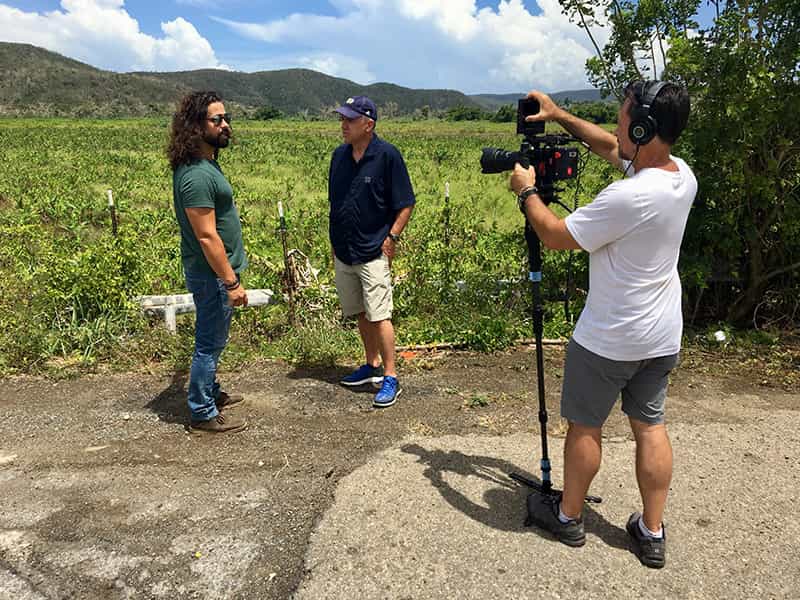 The teach-out website's introduction video features both university presidents inviting their communities to learn how Puerto Ricans banded together after the storm and how to connect with organizations helping with recovery efforts. Moreno and Anderson also put together a four-part video history of the island for background, plus links to dozens of stories and recovery resources.
Anderson said about 1,100 people signed up, and nearly 500 finished, which are strong engagement figures for this kind of free online mini-course. He and Moreno also organized a related series of campus academic events, including:
Anderson said the teach-out continues to grow and has led to other activities, such as a faculty immersion trip. This summer, the Cross-Cultural Leadership Program will add San Juan for the first time, and eight students will spend seven weeks in partnership with Sagrado Corazón and local community organizations that address sustainability issues.
"We feel like this is some of the most important work we've done because a lot of the scholarship we engage in is directed at a narrow group in our fields," he said. "Now we have faculty and other groups using these resources and becoming engaged with recovery in Puerto Rico."
Faculty Immersion
The idea for a Notre Dame faculty immersion trip to Puerto Rico percolated for a while before culminating this March, aptly landing in a coffee-growing region with an environmental organization pushing innovation. The group, Casa Pueblo, is exploring solar and other energy sources for an island that needs new strategies to restore electricity after hurricanes, more of which are sure to come.
The trip would be modeled on a previous faculty immersion trip to Tucson, Arizona, to experience firsthand the issue of immigration along the Mexican border.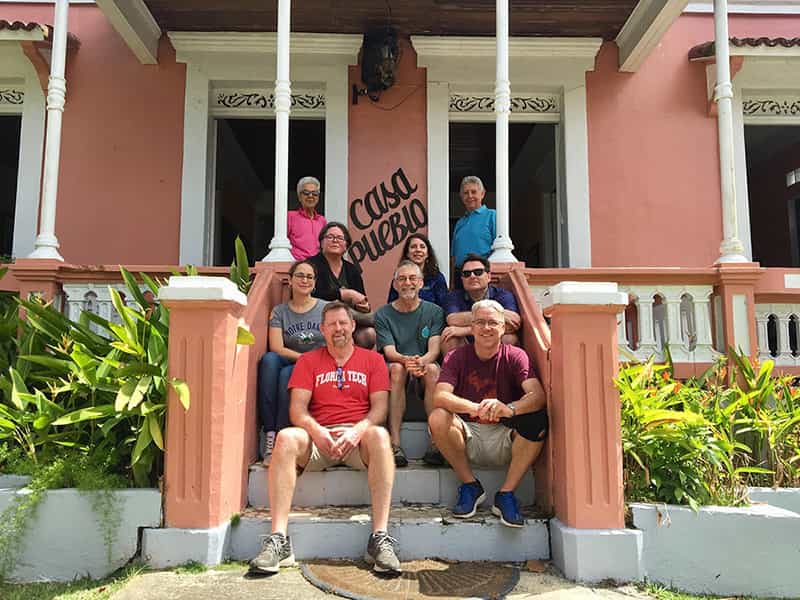 "There was talk of what role Notre Dame could play there," said Harold Toro Tulla, a native Puerto Rican and one of five faculty members who organized the trip. "A goal was to create a core group of faculty who understand the complexities, challenges and opportunities in Puerto Rico."
Other organizers were Marisel Moreno and Tom Anderson, who had already started their "Listening to Puerto Rico" online course, as well as Connie Mick and Rev. Kevin Sandberg, C.S.C., who work in the Center for Social Concerns. The CSC also helped fund the Business on the Frontlines and Covering America classes through Community Impact Grants.
In the end, nine faculty members participated with intentions of building relationships in Puerto Rico that could lead to opportunities like joint research or projects, or courses related to the island or its recovery efforts. The visit started with a Mass and welcome reception at Universidad de Sagrado Corazón, whose president, Gilberto Marxuach, is a Notre Dame graduate.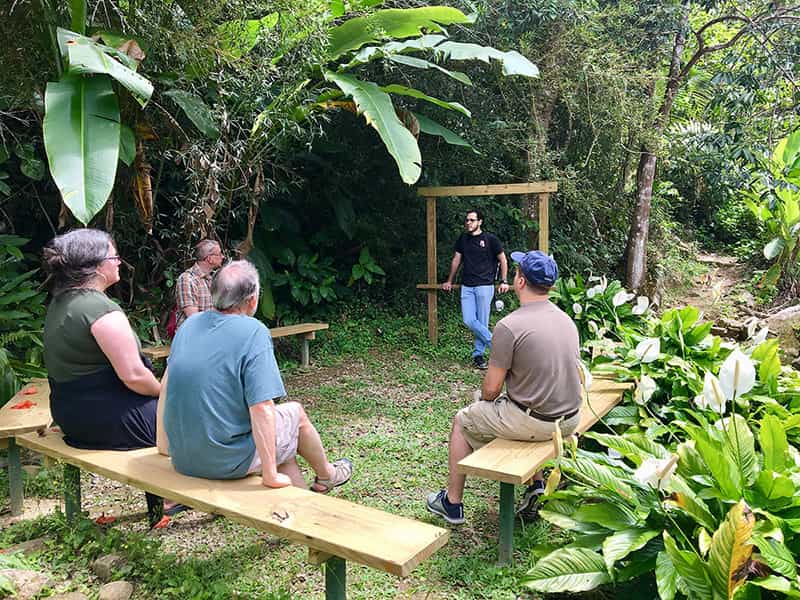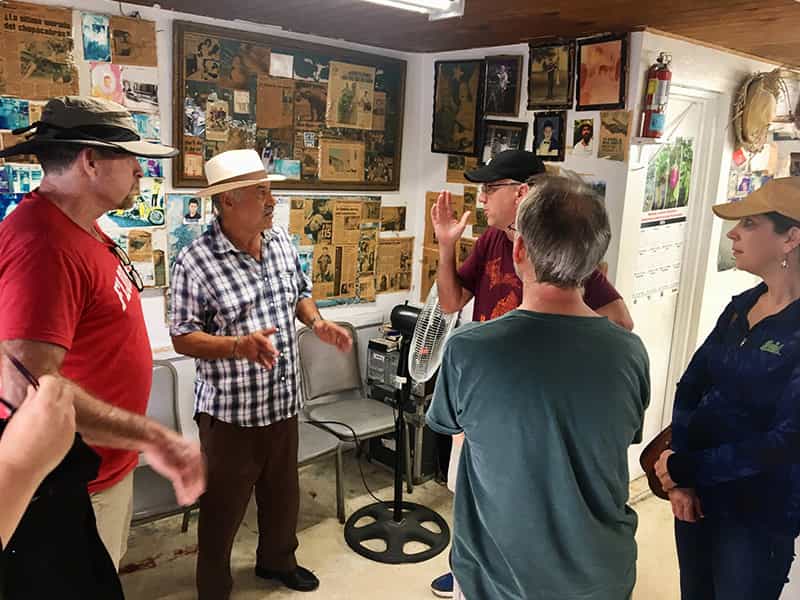 Other meetings brought the group to different parts of Puerto Rico, including:
Loíza, an Afro-Puerto Rican town with a rich musical tradition, where graduates of a local school returned to play for the visitors.
Proyecto Enlace, a nongovernmental community development organization working to clean up an area of the San Juan estuary that struggles with flooding.
Center for a New Economy, a research organization where Toro used to work, which analyzes economic topics like job opportunities and equitable growth.
Kinesis Foundation, a San Juan organization that helps high school students prepare for college.
Toro said the trip's success will be judged by the fruits that grow from the relationships begun. He's confident the opportunities are vast and rich.
"Puerto Rico seems to have symbolic meaning because it's at the crossroads of so many things," he said. "It's between North and South America, between a state and a colonial territory. It seems to symbolize larger trends, like the struggles in the economy and with climate change."
Business on the Frontlines
When a group of Notre Dame MBA students asked Puerto Rican small business owners in March how their companies were doing, they consistently heard two answers: one before and one after Hurricane María.
"It clearly was a huge marker," said Delfin Bernal, a native Puerto Rican who was part of the student team. "I think the hurricane unveiled 12 years of economic crisis going on there. Like ripping off a Band-Aid, the hurricane showed the wounds."
Bernal said it's a bittersweet irony that, because of María, many Americans learned for the first time that Puerto Rico is part of the United States and that things there need to be fixed.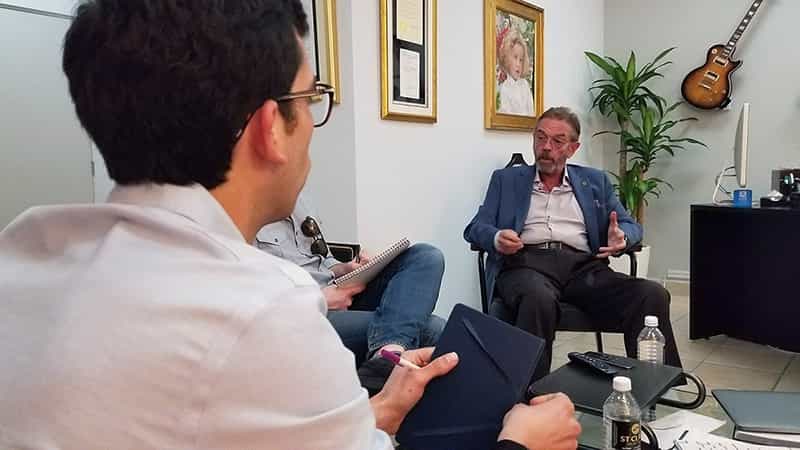 The semester-long Business on the Frontlines (BOTFL) course examines the impact of business in societies suffering from deep poverty or conflict. Graduate students, advisers and faculty from the Mendoza College of Business travel around the world to work in the field with humanitarian organizations.
Since the program started in 2008, nearly 50 teams have gone to more than 25 countries. They have worked on a wide range of projects, such as post-war reconciliation and human trafficking, studying a problem presented by a partner organization and making suggestions for business development.
Going to Puerto Rico marked a number of firsts for BOTFL — the first U.S. destination and first time working in a truly urban area. The group's partner was Universidad de Sagrado Corazón, a Catholic school in a hip and artsy district of San Juan called Santurce. The goal was to identify ways to revitalize Santurce and how the university could help.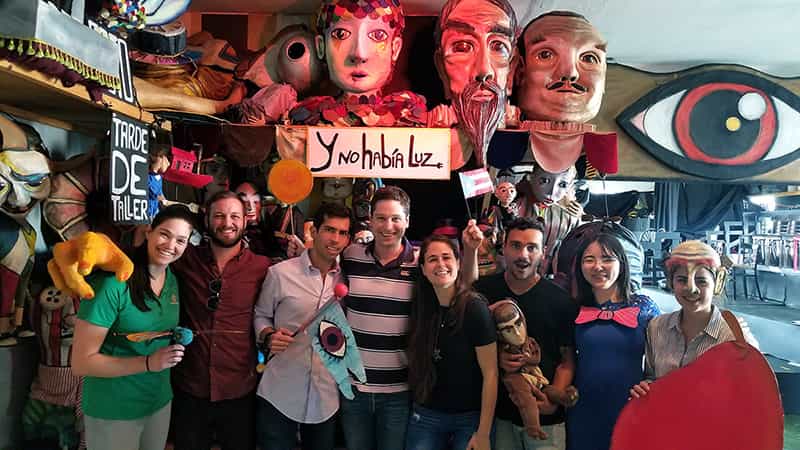 The BOTFL team came up with five recommendations where Sagrado Corazon could help:
Improve infrastructure through trash cleanup and the creation of a database similar to Airbnb for student housing.
Act as a market maker matching businesses looking for qualified employees with students with those skills.
Start a co-op program that offers six-month paid internships at the companies to build student skills without preventing their on-time graduation.
Offer workshops on financial literacy for students and local businesses, taught by business professors.
Coordinate and better organize current arts festivals to improve attendance and profits.
"Our original idea was to make Santurce the tech hub of Puerto Rico," Bernal said. "But we realized the infrastructure wasn't there, so we switched to the idea of a market maker, with the university as a go-between to build the skills companies want to hire."
Covering America
Because last year's group went to Houston, Victoria St. Martin didn't want to limit this year's "Covering America" journalism class to hurricane aftermath. But she couldn't ignore the ongoing crisis, slow recovery and slew of stories coming out of Puerto Rico.
Richard Jones — St. Martin's husband and the director of the Gallivan Program in Journalism, Ethic and Democracy — said Puerto Rico was a natural for the class because it could show the rich potential for stories even after the crisis media pack leaves.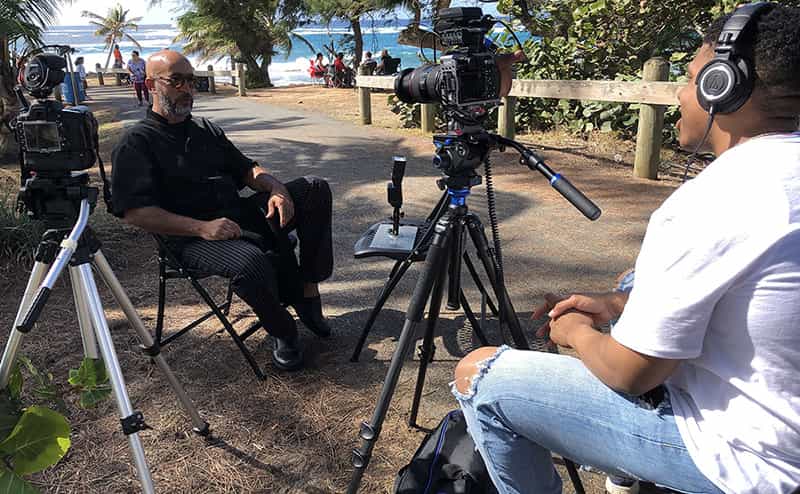 Thirteen Notre Dame students and five faculty members traveled to Puerto Rico over the break in March to report about the impact of and recovery from Hurricane Maria, which devastated the island in September 2017. With the help of two local journalists, they went looking for stories, spreading across Puerto Rico from the mountains and rainforests to baseball fields and the governor's office. Their results included:
A multimedia project about women working as community organizers to lead the island's recovery efforts.
A broadcast interview with the governor of Puerto Rico, Ricardo Rosselló, about his prospects for reelection after the storm.
Personal reflections about reframing the hurricane experience, written by Durrell Jackson and Malia Reed, who had firsthand experience of devastation in their home cities of New Orleans and Houston.
An examination of the storm's lingering impact on the environment and how it affected eco-tourism in the El Yunque National Forest.
The students would later write in their journals that the tourist areas did not betray the effects of the hurricane damage, but peeling back the layers away from the most popular destinations revealed how much work remained to reach full recovery. It helped that they stayed in Bayamón, a city just outside the capital, San Juan.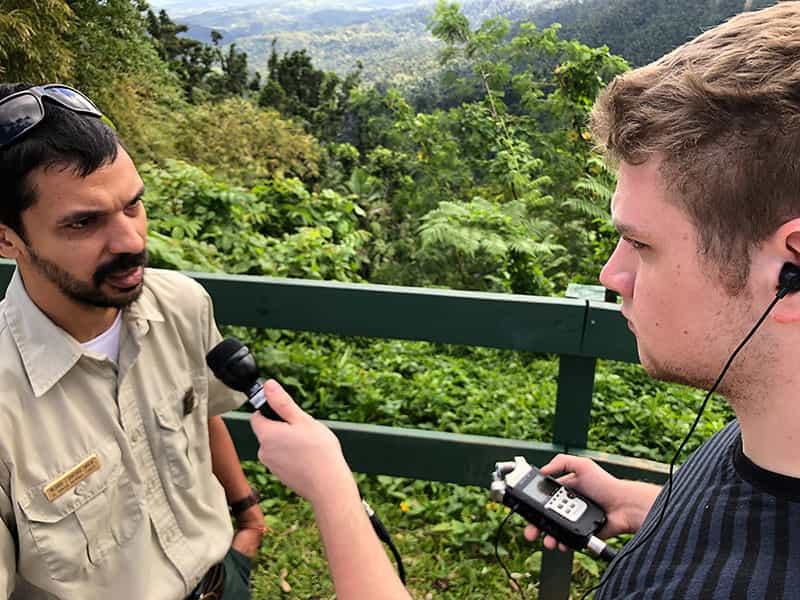 "Houston seemed farther along after six months than Puerto Rico after two years," Jones said. "That was the takeaway for me. The feeling seemed to be: 'Where is the help going to come from?'"
St. Martin said the students who had survived their own hurricanes made close connections with the Puerto Rican journalists, especially when they traveled together to Vieques, a small island off Puerto Rico that still hasn't restored hospital service.
People talking about devastation may be a story, but seeing it firsthand is an experience not soon forgotten. "Some places looked like the breath was sucked out of them," St. Martin said.