Carlos wolfs down a plate of eggs, beans, and rice at the Kino Border Initiative, a comedor (soup kitchen) in Nogales, Mexico, and tells his border nightmare to Tatiana Botero, who teaches Spanish at the University of Notre Dame. His version goes like this.
He crossed illegally into the United States at eight years old with his family and has lived in California for about four decades, attending middle and high school there. He started working at an Old Country Buffet restaurant at 15 and is now the manager. Although undocumented, he obtained a tax identification number and has paid taxes each year. His children are legal citizens, one studying architecture at Arizona State University and the other two still in high school.
In December, a police officer stopped Carlos for a broken tail light on his car. He showed the officer his driver's license, which non-citizens can get in California. The officer, in what Carlos calls a case of racial profiling, asked for his green card and called Immigration and Customs Enforcement (ICE) when he did not produce it. Carlos was arrested, and without being able to contact his family or a lawyer, deported to Tijuana, a place he'd never been in a country he barely remembers.
"I was heartbroken as a parent because his kids are in the U.S. and he can't get to them or make money for them"
Desperate to get back before he loses his job, Carlos and two other men with similar stories had twice tried to cross the border. They hadn't succeeded, being turned back on the Mexican side by drug cartels demanding $500 just for the opportunity to brave the treacherous Sonoran Desert, where hundreds of desperate people die each year in the attempt.
"I was heartbroken as a parent because his kids are in the U.S. and he can't get to them or make money for them," Botero says of Carlos. "They've never had a life here (in Mexico). I think if everyone came and saw the human side of this issue—saw their faces—they wouldn't be so against immigrants."
At another table, two women tell Marisel Moreno about their difficult choice to leave the United States and their children to care for sick mothers in Mexico. Now they're stuck on the border trying to rejoin their families. Other migrants tell of fleeing crushing poverty or gang violence. They willingly face down the cartels, Border Patrol and the unforgiving desert. Moreno teaches these issues in her Latino literature classes at Notre Dame and has her students delve deeper by volunteering at La Casa de Amistad, which serves South Bend's Latino population.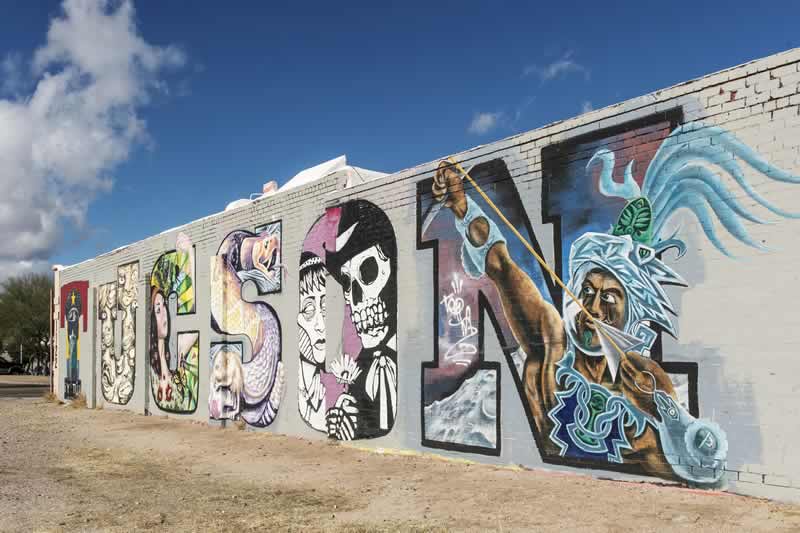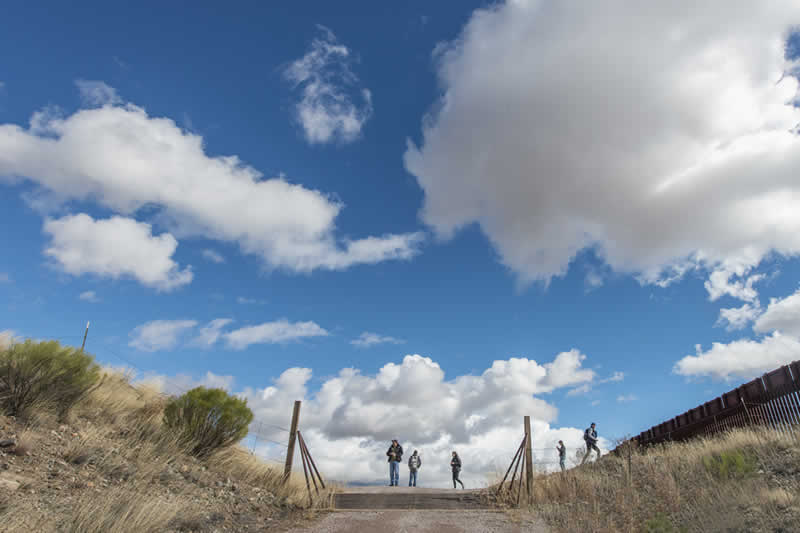 A dozen Notre Dame faculty members and community partners from South Bend went to Tucson to hear these stories during a four-day Mexican Border Immersion seminar in early January. Many of them already engage with challenging immigration questions through community-based learning courses like Moreno's.
"I've been teaching Latino literature for about 15 years, but something was missing," Moreno says. "Often the students have never interacted with a Latino person, so the literature we're reading isn't as impactful. But at La Casa de Amistad, they start to see these things with their own eyes. They may tutor a girl who fears her father will be deported. I've seen real transformations."
This experience of the border front lines is meant to enhance the expertise the group brings to their classrooms and colleagues. The faculty program is an offshoot of a student seminar about border issues that sociology assistant professor Kraig Beyerlein has led for several years. Beyerlein formerly taught at the University of Arizona and uses his contacts in the area to organize the trips. Both seminars are supported by the Center for Social Concerns, which facilitates community-based learning, research, and service informed by the Catholic social tradition on a range of difficult issues that demand firsthand experience.
The faculty and student groups generally participated in similar activities, though often at different times. These activities ranged from talks with community activists to hikes through the desert with humanitarians who deliver water, and from witnessing border violation court procedures to visiting the morgue that attempts to identify migrant bodies recovered from the desert. The students also heard from the other side, meeting with Border Patrol agents and ranchers in the area.
The focus of both seminars is to experience what people along the border seem to agree on, regardless of their differences over a solution: U.S. immigration policy is broken and in need of change. There may not be consensus over whether the borders need to be opened or closed, whether undocumented immigrants should be offered a path to citizenship, or how migrant workers affect the American economy. But coming from a Catholic social justice perspective, this seminar examined the human hardship and death toll the current stalemate creates. A month later, Pope Francis would shine a light on the same migrant issues by calling for compassion during a Mass held right at the border with Texas.
Sunday
The trip, appropriately timed with the National Conference of Catholic Bishops' National Migration Week, begins with Mass at Most Holy Trinity. This Catholic parish, where the 14 students sleep on the floor in nearby classrooms, is in suburban Tucson amidst a desert landscape of cartoon-quality cactus plants.
The congregation is split between Latino and white members. A mariachi band in eggshell-blue traditional outfits plays lively songs sung in Spanish, while the homily in English about the three wise men explores the spiritual transformation possible in every journey. "I hope my friends from Notre Dame are transformed, and bring that spirit back with them and agitate for change," says Pastor Tom Tureman.
At Southside Presbyterian Church, retired minister John Fife opens a humanitarian training session with a brief history from his perspective of the region and "the current policy that led to the mess we're trying to get in the way of." He says the roots of U.S. immigration policy have always been economic.
Some of the first immigration laws barred the Chinese in the late 1800s but were repealed when Chinese labor was needed to build railroads in the West. The first Immigration Act creating the Border Patrol in 1924 was intended to keep alcohol out during Prohibition. The borders were first shut to people during the Great Depression.
A reversal during the labor shortage of war in 1942 led to the first bracero program that brought Mexican laborers across the border for migrant field work. Since then, the agriculture industry has objected each time this labor pool is restricted. Fruit and vegetables in America are inexpensive in large part due to this labor force. "So whenever racism and xenophobia are in, we react, but then we invite them back," Fife says. How else could 11 million undocumented immigrants have come into the U.S.?
When the North American Free Trade Agreement passed in 1994, government-subsidized American corn flooded into Mexico. The country's staple crop became impossible to sell at a profit, putting untold numbers of farmers out of work.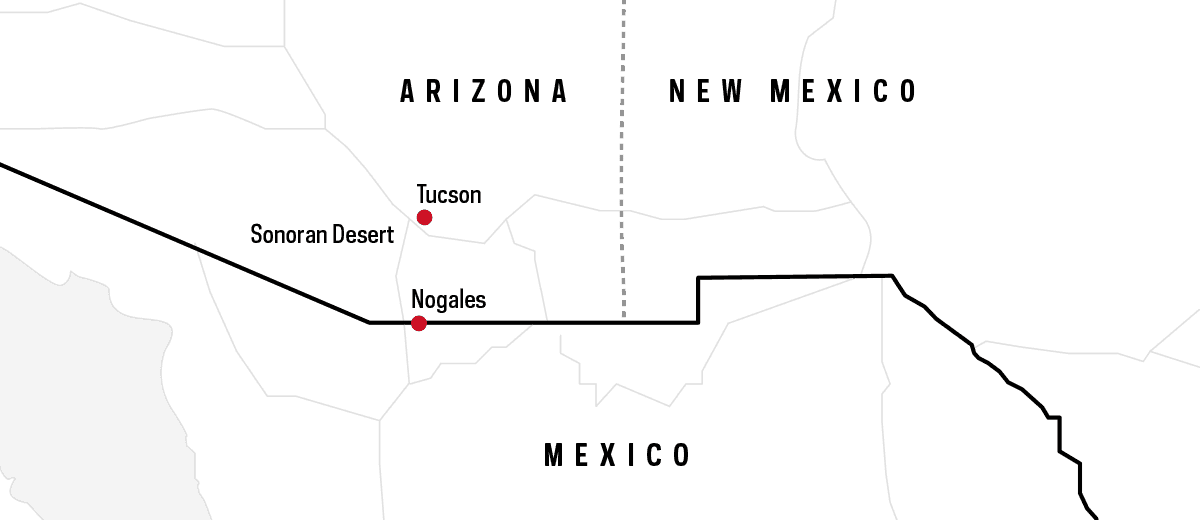 Around this time, the Border Patrol built walls in urban border towns like Nogales, Tijuana and Laredo. Since it was too costly to build a wall over thousands of rural miles, Fife says their stated strategy was to use the Sonoran Desert as a natural deterrent. "They're still doing it twenty years later, knowing that hundreds will die and the strategy is a failure," he says. "They never considered the desperation of poverty."
Around 2000, as the first border crossers began to traverse the region's deserts, Fife's church stepped up its activism. He and others helped found a group, Humane Borders, which provides 55-gallon water tanks in the desert. They decided a more active presence was needed and started Samaritans in 2002, driving and walking into the desert to aid people dying, mostly of dehydration and heat stroke. In 2004, No More Deaths was created to provide 24-hour medical service in desert base camps.
The faculty and student groups crowd around Fife as he shows a regional map with thousands of red dots representing migrant deaths. He says the number has topped 7,000 in a situation that human rights groups like Amnesty International have condemned. The shock value of more violent deaths than 9/11 is magnified when one considers how few Americans are aware it's happening.
Driven from home by economics and violence, undocumented immigration kept rising despite increasing patrols and fences. Border crossing was criminalized in 2005 as another deterrent, so thousands of migrants are now held in mostly private prisons, costing hundreds of millions of dollars per year. In 2008, Congress authorized Operation Streamline, a shortened judicial process meant to more efficiently deport the jailed migrants.
Despite political rhetoric, research shows that net migration since the 2008 recession is mostly flowing back to Mexico, but U.S. laws may keep people from leaving for fear they'll never get back across. The border, Fife says, is trapping them in America.
Monday
The faculty group rises early to visit the Kino Border Initiative, where Carlos and other deported migrants gather for a meal and rest. The Notre Dame delegation passes out food, refills cups of hot chocolate and speaks to the tired migrants. Rain pours on the corrugated tin roof and a cold wind blows through a tarp strung up as a front wall.
Fr. Pete Neeley, a Jesuit priest and assistant education director at the comedor a hundred yards from the border, points out some of the dangers migrants face. Up on the hill, scouts for the cartels keep watch, while on the streets Mexican border officials in pricy vehicles could also be on the cartel payroll. Kidnapping and extortion are common. A call home from the wrong phone, he says, could lead to a family receiving a ransom call.
Cartels manage the coyotes, whose guiding services for crossing has driven north of $3,000. Sometimes migrants are led to Border Patrol agents so that drug mules can cross unnoticed in other areas. These are people as prey.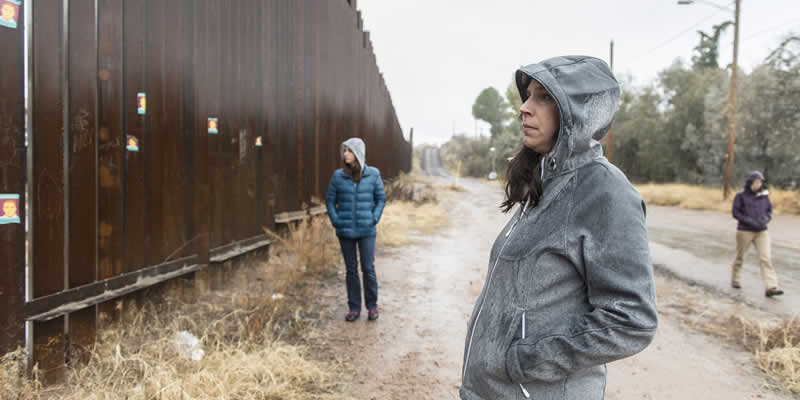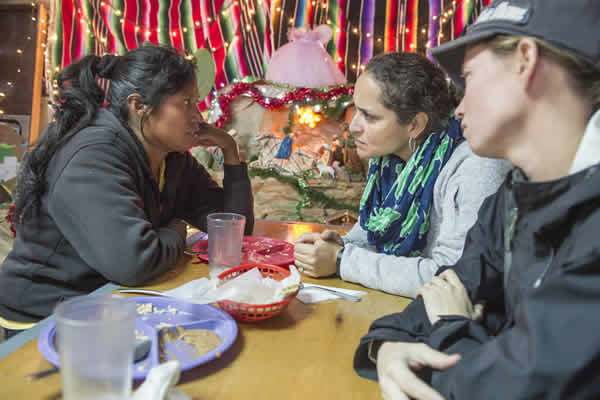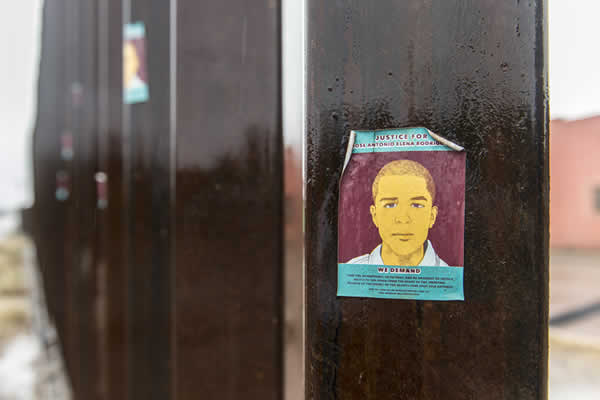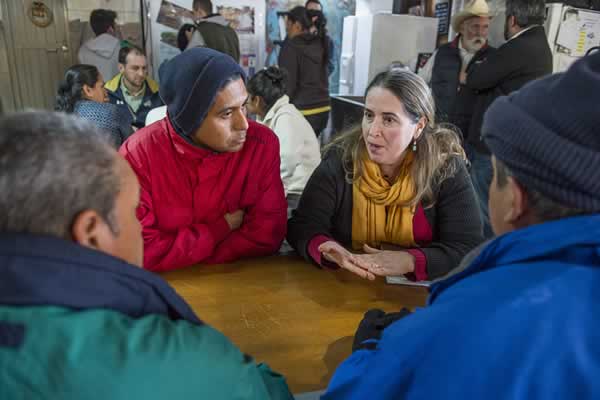 Since 9/11, the Border Patrol has more than doubled in number, forcing most of the migrants to move at night. This makes dangers like cactus, barbed wire, cliffs, abandoned mines, and snakes more difficult to avoid. In summer, it's nearly impossible to carry enough water to last the three to five days to reach Tucson.
"I hope you go back and share the stories you heard today," Neeley says. "We have to work with our own families. Let's get rid of all the politics. This is a human problem and it's been going on too long."
At night, the Notre Dame group reflects on their day. Rudy Monterrosa, who practices immigration law and teaches it at Notre Dame Law School, says the people in the comedor are no different from his clients in South Bend. "This week, I'll allow myself to feel what I see," he says, "because when I work, I don't allow myself to feel … or I couldn't do it."
He says immigration defendants remind him of a fable about starfish washing up on the beach by the thousands. One man begins throwing them back in the water, but another objects that he can't save them all, so it doesn't make a difference.
The man picks up one starfish and says, "But it makes a difference to this one."
Tuesday
The students set out in three SUVs for the Coronado National Forest west of Nogales. Rare beds of fog have settled into low areas of the desert. A winding road leads to a dirt road that ends in a dry riverbed. This is one area where migrants travel, where the terrain is mountainous and the students' breath forms plumes of vapor in the cold air.

View the 360 Video
Each student carries two gallons of water, plus backpacks of clothes and nonperishable food like power bars and canned beans. A Samaritans lawyer had explained that offering humanitarian aid is never a crime. Vehicle tracks from the Border Patrol run up the riverbed. Within half a mile, the group sees evidence of migrants: broken backpacks, discarded sweatshirts, empty cans of tuna. A water jug from a previous drop has been opened and sampled.
The students walk about four miles up the riverbed to the border, marked only by a flimsy barbed wire fence. It's a sharp contrast with the large wall bisecting Nogales. They leave water, food and clothes, including a bag with a drawing of Our Lady to indicate it's safe.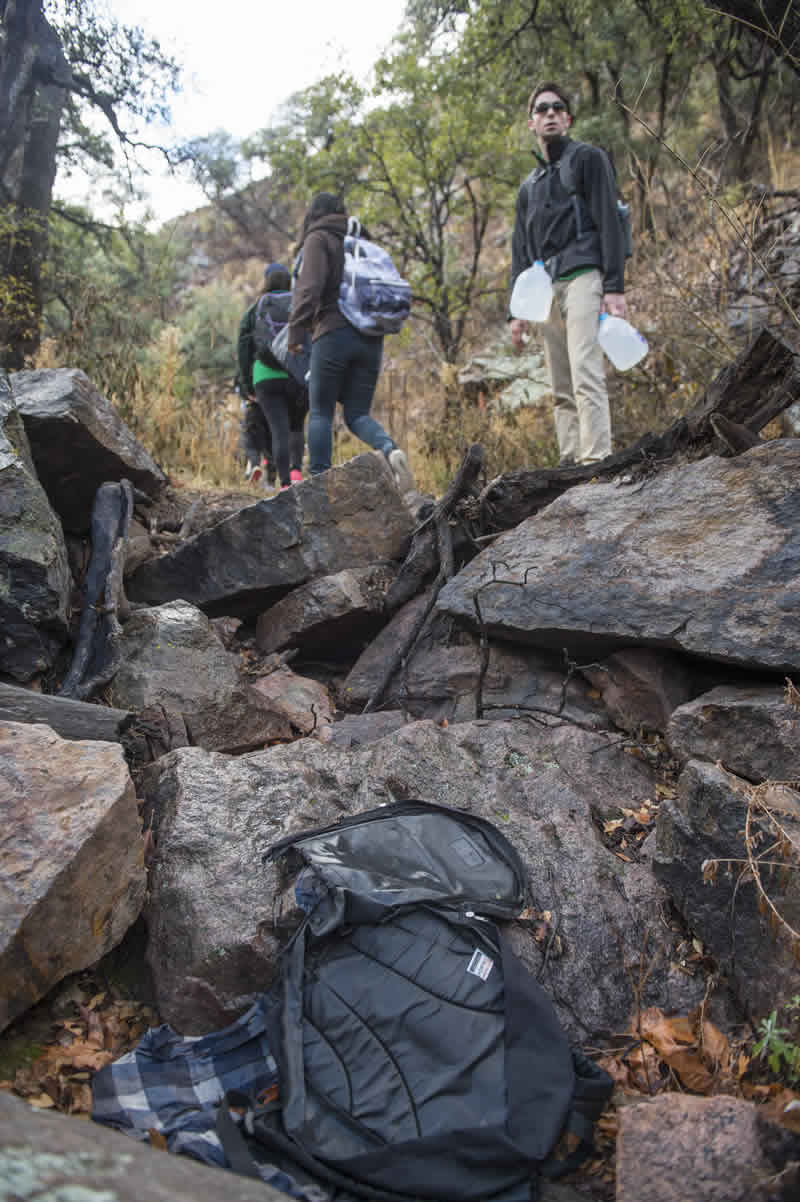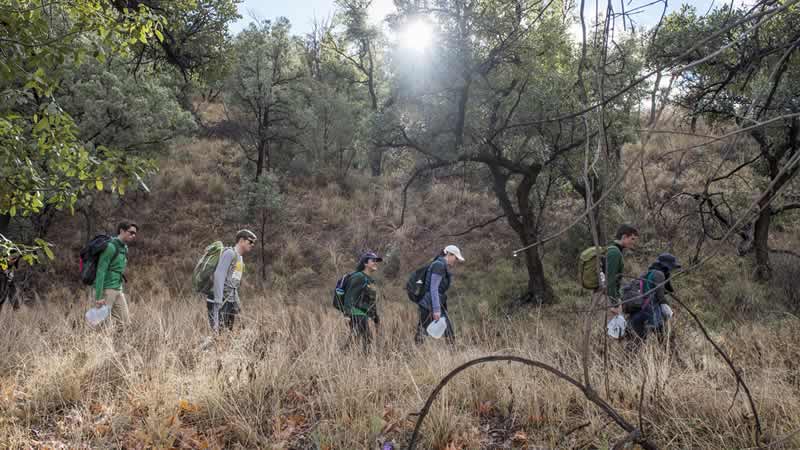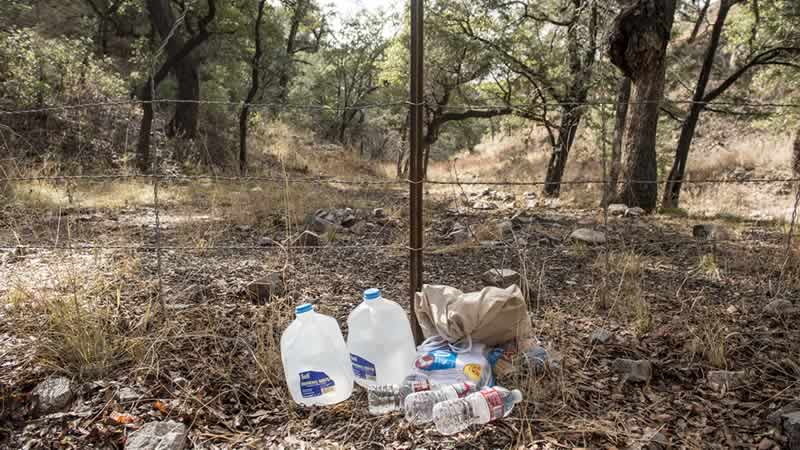 Tyler McGehee, a senior from Mesa, Arizona, says he was not exposed to border and immigration issues even though he grew up nearby and had Hispanic friends.
"I didn't really question a lot of things," he says. "It's odd that it wasn't until I left for the Midwest that I felt more passionate and interested in learning what exactly is going on in my state."
Meanwhile, the faculty group witnesses Operation Streamline. Two women and 28 men sit in the front of the courtroom in shackles that bind their ankles and wrists, wearing headphones to translate the magistrate judge's words into Spanish. Other days, up to 70 migrants will be processed.
After the judge explains their rights, he calls them forward in groups of five. Their lawyers, even the females, tower over the small men, a vivid display of the physical effects of plentiful food and better health care. The judge asks if they crossed illegally, and each answers in turn. By pleading guilty to this misdemeanor, they can avoid a court case and the much longer jail time associated with the felony charge of re-entry after removal. Each receives a sentence between 30 and 180 days, depending on whether they have prior offenses.
This seems like a good deal. But activists like Isabel Garcia, a lawyer for a group called Derechos Hermanos that advocates for immigrant rights, has explained that the felony was created with the law that made Operation Streamline. It's a stick to go with the carrot of the lesser sentence.
Garcia points out that the migrants will serve their sentences in facilities run by the Corrections Corporation of America, a private company that spends millions on lobbying and campaign contributions. At one point, she says, the company was making more than $17 million a month for incarcerating migrants. Why else, Garcia asks, would we want to feed and house these people for $122 per day for one to six months before deporting them? As a deterrent, few would claim it's working.
Judge Bruce McConnell graciously offers to answer questions after the 45-minute proceedings. He explains that the speedy justice is necessary as a practical matter or the criminal courts would be overwhelmed. He acknowledges that it creates "distressing optics," but adds, "I disagree that there's no due process." He says he's glad groups come to see justice in person but tells them to direct their complaints to Congress.
"We're trying to walk a fine line between being efficient and being, frankly, a cattle call."
"I'm not here to justify, but to execute the process," McConnell says. "We're trying to walk a fine line between being efficient and being, frankly, a cattle call."
That night the faculty and student groups hear from several faith leaders. While Southside Presbyterian, located in the barrio area of Tucson, went all in on activism, other communities had mixed reactions. Rev. Randy Mayer says his Good Shepherd United Church of Christ congregation in nearby Sahuarita is a more conservative town and includes many Border Patrol agents. "My church got involved because people began showing up at our door hungry and thirsty," he says. About three hundred now volunteer to help.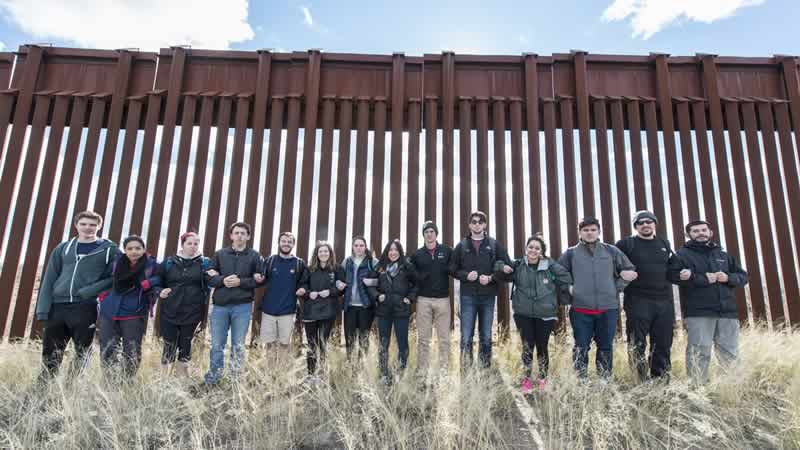 Fr. Bill Remmel, a priest formerly at Most Holy Trinity Catholic Church, says hosting students and creating a Wall of Remembrance for desert deaths was one thing, but building true activism has been more challenging.
Because many of the Tucson activists and seminar participants share similar convictions about immigration, the discussions sometimes flirt with preaching to the choir. Other times, a different perspective stands out.
"I think it's a mistake to assume that conservatives don't care about what's going on here," Jamie O'Brien tells the faith leaders and his colleagues. An elected Republican on the St. Joseph County Council, he teaches business law and tax-related classes at Notre Dame. "I'm deeply conservative, but I very much care. I see it as a pro-life issue."
Wednesday
In a visit to the medical examiner's office, forensic anthropologist Dr. Bruce Anderson explains that his job is to identify the bodies found in the desert so their families can receive some closure. His Pima County team has studied 2,500 bodies over the last 16 years, about 900 of which are still unidentified.
"I have a decidedly jaundiced view of immigration policy because I deal with its failures," Anderson says. "It's been 16 years of carnage."
Anderson describes in gruesome detail the process of dying of hyperthermia or heat stroke. In just six hours, a human head turns black and shrinks in the 120-degree summer heat, making the person unrecognizable. Animals and bugs invade the remains. The skin desiccates and hardens, so fingerprinting is impossible. His office uses unique identifiers like tattoos, dental work and bones to create a profile.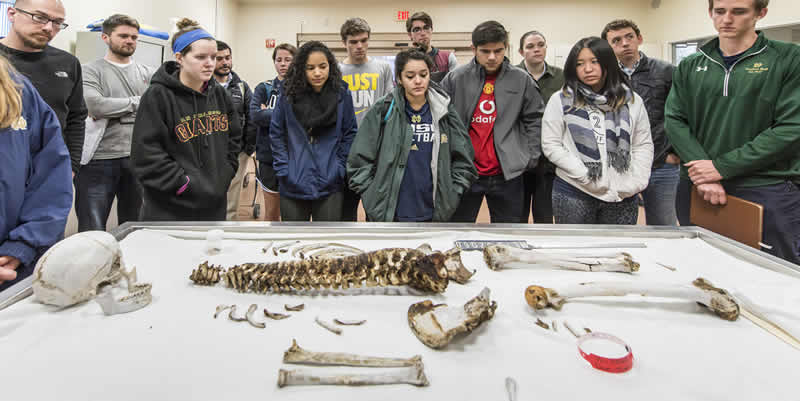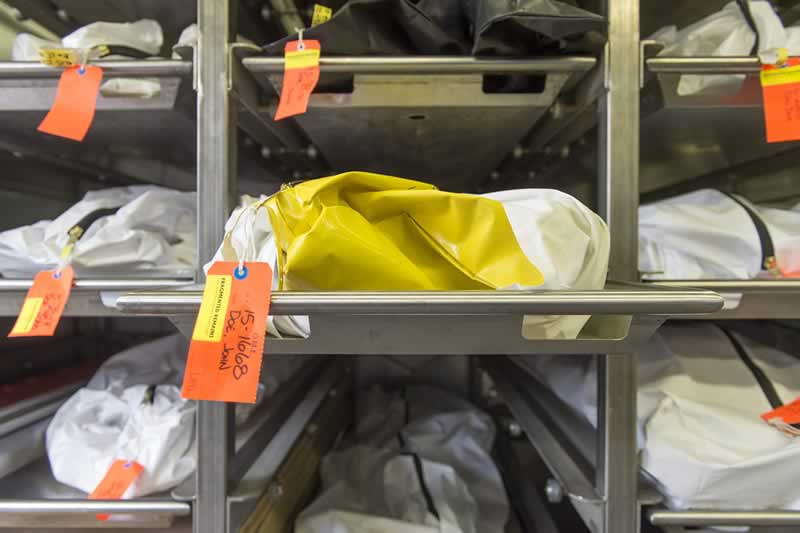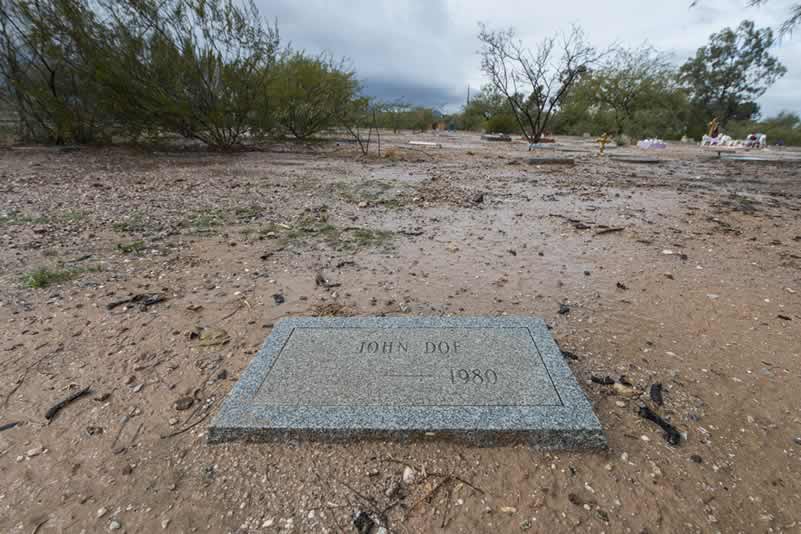 "We take tissue for DNA," he says, "but what are you going to compare it to?" Many of the calls that help him identify bodies come from employers or relatives in the States asking about someone who never arrived to a menial job waiting for them.
"We've heard so much this week about dehumanization," says Elena Mangione-Lora, who teaches Spanish at the University. "I'm glad that you are re-humanizing these people in death."
Fewer people are crossing now, but the number of bodies arriving at Anderson's office has not changed. The identified bodies are often shipped to their families, while the unidentified are cremated and put in the county cemetery as a John or Jane Doe. The journey from the comedor in Nogales to the dry river wash in the desert to a manila file on Anderson's desk comes into grim focus. Tomorrow's file could be Carlos.
"I have to remember that the best day at my job, where I can identify a skeleton, is the worst day of someone's life…"
"I have to remember that the best day at my job, where I can identify a skeleton, is the worst day of someone's life," Anderson says. "Now we have to tell some mother of the death of their child, confirming their worst fears."
At dinner that night, the Notre Dame delegation discusses how to take their experience back home. Suggestions range from panel discussions to classroom lectures, from volunteer work to requesting that Notre Dame become a sanctuary university.
Sam Centellas, director of La Casa de Amistad where Moreno's students volunteer, says this journey has been transformative, that it allowed the group to witness in migrants the face of Jesus. He also points out that reports of raids in Elkhart that week brought the issue home.
So how will our lives change?" he says. "Because we're all wise people with positions in our community. What will we do next?"