Community
On the Job
Notre Dame provides transitional employment for people with mental illness
For many people living with mental illness, employment is an important step on the road to recovery, linked with positive notions of identity and self-worth, as well as quality of life. Yet the unemployment rate for people with mental illness is remarkably high — as much as 80 percent, according to one estimate, compared to less than 4 percent for the general population. This even as the majority of people with mental illness — six in 10, according to one estimate — want to work.
The reasons are complicated, but two stand out: lack of experience, or gaps in experience, on the part of people with mental illness, and continued stigma around mental illness among many employers. Each contributes to the other in a self-perpetuating cycle of exclusion.
But with support from the University of Notre Dame, Clubhouse of St. Joseph County is attacking the problem head-on, creating opportunities for both employers and people with mental illness.
"We're really happy to partner with clubhouse. They're a wonderful resource and wonderful partners to work with."—Monique Frazier
Notre Dame is among a group of nine local employers who work with Clubhouse, a nonprofit membership organization, to provide transitional employment to people living with mental illness in the South Bend-Elkhart area.
Monique Frazier is the equal opportunity and access program manager working on campus accessibility initiatives at Notre Dame.
"We're really happy to partner with Clubhouse," said Frazier, whose job involves accommodating employees with mental illness and other qualifying disabilities under the Americans with Disabilities Act. "They're a wonderful resource and wonderful partners to work with."
"Notre Dame is probably one of our best partners," said Mark Buchanan, executive director of Clubhouse of St. Joseph County. "They understand the program and they're willing to engage with us."
So, what is transitional employment?
Broadly speaking, transitional employment is temporary, entry-level work that offers people with physical or mental disabilities, or who are otherwise disadvantaged, the opportunity to gain or regain the skills and confidence necessary for work while employed in a "real world" situation.
Notre Dame currently employs two Clubhouse members in transitional positions in Building Services, which handles custodial duties for the University's 135 academic, administrative and athletic buildings, as well as LaFortune Student Center, Legends of Notre Dame and residence halls.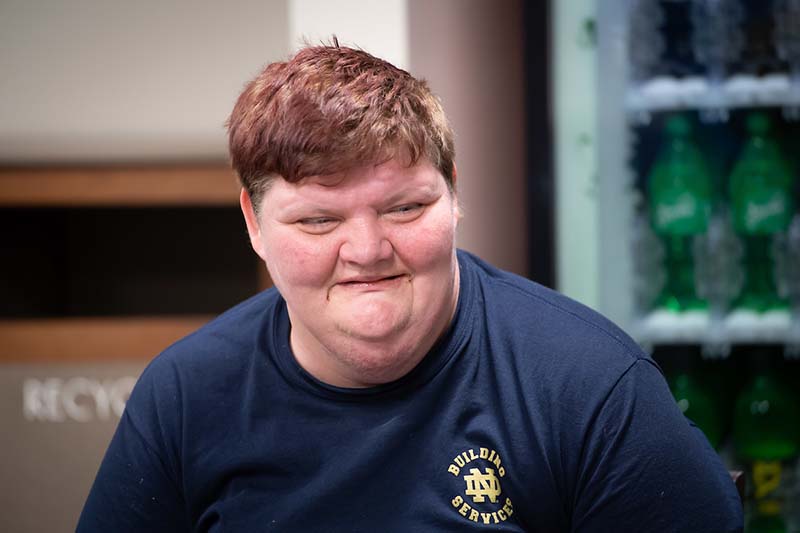 For Mary Walton, who works as a custodian at Knott Hall, a men's residence hall on the north side of campus, it's her very first job.
"I like my job," said Walton, who has a learning disability and social anxiety. "I like associating with the students and the staff."
Walton lives at Portage Manor, a county-owned care facility in South Bend, where she moved after her brother died. It was there that she was introduced to Clubhouse as a resource for friendship, education, employment and housing.
"I like going to Clubhouse," Walton said during a break from work at Knott Hall. "It gives me a place to go."
The job is an important part of it.
According to the World Health Organization, employment offers five categories of mental and/or emotional experience that promote mental wellbeing: time structure, social contact, collective effort and purpose, social identity and regular activity.
"Most of our members want to work. Whether it's a job or it's coming here and doing something else, just the simple routine is important."—Mark Buchanan
"Work gives us a sense of purpose," Buchanan said while sitting in the boardroom at Clubhouse of St. Joseph County. "Even if a person is wiping off the tables at McDonald's, they can say, 'Well, I work at McDonald's,' and that really affects their self-image."
"Most of our members want to work. Whether it's a job or it's coming here and doing something else, just the simple routine is important," he said.
Located along the river in South Bend, Clubhouse of St. Joseph County is among more than 300 clubhouse locations worldwide. The organization, which started as a single location in New York in the 1940s, offers people with mental illness opportunities for friendship, employment, housing, education and access to medical and psychiatric services in a single caring and safe environment.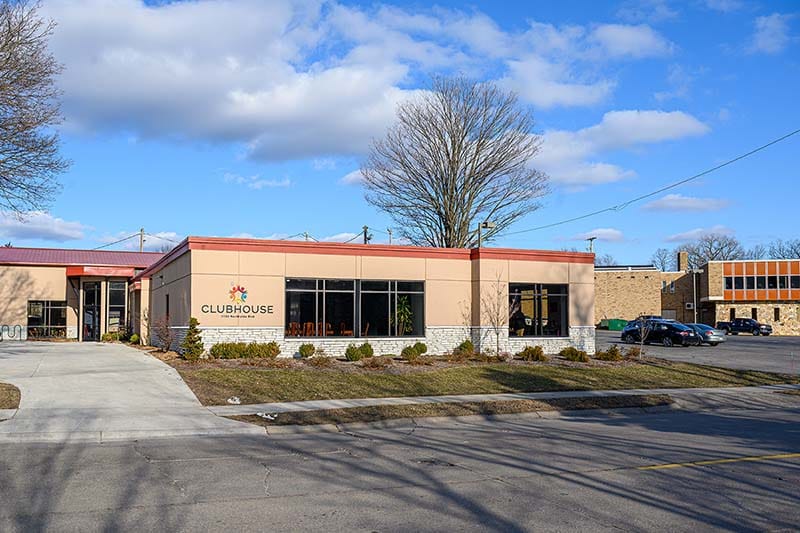 "We are a supportive community for people whose lives have been interrupted by mental illness," Buchanan said. "We help them with education, employment and wellness."
Locally, members work with staff to run Clubhouse of St. Joseph County, from cooking, cleaning and clerical work to rule-making and budgeting, Buchanan said, learning valuable social and job skills in the process. The day begins with a meeting featuring announcements, reports and updates from the center's three work units — kitchen, career development and business — and a "question of the day," which on a recent morning was, "What makes you happy when you think about it?"
"My bed makes me happy. When I see my bed I'm the happiest person in the world," one member said.
"Coffee!" another said.
The kitchen unit announced the lunch menu for the day: chicken tacos ($1.25), chips and salsa ($0.25) and Spanish rice ($0.25).
The center, located in a renovated former warehouse on Northside Boulevard, between the YMCA of Greater Michiana and the South Bend Farmer's Market, opened in 2018. It is the successor to an earlier Clubhouse that closed along with the former Madison Center in South Bend, now Oaklawn Mental Health and Addiction Center.
"It's a lot of hard work. But I can do it, and I didn't know I could do it at first."—Carol Elliott
The center includes a kitchen, cafeteria, business center, reception area and board room. Wide windows frame views of the river across the street. The walls reflect bright, calming colors — sunny yellows, vibrant blues.
Clubhouse of St. Joseph County counts about 300 members, Buchanan said, though only about three dozen are active with the organization on a daily basis.
Notre Dame started partnering with Clubhouse in 2017. Since then, the University has welcomed 10 Clubhouse members as transitional employees, all in Building Services. The work is part time, about 20 hours per week, and lasts three to six months. Members are paid the same as regular employees. They leave with valuable job experience and increased opportunity for future employment, including with Notre Dame.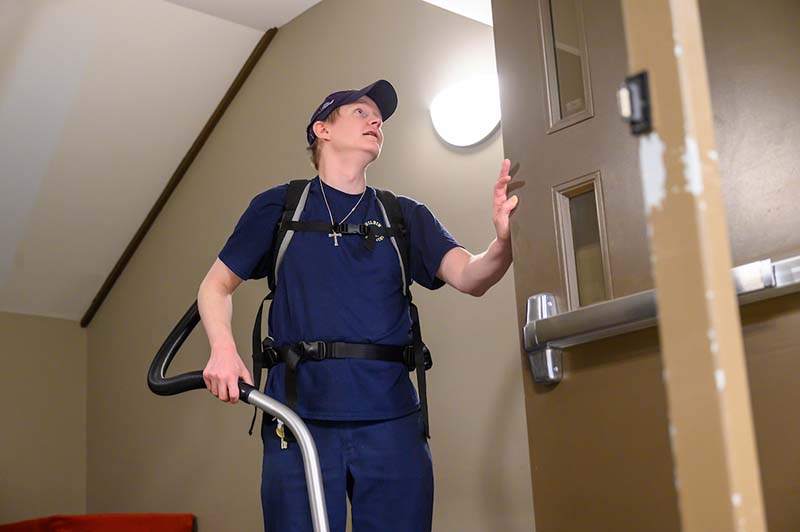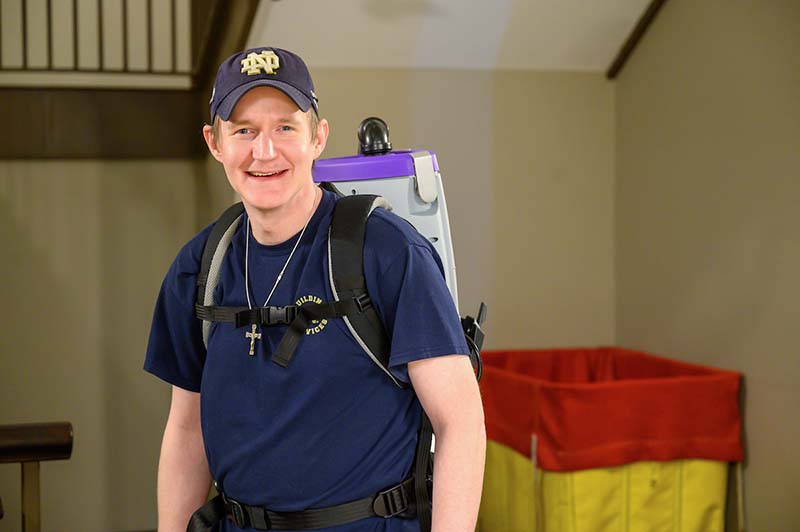 As evidence, two Clubhouse members who started as transitional employees with Notre Dame now work full- or part-time for the University in permanent positions.
That includes David Stein, a recovering addict who works full-time as a custodian at Dunne Hall, a men's residence hall on the north side of campus.
"I enjoy it; it keeps me busy," said Stein, one of five Clubhouse members who have graduated from transitional employment with Notre Dame to permanent full- or part-time work in the community. "It's weird, because my anxiety is better when I come to work, but my anxiety wants me to stay home."
That was never more true than on his first day of work, he said, when he looked at his check sheet — the list of things he needed to do before the end of the day — and panicked.
"I called my sponsor from (narcotics anonymous) and I was like, 'I'm never going to get all of this done,'" he said. "And she calmed me down that day."
Carol Elliott works alongside Stein in a transitional role.
"I love the beauty of the place," she said of Dunne hall, with its august reading room and neo-gothic details. "The students are so friendly, and the people I work with are so kind and friendly and understanding."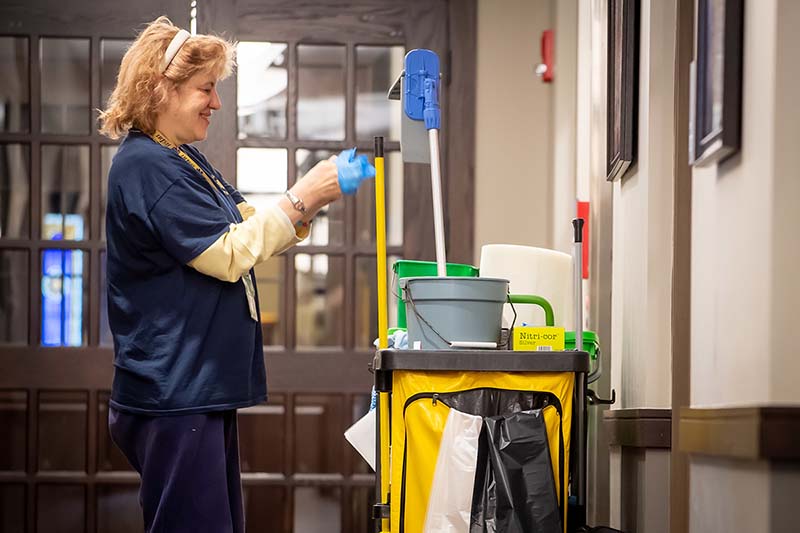 Elliott started working at Dunne in November. It's her first real job in more than 20 years after being diagnosed with mental illness as a teenager.
"It's a lot of hard work," Elliott said. "But I can do it, and I didn't know I could do it at first. It's really amazing what I can put forth and how everything looks when I get done. It's a big sense of accomplishment."
To ease the transition and ensure success, Clubhouse offers assistance to transitional employees in the form of mental and emotional support, transportation to and from work and coverage for absences.
Staff will even accompany members to work in some cases.
"As far as preparing me for work and getting me in the front door, Clubhouse was really helpful," Stein said. "The person in charge of my transitional employment even came and worked with me the first few days to make me feel more comfortable."
Frazier, for her part, described the partnership as a success.
"It's going really well," Frazier said. "The goal would be to expand it to other areas of campus," not just Building Services.
Back at Knott Hall, Walton sang as she wiped the sink, an old country tune about a woman moving beyond a painful past.
"I'm all, I'm all, I'm alright," she sang. "It's a beautiful day, not a cloud in sight, so I guess I'm doing alright."
For more information about Clubhouse of St. Joseph County, visit their website.