Community
Back to School
Ties developed at Notre Dame led '17 grad Andy Miles "home" to St. Adalbert Catholic School in South Bend
When Andy Miles took a job teaching math and science to middle school students at St. Adalbert Catholic School, a Holy Cross school in South Bend, it was like coming home, the 2017 Notre Dame graduate said.
As vice president of Fisher Hall, Miles helped organize the annual Fisher Regatta, a boat race on St. Mary's Lake that raises money for St. Adalbert.
Miles, as an undergraduate theology and pre-health major, also tutored at St. Adalbert with other men from Fisher and women from McGlinn Hall, and he taught Sunday school there through the McGrath Institute for Church Life at Notre Dame.
Now he would be returning not just to the school — on its own, a place of considerable influence with regard to his intersecting views on education and the faith — but to the very classroom he helped renovate as an undergraduate.
In Miles' senior year, the Fisher Regatta raised money to refinish the wood floor and install a new lab sink and HVAC system in the third-floor math and science room at St. Adalbert, where he would soon be teaching.
"It does feel a little bit like home because of the importance it played in my faith journey and in my journey to becoming a teacher," Miles said of the school. "So it just feels really special to be back."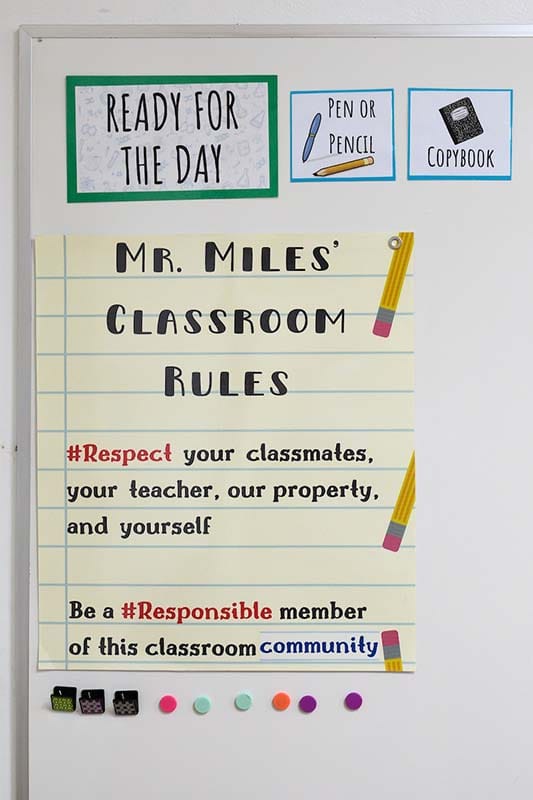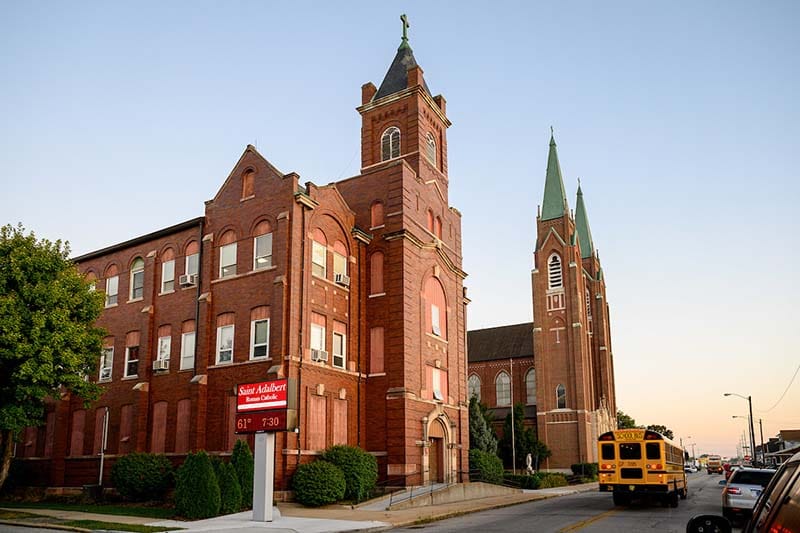 Coming home
St. Adalbert Catholic Parish was founded in 1910. The parish school was founded a year later. In 1926, a new church was finished and the school moved into the old parish building, where it remains to this day. The three-story building, brick with limestone trim, sits at the corner of Olive and Grace streets in a residential area on the city's west side.
Like the parish, the school was built to serve the city's growing Polish population, which settled on the west side. Today, it serves a mostly Hispanic population. Many of the students are bilingual. Some speak Spanish only. All but a few qualify for free or reduced-price lunch from the state, a common proxy for the concentration of low-income students in a school.
"It just goes to show that you never really know the seeds you're planting in forming these partnerships, and the beautiful way things circle back."
Like many inner-city Catholic schools, St. Adalbert was in danger of closing at one point because of declining enrollment. But it has thrived under the state's school choice program, which offers scholarships to eligible students to offset tuition costs at participating private, charter and parochial schools in the state. Today, more than 90 percent of the school's 230 or so students participate in the program, which launched in 2011.
A product of Catholic schools himself, Miles arrived at St. Adalbert via Philadelphia. There, he spent two years teaching middle school math and science at Our Lady of Hope, a Catholic school in South Philadelphia, with the Alliance for Catholic Education (ACE) at Notre Dame, a graduate teaching program that offers support for under-resourced Catholic Schools nationwide.
It was while considering his options after ACE that Miles learned of the opportunity to return St. Adalbert, this time as a teacher.
He jumped at it.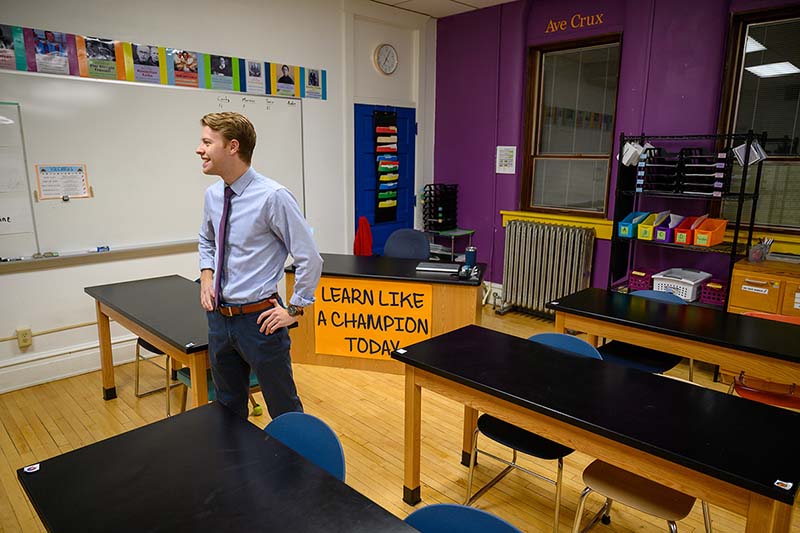 "I wasn't sure what the next step was going to be after ACE, one of my long-term goals being going to medical school," he said. "But I felt that I wasn't done teaching."
Melissa Green, a graduate of both Notre Dame and ACE as well as a former language arts teacher in Alabama, Georgia, Minnesota and South Bend, is the assistant principal at St. Adalbert.
"It's such a tremendous story of how fruitful this relationship can be," Green said of Miles returning to the school. "It just goes to show that you never really know the seeds you're planting in forming these partnerships, and the beautiful ways things circle back."
Conversely, Green said, "I have no doubt one of these boys in this school may one day go to Notre Dame and stay in Fisher Hall."
'It's our signature thing'
The Fisher Regatta involves students from across campus piloting homemade boats across St. Mary's Lake, and while it has been a tradition for more than 25 years, only recently has it served a charitable, as well as social and recreational, purpose.
Credit Rick "Mazz" Mazzei, rector of Fisher Hall.
Sensing an opportunity to add meaning to the annual boat race, Mazzei, upon assuming the role of rector in 2014, set about establishing a relationship with St. Adalbert on the advice of Rev. Tim Scully, C.S.C., professor of political science at Notre Dame and co-founder of ACE along with Rev. Sean McGraw, C.S.C.
"He talked to us about a school in South Bend, St. Adalbert, that was an ACE school, and they could use our help," Mazzei said of Scully. "So starting in 2015, the regatta began to adopt St. Adalbert."
"It's our signature thing," Mazzei said of the regatta. "'You Gotta Regatta,' that's our slogan."
And it applies to everyone.
"I've been on a few boats in my day," said Mazzei, a retired schoolteacher who holds a bachelor of business administration from Notre Dame as well as a master's in American history from Salem State University. "One sunk, so I'm not sure I'll go back again. It was cold!"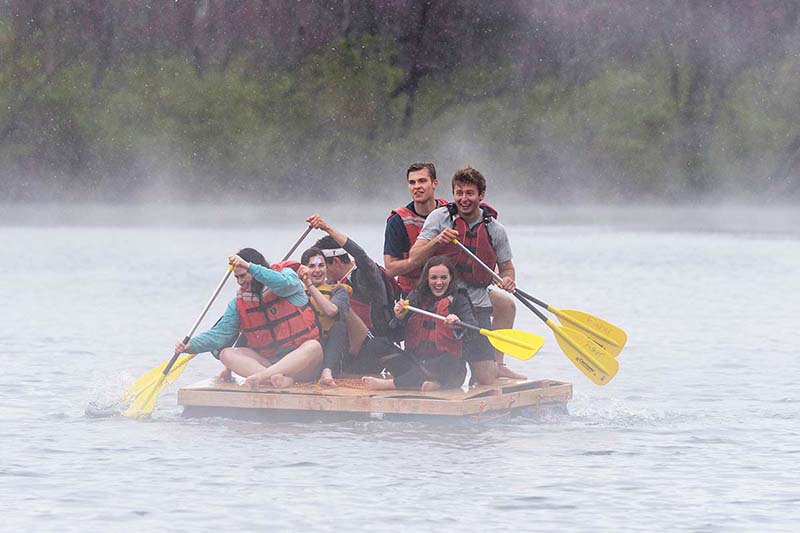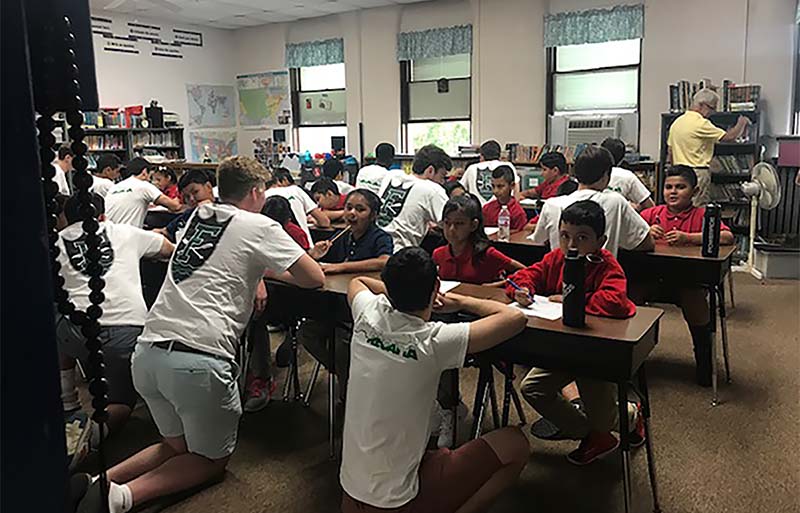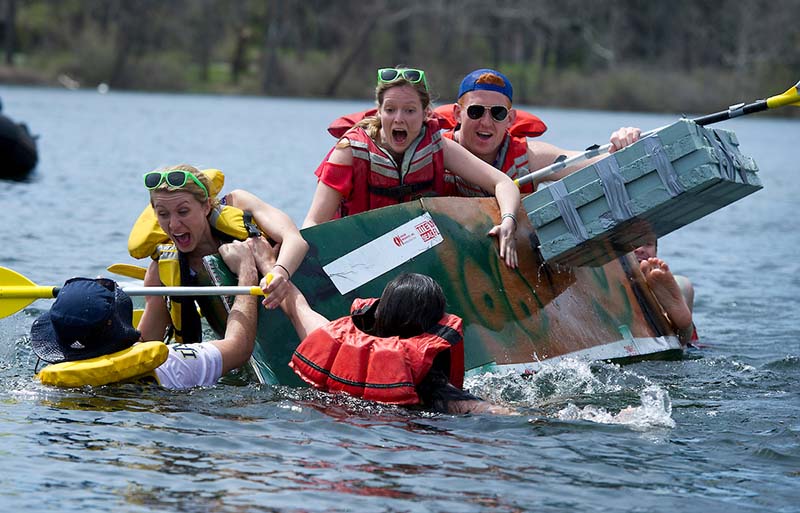 The regatta has supported a number of projects over the years. St. Adalbert uses the gym at the former St. Casimir Catholic School, a few blocks east of St. Adalbert. One year, the regatta raised money for a new floor and backboards for the gym. The event has also raised money to renovate the computer labs and the library at St. Adalbert.
"It's invaluable," Green, the assistant principal, said of the relationship with Fisher, "because we cannot just put together a capital campaign to renovate classrooms or St. Casimir. This place relies on those outside of the parish family to recognize our needs and support us."
Fisher also co-hosts an after-school tutoring program at St. Adalbert with McGlinn Hall.
Said Green, "If you were to come here after school when the (tutoring) program is up and running, you would see literally dozens and dozens of kids stay after school to work with the tutors."
"As much as St. Adalbert gets (from the relationship), I'm not sure the men at Fisher don't get more."
"Kids love it," she said. "If anything, we have to remind them: 'Remember, we're doing homework here.'"
Miles was involved with the tutoring program as well, Mazzei said, "so to see him teaching (at St. Adalbert) now, it's a little emotional."
This year, Mazzei said, the regatta will support a project to extend air conditioning to the entire school — all three floors. Currently, only the upper floor enjoys A.C.
All told, Mazzei said, the regatta has raised more than $50,000 for St. Adalbert, including more than $11,000 last year alone — money sorely needed to improve and maintain the more than 100-year-old building, which creaks and groans like an old barn.
Beyond that, the relationship offers the Fisher men as role models for the St. Adalbert students.
"Especially for the kids who don't have a model of post-secondary education, to see someone who models to them what it's like to be in college — and not just in college, but contributing to the community — is wonderful," Green said.
But the benefits flow both ways.
"As much as St. Adalbert gets (from the relationship), I'm not sure the men at Fisher don't get more," Mazzei said. "It opens their eyes to the world around them and teaches them that they can be helpful."
That resonates with Miles, who continues to be inspired by St. Adalbert and its faith-inspired mission.
"As I've gotten to spend more than just a couple of after-school tutoring sessions with these students, it's become really obvious how incredibly talented they are, how resilient they are and how kind they are," Miles said, "which I think is just a testament to this place and to the good work they do."