Global
Making Home
Stranded by the pandemic, ACE in Chile students find a home and a purpose in South Bend
Established and emerging educators in the international teaching program at the University of Notre Dame's Alliance for Catholic Education (ACE) have traded Chile for Indiana this semester because of the coronavirus pandemic, living and teaching at Holy Cross church and school in South Bend instead of St. George's College in Santiago.
ACE in Chile, or ChACE, is a postgraduate teaching experience for graduates of ACE and other University Consortium for Catholic Education programs. It offers graduates the opportunity to teach English as a second language to PK-12 students at St. George's College, a Congregation of Holy Cross school in Santiago, while living with host families in Chile and experiencing life and culture there.
"To have people helping with such expertise and energy and enthusiasm and willingness to serve has really helped to bolster the mood of all of us." -Clare Roach
Beginning in July, graduates participate in a one-week orientation at Notre Dame, followed by a six-week Spanish course in Quito, Ecuador.
From there, they travel to Santiago, where they spend the next 12-plus months assisting in the classroom and with ministry activities and special projects at St. George's, traveling with the school on mission trips and teaching full-time there for one school year, March to December.
The graduates would normally be in Chile now, but have been unable to travel because of the coronavirus. They still hope to depart for the country before the end of the year.
In the meantime, they are living at the Smith Center at Holy Cross, which at one time housed 27 Holy Cross sisters, while teaching at Holy Cross School, a congregation-run PK-8 school on South Bend's west side, a diverse area of the city with a large number of Spanish-speaking households.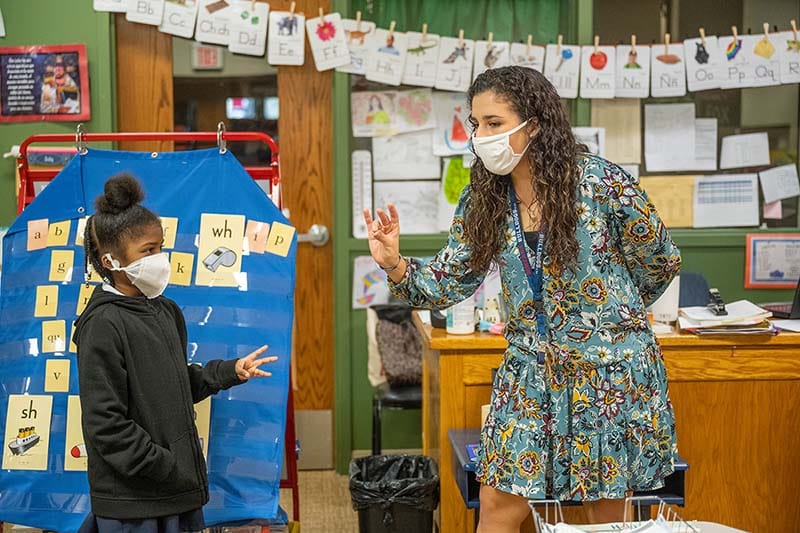 Holy Cross is a dual-language school — English and Spanish. In collaboration with ACE and the Institute for Latino Studies at Notre Dame, the school launched a two-way immersion program for pre-K students in 2017. The program has since expanded to kindergarten, first and second grades. It will continue to expand at a rate of one grade level per year until instruction is evenly split between English and Spanish at all grade levels.
Since arriving at the school in August, the graduates have been teaching virtual students, working in immersion classrooms, running tech support, leading drama lessons, greeting and screening arriving students for coronavirus symptoms and providing breaks for teachers.
This is in addition to taking remote classes from the Spanish language school in Ecuador.
It's a far cry from Santiago, but a welcome alternative under the circumstances and a relief for Holy Cross, which, like many schools these days, is juggling both virtual and in-person learning amid the ongoing pandemic.
"Most people don't realize what the insides of schools are like right now. Teachers are being stretched in ways that nobody would have ever imagined prior to this pandemic," said Clare Roach, who serves as coordinator of both the English as a new language program at ACE and two-way immersion at Holy Cross. "So to have an extra set of hands, and a very expert set of hands, has been a godsend."
She added, "To have people helping with such expertise and energy and enthusiasm and willingness to serve has really helped to bolster the mood of all of us."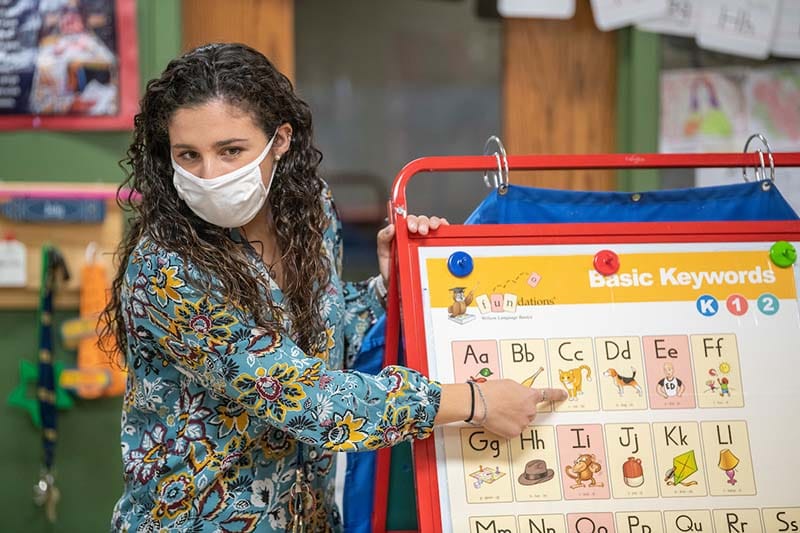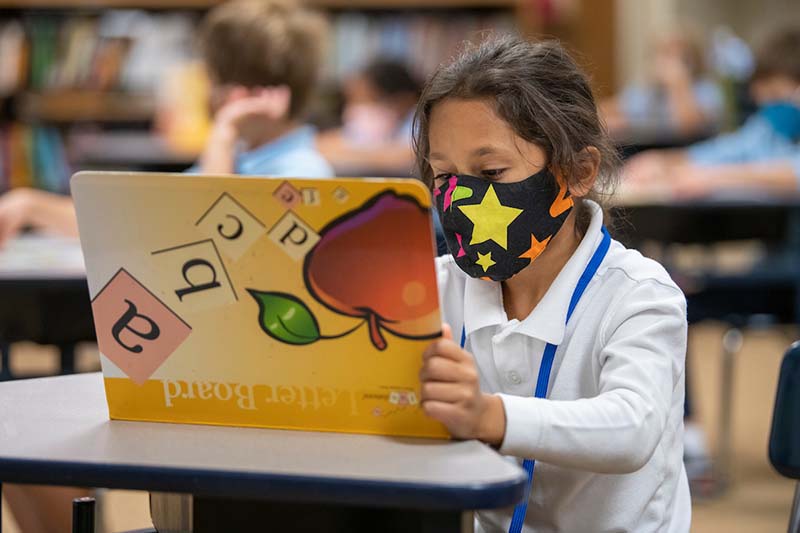 For safety reasons, the graduates were required to test negative for the coronavirus upon arrival at Holy Cross before engaging with students, faculty, staff or the wider community.
But they have been busy ever since.
"It's been a really amazing experience," said John Donovan, a Michigan native who taught ninth- and 10th-grade English in Pensacola, Florida, as part of ACE 25. "I'm just really grateful to be here, and to Holy Cross for welcoming us."
Donovan, whose mom and dad attended Saint Mary's College and Notre Dame, respectively, is one of four graduates living and teaching at Holy Cross amid the pandemic, all former ACE Teaching Fellows, former ACE English as a New Language (ENL) Hernandez Fellows, or both. The others are Ella Baxter, Amy Brabec and Adriana Marrero.
ACE Teaching Fellows spend two years teaching in under-resourced Catholic schools while earning a no-cost master of education degree from Notre Dame. Hernandez Fellows take graduate-level ENL courses over the summer at Notre Dame and online throughout the school year to become better Catholic teachers and principals.
In addition to teaching and otherwise helping out around the school, Donovan, who studied English at Michigan State University, has been using theater and improv games to teach practical theology to students in grades six, seven and eight and helping to stream Mass.
He's also learning basic Spanish.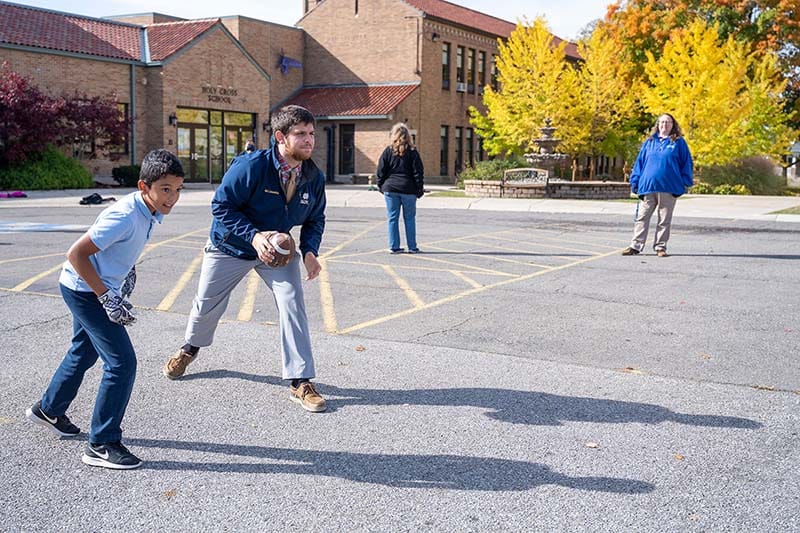 "John is literally learning phonics alongside some native speakers that out-skill him in Spanish every day," said Katy Lichon, director of the English as a new language program and Catholic School Advantage with ACE and a faculty member with ACE Teaching Fellows. "So it's pretty neat."
"It's been busy but fun," said Marrero, who spent the past two years, including the pandemic-shortened 2019-20 academic year, teaching social studies at Notre Dame High School, an all-girls school in San Jose, California, as part of ACE 25. "I'm so grateful for the ability to be in-person with the students. What a difference to finish teaching last spring online and then have contact with students this fall."
And the accommodations?
"It feels a little bit like a dorm," Marrero said of the Smith Center. "We all have our rooms and we're all in a really long hallway. But anyone who has done ACE or other UCC programs would feel right at home."
Situated across the parking lot from the school and parish, the center houses the parish offices in addition to the former sisters residences. The sisters residences are on the upper floor of the two-story building. Each room has a bed, desk and sink. Kitchen and bathroom space is shared. There is no air conditioning.
In normal years, the parish rents the rooms out for Notre Dame football weekends.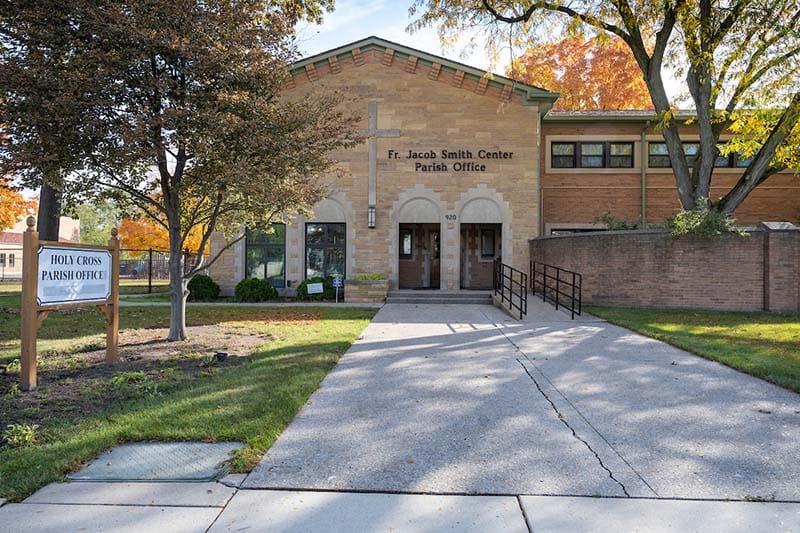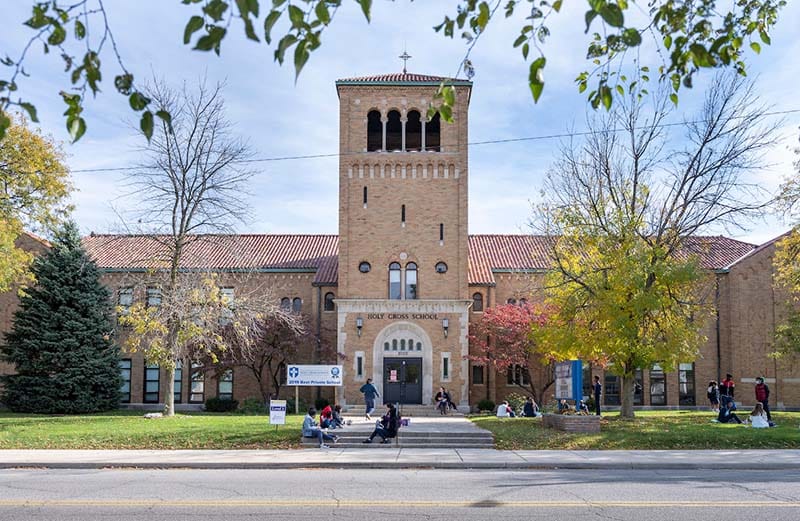 Donovan, for his part, described it as "homey."
"They're living in community and taking care of each other, but it's nothing cushy," Roach said.
By coincidence, a former St. George's teacher is living and working at the school and parish as well. Carolina Parades is teaching second grade while living at the Smith Center.
"The ChACE students are helping to integrate her into American schooling. All the while, because she came from the school they're about to go to, she's orienting them to the community they're about to serve," said Roach. "It's an incredibly mutually enriching relationship."
Brabec, for her part, covered for the teacher when the teacher was late arriving from Chile because of the pandemic.
"The ChACErs were instrumental in allowing us to successfully open for in-person instruction this fall." -Holy Cross Principal Annie Borjas
"The ChACErs were instrumental in allowing us to successfully open for in-person instruction this fall. God definitely knew we needed them and we consider their presence at Holy Cross an incredible blessing," Holy Cross Principal Annie Borjas said.
She continued, "Their adventurous spirit, their enthusiasm and their creativity brought joy during anxious and stressful times. Their expertise with technology and their eagerness to try anything and help in any way possible allowed our teachers to relax a little and approach the beginning of the school year with some of that same energy. They've enriched the lives of our entire faculty and staff just as much as they've enriched the lives of our students."
Holy Cross is the nearest congregation-run school to Notre Dame, and Notre Dame students, faculty and staff routinely collaborate with the school on education-related projects.
Most recently, ACE launched a book club for Spanish-speaking students in grades six, seven and eight. These are students who speak Spanish at home but who struggle to read and write in Spanish because it is not the traditional language of education in the U.S. Notre Dame students who are proficient in Spanish lead the club.
Established in 1993, ACE sustains and strengthens under-resourced Catholic schools through leadership formation, research and professional service to ensure that children of all backgrounds have the opportunity to experience the gift of an excellent Catholic education.
For more information, visit ace.nd.edu.