Enduring Courage
Notre Dame president blesses souls of the missing and departed in Mass at one of Mexico's largest criminal mass grave sites
October 15, 2018
VERACRUZ, Mexico — University of Notre Dame President Rev. John I. Jenkins, C.S.C., commended a group of mothers of the missing Monday for their courage in the face of tragedy during Mass at the site of one of Mexico's largest mass graves, where scores of victims of the country's drug violence were found buried.
"The weapons and the violence of those who took your children are strong. But your courage and your love are even stronger," Father Jenkins told the Colectivo in his homily. "Thank you for your courage. Thank you for your love. Thank you for demanding the truth. Thank you for insisting on justice."
Father Jenkins concelebrated the Mass, officiated by His Excellency Bishop Luis Felipe Gallardo Martín del Campo of Veracruz, as part of the University's honoring the Colectivo Solecito de Veracruz — the mothers who discovered the graves — with the 2018 Notre Dame Award. Workers scouring more than 100 acres of hillside and scrub land in the last two years in an area known as Colinas de Santa Fe have found 295 bodies and some 22,000 fragments of human remains, according to federal police and volunteers at the site.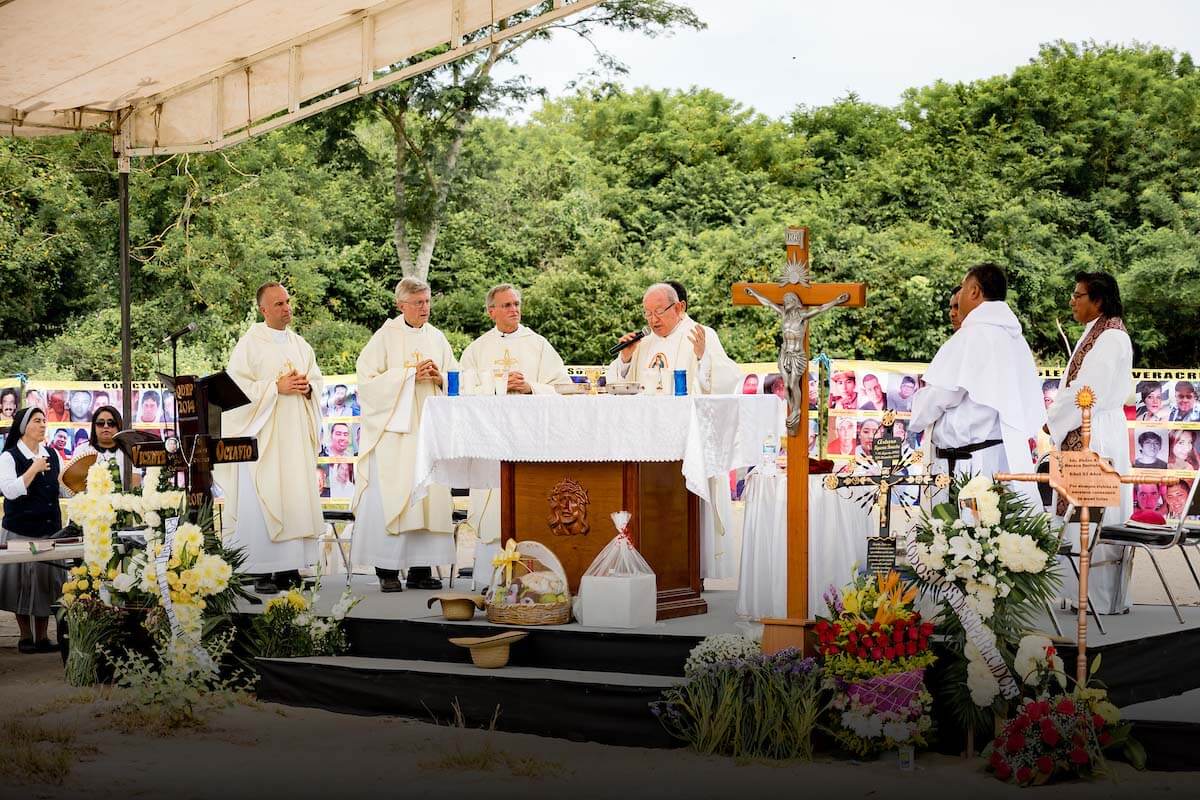 Veracruz Bishop Luis Felipe Gallardo Martín del Campo concelebrates Mass with Notre Dame president Rev. John I. Jenkins, C.S.C., Father Gerard Olinger, C.S.C., and other Holy Cross and diocesan priests from Mexico.
Previous winners of the Notre Dame Award, which recognizes dedication to faith, peace, justice and care for the vulnerable, have included Mother Teresa and Jimmy and Rosalynn Carter. This is the first time the award has been given to a group or individual in Mexico.
Father Jenkins compared the mothers' grief to that of the Virgin Mary, for whom Notre Dame is named, in the death of her son, Jesus Christ.
"Your great love did not end with the disappearance of that child. You have come together to reveal the truth about your loved ones who were taken from you," he said. "In this you are so much like Mary, our Lady, who endured such sorrows, but endured them with love and faith."
More than 160 people attended the Mass, held in a dusty, sun-battered clearing of Colinas de Santa Fe dotted by small poles bearing numbers to mark the graves that have already been excavated. Many were overcome with emotion, and Father Jenkins greeted and hugged the mothers after the Mass.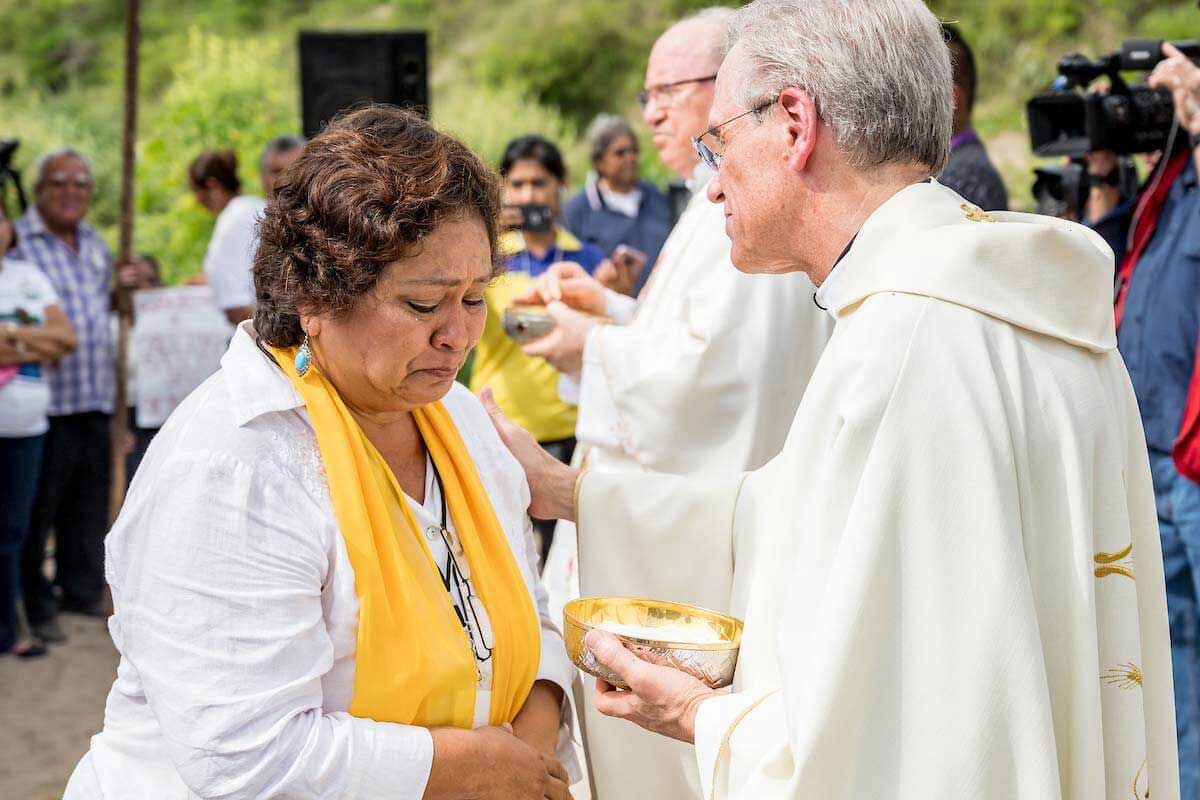 When asked by a news reporter if forgiveness was possible for the people who committed these crimes, he responded, "Yes. But first we need transparency. We need to know what happened to all these young people. Let us know what happened to our children. Unless that happens, I don't think the process of forgiveness can be complete."
In an interview with Mexican television program Milenio, Rev. John I. Jenkins, C.S.C. explains the importance of the Notre Dame Award and shares his perspective on political tensions between the U.S. and Mexico.
Cuitlahuac Garcia, governor-elect of Veracruz, attended the Mass and promised to work with the Colectivos and victims to pacify the state, which has seen a spike in violence and disappearances during Mexico's 12-year drug war. Former state officials, including ex-Gov. Javier Duarte, currently sit in jail accused of financials crimes, with some under investigation for forced disappearances.
"We will keep people informed. We won't grandstand. We won't be authoritarian, and the victims in these cases will always accompany us, always," said Garcia, who takes office Dec. 1.
The Colectivo and workers they hire with their own money, raised through food sales, raffles and donations, started with no outside help. They now have the support of a university archaeologist and forensic experts from the Federal Police, who excavate and process evidence once members of the Colectivo have located a potential criminal burial site. Civilian workers at the site last week said they may have found another clandestine grave, and experts are now investigating.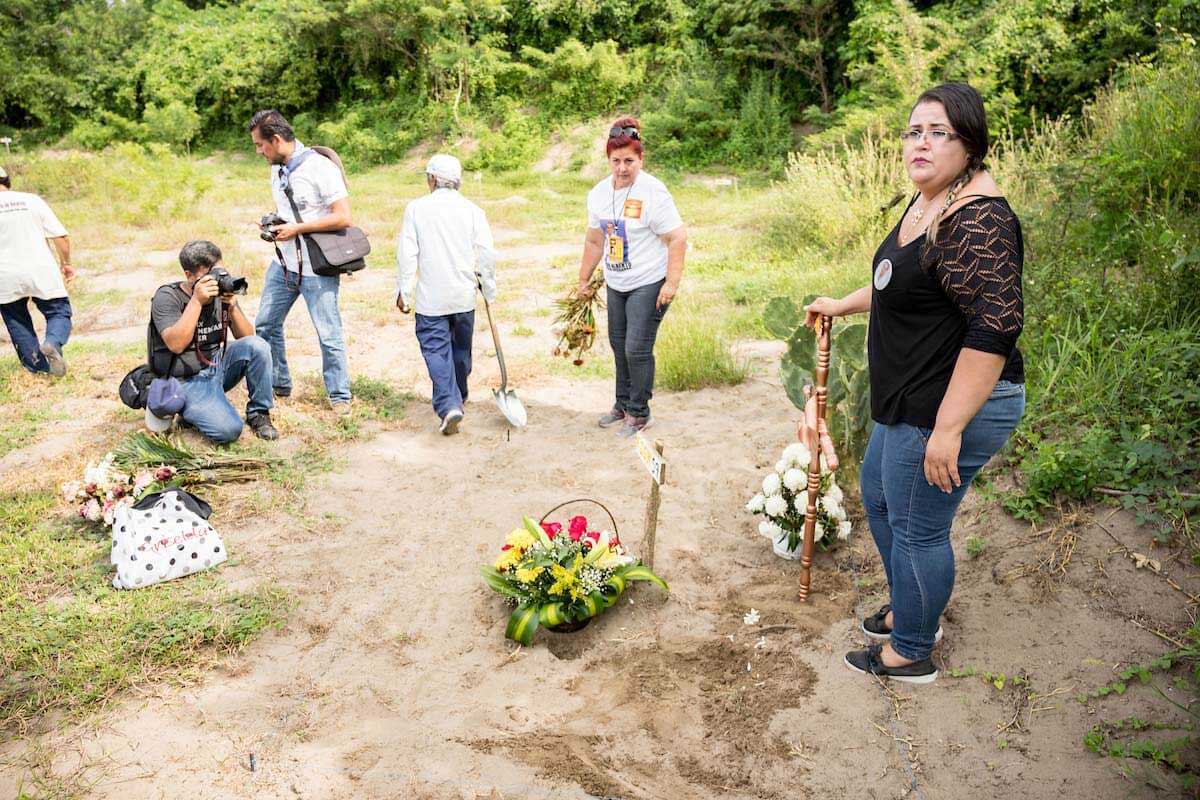 The group was formed in 2014 in the face of government inaction on cases of missing persons, some of the casualties of a 12-year government war with drug cartels. Estimates include over 130,000 homicides related to criminal conflicts; more than 30,000 disappearances, some forced; and more than 320,000 displaced people to date.
The mothers decided to dig in areas rumored to be mass graves on their own. As a result of their labor, they received an anonymous tip in 2016 — a map showing the location of graves in Colinas de Santa Fe, the undeveloped, secluded hillside behind a housing subdivision.
Father Jenkins will formally present the award to the Colectivo at breakfast in Mexico City on Tuesday. He led a Notre Dame delegation to Mexico that including Chief of Staff Ann Firth, the Rev. Gerard Olinger, Vice President for Mission Engagement and Church Affairs, Michael Pippenger, Vice President and Associate Provost for Internationalization, and Paul Browne, Vice President for Public Affairs and Communications.