Global
A Semester, Interrupted
International Student Stories
As the pandemic first exploded in the United States in early spring, international students had to make a tough call: Should they find a way to stay on campus or return to their home countries to wait for the situation to resolve itself? The crisis intensified in many locations across the world, making it nearly impossible for international students who had returned home to make it back to campus by the start of the 2020-21 academic year.
The hurdles were significant for these students, as they faced travel restrictions, limited flight options and closed U.S. embassies. The University was charged with creating viable and accessible solutions that supported all students in their academic progress. Notre Dame International was also working with partners on campus and abroad to create innovative programs that keep students engaged with the Notre Dame community. Determining the available options was not an easy task, specifically for first-year international undergraduate and graduate students.
Three international students share their personal stories and offer a glimpse into the reality of being an international student during a global pandemic.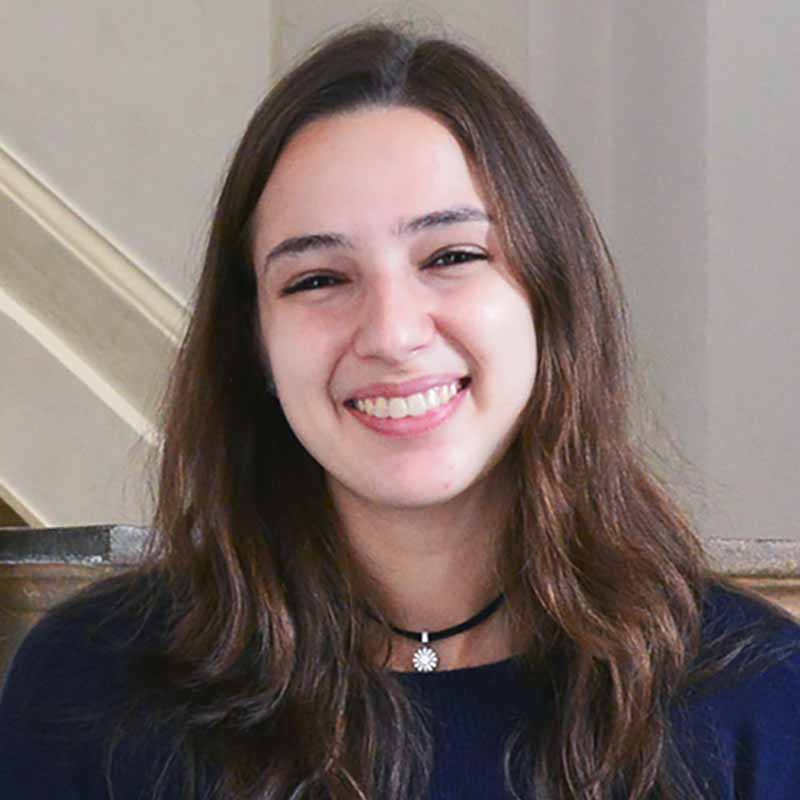 All Roads Lead to Rome
Nicole Marinho Vieira Weiss, freshman
Rio de Janeiro, Brazil
On a typical day, in a not-so-typical semester, Nicole Marinho Vieira Weiss would wake up in Notre Dame's Villa on the Celio in Rome. The accommodations were as grand as the cultural offerings that the global city has to offer. Weiss recently completed a semester abroad in Rome — in a program that is academically rich and spiritually transformative.
Notre Dame's Rome Global Gateway is made up of two facilities: a research and teaching facility in Via Ostilia and the beautiful Villa, located just two blocks away. The Villa is known for its social spaces, a student activity center, a gathering space with inviting couches and a kitchenette. The outdoor space is just as magnificent, complete with a garden, benches, flowerbeds, a small amphitheater and a breathtaking view of the Colosseum from the rooftop terrace. In a typical semester, the facility would be bustling with 90 students: a mix of architecture students and study abroad undergraduates.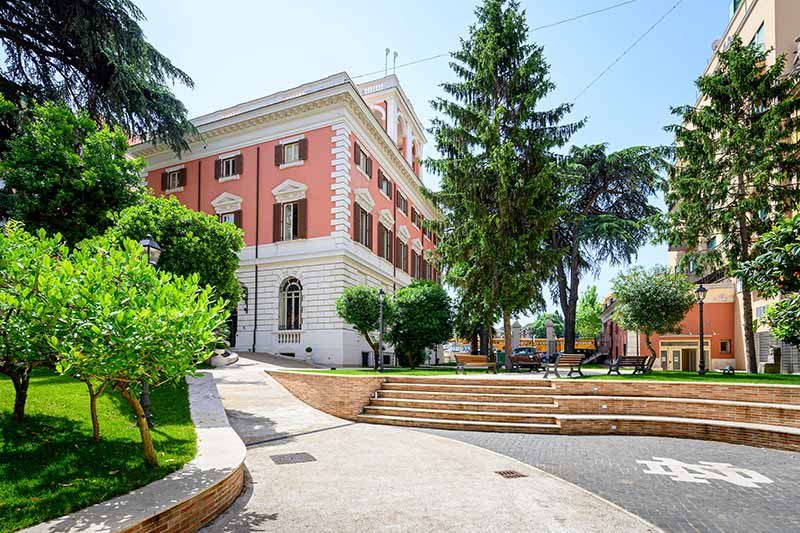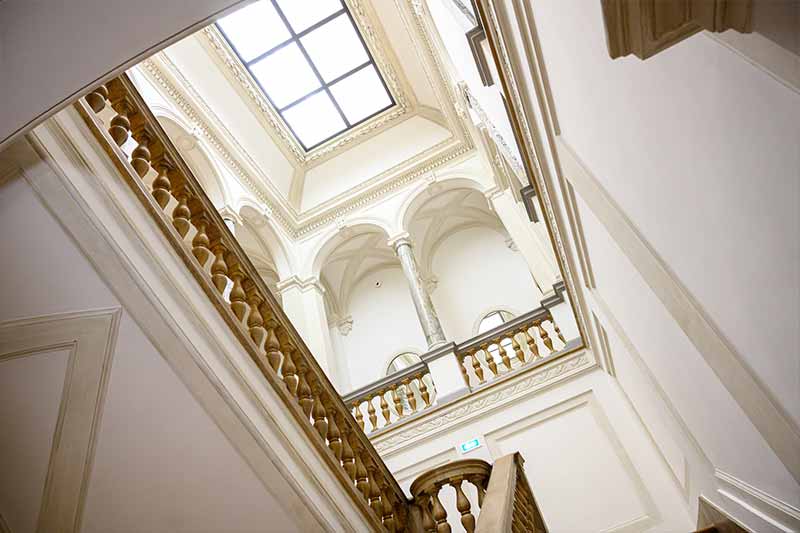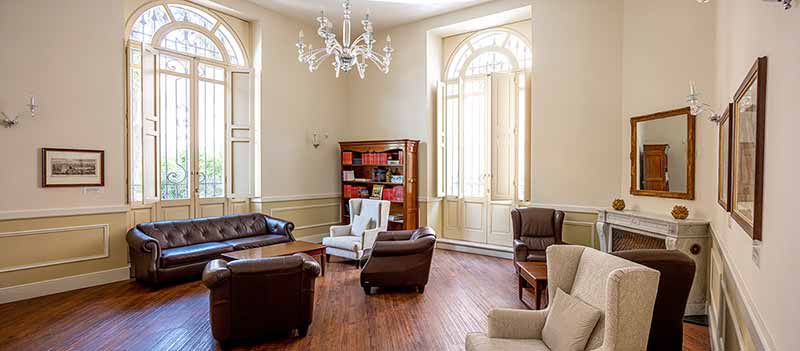 "This was my first introduction to the University, as I am starting my journey in Rome instead of South Bend, Indiana. I just stood there for a few moments, soaking it all in."
But as Weiss roamed the halls on her way to class, she was met with complete silence. The grand Villa was empty, a result of the global pandemic that suspended international travel and all study abroad programming. She wasn't completely alone; the Rome Global Gateway staff was there to support her and keep her engaged in this new experience. The staff created special events just for her, which included an introduction to an American holiday.
"It was quite special and a little surreal to experience my first true American Thanksgiving, even in a different country," reflects Weiss. "We also decorated the Christmas tree together and hosted movie nights. They became my haven from the busy streets of Rome and made me feel like a part of the community here."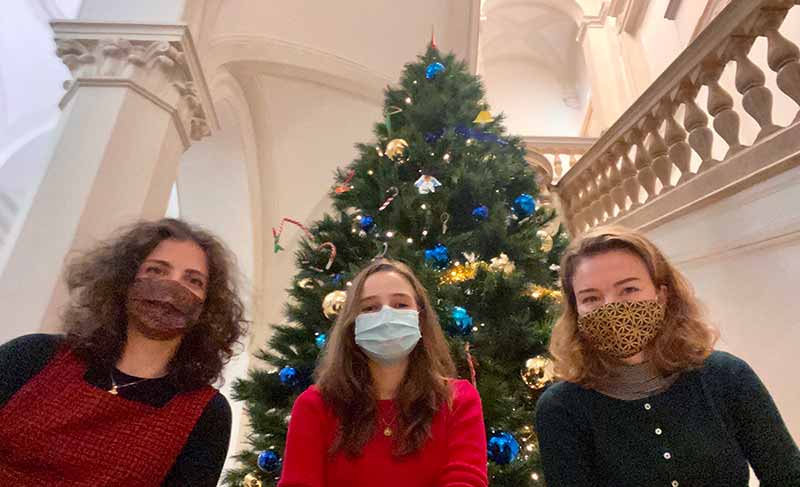 It's an unusual situation that Weiss finds herself in, as this is also her first introduction to Notre Dame.
"The weirdest thing for me was walking up to the Villa and seeing the Notre Dame logo," reflects Weiss. "This was my first introduction to the University, as I am starting my journey in Rome instead of South Bend, Indiana. I just stood there for a few moments, soaking it all in."
Keeping with the theme of this unprecedented semester, Weiss wasn't enrolled in a typical study abroad program. She participated in the study away locally program, which was created to accommodate the hundreds of international students unable to get to campus due to the global suspension of visa processing and entry restrictions. International students were essentially able to enroll as study abroad students at local universities in their home countries where Notre Dame already has academic partners. With this option, students were fully enrolled at Notre Dame and were able to remain academically engaged.
Her journey to Rome is still quite remarkable, as she's originally from Rio de Janeiro, Brazil. As the fall 2020 semester approached, she was desperately trying to secure her visa to travel to campus.
"It wasn't a complete shutdown, so it kind of fools you and gives you enough hope to keep going," says Weiss.
Her first visa interview was scheduled for mid-July. It was then moved to August, and was cancelled shortly after. With no visa appointments scheduled, Weiss knew her options were diminishing. Several other Brazilian students were facing the same reality.
"It just felt so unfair, and it takes a huge toll on you," says Weiss.
She sent a plea to the study abroad team at Notre Dame International, asking if she qualified for any of the programming options abroad. She was not interested in deferring her admission. She disclosed to staff that she also holds a European passport, as her father's family are European immigrants. The study abroad team was able to create a program specifically for her in Rome, with the help of Notre Dame's first-year advising. With support from the Rome Global Gateway and strong partnerships with Italian institutions, Weiss was able to fly to Portugal to quarantine before landing in Rome to start her Notre Dame journey.
"For me, it was a lifeline," says Weiss.
Weiss was able to receive her visa and plans to make it to campus in time for the spring 2021 semester.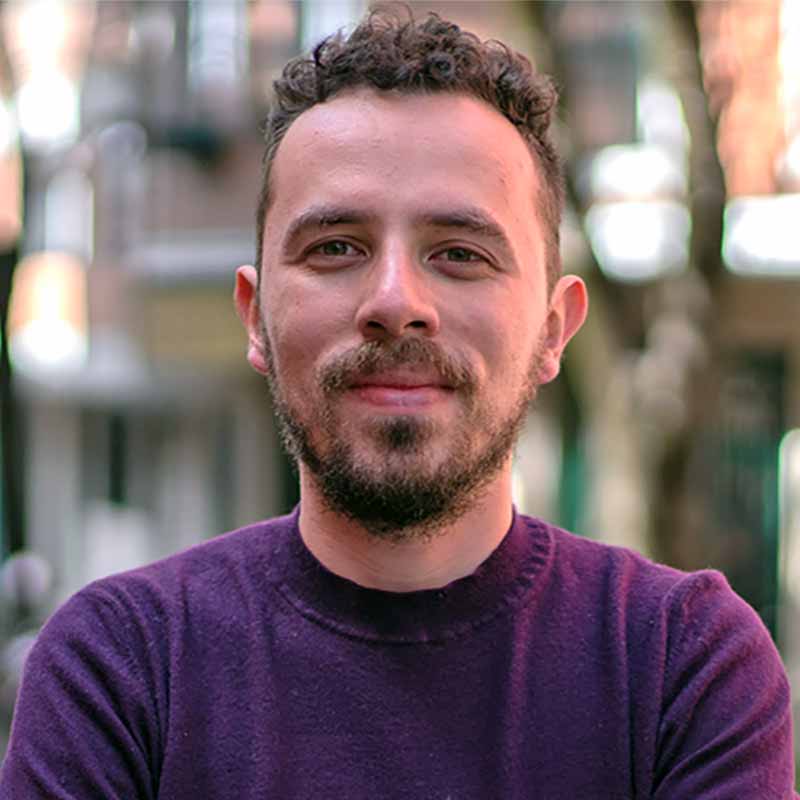 Deferred, But Not Defeated
Juan Sebastian Mosquera, graduate student
Pereira, Colombia
The call to activism started at a young age for Juan Sebastian Mosquera. He experienced violence firsthand growing up in Colombia. At one point, his grandparents were displaced from their home and forced to leave their city by an armed group. The situation unfolding around him was serious; it was also the driving force behind his desire to work as a peacebuilder.
In high school, Mosquera found himself drawn to organizations that work to build peace and prevent violence. He quickly became an active member of these organizations and clubs, all working to prevent conflict and assist in the transition from war to peace.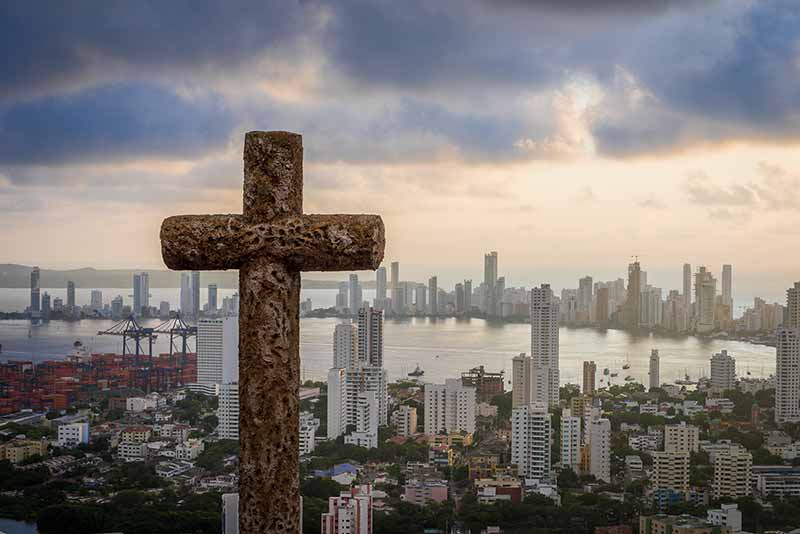 His passion and commitment to social justice led him to an internship at a UNICEF-supported project, which turned into a meaningful career in this organization. In his role as a United Nations volunteer on violence prevention, Mosquera helps develop strategies to identify if a child is at risk of being recruited for armed conflict in remote and rural areas and to activate institutional and community-based protocols to prevent this. His team supports the implementation of programs and strategies for the peace agreement in Colombia.
It's a challenging role, made even more intense by the global pandemic and government shutdowns. He was previously conducting fieldwork, but now supports the organization on the administrative end and delivers technical assistance to implementing partners and stakeholders from home.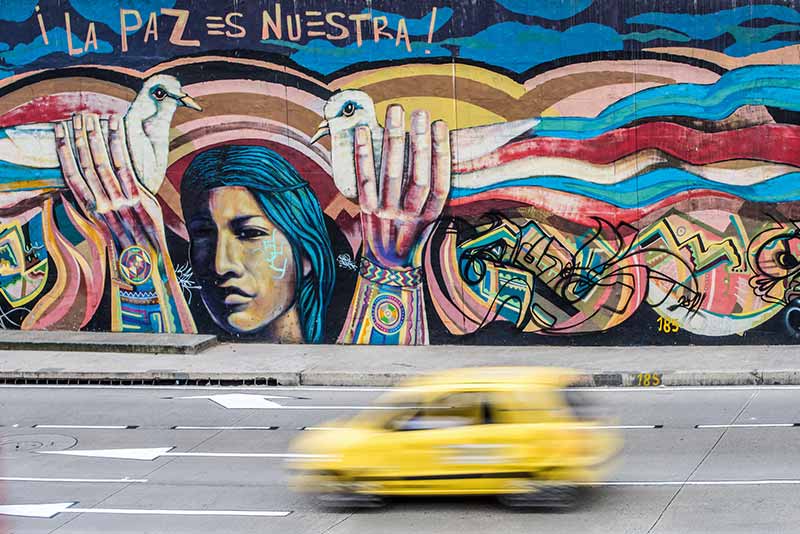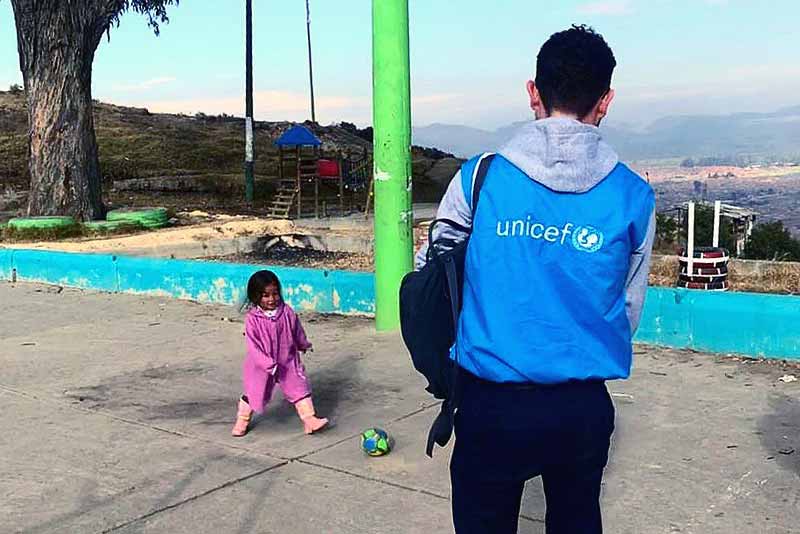 "We should, at the moment with the pandemic, stop a lot of our fieldwork, [but] our fieldwork saves a lot of lives because the armed groups were not in a lockdown as we were," he says. "They continue to fight, continue to recruit children, so it was very concerning for us."
His team continues to build strategies that support peace-building programs and continues to check in with their counterparts, community leaders and program participants.
"Keough talks about human dignity and social justice. It was a school that was very engaged in promoting integral human development; I wanted to be part of this."
During his time at UNICEF, he came across the work of the Kroc Institute for International Peace Studies at the University of Notre Dame. He was surprised to learn that an American peace institute was leading work and contributing to peace efforts in Colombia. While researching the Kroc Institute, he learned about the Master of Global Affairs from the Keough School of Global Affairs, of which the Kroc Institute is a part.
"I was drawn to the value of education," says Mosquera. "Keough talks about human dignity and social justice. It was a school that was very engaged in promoting integral human development; I wanted to be part of this."
As the semester approached, the pandemic was intensifying in Colombia. Mosquera made several attempts to secure a visa to enter the United States, but the country was heading into a lockdown. Shortly after, the borders closed, flights were cancelled and ultimately the embassies were closed.
"It was a very sad situation for many international students," reflects Mosquera.
With all options exhausted, the Keough School offered him a deferral until the spring semester. That's when the student advisory council (SAC) reached out in hopes of connecting him to his cohort and the University.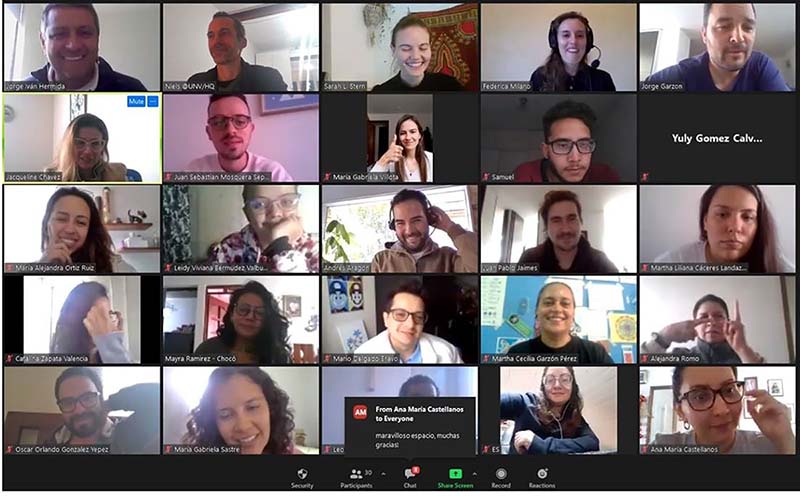 "We began collaborating together, checking in on our particular situations and becoming friends before getting to campus," he says.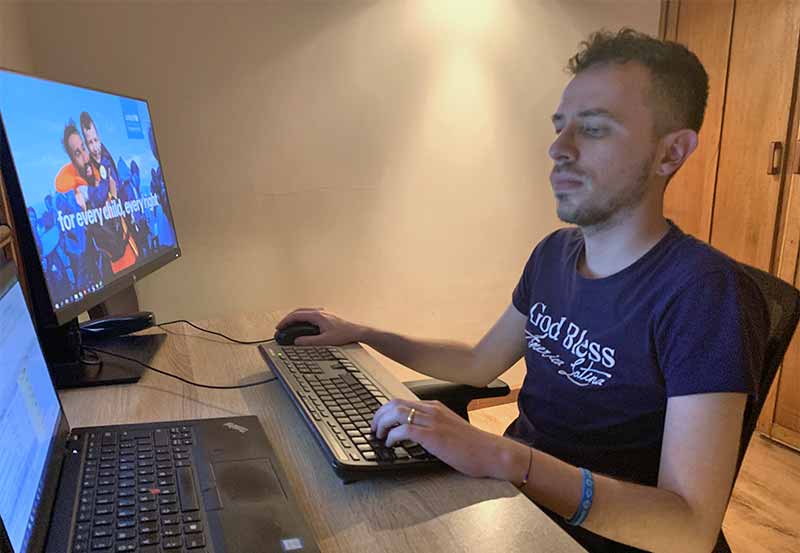 Mosquera was ultimately elected to the SAC and found himself advocating for not only his situation, but the situation of his entire cohort. From his home in Colombia, he began working with the Keough School and with University administration to better support international students through their local government agencies.
"I know the situation is very complicated for all of us and brings great uncertainty also for the University," says Mosquera.
Using WhatsApp, he is on regular calls every day with his classmates, discussing their personal lives and figuring out ways to get everyone to campus by the spring.
"I feel like we've built a community, even in this strange situation," he says. "We just met through the internet and exchanged a lot of emails, but I feel like I have also become friends with colleagues and people at the University administrative level. I feel like I am part of the Notre Dame community."
Mosquera was able to receive his visa and plans to make it to campus in time for the spring 2021 semester.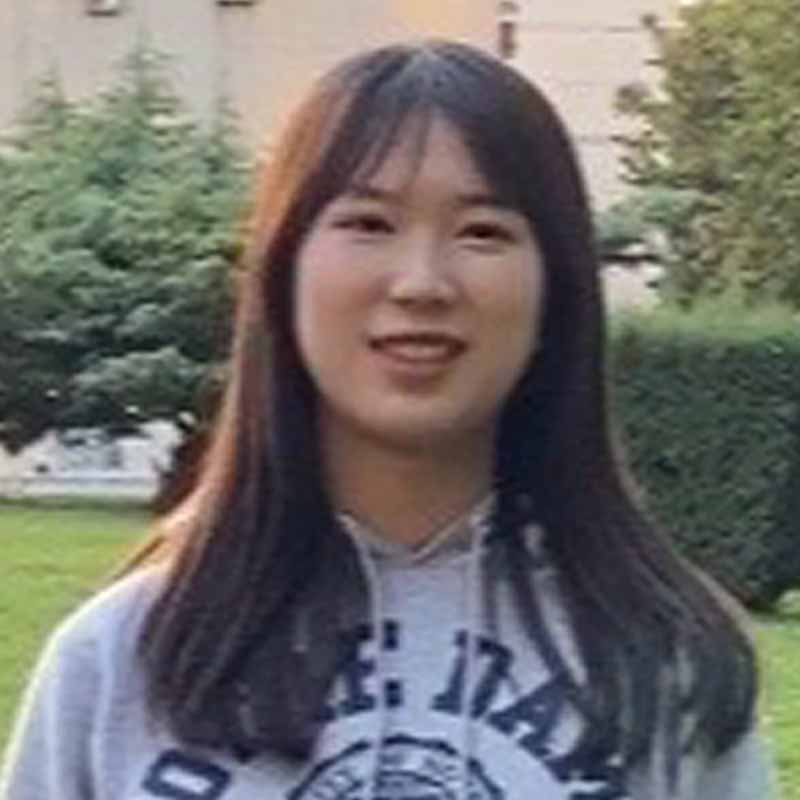 An Engaging Experience
Zeng "Yoyo" Wang, freshman
Chongqing, China
In one of the most anticipated games at Notre Dame Stadium in nearly a decade, the Notre Dame football team defeated No. 1-ranked Clemson in a double-overtime thriller. The cheers could be heard as far away as Beijing, where a group of fans gathered at a watch party early on a Sunday morning.
Zeng "Yoyo" Wang didn't have many expectations going into the game. This was her first introduction to Notre Dame football — or any American football game. But she was thrilled to celebrate the historic Irish win with nearly 20 Notre Dame alumni, parents and students.
"At first, I was confused about the game, but alumni explained the rules to us and it became much clearer," says Wang. "I really enjoyed watching it and we were all really proud of the Notre Dame football team."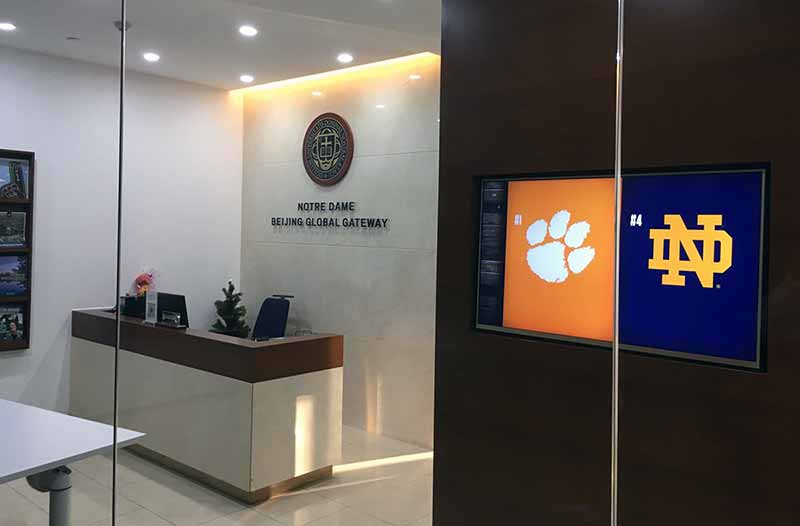 While the setting at the ultra-modern Beijing Global Gateway conference room was exciting, Wang pictured herself in full Notre Dame gear cheering from the student section on campus. She imagined participating in the storied traditions Chinese alumni told her about: cheering late into the night under the lights of Notre Dame Stadium, the electrifying atmosphere, the touchdown pushups and the Irish jig.
Wang, like many other students in China, hopes to get the full Notre Dame experience soon. It's unclear when she will be able to make it to campus to join her classmates. For now, she is engaging with the community virtually.
"As an international student in this very special situation, I see how Notre Dame faculty and staff care for the rights of international students. They arranged these special programs for us to have a meaningful semester outside of South Bend."
Wang was officially welcomed into the Notre Dame family in March 2020. As a standout scholar, she was invited to spend a weekend virtually with Notre Dame faculty, staff, parents and alumni. After thorough interviews and introductory webinar sessions on the University's academic mission and global community, Wang was selected as a Greater China Scholar and committed for the upcoming academic year.
"The spirit and core culture mission of Notre Dame is very attractive to me," says Wang. "The community is very united and everyone supports each other."
As the fall 2020 semester approached, Wang knew that attending campus in-person was likely not an option since she wasn't able to obtain a student visa. She wrote emails to University officials detailing her situation and asking for options other than a deferral. She was pleased to hear that the University arranged a new program for Chinese incoming students. Through the study away locally program, she was able to enroll in classes through the Beijing Center, earning Notre Dame credits. It wasn't quite the introduction to campus life she imagined, but she was thankful for the opportunity.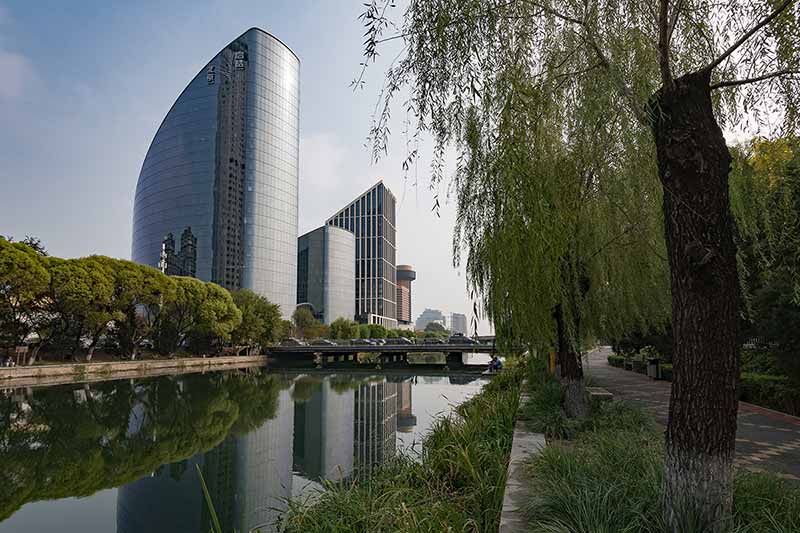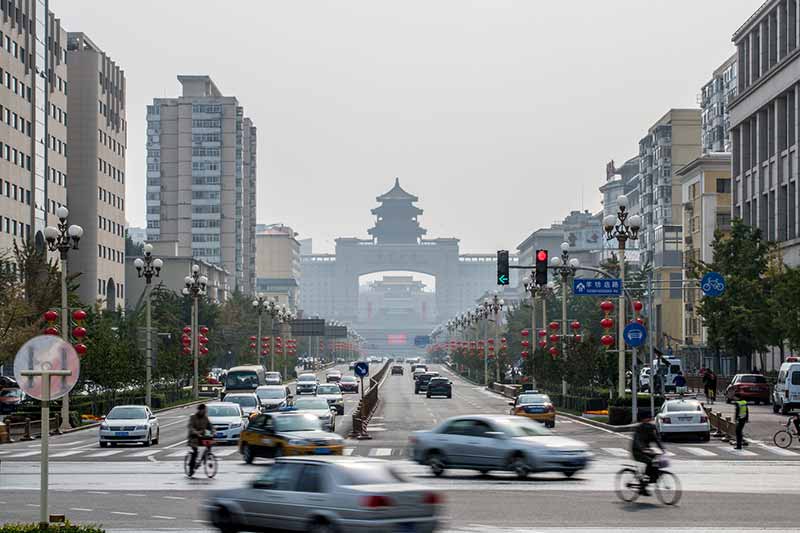 "As an international student in this very special situation, I see how Notre Dame faculty and staff care for the rights of international students," she adds. "They arranged these special programs for us to have a meaningful semester outside of South Bend."
While she remained in China, she was surprised to see the level of engagement she was able to maintain with the Notre Dame community. Through Notre Dame International, she played a leadership role in initiating a program that supported students unable to arrive on campus for the current academic semester and beyond. EngageND helped connect these students to campus resources and the Notre Dame global network, enhancing their experiences and relationships with the University.
International students were also introduced to student clubs through a virtual fair in early fall. There, Wang connected with the Student International Business Council. This aligned well with her academic and personal interests.
By the end of the semester, she was on weekly Zoom calls with her classmates on campus who were leading or assisting with projects. Wang ultimately served as a travel team member on three consulting and accounting projects, helping in the implementation of cloud solutions, researching impacts of COVID-19 on the health care industry and redesigning marketing strategies based on data analysis results to optimize revenue stream in an accounting project.
"I didn't expect to be this involved; there were so many difficulties in the beginning," says Wang. "I think it's giving me more of a connection to main campus."
Wang has not been able to secure a visa and will likely continue this spring online.
---
By the Numbers
Fall 2020
910 international graduate students were expected to be here for the fall. 251 international graduate students were unable to come to campus this fall due to entry restrictions and visa processing issues.
138 incoming international undergraduates were unable to come to campus this fall and approx. 71 of those students were able to continue their studies virtually or through our Study Away Locally program.
Over Winter Break
266 international students staying in the ND area.
101 international students remain in U.S. outside the ND area.
234 international students did exit testing before leaving the U.S.
Spring 2021
150 incoming international students planning to arrive on campus.