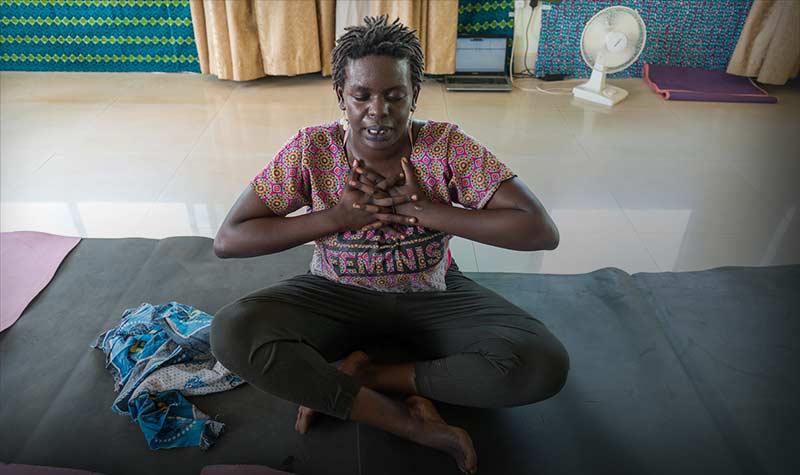 Mildred Apenyo
Aiming to empower women, Apenyo runs a feminist fitness space where Ugandan ladies can practice yoga, exercise, learn self-defense and discuss their challenges in a patriarchal culture.
Mildred Apenyo was working out in a gym in Kampala when a buff guy insisted she stay off the shoulder press machine so that he could circuit train between three different machines.
Apenyo had paid to use the gym too. She was a feminist. And the machine was open. The resulting argument got so heated the man threw a dumbbell at Apenyo.
Not long afterwards, in September 2013, the country's minister of Youth Affairs said that if women dress indecently, which he defined as mini-skirts, bikinis or tight jeans, then any man who rapes them should not be prosecuted. Instead, he said the police should charge women for inviting the crime.
"The insane rage and pain and horror that such a thing could be sanctioned by a minister of state, it made me go a little mad," Apenyo said. "I was senior copywriter at an advertising agency – I quit. I was a writer with a column in the newspaper – I quit. In that angry time, it was 'Let's create a space where we can get stronger because no one cares about our safety.'"

She also met Ruth Riley, a speaker for the YALI group and the star of Notre Dame's 2001 championship basketball team. Apenyo asked to meet Riley for dinner later and they discussed FitClique and gym equipment. Apenyo was considering a full-scale women's gym, and Riley looked into how to send used Notre Dame equipment to Uganda. Riley later visited FitClique when she was in Africa working on an executive MBA project.
"Mildred is building confidence, creating a community of women who support each other," Riley said. "Her enthusiasm and compass are contagious, so that registers with the women as well."

A golden curtain closes off a smaller space that has some barbells, weight machines and other gym equipment. Apenyo has decided she doesn't need that stuff for her current direction and she's no longer looking for more. She lights incense and plays some serene music. She hangs a few feminist tee-shirts that she sells for a friend. One reads: My body is a dictatorship, not a democracy.
The first two clients show up 15 minutes after the session begins, and another half dozen will trickle in over the next hour. Apenyo is using the free session as a way to advertise a package of karate and self-defense classes starting a few weeks later.
They begin in a circle with introductions and by answering Apenyo's question about why they have come. One says she appreciates "physical expression" while another says she "loves the empowerment work Mildred is doing."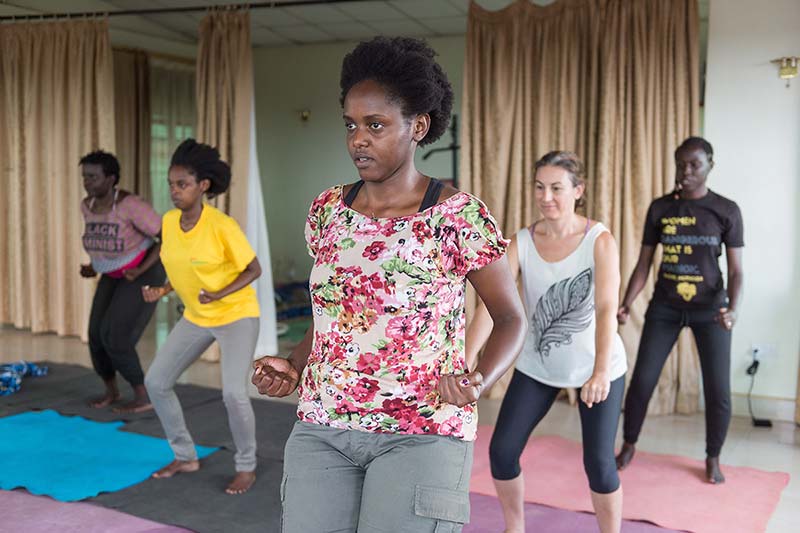 One woman defines consent as the ability to say yes or no depending on what you want. Apenyo drills down by asking about different types of coercion. "Imagine a 20-year-old who's been crushing on a guy, and he says I'll leave you unless you …"
Then the discussion turns to harassment and how the women verbalize their resistance. They complain about how men feel it's okay to touch their bodies or hair. One says she switches languages because 'Go away' in dialect doesn't seem as blunt as it does in English.
"I switched from saying 'I can't' to 'I don't want to' because 'I can't' leaves room for them to change your mind," said Priscilla Aling, an attorney.
A third business partner, Barbara, leads the women in another 45-minute session practicing classic karate poses, kicks and punches.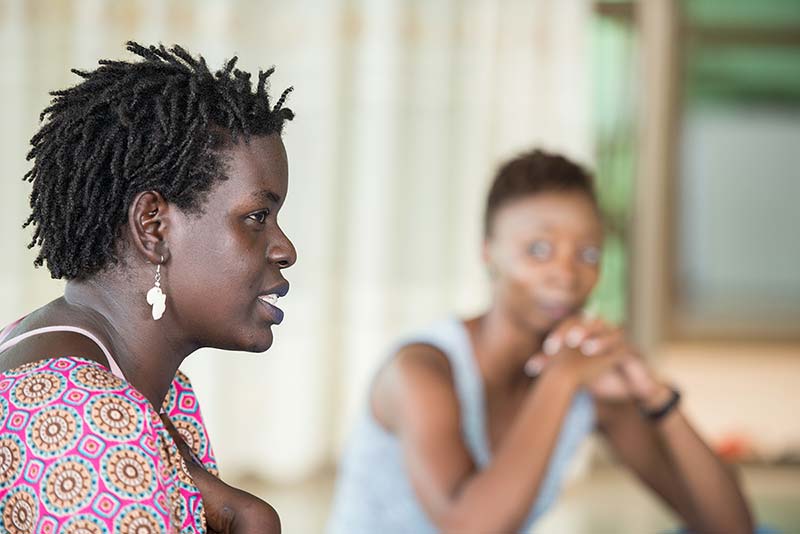 But it's still not over. Ugandans consider the American habit of racing from one event to another a little rude. They stay for tea, peanut snacks and socializing for nearly an hour.
Aling, the attorney, said she was also a YALI fellow and learned about the class through the group's WhatsApp chat. She said she likes yoga and needs to learn self-defense because there are so many threats to women in her country.
"We never had an all-women's gym in Uganda," Aling said. "I like to attend these. In a normal class, we couldn't have discussed the same things."
Apenyo's future goals include taking her programs for personal safety and feminist fitness to more women in Uganda: young students, towns outside Kampala, sex-worker groups and other marginalized people.
"We just want to do what we are doing really well," she said. "Something always happens that sends you in a new direction. Right now we are growing and refining. Hopefully in five years, I will have a different answer."