South Bend resident Oliver Logan graduated from an Atlanta high school in 1967, when integration battles were still raging through many parts of the nation.
He chose Tennessee State University, a Historically Black College and University (HBCU) in Nashville, because it was highly ranked and had an Air Force ROTC program, and because he wanted to focus on his studies rather than being among the first to integrate a predominantly white institution.
"You have to look at what was going on in the United States at that point in time," Logan said. "Those of us that were in that cohort, we saw the potential. But we also saw some of the things that we had to overcome to put ourselves in a situation that we could be competitive.
"TSU was extremely welcoming. They pushed us and they convinced us that we could do anything we wanted to do, and a lot of us went on to do those things."
When TSU comes to Notre Dame's campus on the first weekend of September, it will be the first football visit from an HBCU. Many people, including Logan, see an opportunity to celebrate the rich traditions of two universities that have distinct cultures of excellence. While their struggles were different in degree and duration, both schools sought to provide education as a means of overcoming historical discrimination in this country.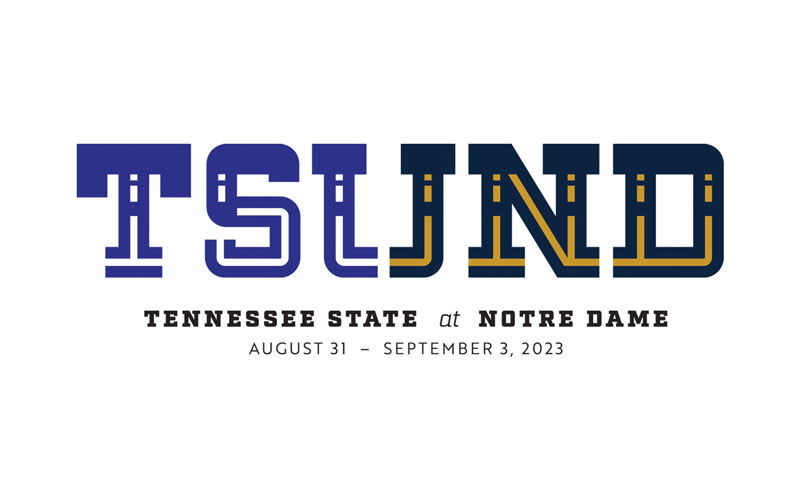 HBCUs have been around since 1837, but nearly all were established after the Civil War to educate the children of formerly enslaved people who were barred from other universities until integration in the 1950s and 1960s. HBCUs provided undergraduate training for about three quarters of all Black Americans who hold doctoral degrees, serve as officers in the armed forces, or preside as federal judges. Their alumni include Martin Luther King Jr., Thurgood Marshall, Kamala Harris, and Oprah Winfrey (a TSU alumna).
As a Catholic university, Notre Dame in its early years also faced discrimination from a predominantly Protestant culture, such as when the Ku Klux Klan planned a rally in South Bend in 1924 and instead brawled with Notre Dame students. The University has always served a large population of Irish immigrants, and the "Fighting Irish" nickname came to symbolize downtrodden immigrant groups in the New World. Many immigrants took backbreaking jobs, and they saw Notre Dame as a means of giving their children an education and a better future.
"I think there are some similarities," Logan said. "Clearly the Irish were discriminated against, and maybe to a lesser extent, Catholics. I'm not sure the barriers were the same for both groups, but certainly, both institutions experienced that, and I would say to a certain extent both institutions overcame that in terms of the people that they produce as graduates."
Logan, who served in the Air Force and has worked in procurement for companies including Texas Instruments and Whirlpool Corp., noted that Tennessee State graduates today must overcome barriers that Notre Dame graduates no longer face. Still, he said, both are "aspirational" schools: "People sent their kids off to Tennessee State with the same hopes and dreams as families that sent kids off to Notre Dame."
Notre Dame aims to celebrate HBCU history and accomplishments through a series of events on campus. They range from academic exhibits and events to athletic and band events and from social gatherings to free tickets for community partners in South Bend. One goal is to welcome TSU and the local African American community on campus.
JP Abercrumbie, executive associate athletics director for culture and engagement at Notre Dame, has led this effort to identify local groups to invite to campus and to curate events that celebrate the traditions of both schools.
"This game provides an opportunity for individual and collective education, community engagement, and cultural enrichment beyond previous endeavors." –JP Abercrumbie
"In alignment with our Together Irish initiative, we see this as an opportunity to welcome you in and foster an environment more representative of the diverse groups that make our community so vibrant," she wrote in a letter offering tickets to community groups. "Additionally, as the first time Notre Dame Football will host a Historically Black College/University (HBCU), this game provides an opportunity for individual and collective education, community engagement, and cultural enrichment beyond previous endeavors."
Ahsaunta Fielder, who graduated from Riley High School in South Bend before starting at TSU in mid-August, said she can't wait for the game. She is returning with family and friends to show them the campus and to show off TSU pride.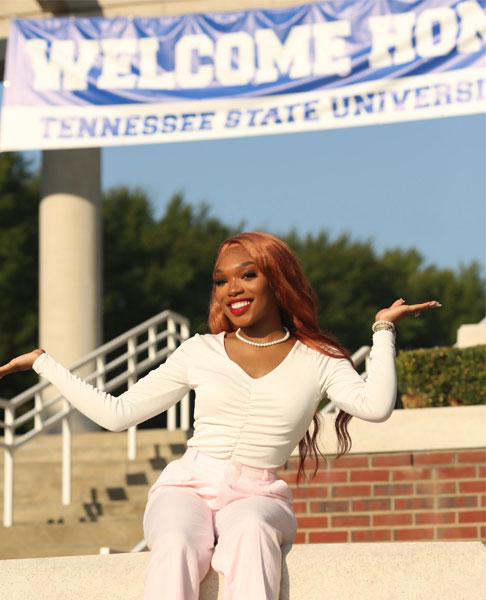 "Notre Dame fans should just expect a big boom from the South," Fielder said from her dorm room. "Just expect fun and a lot of music and love and laughter, because that's really what Tennessee State is about. The band is so different from Notre Dame's, and theirs might take a thing or two from our band and juice it up a little."
Fielder said she has always wanted to go to an HBCU after seeing campus life on recent TV shows like Grown-ish, but she fell in love with TSU the moment she stepped on campus.
"It's just like a big family," she said. "I love Nashville, the food, the Southern hospitality. Other schools can teach African American history, culture, and literature, but at HBCUs, it's embedded in every course you take."
South Bend native Jennifer V. Liddell said she loved attending Tennessee State. She works for United Way of St. Joseph County and helped identify community partners to receive football tickets. She also invited friends from Nashville and Chicago to come to campus for the weekend. She wants Notre Dame fans to feel the rich traditions of Tennessee State as well.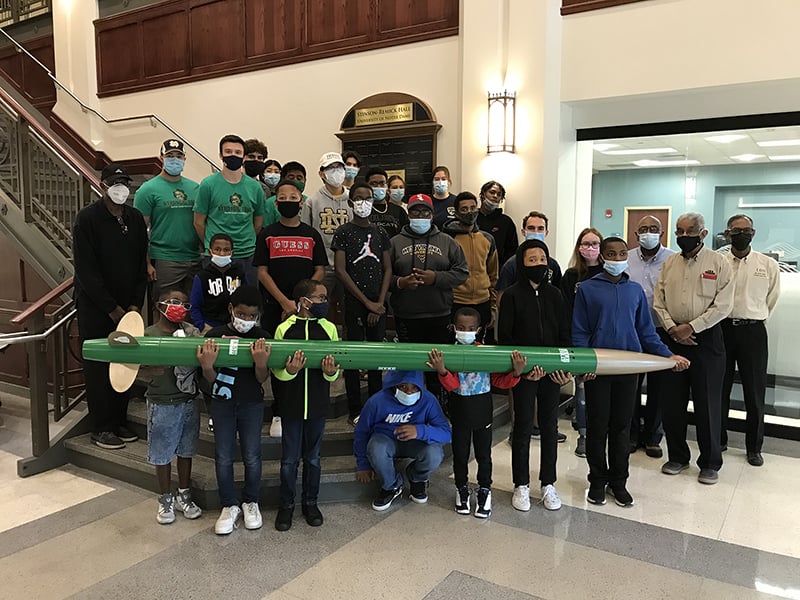 "You will feel the same history and camaraderie on both sides of the stands," Liddell said. "We have our traditions and our chants, that Southern hospitality, and a Grammy-winning band."
Just as importantly, Liddell said the football weekend is a wonderful opportunity to invite African Americans in the South Bend community to campus.
"It's not monumental, but there has definitely been a shift," Liddell said. "Notre Dame has been here a long time, but there''s still some hesitation among the African American community about our welcome on campus. This is an opportunity to break down some barriers and open the doors."
Logan agreed. He serves as a volunteer in the South Bend chapter of 100 Black Men, a national organization focused on mentoring youth—primarily young Black men—and providing role models and educational opportunities. About 15 of the mentees and a handful of mentors will attend the game.
"Our students have visited Notre Dame's campus on several occasions in terms of innovations and working with the engineering people and the rocketry club," Logan said. "So they have seen some of the things that Notre Dame has to offer. But for a lot of them, it's the first time they will have been exposed to an HBCU, so there's a different message that these are additional opportunities that potentially could be available to you.
"I have noticed over the past 10 years, or maybe longer, a concerted outreach effort from Notre Dame. We've had the students out there, and it's been a great partnership."
Here is a schedule of events exploring HBCUs' significance during the football weekend, including a sports exhibit about HBCUs and a discussion with Glenda Baskin Glover, TSU's president. Notre Dame hopes to continue this engagement with the local community beyond the game itself.