Global
The Professors
Ukrainian community exemplifies the best of human relations
LVIV, Ukraine — A flurry of hugs awaits Archbishop Borys Gudziak, president of Ukrainian Catholic University, as he enters the hallway of a college dormitory, with some admirers hanging on so tightly, it seems they will never let go.
One carries a photograph of the archbishop in full vestments and gestures to the large hat and long stole he wore at his recent installation as archbishop of the Ukrainian Catholic Archeparchy of Philadelphia (the equivalent of an archdiocese), which includes the District of Columbia, Virginia, Maryland, Delaware, New Jersey and parts of eastern Pennsylvania.
Others show off the art they have created, including Byzantine icons that are part of the Eastern Rite Mass.
They are his friends, a half-dozen young people with special needs. They share space and campus life with the students of Ukrainian Catholic University as residents of the Emmaus House, located in the new campus dormitory.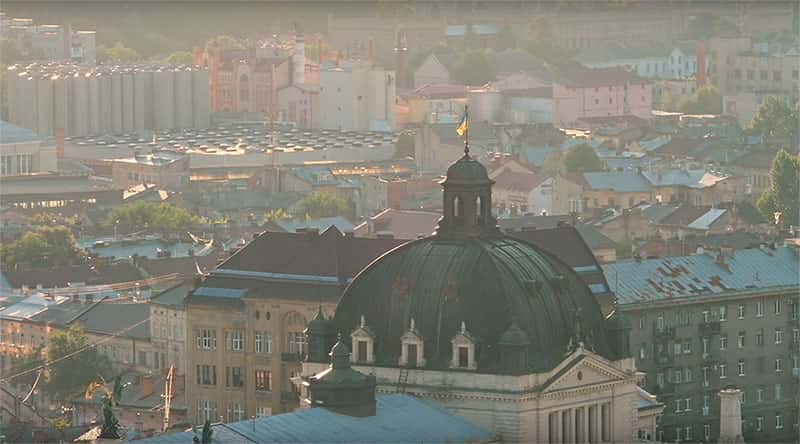 "Are you living in peace? Are you arguing with each other?" the archbishop asks playfully, as one of the residents giggles.
Archbishop Gudziak gave University President Rev. John I. Jenkins, C.S.C., a tour of Emmaus House June 27, two days before Father Jenkins presented the archbishop with the 2019 Notre Dame Award for his work in founding and growing the first Catholic university in former Soviet territory.
"It was an inspiration for me," Father Jenkins said of Emmaus House. "Bishop Gudziak, in founding Ukrainian Catholic University, has put people with special needs at the center of it. Not so that primarily people here can care for them, but rather so they can teach us about human relations."
Archbishop Gudziak calls the Emmaus House residents "professors" in this regard. People with mental disabilities were all but invisible in Soviet society, living in "exile" in large hospital-like institutions.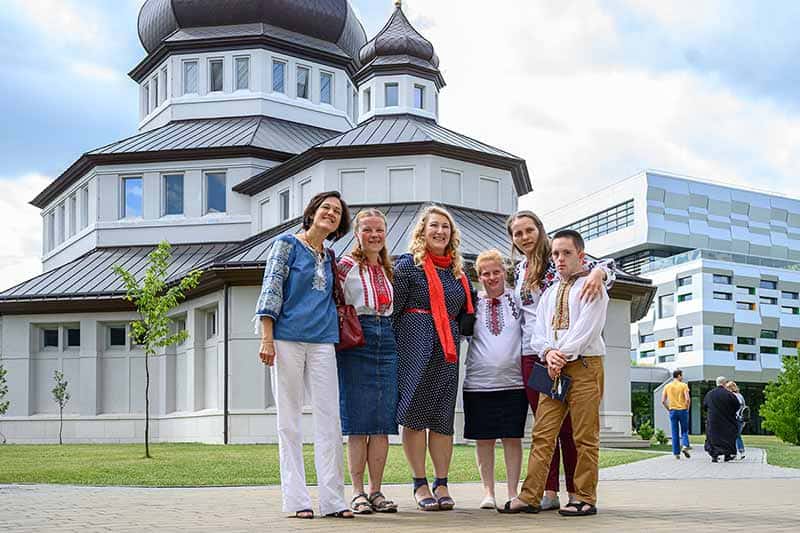 Emmaus House is designed to give its residents a family-like setting. Father Jenkins toured the recently built dorm rooms, finished in blond wood with large windows onto the park surrounding the campus. Residents share the rooms like colleges students, with two twin beds, dressers and desks.
Later in the comfortable common living area the residents poured juice and told Father Jenkins about their lives through an interpreter. The Emmaus House helps place those who can work in jobs or any other day program. They and their families, when they have one, also participate in support seminars and receive psychological counseling. They have many social outings to movies or grocery shopping. University students come for tea, to play games or for cooking nights.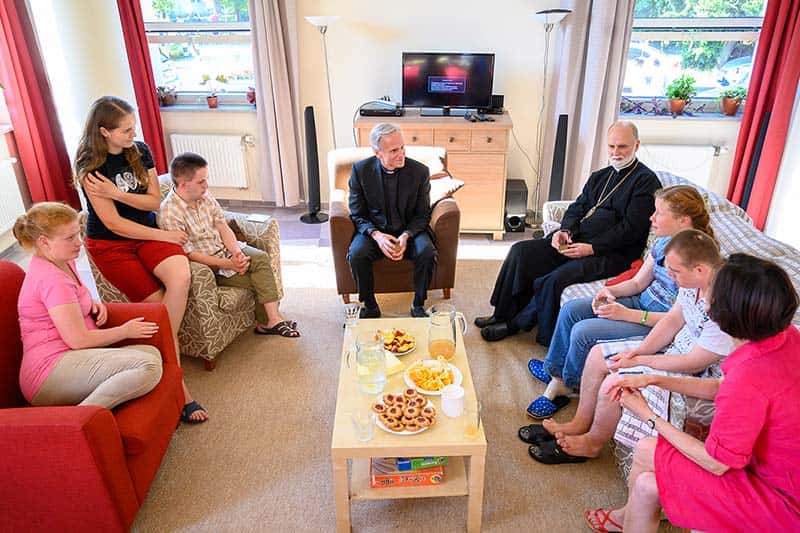 "One guy, he just came for the quiche. He met our friends and then he was so touched, he became a volunteer for three years, twice a week," said Christine Anglès d'Auriac, who heads the Emmaus Center (Emmaus Center runs Emmaus House and other activities orientated to awareness-raising, support and integration).
The Center, which includes the residence, is patterned on the Faith and Light and L'Arche communities founded by the late Canadian Catholic theologian and philosopher Jean Vanier, another recipient of the Notre Dame Award. It is named for a town near Jerusalem where Jesus appeared to his disciples after his resurrection.
In the Gospel according to Luke, two disciples are on the road to Emmaus feeling the despair of the crucifixion and the news that Jesus' tomb has been found empty. When a stranger appears and asks what they are discussing, he admonishes them for their lack of faith and reminds them of the prophecies of Scripture. They invite him to have dinner, and when he breaks bread, they recognize him as the risen Christ.
The founders of Emmaus Center compare the disciples to the families of children with special needs who walk in the same despair "until they experience the healing love of neighbor and God who is always among us," according to the center brochure. The name also refers to all people walking in darkness, but who can find God in those who are normally labeled as the weakest in society, but who live with purity.
Archbishop Gudziak sees the integration of people with special needs into the mainstream as part of healing an oppressed society. Because they go through life honestly, without filters, they can teach people in a post-Soviet society, who learned to distrust as a means of survival, to live freely again.
"In a society that faced so much oppression and extermination, people put on masks," Father Jenkins said. "These people can teach us to live authentically and generously."