Ryan Lash first visited the wind-swept islands off the west coast of Ireland in 2007 as a freshman at Notre Dame with scant knowledge of the place or his purpose there.
Every year since, the siren call of these islands pulls Lash back, laying out a quest to resurrect the history of medieval monks who built monasteries on rocky outcrops in the wild Atlantic on the western edge of Europe. He now has his doctorate in the subject and is preparing a book, "Faith Along the Water," written during a postdoctoral year with his mentor, anthropologist Ian Kuijt.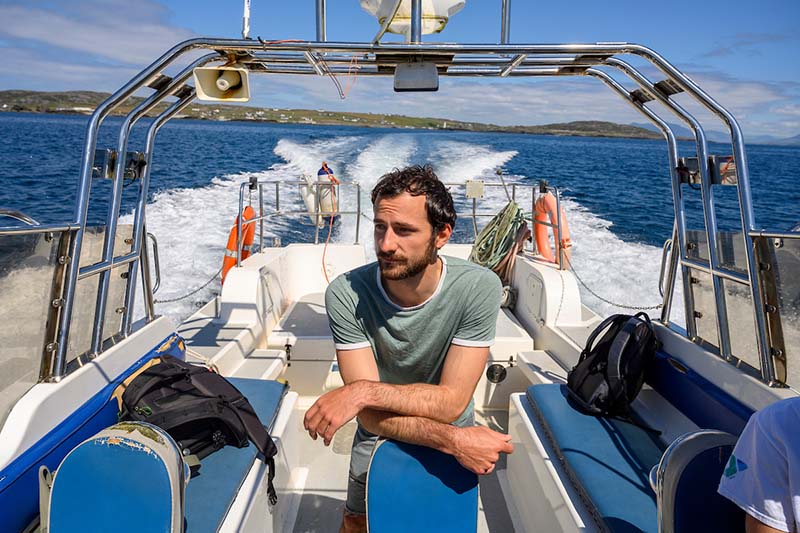 In some ways, Lash's magnetic interest in a place and a people is not unlike that of the God-seeking monks and pilgrims who sparked his academic journey.
"My dissertation goes from the medieval period all the way to the present day, and it explores how the monuments of early monasticism have factored into life across time," Lash says. "How they became places of pilgrimage that 19th-century islanders engaged with as sources of spiritual well-being. And today, how heritage tourism represents an essential part of the market here."
"There's this kind of bond between islanders and habitual visitors that keeps this place going. To me, the most fascinating part is the resonances through time."
What draws Lash and Kuijt back — besides the stunning collision of ocean and emerald isles, and beyond the lively islanders who have become their friends over a dozen years — is the excavation of a more nuanced view of the history of early Catholicism. The archaeological digs and story collection of the project called Cultural Landscapes of the Irish Coast have revealed the origins of the monastic sites and their continued use as sacred spaces over thousands of years.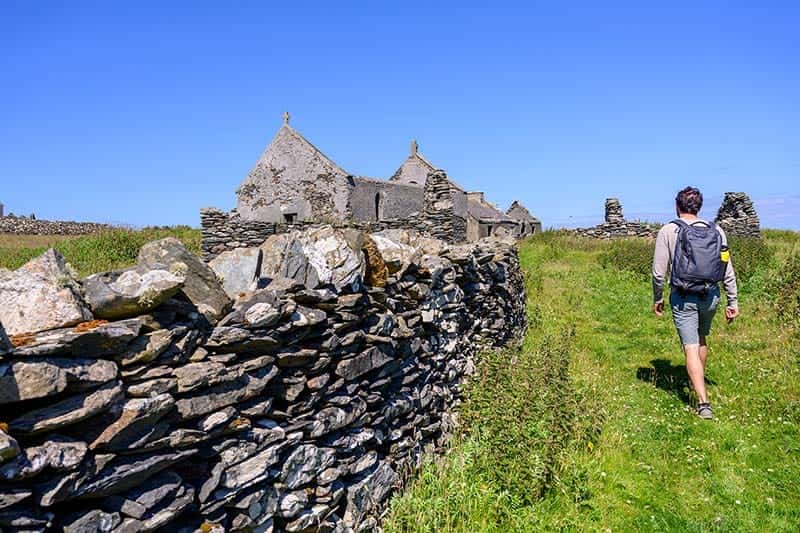 And the emerging history has challenged a common misconception of the early Irish Church.
"We need to move beyond this simple narrative of St. Patrick coming in and, pow, Christianity everywhere," Kuijt says. "Change is not that rapid and not that universal. Instead there were these small monasteries being founded, co-existing with pagan religions.
"It's really important because it helps us understand how spirituality changes and how information is passed along. If we don't explore these things, it's just a bunch or rocks or a pretty building. But there are rich human narratives associated with these places."
Medieval conflict
How the monks arrived on the island of Inishbofin, a tourist destination today, is indeed quite a tale, one backed by historical records and earlier research. What Kuijt and Lash have done is expand the origin story to include nearby islands such as Inishark, abandoned in 1960, and High Island, now just ancient ruins.
"It's really important because it helps us understand how spirituality changes and how information is passed along."
The story that St. Patrick converted all of Ireland in the fifth century is nearly as fanciful as the myth that he banished snakes from the island. But there was a strong Christian presence in Ireland by the seventh century, when the fall of Roman settlements and Anglo-Saxon invasions re-paganized most of England.
Another patron saint of Ireland, St. Columba, brought Christianity back to northern Britain as a missionary to the Scottish island of Iona. A similar effort began in the south of England, led by Roman missionaries sent by the pope. The two versions of Christianity in England disagreed on how to calculate the date of Easter, which came to a head in the Northumbrian royal court when a king devoted to the Columban tradition was scheduled to be feasting for Easter while his queen, a follower of the Roman calendar, would be fasting for Palm Sunday.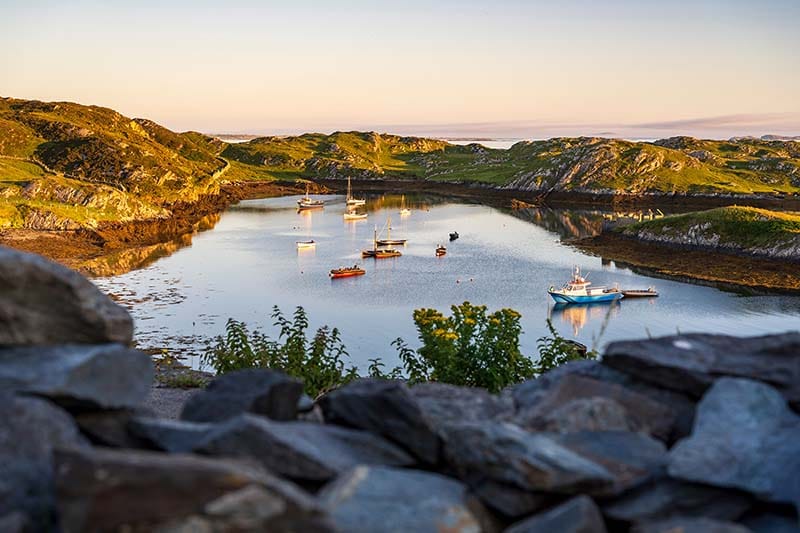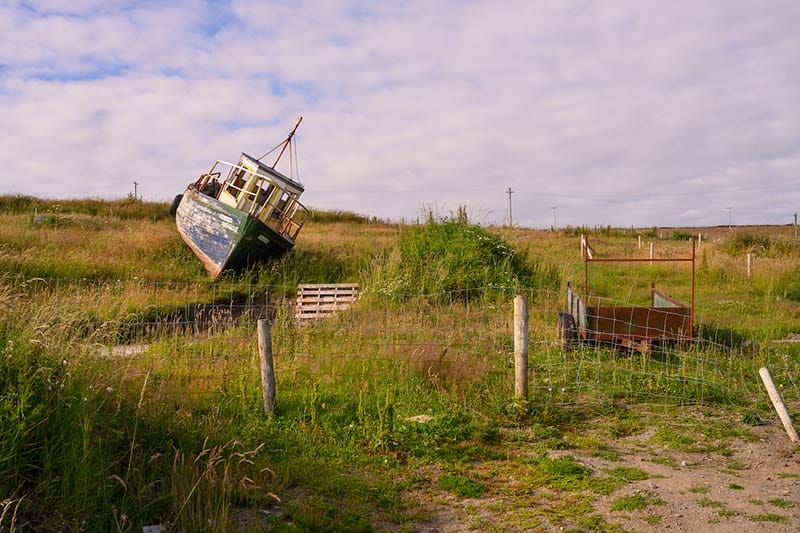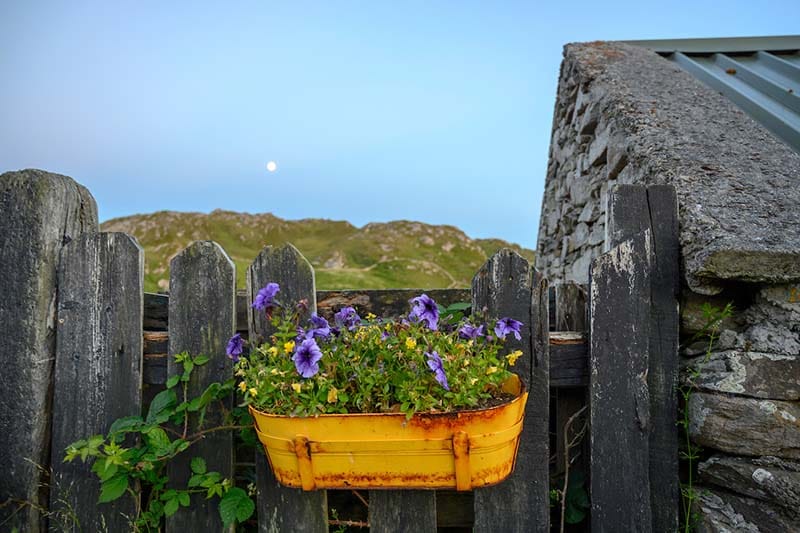 The theological questions of this calendar controversy were common in the early Church, but Lash says the underlying issue concerned the source of ultimate authority in Christendom. So at the Synod of Whitby in 664, Bishop Wilfrid argued for his version by citing Roman authority, and St. Colmán argued for the Columban tradition.
After the Northumbrian king ruled in Rome's favor, Lash notes that the Anglo-Saxon historian named Bede mentions Inishbofin in the first historical record of the island.
"Bede wrote that St. Colmán, having lost, decides to bring his community of English and Irish brothers to the west of Ireland, where he's from, to found a new monastery in the Columban tradition on Inishbofin," Lash says. "You can still see fragments of this early monastery, which became a place of worship where generations of islanders prayed and were buried."
Self-imposed exile
This context helps answer one of the most basic questions of island life: Why would anyone choose to cross a raging sea in tiny boats to inhabit remote and inhospitable rocky outcroppings?
"There's an amazing stratigraphy of artifacts from different eras stacking up, and you can trace it all the way back to the medieval period."
"These guys are modeling themselves on people like St. Anthony, who went into the desert to reject what we think of as all the good things in life," Lash says. "To withdraw from all that and live an ascetic existence, that brings you closer to God through penance."
With no desert nearby, Lash says, yielding oneself to the divine presence of the Irish ocean makes perfect sense. But with no other written records, there were more stories than evidence to prove that the monks also spread at this time to nearby islands.
Kuijt's excavations of the stone hut Clochán Leo on the island of Inishark over several years provided solid proof for the first time that the monks established a presence there in the same period. The work started when Lash was an undergrad, and he led the last phase as a Northwestern graduate student two years ago. The dig unearthed medieval cross slabs and, at the bottom layer, a compacted surface with charcoal that was radiocarbon-dated to the seventh century.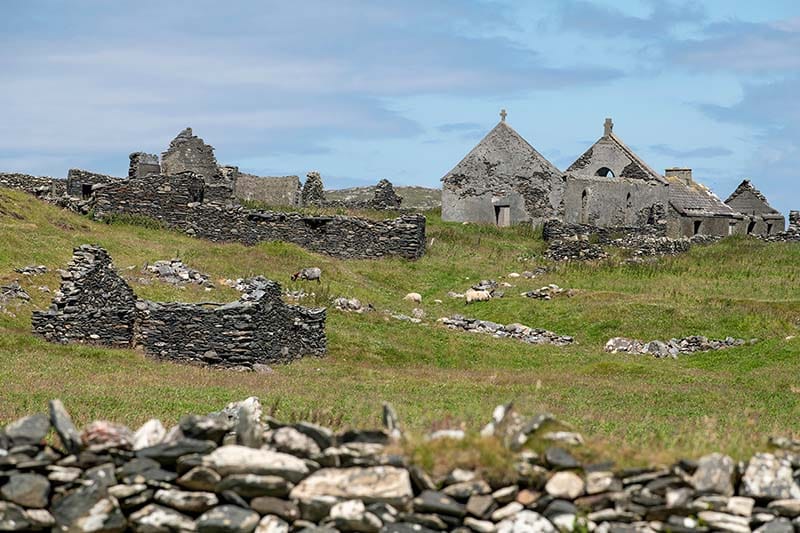 "There's an amazing stratigraphy of artifacts from different eras stacking up, and you can trace it all the way back to the medieval period," Lash says. "So that's the project, basically, to trace the whole history of that monastic settlement, and then to question how the practices, organization and logistics of ritual change over time in relation to the local economy on the island."
Sometime around A.D. 1000, the small monastic settlements began to develop over the next 200 years into large pilgrimage sites. Pilgrims to the sites left smooth white quartz pebbles, symbolizing purity and the ocean's divine power. While it's not clear whether the pilgrims were local or visiting, islanders still place the pebbles on relatives' gravesites.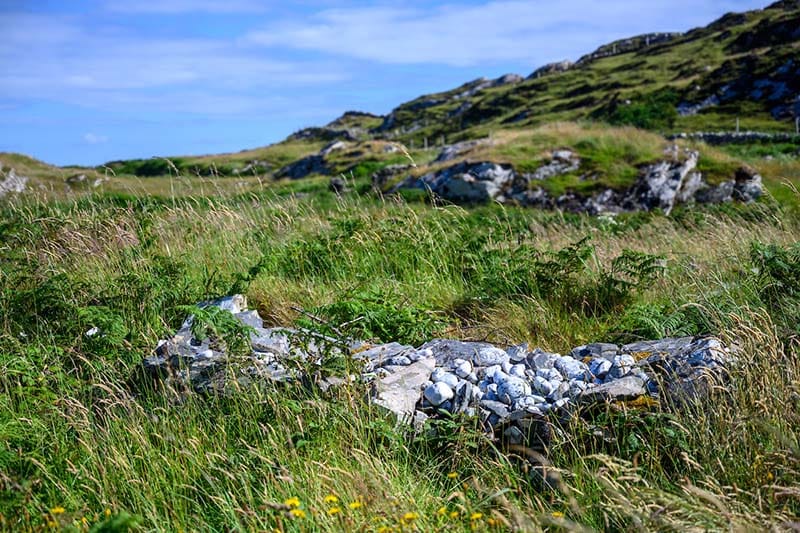 "What's fascinating is this ideological flip in the 11th, 12th century, where you get these massive settlements, these large cathedrals and communities that are economic engines," Kuijt says. "Before that, it was much smaller in scale. You don't get a sense of this institution so much as the conviction and faith of individuals."
Over the last five years, Kuijt and Lash have expanded from Inishark to nearby islands to find evidence of other monastic settlements. They have used quadcopter drones to take thousands of high-angle pictures that can be stitched together to create precise topographical maps that reveal previously unknown ancient sites. This new-age research has shown that the early monks set up devotional sites on even the smallest islands, possibly as pilgrimage sites of their own.
Tourist economy
Most of the houses crumbling into disrepair today on Inishark date back to the modern era of the island that began in the 17th century. More than a millennium of human habitation on the island came to an end on a single day in 1960 when the remaining two dozen residents moved to the mainland. The island had no running water, electricity or telephones, and the government refused to build a better harbor so residents wouldn't be stranded during high winds.
But former residents still speak with reverence of life on the island. Theresa Lacey recalled summer bonfires on the hill, celebrating St. John's Night until the sun rose over the Atlantic.
"This is a means of recovering the voices of people in the past," Kuijt says. "We have the buildings but we don't understand these people, their rationale."
Lash studied the rituals of St. Leo's Day, when the islanders took a break from fishing and growing potatoes to worship in a stay-at-home pilgrimage with 14 stations.
"You do no work that day," Lash says. "You put on your Sunday best and visit the different monuments. You're navigating the village in a different way, activating these memories and associations that might not be as relevant day to day. And you're doing this in family groups as part of a community-wide tradition."
He points to a large rock with a circular depression on top that has collected water. It is a bullaun stone, a common feature of Irish monastic sites, which are often explained as impressions left by the body of a saint. This one is associated with St. Leo, Lash says, and the water collected there was supposed to be a good cure for warts.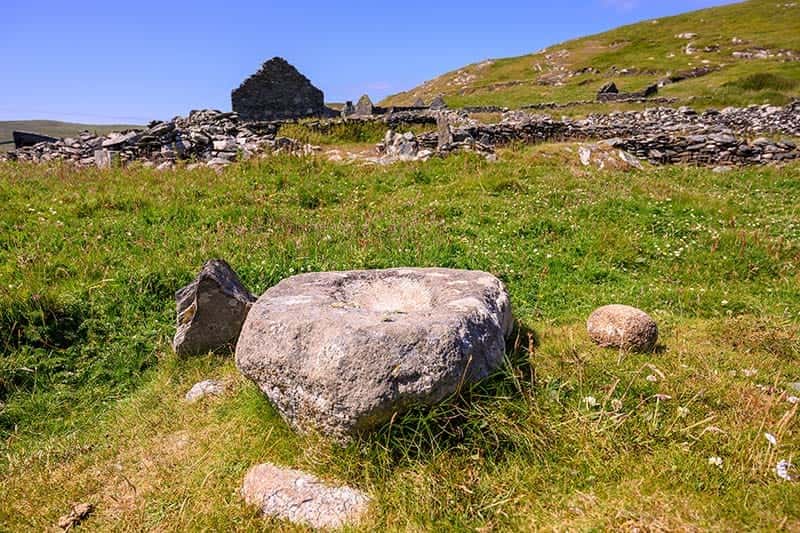 Clochán Leo is a beehive hut similar to the place Luke Skywalker lives in exile in a recent Star Wars movie, which was filmed on Skellig Michael to the south.
Lash crouches inside the site of the ancient monastery, explaining evidence that it was a pilgrimage site. He points out crosses incised into the stones at different layers. The crosses are not distinct enough to date, but he wonders if pilgrims etched them in different eras as a kind of devotional graffiti.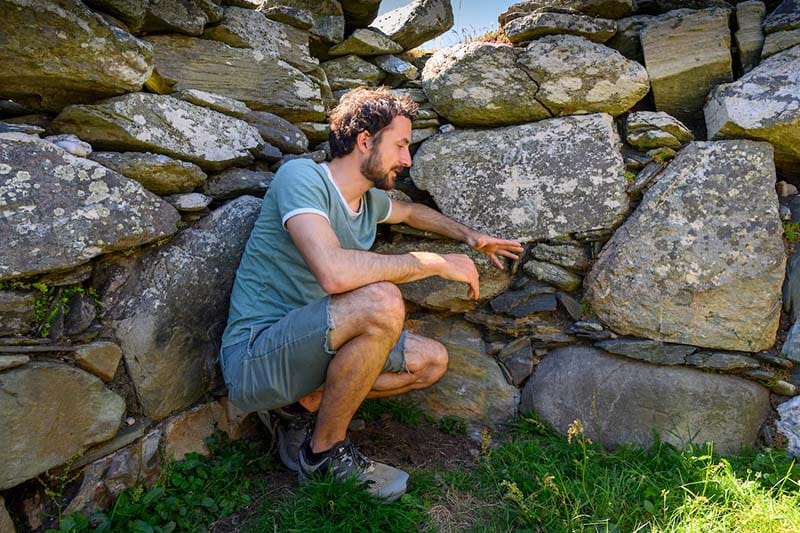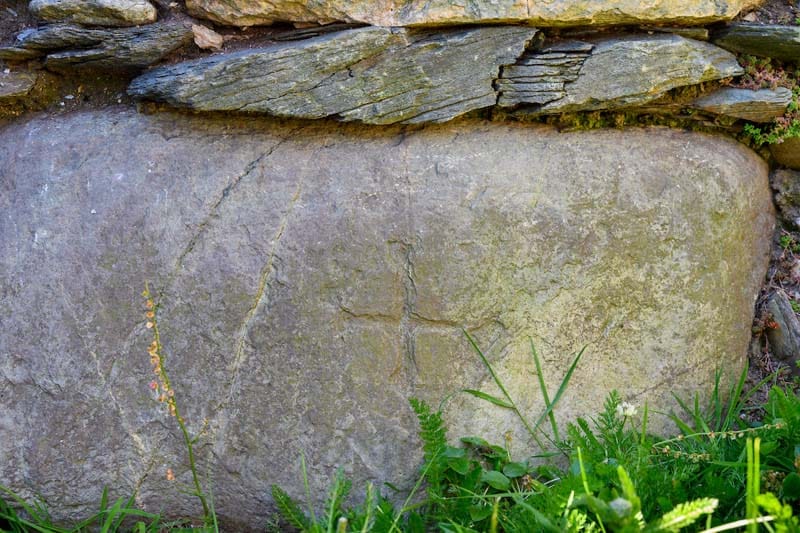 "People are coming back and they leave some part of themselves," he says. "Over time the clochán starts to collapse, so there's this conflict between loss and commemoration, the clochán falling to ruin, but people still returning to see the traces of where their ancestors had been."
While today's tourists may seek solace instead of religion, the island of Inishbofin still depends on the annual return of habitual visitors. Lash is one of a half-dozen of Kuijt's former students among those visitors, continuing their research on the project or in the region. Lash has largely taken over the medieval aspects of the project while Kuijt has recently focused on a series of short films with Bill Donaruma.
"One of the coolest parts of this project is the number of undergrads who have continued on into the profession and have continued to go back to those islands," Kuijt says. "In Ryan's case, it's been really neat because it's something very personal for him. This is not antiseptic research, lab science. This is a commitment to a place, to a people. We go back for funerals and christenings. These people are our friends."