Steve Warner, a renowned expert in liturgical music, realized how much he had to learn about the Irish Mass when he played a common hymn he proposed, only to be informed that the Irish consider it a Christmas song.
After forming the Notre Dame Folk Choir, he began leading it on pilgrimages to Ireland every few years starting in 1988. Yet in his new role as associate director of the Notre Dame-Newman Centre for Faith and Reason in Dublin, he quickly figured out that he would need a "huge cultural education."
So he adopted for his ministry the philosophy of St. Patrick, the patron saint of Ireland who was sold into slavery there following his kidnapping from Britain. After escaping six years later with a deepened Christian faith, Patrick wrote that he returned because he had a vision of the Irish people crying out to him: "We appeal to you, holy servant boy, to come and walk among us."
"But you can't come in here and just say, 'We've got all the answers.'"
In this spirit, Warner and Rev. William Dailey, C.S.C., are attempting to revive an urban Irish parish that faces the same challenges as modern Catholicism across the world. These challenges are impossible to miss in Ireland, which like other Western countries has seen a steep decline in Mass attendance and a corresponding rise in people who claim no religion. The hope is that top-notch music and preaching can act as a model of how to reignite the faith in this sacred place.
The center and church are named for the church's founder, Blessed John Henry Newman, who was canonized as a saint on Oct. 13.
The church opened in 1856 and has since been an iconic landmark in Dublin's city center, a testament to Newman's ambition to harmonize faith and reason. At the invitation of the Most Rev. Diarmuid Martin, archbishop of Dublin, Notre Dame agreed in 2016 to steward the historic church by establishing a center there designed to engage young professionals.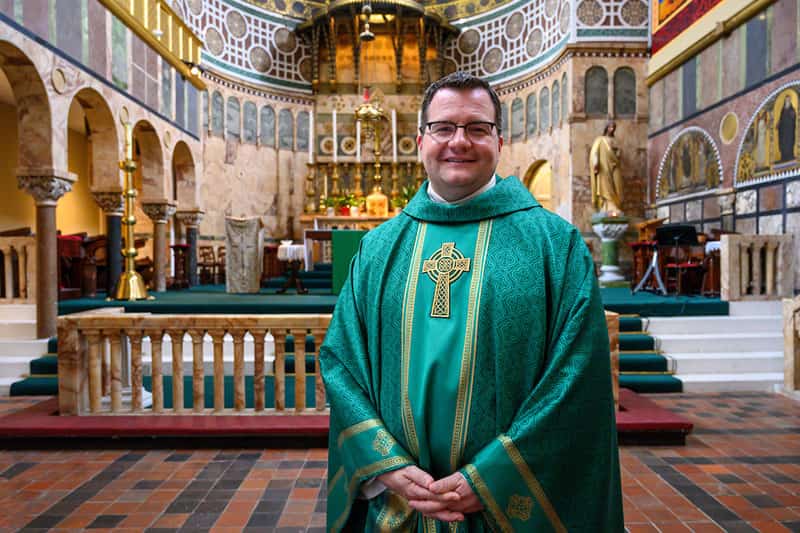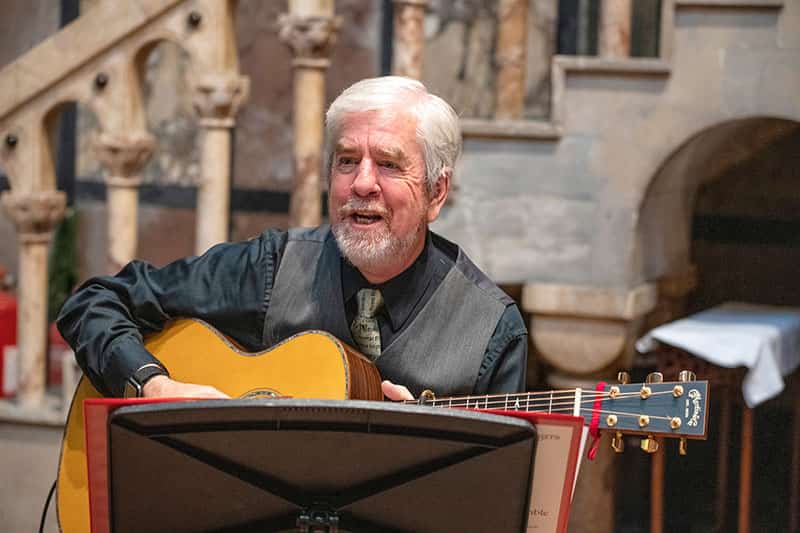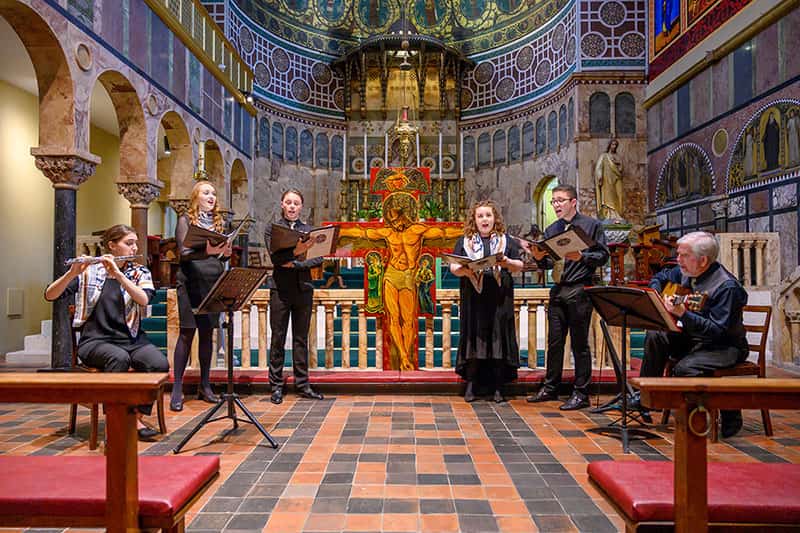 "The more that I brought my choirs back here, the more I became caught up in the warp and the weft of the Irish church, seeing where they needed help and how the University of Notre Dame could be of assistance to them," Warner said.
"But you can't come in here and just say, 'We've got all the answers.' That would be just completely counterproductive and quite arrogant. The way that you do that is the way in the words of St. Patrick: 'Come and walk among us.'"
In just three years, the parish has made great strides. A new evening Mass on Sundays draws between 50 and 100 people in their 20s and 30s, a remarkable feat. Warner's musicians and choir recently recorded an album of original liturgical music that a U.S. sacred music publishing company is producing.
"The archbishop has a fondness for John Henry Newman and believes his legacy here in Dublin is one that the Irish Church should emphasize and embrace," Father Dailey said. "And that's part of his motive in calling us up. You don't let a beautiful, historic church that was built by someone who's about to be named to saint fall into disuse."
John Henry Newman was born in London in 1801, the first of six children in a well-off family. After studying at Oxford University, he became an Anglican priest in the Church of England and an evangelical academic at his alma mater.
He became a leading voice in the Oxford Movement, which aimed to reform the Anglican Church by going back to its pre-Reformation roots. This exploration eventually led to his conversion to Catholicism in 1845. He was ordained a priest and welcomed as a leading scholar with a post in Birmingham.
"It educates the intellect to reason well in all matters, to reach out towards truth, and to grasp it."
The American view of Ireland as homogenously Catholic since St. Patrick threw out the snakes in the fifth century is oversimplified. The main complication was centuries of British domination, which included penal laws that barred Catholic priests and services. The predictable result was that the Catholic Church did not have established institutional structures or habits of Mass attendance when Catholic emancipation was largely achieved in 1823.
In an effort to build stronger institutions, Newman went to Dublin in 1854 at the request of the Irish Catholic bishops. His task as rector was to found the Catholic University of Ireland, which is now the secular University College Dublin, the country's largest university.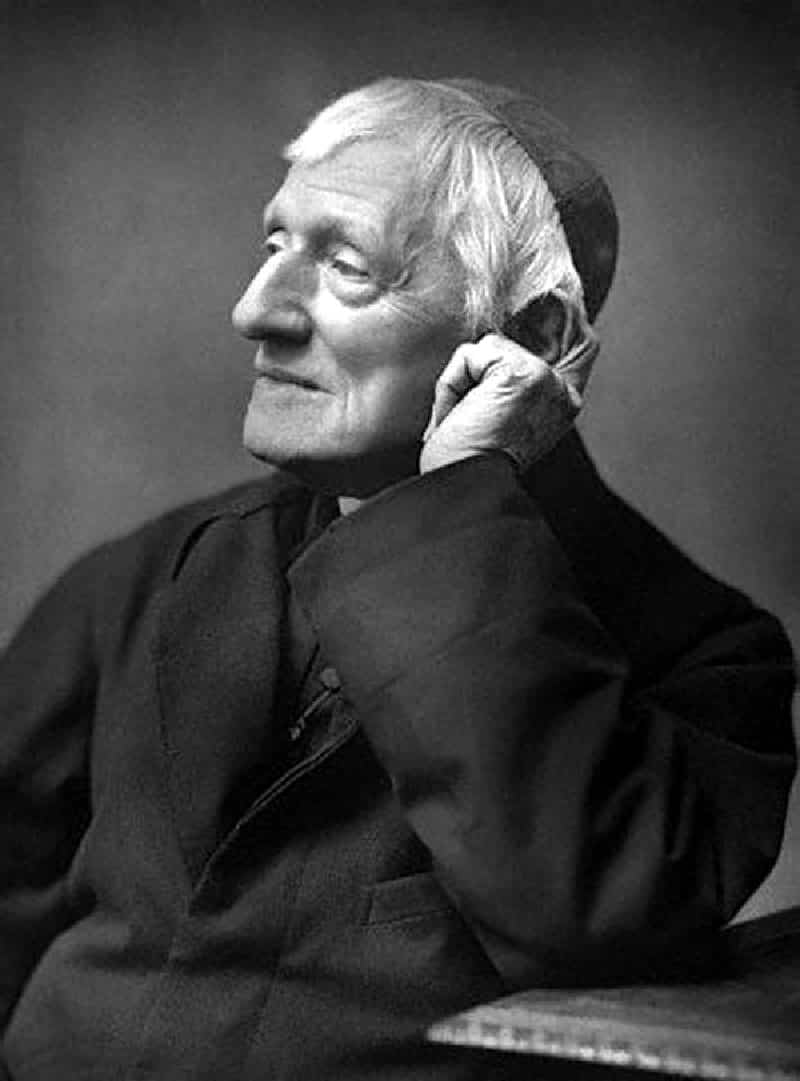 Newman published a volume of lectures called "The Idea of a University" that explained his philosophy of education. He argued for a middle ground between the absolute moral authority of the Church and the free thinking of the period, when many Catholic universities in Europe had been secularized.
Newman believed a Catholic university must claim legitimacy by supporting research and publication free from Church censorship, yet it should be a place where Church teachings are respected and promoted. "It educates the intellect to reason well in all matters, to reach out towards truth, and to grasp it," he wrote.
While this vision encountered opposition at the time, his book has had a broad influence in modern times. Newman left Dublin by 1859, but Father Dailey said recent study of his letters with his contemporaries — including the English Jesuit poet Gerard Manley Hopkins, who taught at the university Newman founded — reveal his fondness for the Irish people.
Pope Leo XIII made Newman a cardinal in 1879, and Pope Benedict XVI beatified him in 2010. The canonization was approved by Pope Francis in February, with the ceremony celebrated on Oct. 13, which brought considerable attention to the church Newman founded just south of St. Stephen's Green.
Father Dailey said Newman regarded the church next to the college he founded as the most beautiful in Ireland. After being run largely by the Jesuits after Newman, the college ended in 1908 with a merger into the secular National University of Ireland system. University College Dublin moved to a suburban campus in the 1960s, leaving behind the buildings on St. Stephen's Green — the Newman House and University Church.
"People want to be in community. People want to be attracted to beautiful things. They want to be inspired."
The Newman House next door was recently renovated to become the Museum of Literature Ireland, which opened in September. Father Dailey said the church next door struggled without the college because the neighborhood contains more government and office buildings than residents.
"Very few people live within the so-called catchment area of the parish," he said. "And it's Ireland. So you walk eight minutes in any direction, you're going to hit a church."
When Father Dailey and Warner arrived, the parish held a daily lunch Mass that averaged 30 to 50 people, and a Sunday morning Mass with similar numbers of older parishioners. "So the Church became a wedding church, basically, for the last 20 years," Father Dailey said.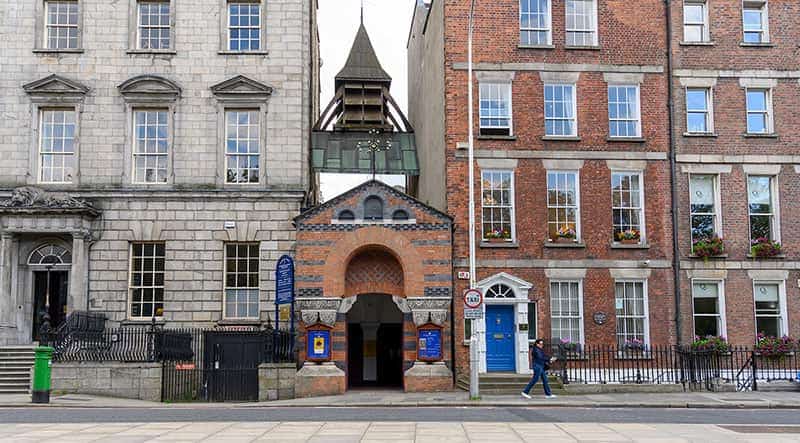 The Celtic Tiger — an economic boom in the mid-1990s due to foreign investment in Ireland — led to a new optimism across the country but also a decline of faith. The clerical abuse crisis created further headwinds pushing against the recruitment of young people back to the Church. A country once dominated by centuries of Catholic orthodoxy had overwhelmingly voted in the last three years to legalize gay marriage and abortion.
"The media portrays a kind of caricature of Ireland, I would say, where everything that was old was bad and dark and Catholic," Father Dailey said. "So the Church is a part of a narrative of Ireland's past, and they're saying goodbye to all that. And we certainly feel that at times in trying to do this work."
When Father Dailey told a well-connected Irish academic he wanted to start a Mass for young people, she told him it would take at least a decade to catch on. He started with one devout Trinity student who offered to help and recruited his like-minded friends.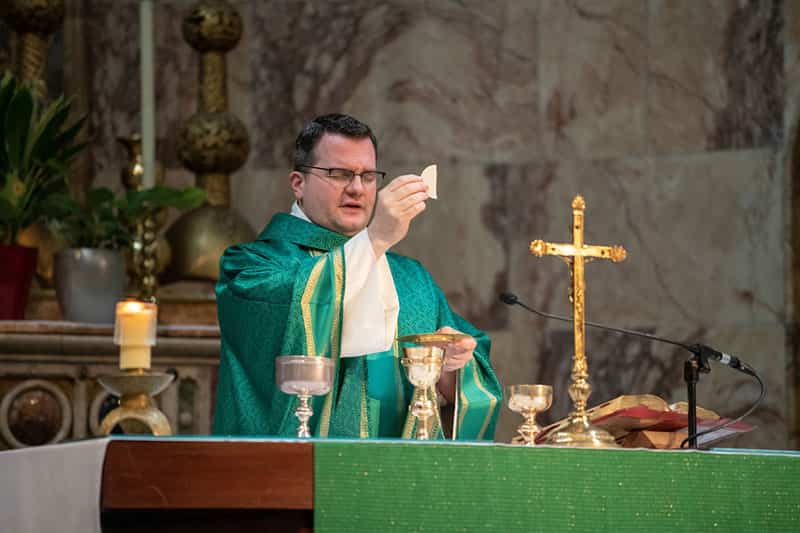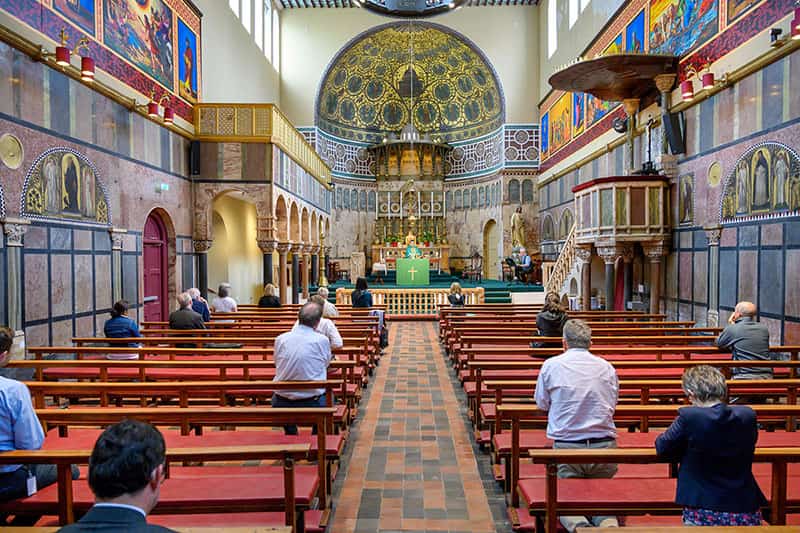 Meanwhile, Warner inherited a Sunday choir of older parishioners who didn't read music or have any hymnals. Cleanup of the choir loft took a few months. He recruited talented young musicians from area colleges and began training a core group for a new Mass planned for 6:15 on Sunday nights, 15 minutes after the nearby Grafton Street commercial area closes.
Warner said the evening Mass built its reputation slowly. They didn't look to gimmicks designed to entertain, he said, but relied on the "integrity of the liturgy" and "music that speaks to the soul" to get young people talking to each other. He said Father Dailey is an "amazing homilist."
"People want to be in community," Warner said. "People want to be attracted to beautiful things. They want to be inspired."
"To be able to create something of an oasis here in the city center that cherishes the arts and gives people a chance to experience the beauty of the liturgy — that's the kind of thing that has to happen over a long period of time. That will bring people back."
Father Dailey and Warner said they are beginning to see their vision come to life. During the last year, up to 100 young people have been coming to the evening Mass, and the choir has grown to 24 voices.
They invited the House of Brigid, a community of recent college graduates who spend a year in service to the Irish Church (and founded in 2009 as an initiative of Warner's folk choir), to start a Theology Uncorked program that involves theological discussion over wine. A new Taize chant service has also become popular. And the choir landed a recording contract.
"To go from 0 to 60 in that amount of time, that is a testament to the astounding talent of these young men and women," Warner said.
"I look out on the sidewalk, and inevitably, somebody walks by and does the sign of the cross."
A small group of singers and musicians gathered for an impromptu sample session last summer. Soloist Frank O'Donnell said another choir member recruited him "to be part of a choir with high standards."
"There's a concentration of young Catholics that have responded to high-quality liturgical practices," O'Donnell said. "It's miraculous and encouraging, and we can take a lot of good from it."
Warner said the Newman Centre will be a hub for Notre Dame activities associated with the 2020 football game against Navy in Dublin. He planned liturgical music for all the football games in Ireland, starting in 1996 when he said the University introduced itself to Irish churches. By 2012, Notre Dame held the first Mass in Dublin Castle, which was where Catholics used to be convicted. "The Notre Dame footprint in Ireland is quite extraordinary now," Warner said.
Until then, Father Dailey and Warner will continue Saint John Henry Newman's work. They aim to model a church where the clergy and laity work together to reunite faith and reason and to rebuild its reputation in the new generation. Warner said his belief that they can succeed is rekindled every morning when he opens the church doors just before 8 a.m.
"I look out on the sidewalk, and inevitably, somebody walks by and does the sign of the cross," he said. "It's a tiny action that reminds me of the spirituality deeply embedded in the people here. It cannot be denied because it's in the bones of the people."