Pilgrims embark for Notre Dame
Debbie McGraw-Block and her husband Rennie, recently retired from their jobs at a college in San Diego, were making extensive plans for how to spend the rest of their life together.
For more information or stories, visit trail.nd.edu.
Debbie, a 1977 alumna, was among the first classes of women to graduate from Notre Dame, but she'd never convinced Rennie to visit the school or understand her enthusiasm – until she got involved with a group of women benefactors. They came to the dedication of the new entrance to the Hesburgh Library in October 2016. "He was a skeptic but he was impressed," she said.
A few days after returning to their home in Cardiff-by-the-Sea, Calif., he died at the gym.
"I don't know where my life is going now," McGraw-Block said Sunday (Aug. 13) in Vincennes, Ind., where she is beginning a 320-mile journey in the footsteps of Rev. Edward Sorin, C.S.C., Notre Dame's founder.
"I kind of understood before; we'd just planned the next 20 years. Now I'm open to the question of 'What should I be doing? What's next?'"
Debbie had suggested to her husband that they should walk the Notre Dame Trail, an event commemorating the 175th anniversary of Sorin's journey from Vincennes to South Bend to found a university that would be "one of the most powerful forces for doing good in this country." She didn't think they'd really do it.
But after Rennie died, Debbie knew she had to join what has become 32 pilgrims embarking on a two-week walk and bike ride across Indiana. The training alone brought her clarity and time to think. "I knew I had to live my life in a way that he'd be proud of," she said.
Each pilgrim had their own reason to undertake the journey.
JesusisLord Nwadiuko, who graduated from Notre Dame in May, said he joined because he remembers a pilgrimage from New York City to Baltimore with his father, a Nigerian missionary, as a phenomenal bonding experience. His father carried a cross and the son carried their belongings on a journey to call the United States to prayer.
The double major in Chinese and pre-med said he had time for the ND Trail because he starts his masters in international studies in China in September. He hopes to use social media to get younger alumni interested in the pilgrimage. "It's an opportunity to spend time away, to talk to God and others without interruption," he said.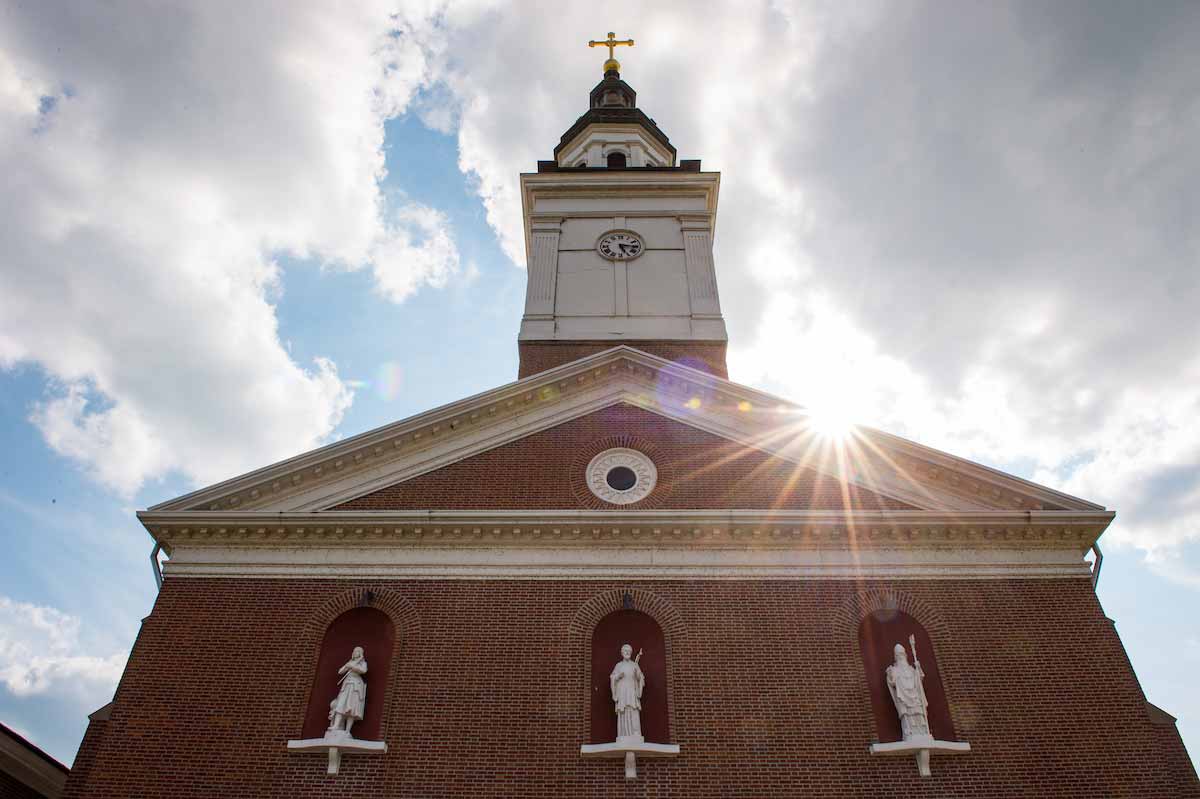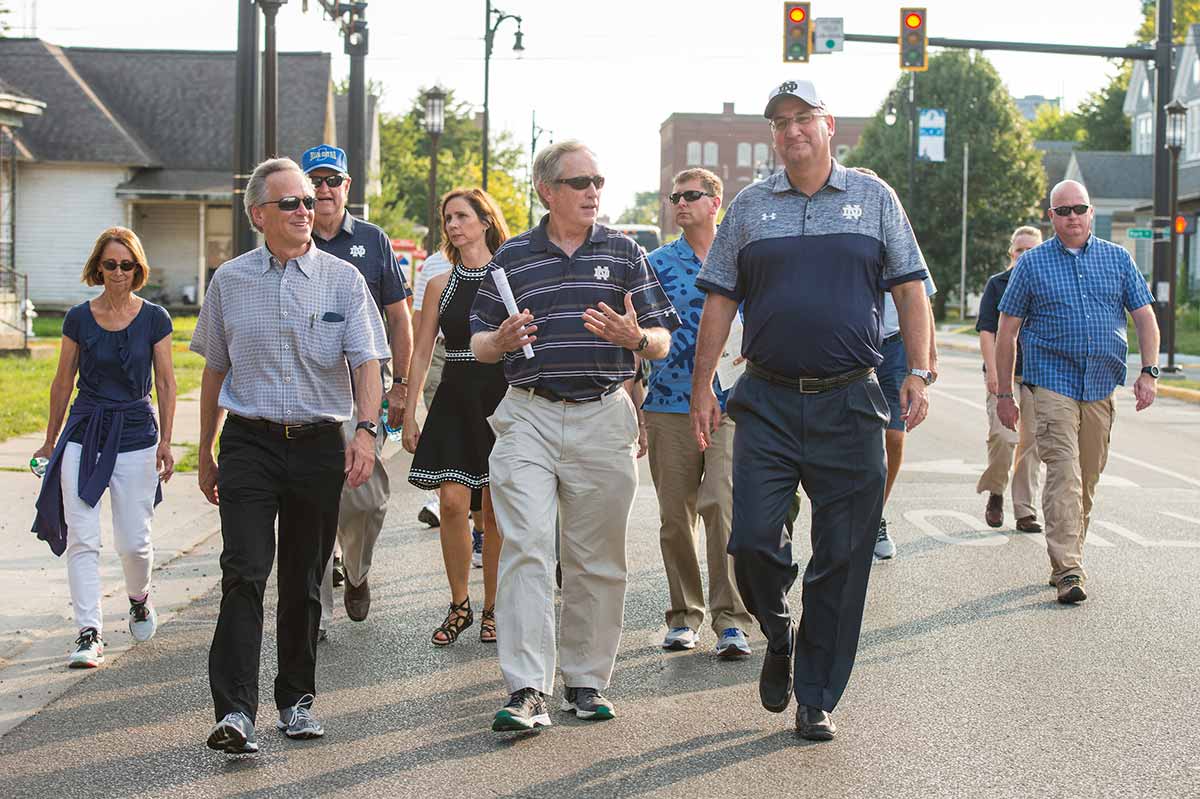 Indiana Governor Eric Holcomb attended the opening ceremony in Vincennes, which started at St. Francis Xavier Cathedral. The historic church was founded in 1826, before Sorin arrived from France and was assigned to Vincennes, then the largest city in Indiana and its oldest parish. The young priest and six Holy Cross brothers walked north with their possessions on an oxcart to claim 524 acres in South Bend that the bishop of Vincennes gave them to develop a mission and school, arriving on Nov. 26, 1842.
Holcomb joined University leaders, the pilgrims, Vincennes Mayor Joe Yochum and Vincennes University President Charles Johnson for Mass at St. Xavier and a two-mile walk to Kimmel Park along the banks of the Wabash River. The group ate dinner there in a pavilion recently built by Vincennes University. Holcomb said his parents were from the area and met at the university.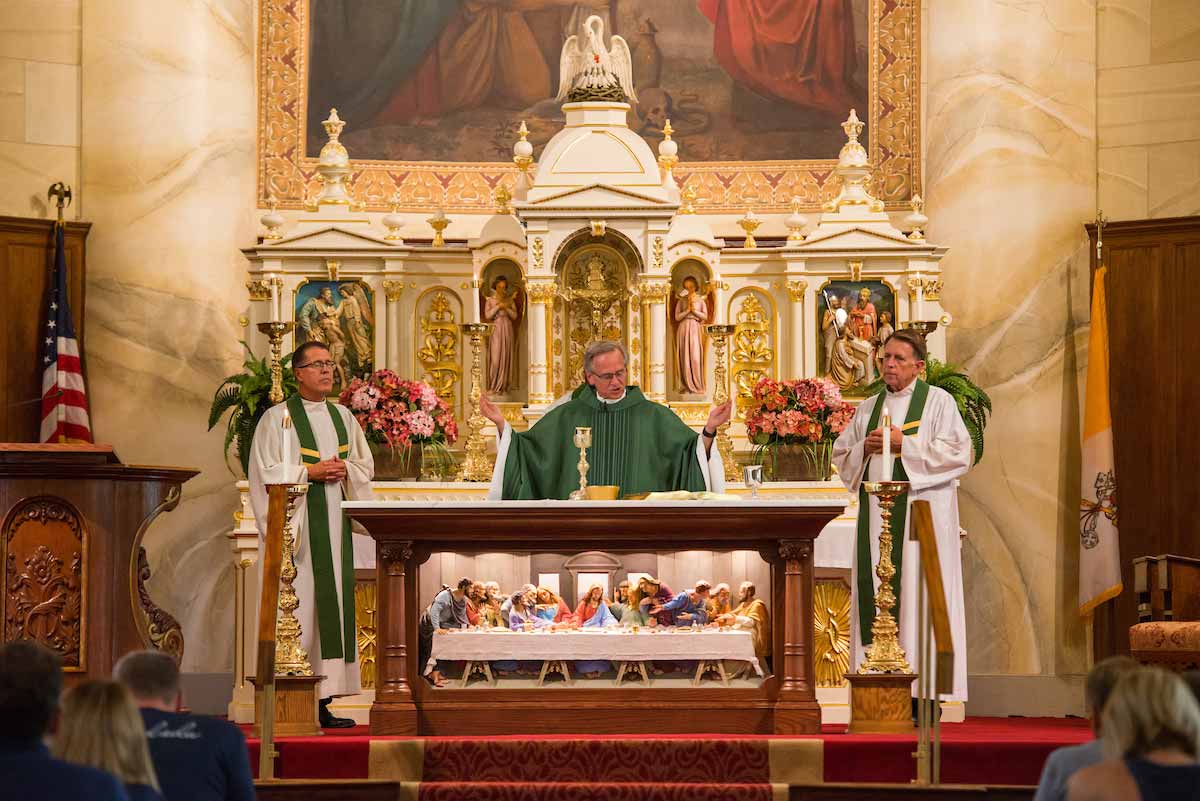 "Indiana is blessed to have an incredible network of universities that really stick out across the country," Holcomb said. "I don't know of another university with Notre Dame's reputation for being so generous and charitable. The state of Indiana is so proud to partner in any way we can with the Fighting Irish."
About 100 more people will join the original pilgrims in Rochester, Ind., for the last five days of the trail. An additional 165 will join in Plymouth for the last three days. The Notre Dame Trail will culminate Aug. 26 in a three-mile walk from South Bend's Howard Park to the Notre Dame campus, followed by a 175th anniversary Mass and picnic.
In his homily at St. Francis Xavier, Notre Dame President Rev. John I. Jenkins, C.S.C., spoke about how a pilgrimage is a spiritual journey as well as a physical one. The Israelites fleeing Egypt were also escaping slavery. Mary traveling to Bethlehem was getting ready to give birth to Jesus. The pilgrim, he said, must be open to hardship and change, to being led by God.
"We live in a time where silence is hard to come by," Fr. Jenkins said. "Perhaps this walk, this pilgrimage, can give us that silence. All we have to do is open our hearts to listen."
Debbie McGraw-Block certainly hopes so. She worried about training for the walk alone, but she found it valuable to spend time alone to think about her husband and her next steps.
"During some of the really long training walks, my feet hurt so bad that I told myself not to start crying," she said. "But I got up again the next day and did it again. That was a valuable lesson."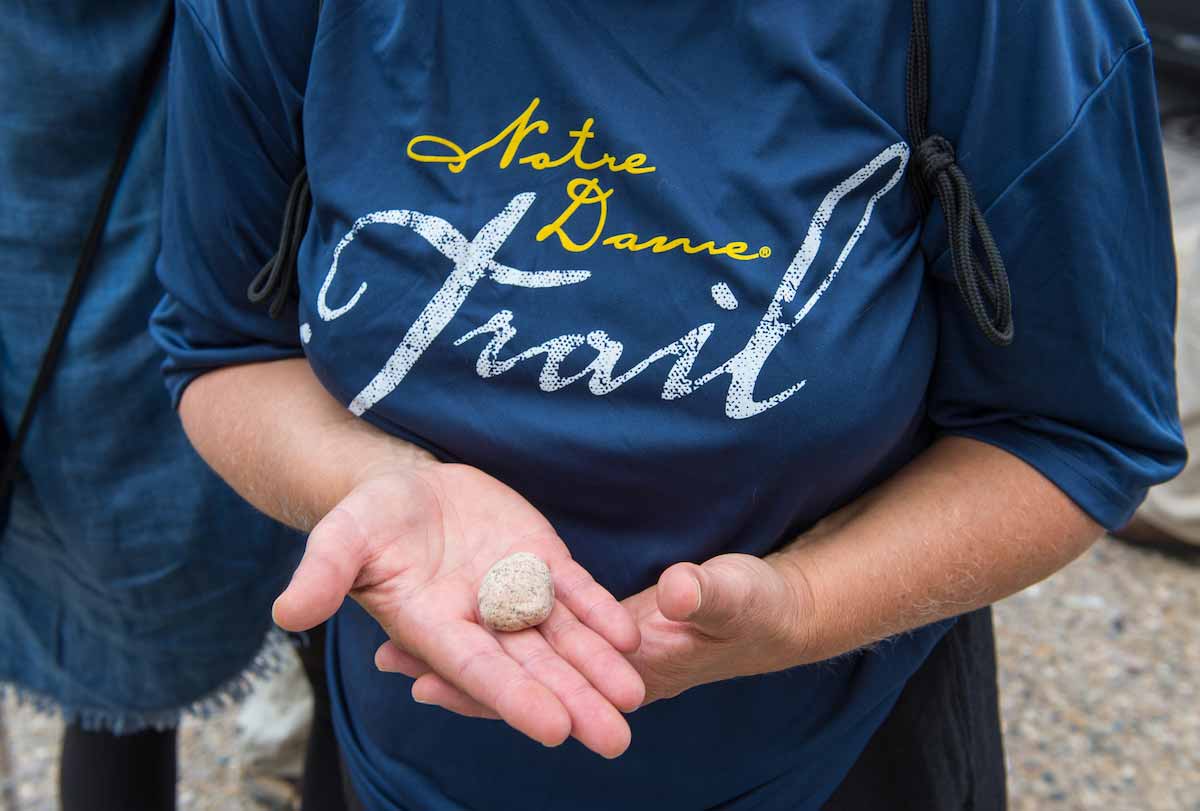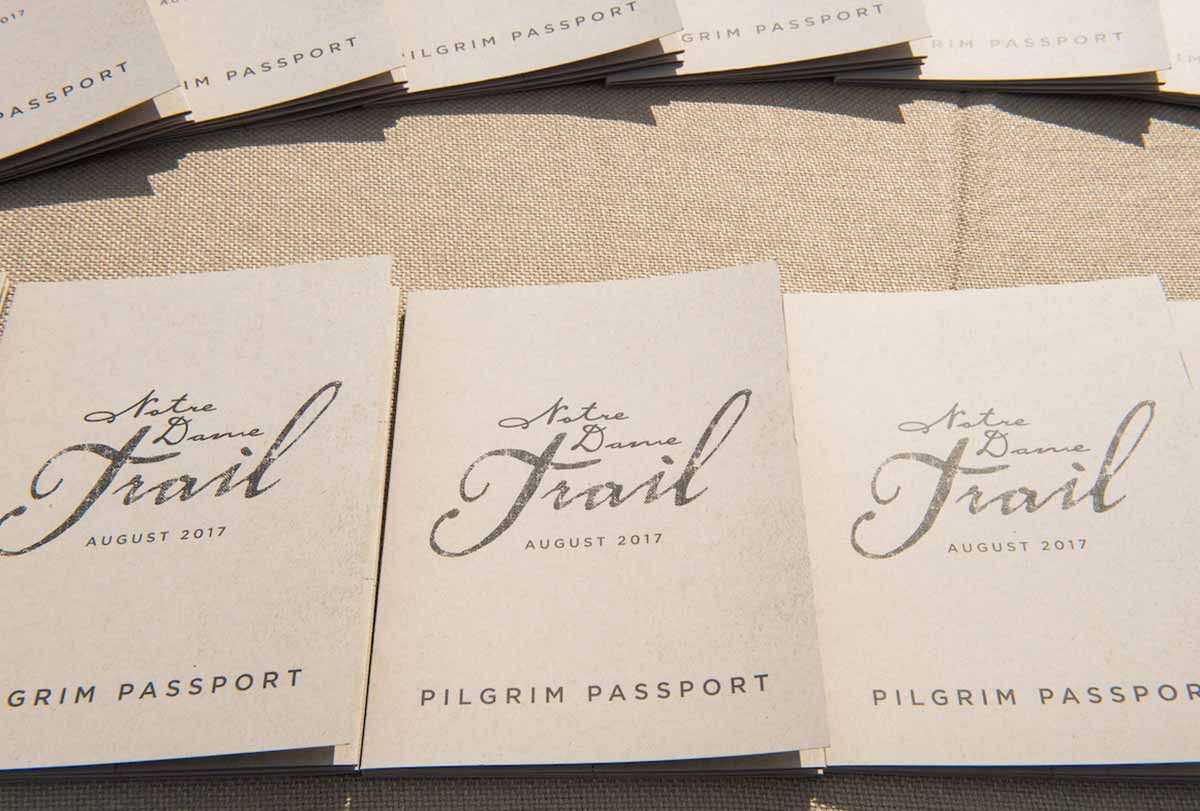 The pilgrims, rocks blessed and passports stamped, departed from Kimmel Park at 6:30 a.m. the next day for a 19-mile walk, the first leg of their journey to Notre Dame.