Global
'London is its own classroom'
Notre Dame focuses on experiential learning at London Global Gateway
Sometimes it's the experiences outside the classroom — even routine experiences — that inspire the most learning.
Consider Armando Sanchez's walk to class while studying in London this fall.
Sanchez passes world-famous landmarks and globally significant historical sites every time he strolls the 20 minutes from Conway Hall, the University's student residence near the south bank of the River Thames, to Fischer Hall, the academic building next to Trafalgar Square.
"The walk from home to class is amazing. It blows me away every time," Sanchez said. "I cross the bridge over the Thames, and you see St. Paul's Cathedral, you see Big Ben, you see the London Eye."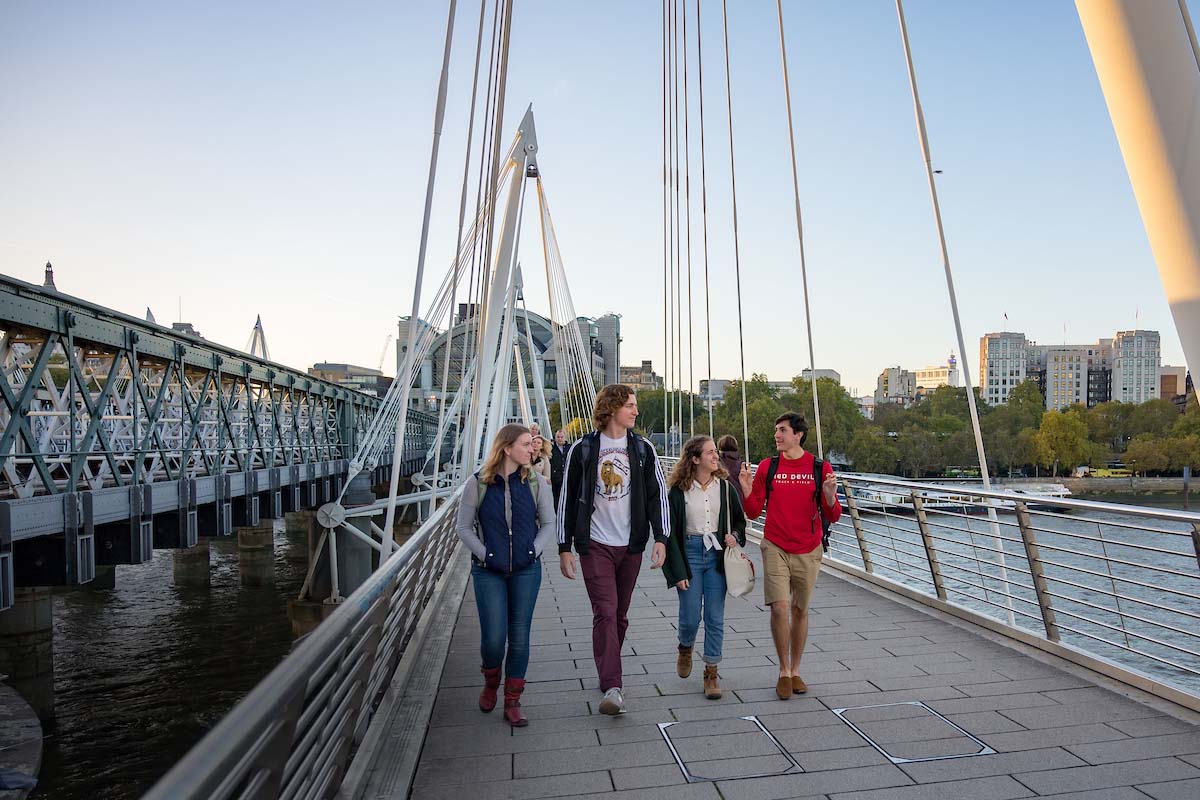 As they commute to class, students cross the River Thames and pass world-famous landmarks and historical sites.
Sanchez, a junior political science major from Visalia, California, said visiting historical sites around London and on trips to landmarks such as Stonehenge has enriched his education.
"To hear about concepts and read about them is completely different from being able to experience the places where history happened," Sanchez said. "Studying in London gives you the opportunity to embrace history and culture from many parts of the world, and understand our position in the United States from a different viewpoint."
The world of opportunities available to students in a global city has inspired the University of Notre Dame to place a greater emphasis on experiential education at its London Global Gateway.
"We truly believe that London is its own classroom, so nearly all of our classes offer some sort of experiential learning where we fully take advantage of all the opportunities that London has to offer — culturally, historically and politically," said JoAnn DellaNeva, the London Global Gateway's academic director.
"London is this vibrant, cosmopolitan, diverse community that is not like anything else in the world," DellaNeva said. "It is a world-class institution in its own right."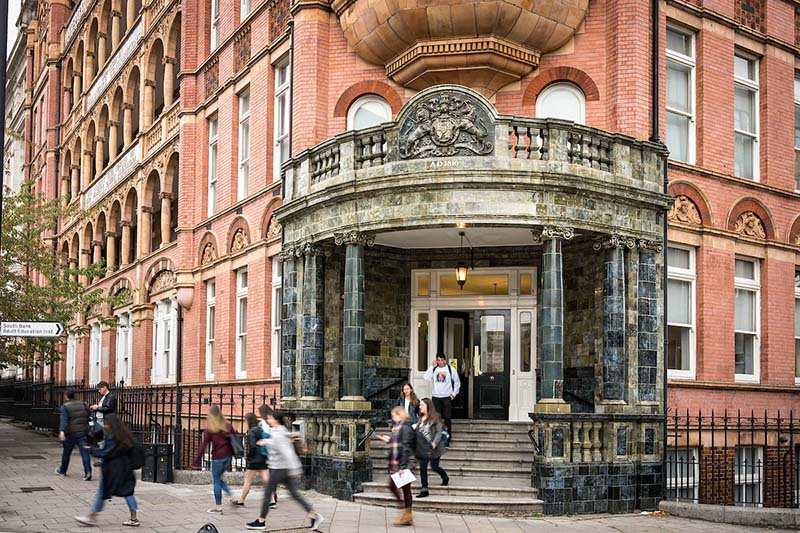 That's why Beth Steiner, a junior pre-med student from Louisville, Kentucky, wanted to study in London.
"I study in the National Gallery almost every day. I like to walk in St. James Park. You have the theater district and Covent Garden," Steiner said. "Those are things you could come here and see, but it gives you a different perspective when you are actually living here and walking through the city every day."
More than 1,200 Notre Dame students participate in study-abroad programs each year, and London is the most popular destination. About 140 undergraduates and up to 25 law students as well as many graduate students and faculty members spend time in London each semester.
In addition to being Notre Dame's largest international presence, the London Global Gateway is also unique among the University's study-abroad programs in that it provides all of its own courses. This ensures that students — regardless of major — don't skip a beat while in London.
The London Global Gateway also has a thriving internship program that enables students to work for businesses, nonprofit organizations and government institutions, including Parliament.
An example of one new initiative is Signature Courses — small, seminar-style classes that include field trips in and around London. The courses focus on a variety of topics such as Alfred Hitchcock and William Shakespeare. DellaNeva is offering a Signature Course called Imagining Henry VIII that looks at literary representations of the 16th-century English king and includes visits to the Tower of London as well as St. Thomas More's parish in Chelsea.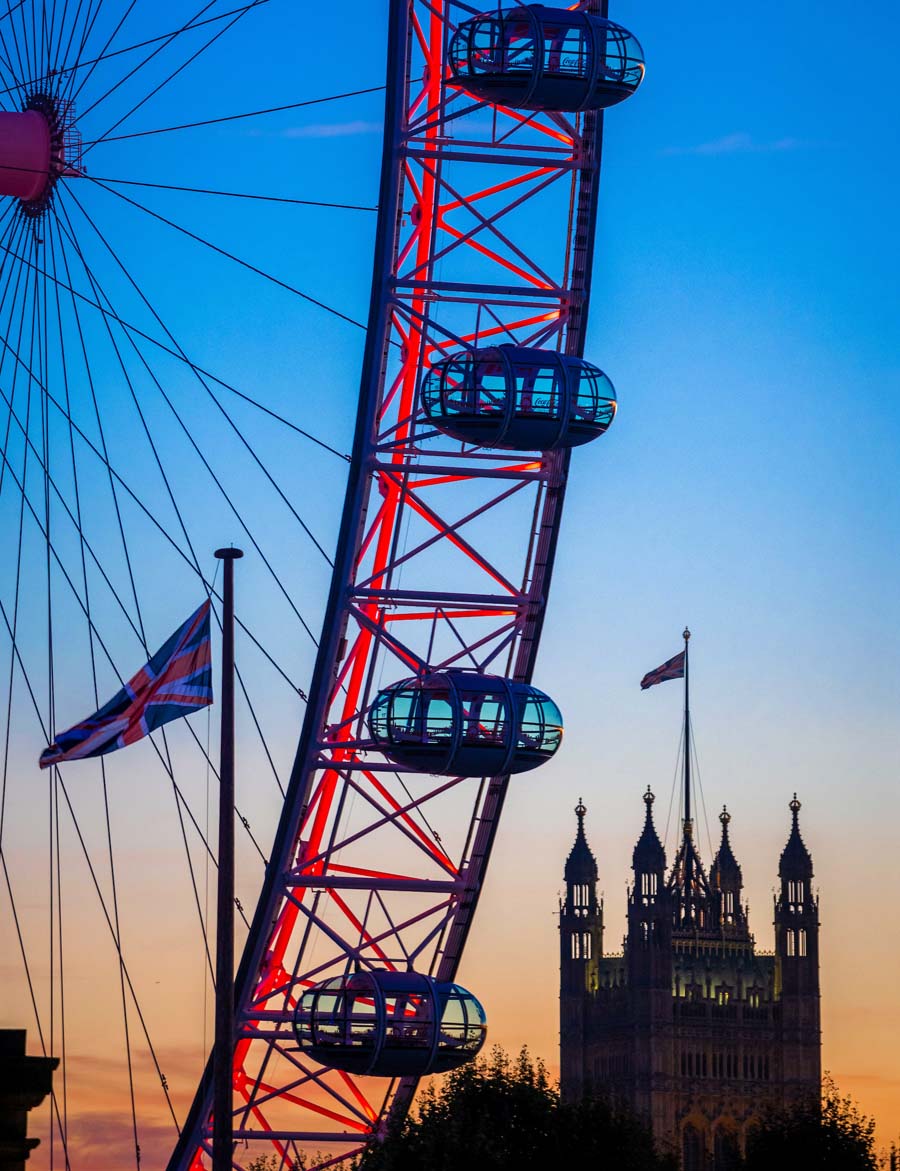 The first seeds for the London Global Gateway were planted in 1968, when Notre Dame Law School started its London Law Program. Notre Dame undergraduates joined the law students in London in 1981. The University officially designated the London facilities as the London Global Gateway in 2012.
The Law School and Notre Dame International have been celebrating the London Law Program's 50th anniversary throughout 2018 with speakers and events at the London Global Gateway. The culminating celebration, a Golden Jubilee, started this past Saturday and continued through Tuesday with events for alumni, students and faculty in London.
"The London Law Program was the precursor for the gateway as you see it today," said Michael Pippenger, the University's vice president and associate provost for internationalization.
"The home base that the Law School created by having that innovative program here made us realize that London was a natural place for us to be when we thought about the gateway model and where we want to have special emphasis in terms of our global strategy," Pippenger said.
He explained that the University selected the term "gateway" very intentionally when naming the London Global Gateway and the other global gateways in Beijing, Dublin, Jerusalem and Rome.
For students, studying abroad is a gateway to a better understanding of what it means to be a global citizen and how every profession today has a global dimension to it.
But the gateways also provide opportunities for people in other countries to learn about Notre Dame.
"Many people in the United Kingdom may not be aware of Notre Dame, they may not have heard of where South Bend is, they may not understand the great history and rich tradition and unique mission we have as the foremost Catholic university in the U.S. and, hopefully, the foremost Catholic university in the world," Pippenger said. "So, to that end, we use these spaces not just for research and study, but also for admissions events and alumni events. We use them as spaces for local partners to come and meet us where we are, and that's a wonderful thing."