Monday, November 14

Excerpts from a reflection by University President Rev. John I. Jenkins, C.S.C., at an interfaith prayer service
We have come through an election cycle that has revealed and perhaps deepened divisions in our country and in this community as well. In recent days I have received letters and emails from people on both sides in this election that express anger, uncertainty, bitterness and fear. It is a troubling time.
We now have elected leaders and we should pray for them. As far as we can in accord with our principles, we should cooperate with them to serve the common good. We also pray for those holding opposing positions that they might continue to be engaged and that their voices continue to be heard. I do not want to minimize the very real differences in perspectives and principles that divide us. Yet I believe there is no peaceful, fruitful future for us except through the respectful, constructive dialogue that is so critical for a democracy. Dialogue, one can argue, is the central activity of any university community. We can disagree passionately, but we should not demean our opponents. We should state our convictions, but we should listen to all, and most attentively to those who do not share our views. It is the responsibility of each of us to foster a conversation that engages and enlightens, rather than descending to mutual recrimination.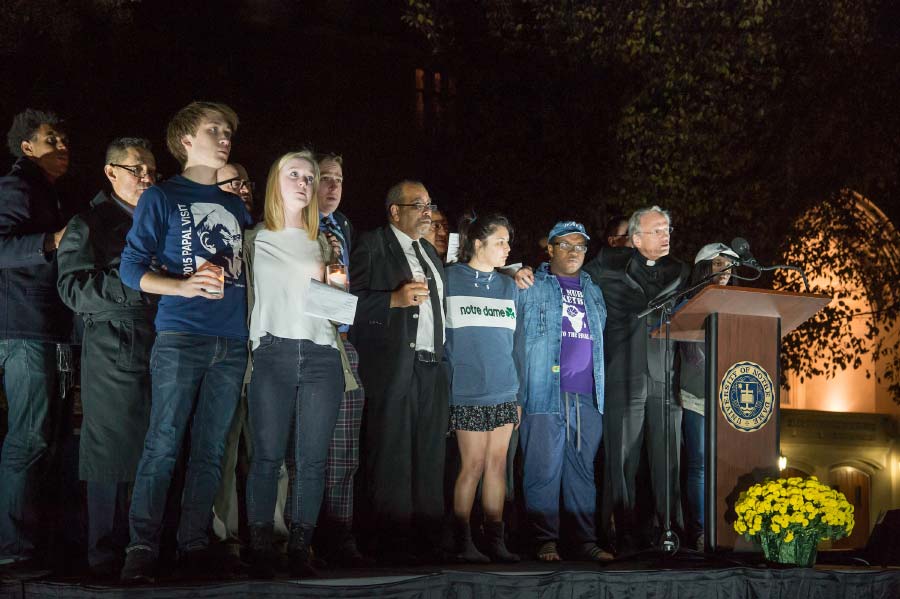 At Notre Dame, we must never allow any election cycle, law or policy to make us forget what we stand for. Three pivotal principles guide us as a Catholic university community.
First, we are committed to respecting the dignity and worth of every human person, from conception to natural death, regardless of national or ethnic group, religious tradition, gender, race, socio-economic class, immigration status, sexual orientation or anything else.
Second, we are committed to work together to realize what is called the common good—the conditions that allow each member of this community to flourish and contribute to the flourishing of others.
Third, we are committed to solidarity with all people, recognizing that the well-being of each person—and particularly the most vulnerable and marginalized—is a concern for every one of us. On this point, I want to speak particularly to the undocumented students at Notre Dame. I assure you of our special concern for you at this time. The University will spare no effort to support you, just as we will do for every student at Notre Dame. You accepted our invitation to come to Notre Dame, you are now part of our family, and we will do everything we can to ensure that you complete your education at Notre Dame.
These principles are at the very heart of our mission and should define the kind of community we strive to be. But perhaps what expresses it best is a simple story.
Fr. Hesburgh, longtime president of Notre Dame, once faced a sad disciplinary case. It seems two Notre Dame students had harassed a fellow student who was Jewish for his religious and cultural background. They did this to an extent that the Jewish student had had enough, and left Notre Dame to seek his education elsewhere. Fr. Hesburgh called those students into his office and told them they had a choice. They were to leave campus, go to their Jewish classmate's home, apologize and ask him to return to Notre Dame. If they could convince their Jewish classmate that he would be welcomed and supported on campus and that he should return, they too could return to Notre Dame. If they could not, then they should not bother coming back, because they would be permanently dismissed from the University. The two students went and were able to convince their Jewish classmate to come back. The three young men graduated together.
"That is Notre Dame. Either we walk together in mutual support, or we do not walk at all. Either we are all Notre Dame, or none of us are." – Rev. John I. Jenkins, C.S.C.
Let each of us respond to the challenges of this time by recommitting ourself to respect for each member of this community, to joining in mutual support and to foster conversations that engage and enlighten, rather than tear one another down. Let us be people of justice, and people who care in a special way for the most vulnerable. Let us never do anything to make another member of our community feel unwelcome, and let us not stand by if we see others doing so. Let us commit to being Notre Dame together.