Tall Tale
The scaffolding constructed for the regild measures 197 feet from the ground to the top of the structure.
Preserving Our Lady
Combining the surface area of the Dome and Mary, approximately 7,000 square feet will be regilded.
Primed for Success
The primer, or glue, that holds the gold in place takes 24 hours to set before gold can be applied.
Teamwork
Fewer than two dozen people are involved in the regilding process, including preparations, repairs, painting, and application of the gold itself.
How Things Have Changed
Generations ago, regilders climbed out small access hatches at the base of the statue of Our Lady and used ropes to anchor themselves while they worked.
Protecting the Dome
Each gilding lasts 15 to 20 years and is assessed on a yearly basis.
The Gold Standard
If in a controlled environment, gold lasts forever; only the elements cause it to show wear.
Story
The heart of Notre Dame
If the Basilica of the Sacred Heart represents the soul of Notre Dame, then surely the Main Building and its ubiquitous symbol of the Golden Dome is the beating heart of the campus, pumping vigor and purpose to the interlaced arteries of an academic and residential community.
Story
Raised high on a
Dome
Before what is arguably the world's most recognized college landmark—the University of Notre Dame's iconic Golden Dome atop its Main Building—could be regilded this summer and fall for the 12th time, it first had to be gilded.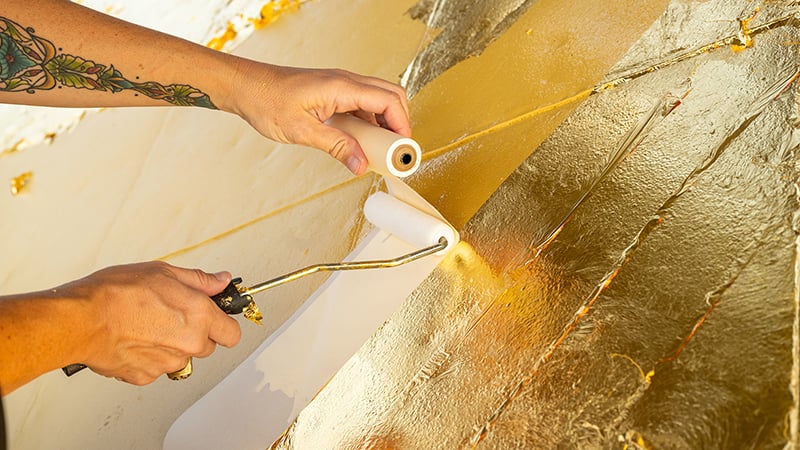 Staying Gold
Gilding is a trade that demands patience, focus, and stamina. The Conrad Schmitt team works to gild Mary and the Dome bringing a fresh shine and optimism to this integral piece of the Notre Dame story.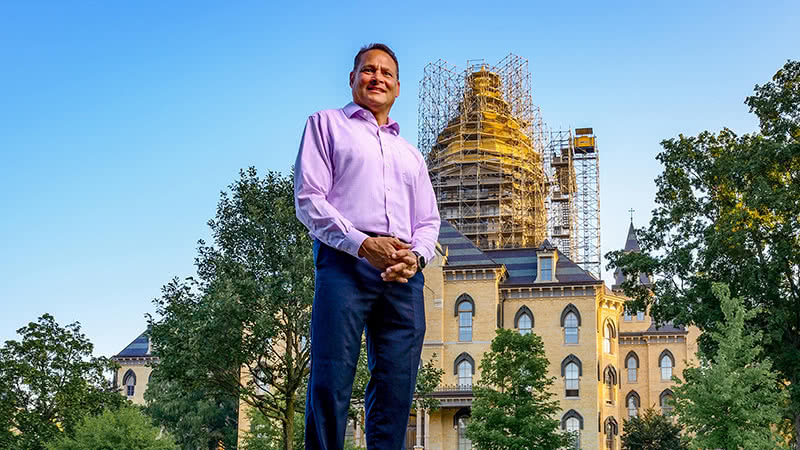 As Good as Gold
For many on campus, witnessing this process for the first time is a truly memorable experience. And for Tony Polotto, the senior director of construction, the sentiment is no different.