Friday, August 25, 2023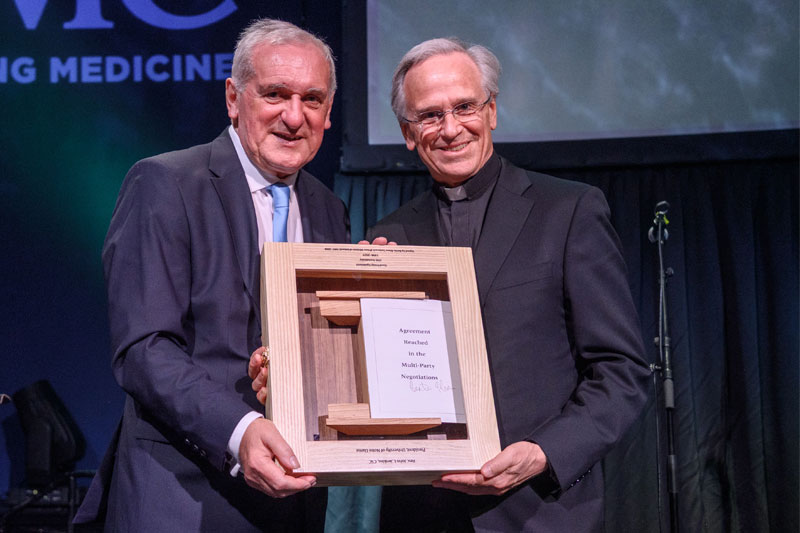 American Irish State Legislators Caucus honors Father Jenkins
Bertie Ahern, the Taoiseach (prime minister) of Ireland from 1997 to 2008, presented the University of Notre Dame's president, Rev. John I. Jenkins, C.S.C., with a signed and framed copy of the Good Friday Agreement at a dinner Friday night (April 25) hosted by the American Irish State Legislators Caucus at the historic Round Room in Dublin.
Ahern played a significant role in the negotiation of the Good Friday Agreement, in which the British and Irish governments and most Northern Ireland political parties established an "exclusively peaceful and democratic" framework for power-sharing in Northern Ireland. The agreement was signed 25 years ago, on April 10, 1998.
This recognition is "tremendously meaningful to me," Father Jenkins said. "I spoke today to (former Irish President) Mary McAleese, who grew up in a Catholic household in a Protestant neighborhood in Belfast (Northern Ireland). She talked about the shootings outside her house, the bombs that exploded in her father's business, and the trauma that remained in the wake of these events.
"But, through the cooperation of the United States and Ireland, we were able to achieve the Good Friday Agreement, and that agreement has led to so much peace and prosperity to this wonderful country, this country that we love so much.
"It's the cooperation of people like you—political leaders who come together to aim for higher things, better things for people—that makes the difference. So, please continue your efforts to deepen peace and prosperity on this island and in the United States."
Established in 2021 by Irish Sen. Mark Daly, the America Irish State Legislators Caucus is a bipartisan network of current and former American legislators of Irish heritage or who are friends of Ireland from across the United States at the local and state levels of government and their counterparts from Ireland. The caucus supports the Good Friday Agreement and, in its mission statement, seeks to "foster and strengthen the longstanding relationship that exists between the United States and Ireland to the mutual advantage of both countries."
More than 100 U.S. legislators traveled to Ireland this week to participate in caucus meetings and attend events associated with the Notre Dame-Navy Aer Lingus College Football Classic.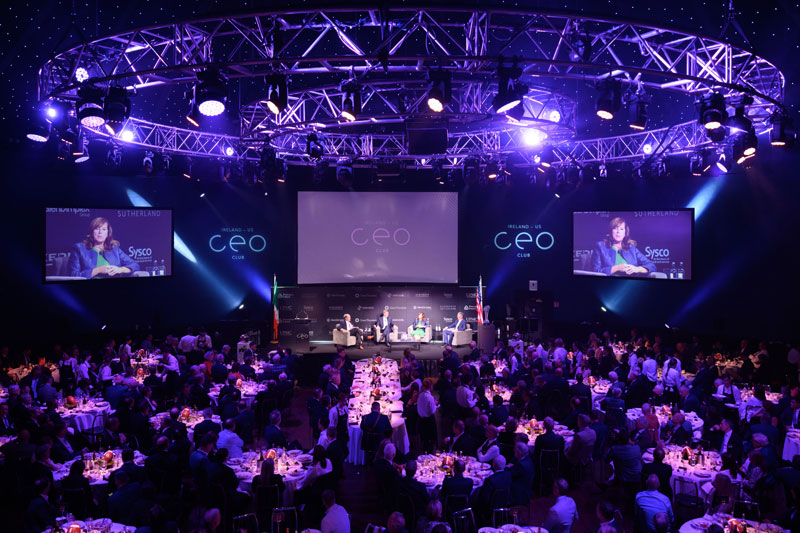 Ireland-US CEO lunch features Mary McAleese with Notre Dame Board chair and prominent alumni
Former Irish President Mary McAleese offered opening remarks and University of Notre Dame Board Chairman John J. "Jack" Brennan moderated a panel at the Ireland-U.S. CEO Club Lunch on Friday (Aug. 25) at the Round Room in Dublin City Centre. The event was among the many pre-game activities surrounding the Aer Lingus College Football Classic between Notre Dame and the U.S. Naval Academy on Saturday at Aviva Stadium.
The luncheon brought together 505 attendees, including executives from leading companies in the United States and Ireland, to discuss the cultural, business, and sporting relationships between the two countries.
President from 1997 to 2011, McAleese received an honorary doctor of laws degree and was the principal commencement speaker at Notre Dame's 2006 University Commencement Ceremony. She has served as a Distinguished Martin and Carmel Naughton Visiting Fellow in Notre Dame's Keough-Naughton Institute for Irish Studies and as the Judge James J. Clynes Visiting Chair in Notre Dame Law School.
In her remarks, McAleese reflected on how the tribulations of Ireland's past have created the nation it is today, saying, "We have moved from can't to can-do. We are one of the can-do countries in the world."
McAleese was president when the Good Friday Agreement that brought peace between Ireland and Northern Ireland was negotiated and signed 25 years ago.
"The kinship of the United States and Ireland is especially manifest through the Good Friday Agreement," she said, adding that governments, businesses, and others "unlocked heroic political courage to get the agreement over the line."
Brennan, the chairman emeritus of Vanguard, has served as Notre Dame Board chair since 2015 and as a Trustee since 2009. He moderated a panel that included two Notre Dame graduates: Jean Hynes, the chief executive officer of Wellington Management, one of the world's largest independent investment management firms, and Ryan McInerney, the CEO of Visa since 2013. They were joined by Edmond Scanlon, CEO of Kerry Group, a public food company in County Kerry, Ireland, with more than 23,000 employees in manufacturing, sales, and technical centers worldwide.
All three panelists spoke glowingly of the many partnerships between Irish and U.S. companies, with Hynes and McInerney highlighting the "consistency" of the Irish workforce.
McInerney praised the "young, educated, tech savvy, and aggressive culture" of the Irish business community, and Hynes pointed to the nation's educational system and technical skills development as leading factors in Irish-U.S. partnerships.
Built in 1821, the Round Room was first used to host a reception of King George IV to Dublin. It has been used as an event venue ever since and is located on Dawson Street adjacent to Mansion House, the residence since 1715 of the lord mayor of Dublin.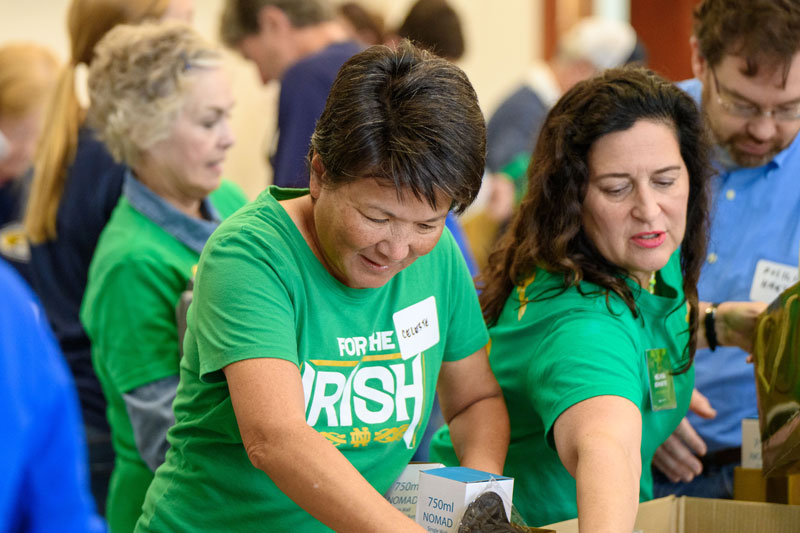 Meitheal for Mater: Alumni Association service projects makes big impact
They called themselves the "meitheal" ("meh-hel") — it's an old Irish term for a group of friends and neighbors who come together to help each other when help is needed — a working group.
And you couldn't miss the group of 80 Notre Dame alumni, staff, family, and friends sporting the bright green T-shirts today who had gathered at Mater Misericordiae University Hospital Dublin to take time out before Saturday's football game to make a difference.
"This is our first international service project of this scale," said Dan Allen, associate director of spirituality and service for the Notre Dame Alumni Association. "We're just so inspired to see so many people come together for this project."
Volunteers took on various jobs and needs for the hospital at three locations in the community. In the main hospital, some assembled care packages and backpacks for patients while others wrote personal notes of care and support to include in the bags.
The second location featured a group of volunteers renovating spaces in a center that services as many as 50 unaccompanied minors. These are children between the ages of 12 and 18 years old who come to Ireland alone from around the world and need various types of care and support. Here volunteers were cleaning, painting, assembling furniture and, most importantly, creating the center's first mindfulness room — an area to provide professional clinical counseling, decompression from stress and trauma and a general space for them to feel safe and find peace, explained Derek Cleary, director of localized youth volunteers for the Mater.
The third space being upgraded by volunteers was the Leo Street elderly day care center, a place where as many as 15 adults, ages 75 to 94, gather daily for meals, counseling, camaraderie and any extra care they may need.
"These are individuals recommended by the hospital who are all alone. We provide them with hot meals every day and any support they may need, including with things as simple as technology support or strength and conditioning training so that they can better care for themselves at home alone," Cleary said.
At Leo Street, volunteers were cleaning walls, hanging drapes, building furniture, and replacing appliances. Some of the volunteers discovered a rotted floor beneath a broken refrigerator that was being replaced. Instead of just moving the new fridge into place, they took on the additional unexpected work of ripping out the damaged flooring and subfloor and replacing it.
Mia Leddy, the coordinator of the center, was overjoyed at the Notre Dame delegation's presence. "Oftentimes, these are people who are overlooked in our society. They are invisible and forgotten. The thing that the older person suffers from the most is loneliness," she said. "These are people who have no one to help them and no one to support them. I can't believe that you're here doing this for us."
When asked about why they were working today in Dublin instead of sightseeing or enjoying typical tourist haunts, the volunteers all echoed the same sentiment as Ellen Power Raspitha, who said, "The service project is part of my annual trip. It's like Christmas morning to me. I didn't come from a lot but my parents instilled a sense of service. There was always a place in our home for anyone in need and we always try to give back."
"This is an opportunity to make an impact on a community," Dave O'Neill, class of 1987, said. While volunteering with his wife and another friend, O'Neill continued, "We are only here for a short time — just a few days. But I hope that our work here makes a lasting impression on this community."
Meitheal, indeed.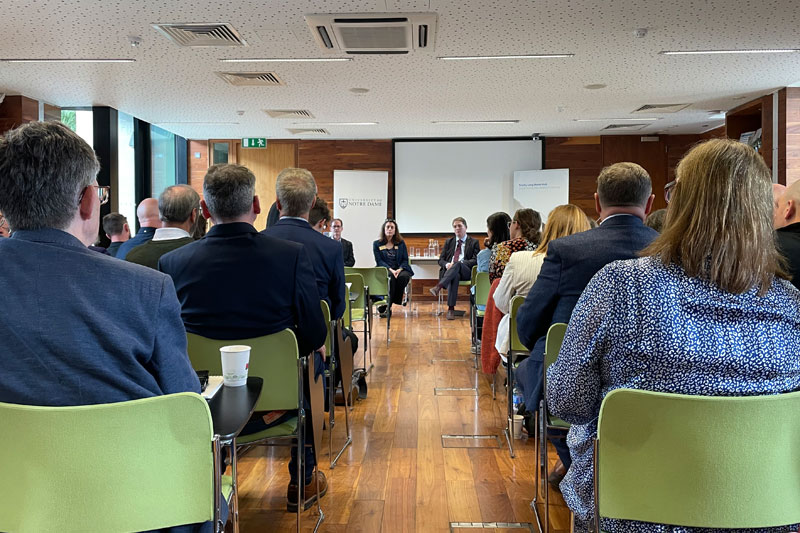 The Future of Irish Studies
A full room inside Trinity College's Arts and Humanities Research Institute (Trinity Long Room Hub) Friday was the setting for one in a series of academic events hosted by Notre Dame's Keough-Naughton Institute for Irish Studies, part of the Keough School of Global Affairs.
The question at the center of this panel conversation: What is the future of Irish studies? More specifically, in this presentation, the future of Irish literature.
Moderator Sarah McKibben, associate professor and department chair for Irish language and literature, was joined by three Notre Dame colleagues: Barry McCrea, the Donald R. Keough Family Professor of Irish Studies; Chanté Mouton Kinyon, assistant professor of English; and Clíona Ní Ríordáin, formerly of the University Sorbonne Nouvelle-Paris 3, where she taught Irish literature and translation studies. Trinity College Dublin faculty members also hosted and joined the discussion.
Within the examination of and interaction with Irish literature at the University of Notre Dame, the Irish language itself is a central figure, as it has been from the institution's beginning, McKibben explained. As for the future of Irish studies, Kinyon contemplated how, globally, much the practice hasn't changed over the last 50 years, pointing to the need for increased variety in perspectives and materials.
"It's important to think about Irish literature in places that it doesn't exist or that we don't know it exists," Kinyon said.
The National Endowment for the Humanities-Keough Fellow for the 2018-19 year, Kinyon is presently investigating the international aspects of early 20th-century African American writers by examining their influence on and from Irish culture and literature.
"Notre Dame is a place where I've been allowed to develop as a scholar. I appreciate that environment—not everyone is given that opportunity," she added.
"We have an audience for what we do, but there's also a danger of a distorting effect," shared McCrea, who completed his undergraduate degree from Trinity College Dublin. Speaking about the application of influences on Irish studies, McCrea added, "I hope going forward that we need a set of categories that really reflect the 'on the ground' Irish reality."
The Keough-Naughton Institute for Irish Studies is a research institute dedicated to the study and understanding of Irish culture—in Ireland and around the world.
As part of the University's Keough School of Global Affairs, the institute has sharpened its focus on policy and forces at work in Ireland today—exploring in greater depth how Ireland has long been a laboratory for global themes as empire and colonialism, revolution and rebellion, migration, hunger, religious pluralism, conflict resolution, and peacekeeping. Currently, the institute is exploring and embarking on new initiatives in literature, art, and music.
Additional Keough-Naughton Institute for Irish Studies events were held Friday on the future of Ireland as a country, its history, and the Irish military tradition.
Thursday, August 24, 2023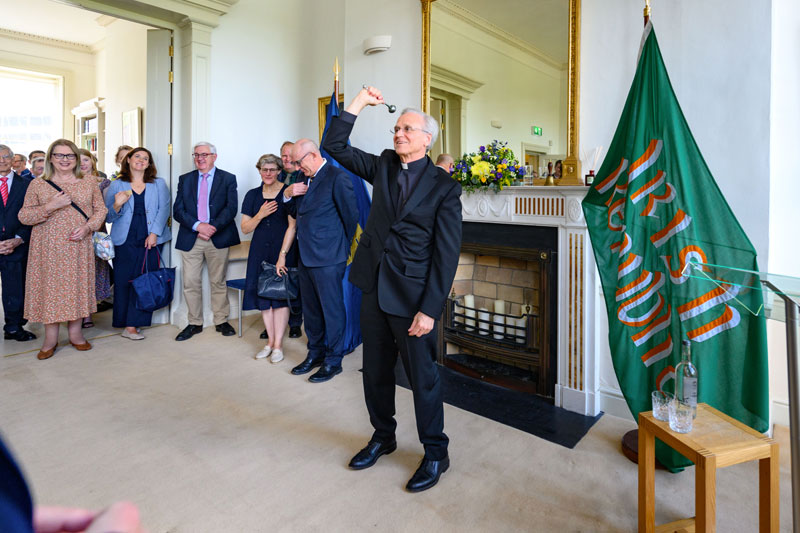 O'Connell House blessing
Faculty, students, staff, alumni, and friends of Notre Dame's program in Dublin looked on Thursday morning (Aug. 24) at O'Connell House as the University's president, Rev. John I. Jenkins, C.S.C., offered a blessing on the 25th anniversary of Notre Dame's presence in Ireland.
Kevin Whelan, the Michael Smurfit Director of the Dublin program and a scholar of Irish history, literature, and culture, welcomed the assembled visitors and introduced John T. McGreevy, Notre Dame's Charles and Jill Fischer Provost, who offered his thanks to Whelan and "all who have made this site such a spectacular addition to the University of Notre Dame." He added that O'Connell House and the Dublin program are "crucial" to Notre Dame's global aspirations.
McGreevy also singled out members of the Naughton family, who, along with the Keough family, have made many generous contributions to Notre Dame's world-class Irish studies institute and the Dublin program.
Before blessing the building, Father Jenkins acknowledged his predecessor, Rev. Edward A. Malloy, C.S.C., for his foresight in establishing the Dublin program, as well as former Irish president Mary McAleese, a 2006 Notre Dame honorary degree recipient.
He then spoke of the "spirit" of Notre Dame and the people of Ireland and encouraged students to "embody the spirit" of the namesake of the house.
He closed by praying in part: "We ask Your blessings on this house and all who study here. And help us to serve Your kingdom."
Since Notre Dame established a study abroad program in Dublin in 1998, more than 3,000 students have engaged in an immersive educational experience that includes field trips, museum visits, lectures, sporting events, musical and theatrical performances, and coursework. Given Ireland's rich literary history, it stands to reason that the Dublin program regularly hosts contemporary Irish poets, dramatists, and novelists. Internship opportunities, conferences, and research collaborations are also available to students and faculty.
Since 2004, Notre Dame's home in Dublin has been in O'Connell House, a historic building on Merrion Square that was once the residence of noted Irish Catholic political leader Daniel O'Connell. Known as "the Liberator," O'Connell most famously secured Catholic emancipation, giving Irish Catholics the right to become members of Parliament. His place in Irish history is celebrated with a massive monument on a central street in Dublin that bears his name.
O'Connell House, with its brilliant blue door, is open to all Notre Dame visitors. The house can host teaching and scholarly endeavors and is a welcoming space to share a meal, study in the library, or join together in prayer in Saint Patrick's Chapel.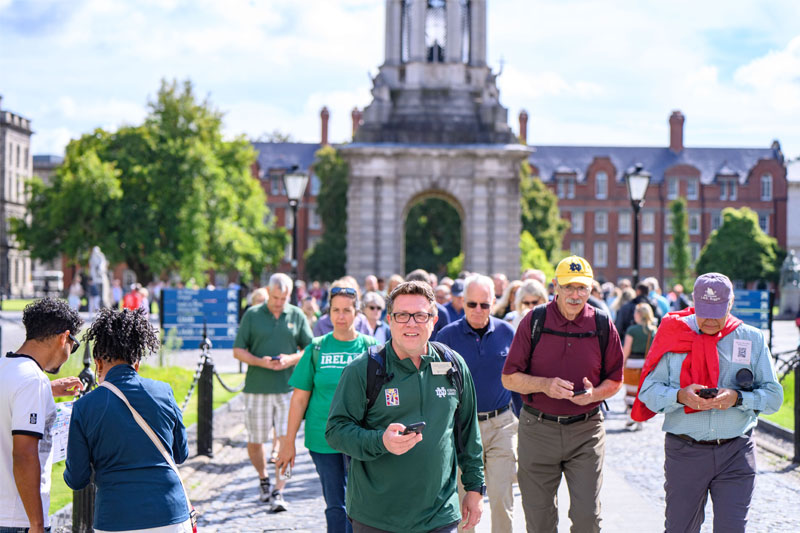 Hesburgh Library Walk
If a good book can take you around the world without leaving your home, then it might be possible for the 30,000-piece collection of Irish history titles from Hesburgh Libraries to literally transport Fighting Irish fans all the way to Dublin.
The sheer size of the collection makes it one of the best Irish studies compilations worldwide, drawing visitors from around the globe. The even larger, comprehensive Irish studies collection contains the broadest and most complete grouping of Irish fiction in existence. Perhaps even more impressive, the exhibit represents the only Irish language collection outside of Ireland.
Dozens of "readers, historians, and wanderers" met at Trinity College in Dublin on Thursday morning to learn about Irish studies at the University of Notre Dame, including the Hesburgh Libraries collections and the faculty and staff who curate and care for it. The collection itself creates opportunities for Notre Dame students to engage with Ireland, through examination and research, a relationship the Hesburgh Libraries team is proud to facilitate.
During a short walk through the streets of Dublin, the Notre Dame faithful witnessed that literature come to life. Journeying from College Green to Merrion Square, with a detour by St. Stephen's Green, librarians shared some of the exciting books in their library, while other visitors created their own self-guided tour facilitated by the ND Mobile app.
Ahead of the walk, the sounds of the Irish studies collection in South Bend and the melodies of the Emerald Isle were brought to life. Students from Trinity College Dublin's Traditional Irish Music Society performed pieces from the Hesburgh Libraries' Irish Music Collection.
"The Musical Priest," an upbeat song performed by harp and fiddle, is one piece in an extensive Irish music collection gifted to the University of Notre Dame in 1931 by Chicago police captain Francis O'Neill. O'Neill's library of Irish history was well-known to scholars of Irish music and is widely acknowledged for its influence on Irish music of the 20th century.
Learn more about the Hesburgh Libraries Irish studies collection.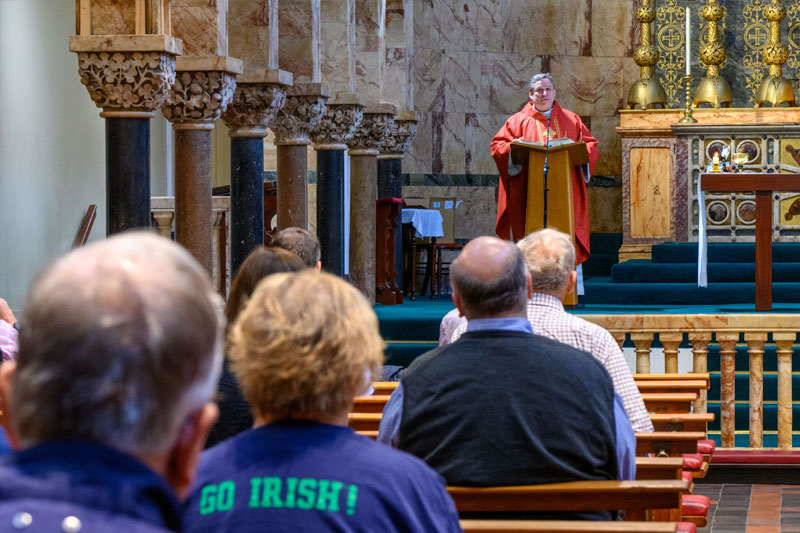 Notre Dame faithful worship at Newman University Church
Members of the Notre Dame community, as well as Dubliners, have celebrated Mass daily this week at Newman University Church, located across the street from St. Stephen's Green, the large public park at heart of Dublin's City Centre. Staff also have provided tours of the historic structure.
The church was founded by St. John Henry Newman in 1856 for the newly established Catholic University of Ireland (now University College Dublin), for which he served as rector. The church's rather modest exterior opens to a colorful sanctuary with marble arches along the walls and a semi-dome at the front. Standing high at the right-front of the sanctuary is the Newman Pulpit, from which he delivered the last of a series of lectures in the 1850s that were edited into a volume titled The Idea of a University.
Born in 1801, Newman was an academic at the University of Oxford and priest in the Church of England. He converted to Catholicism in 1845 and was quickly ordained as a priest and remained an influential religious leader. At the request of Irish bishops, he relocated to Dublin to serve as the rector (president) of the Catholic University of Ireland. He was made a cardinal of the Catholic Church by Pope Leo XIII in 1879. Newman was beatified by Pope Benedict XVI in 2010 and canonized by Pope Francis four years ago.
Newman's The Idea of a University centers on three themes: the nature of knowledge, the role of religious belief in higher education, and a defense of liberal education for university students. He defended a liberal education that prizes the development of individual intellect over institutional measurement and narrowly defined skill development, and proposed that a university can bring together diverse perspectives and areas of expertise in service of greater understanding.
In a visit to Oxford in 2018, Notre Dame's president, Rev. John I. Jenkins, C.S.C., delivered an address titled "The Idea of a University Today," in which he discussed the nature of universities in relation to various pressures in our current age.
At the invitation of Most Rev. Diarmuid Martin, the archbishop of Dublin, Notre Dame agreed in 2016 to steward Newman University Church and to found there the Notre Dame-Newman Centre for Faith and Reason.
The center gives particular attention to liturgy and music and organizes a lecture series and other intellectual activities that aim to integrate faith and reason, service to those in need in Dublin, and cultural events inside and outside of Newman University Church. It also has a special focus on outreach to young professionals in Dublin, many of whom have not otherwise been drawn to the Catholic Church. The center is under the direction of Rev. Gary S. Chamberland, C.S.C.
Monday, August 21, 2023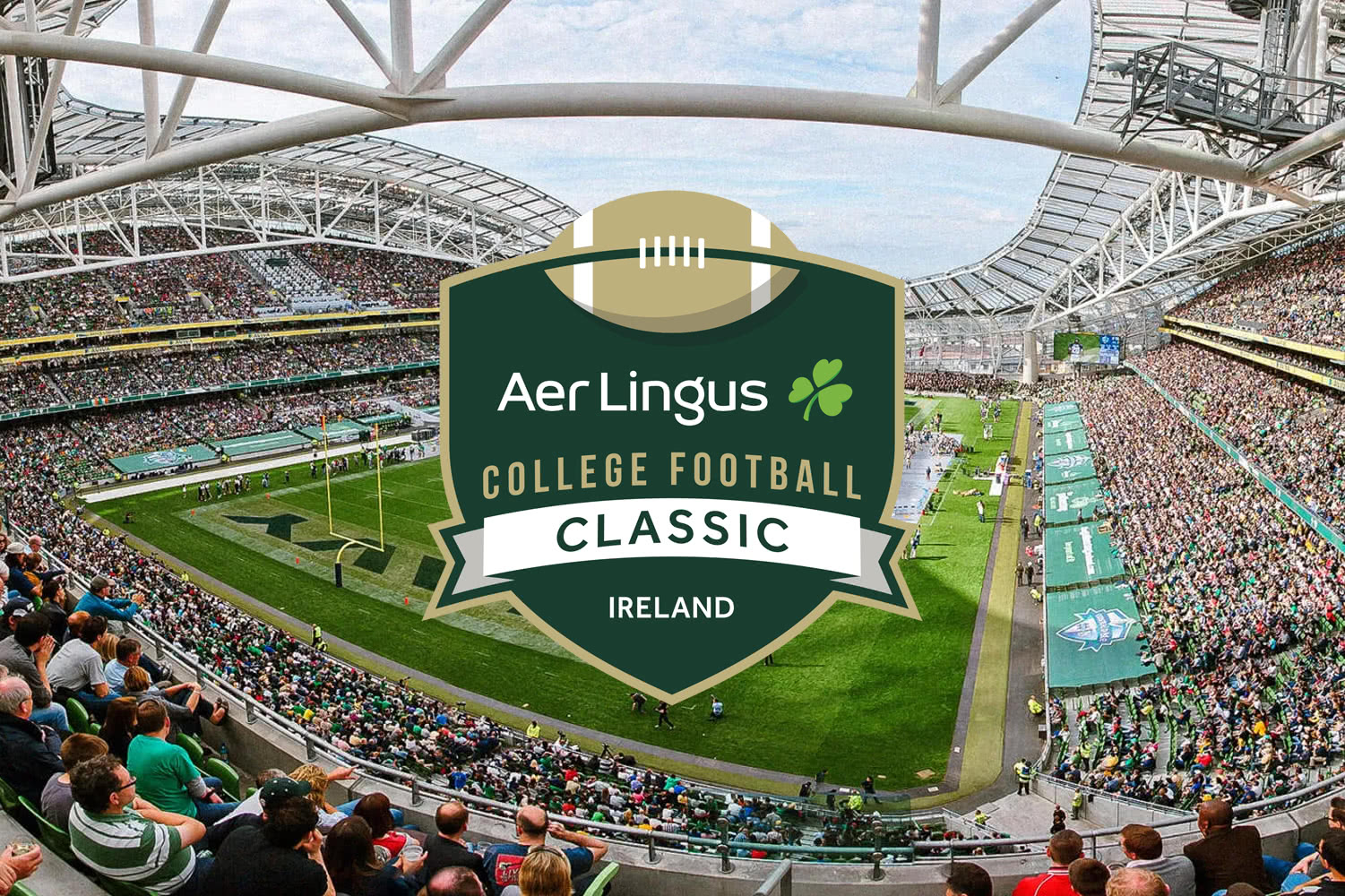 Fighting Irish 'come home' to Dublin for Aer Lingus College Football Classic
From the nickname Fighting Irish to the leprechaun mascot to its acclaimed Irish studies institute, the University of Notre Dame has long been synonymous with all things Ireland. This week, tens of thousands of Americans will flock to Dublin to watch Notre Dame take on the Navy Midshipmen and kick off the college football season in the Aer Lingus College Football Classic at Aviva Stadium on Saturday, Aug. 26.
But the trip is more than just a football game for Fighting Irish faithful. In the spirit of Shamrock Series games, Notre Dame will be hosting various events leading up to the game to bring a taste of the South Bend experience on the road in what is being dubbed a sort of homecoming to its Irish roots.
Beginning Thursday, Aug. 24, daily Mass and tours will be offered at Newman University Church, the historic church that opened in 1856 and has since become an iconic landmark in Dublin's City Centre. Notre Dame-Newman Centre for Faith and Reason staff will highlight St. John Henry Newman and share information about the University's involvement in the church since 2017.
---