Compassionate Care
Marcus Engel inspires ND pre-med students
Marcus Engel was a freshman in college in 1993 when a drunk driver blindsided the car he was riding in, throwing him out the window, careening across the pavement on his face. All his facial bones were broken, all his teeth knocked out.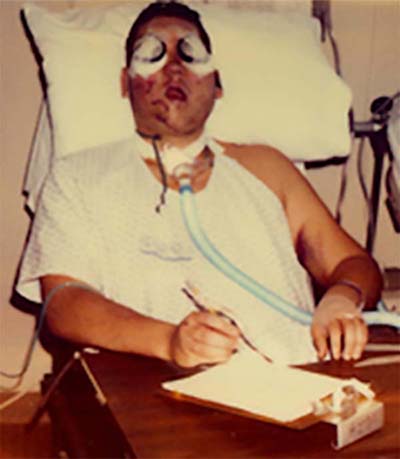 His life hung by a thread. The paramedics who found him on the street in St. Louis had to perform a last-resort cricothyrotomy, cutting a hole in his throat to provide an airway passage. His face was so mangled he couldn't breathe, and he wouldn't have made it to the hospital three miles away.
Engel vividly recalls lying on the street in agony, and also the terror and confusion he felt at the hospital. But mostly he remembers Jennifer, a young patient tech who comforted him in his time of need.
"Any time I was conscious, I came back into this world of darkness and pain that was unimaginable," Engel said. "Jennifer was there every time, and she held my hand the entire night that I was in the hospital. The only thing I remember her saying, over and over, was 'I'm here. I'm here, Marcus. I'm here.'
"Those are the two most compassionate words any human being can say to another. Just being present during another human being's suffering — that is when we are at our deepest levels of recognition of another person's humanity."
The accident left Engel blind. He spent 46 days in the hospital, couldn't walk for months and couldn't eat solid food for a year. He went through more than 300 hours of facial reconstructive surgery, and he now focuses on his patient experiences as a professional speaker in the medical services industry.
Human presence is the heart of Engel's story, and his presence in class as an adjunct instructor drives that message home to about 20 Notre Dame students in the Pathos Project class, a one-credit course for undergraduates planning a career in health care. The course is led by Dominic Vachon, the director of the Hillebrand Center for Compassionate Care in Medicine.
Vachon invites a number of doctors to talk to the students, but Engel's contribution from the patient point of view was so powerful that Vachon made him a co-instructor of the class this academic year.
"He's become the wounded healer," Vachon said. "He's now a national speaker with a master's degree in the field of narrative medicine. His experience fits the Hillebrand model."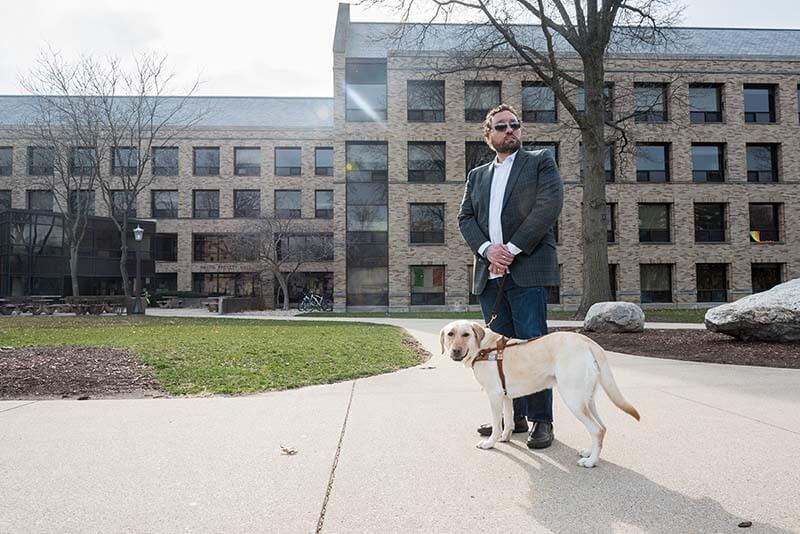 Hillebrand Center
Ruth Hillebrand was a clinical psychologist in Manhattan who specialized in treating patients with eating disorders. She was alone in her apartment one night when a doctor called to deliver test results. She had mesothelioma, an incurable cancer.
"There's nothing we can do," the doctor said. Click, the phone went dead.
Hillebrand was understandably distraught, but she decided to transform her terrible experience into a force for good.
Before she died in 1994, Hillebrand asked her brother, Joseph, a Notre Dame alumnus, to give her estate to places that would help train physicians in compassionate care and communication. Joseph helped to establish training centers at Notre Dame and the University of Toledo Medical School in her name.
"More than just bedside manner, it's a way of training the mind. We're one of the few places training the new science of compassion, and the only one I know of applying it at the undergraduate level."
The Hillebrand Center at Notre Dame was founded in 2011 and has grown slowly, but Vachon said it is now ready to step out of the shadows. He hopes it will grow in students and courses to become a full-fledged minor preparing better future doctors in the College of Science. Moving away from a sentimental notion of compassion, Vachon said a more complex neuroscience in the topic has emerged over the last decade.
"A clinician compassion mindset can help compose emotion," he said. "We shouldn't train emotional detachment but emotional management. It can increase focus, improve outcomes for patients and keep doctors in touch with the joy of health care, which helps with burnout."
The Pathos Project class Engel is helping teach predates the Hillebrand Center and comes from the other end of the hospital spectrum. In 2005, several physicians and medical students who graduated from Notre Dame founded the course due to their concern over the depersonalization of medical care.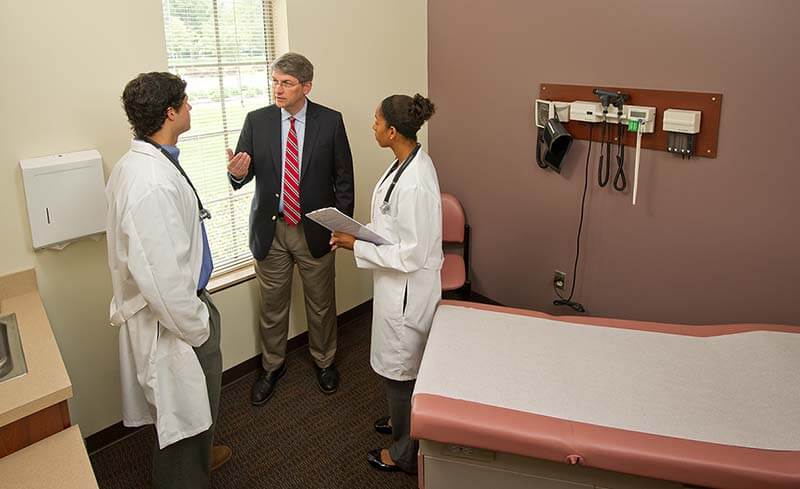 The course aims to address a perceived crisis in the doctor-patient relationship — at a time when some hospitals are squeezing doctors' time in favor of profits — by teaching future health care professionals how to be more patient-centered. It meets on eight Thursday nights per semester for discussions, and it includes volunteering at a local site as well as reflection papers. Several classes focus on how to be therapeutically present to patients and on giving the students practical skills for sometimes uncomfortable situations.
"More than just bedside manner, it's a way of training the mind," Vachon said. "We're one of the few places training the new science of compassion, and the only one I know of applying it at the undergraduate level."
Vachon first met Engel at a conference focusing on patient experience where Engel was speaking. Later, Vachon and a local hospital invited Engel to speak in South Bend and at Notre Dame. Recognizing a fit between Engel's work and the Hillebrand Center's mission, Vachon asked Engel for more: to help teach the Pathos course.
"I love working with younger students," Engel said. "They have all these hard sciences, but I love to see them stay connected to this belly fire, this passion to help people. They are hearing from doctors who have gone through that burnout, and they can also learn about compassion for the person on the other end of the stethoscope."
Wounded healer
Engel's path to the health care speaking field began with the need to find meaning in his horrific experience.
"I think anyone who goes through something big and life-changing, especially in a negative way, will always look for an answer to the unanswerable question of why," he said. "I think everyone is looking for a redemption of our negative experiences."
He found his answer when his high school asked him to share his story as a commencement speaker. He had returned to college and was a 23-year-old junior. This path led mainly to speaking about public safety and drunk driving, but he realized the field was crowded because there are so many accident victims.
So he thought about the nurses and doctors who cared for him during his rehabilitation and about what he could offer that is unique. Few people have spent so much time in trauma care and met so many compassionate people.
"These people are my heroes," he said. "I wanted to be able to give something back to them."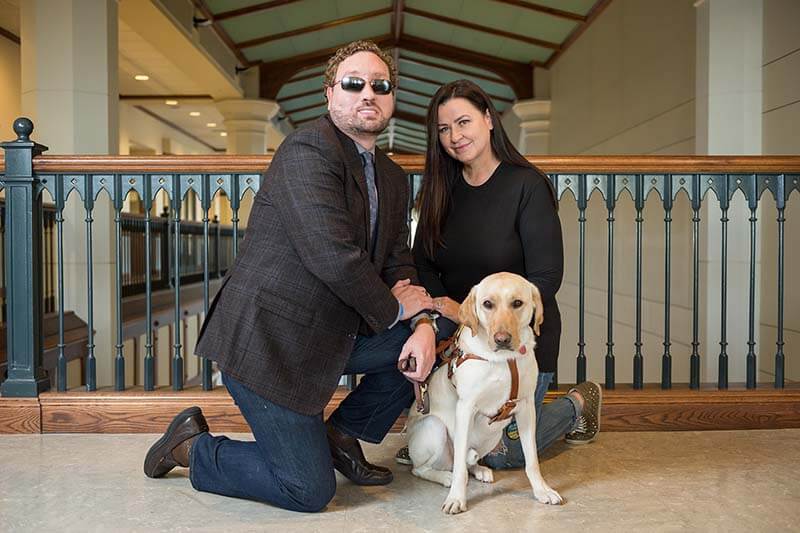 He began writing his first book, "The Other End of the Stethoscope," published in 2006, and built his speaking platform around health care. Other books on compassionate communication followed, and they often included the story of Jennifer holding his hand, the cornerstone of his message about human presence. In 2011, he went back to school for a graduate degree in the specialized field of narrative medicine from Columbia University.
Barnes-Jewish Hospital in St. Louis, where Engel did most of his rehabilitation, invited him as a speaker in 2013. Then the staff surprised him by re-introducing him to Jennifer Aycock, the woman who held his hand two decades earlier and is now the director of emergency room nursing.
"For someone who goes around the country giving speeches, I was speechless," Engel said. "Here's this person, from my absolute darkest moment, this person who gave me so much comfort. And then 20 years later, after sharing with the world about that comfort, here she is again. It was an unbelievable moment."
Their meeting was so emotional that Engel's wife, Marvelyne, compared it to the teary ending of "Les Miserables." When Aycock heard that his guide dog, Garret, was nearing retirement and would need a family, she immediately volunteered to adopt him.
As if to balance the bad luck, Engel has had other fortunate coincidences. He met Marvelyne through a friend he made while training his first Seeing Eye dog in New Jersey. The friend was also blinded in a car accident, a rare enough occurrence because accidents that severe usually end in death. More amazingly, the friend had his accident in a Texas cotton field on the exact same night as Engel's in St. Louis.
Years later, the friend introduced him to Marvelyne and they married in 2007.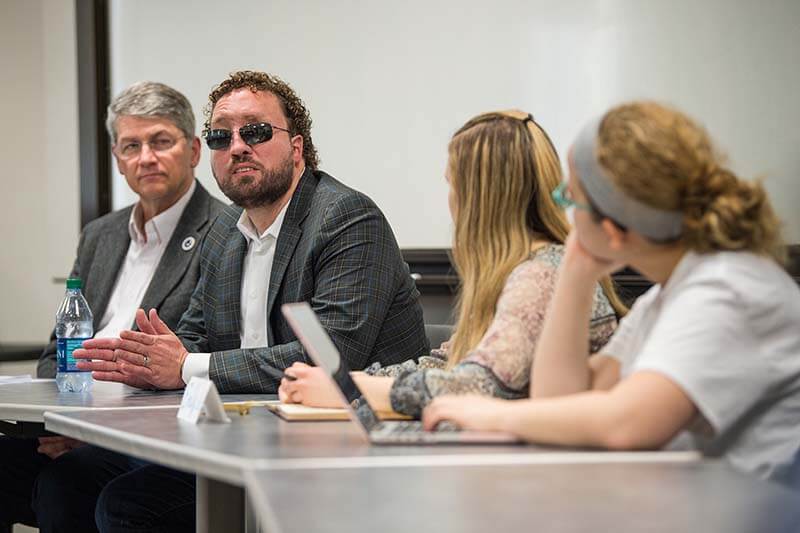 Classroom feedback
In mid-April, Engel again joined the Pathos Project meeting in the Jordan Hall of Science. The students shared their reflections on their volunteer experiences, which ranged from hospitals to homeless shelters and from tutoring kids to visiting elderly nuns.
Engel and Vachon moderate the class, giving encouragement and feedback.
"The students — they are going to be Jennifer; they will deal with human suffering," Engel said. "How can you stay present in that moment? You can use those words 'I'm here.' You can hold a hand. You can put all that medical terminology aside and just be present for another human being. And it can hopefully keep the doctors connected to why they do this."
"You can use those words 'I'm here.' You can hold a hand. You can put all that medical terminology aside and just be present for another human being."
The message seemed to resonate with the students, who often faced the challenge of showing compassion at their volunteer sites. Brian Crowley, a junior English and pre-med major, said he witnessed the hospital cycling quickly through homeless patients to make more room.
"After speaking with Marcus and realizing that was a problem," Crowley said, "I made a conscientious effort to abstain from that behavior and to treat each person with the dignity that they deserved and to be less mechanical about what I did."
Emily Sherry, a senior accepted into several medical schools, said Engel's story would stick with her and help her make caring for patients her mission.
"We're giving them medications and that's the prescription of medicine, but also how you connect with patients is the delivery of medicine," Sherry said. "That's so much more powerful than just the knowledge you're taught. It's that connection person to person."
Engel nodded encouragingly as the students shared their stories. He reached down to pet his latest Seeing Eye dog, Elliott. He may not have found all the answers about why bad things happen, but there was no lack of human presence in this classroom.