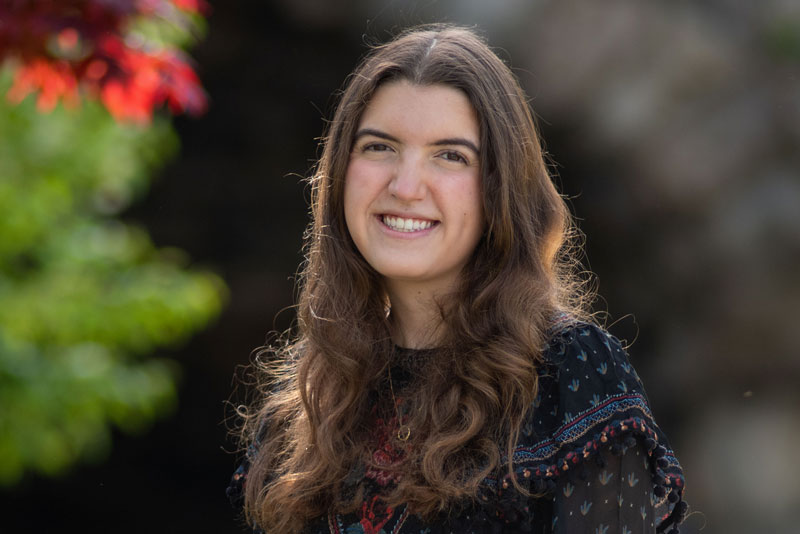 Gabriela Queiroz Miranda
Quite a ride
From South America to South Bend
May 15, 2023
Born in São Paulo, Brazil, Gabi Queiroz Miranda made the move to the Florida with her parents and sister Mariana in 2015.
Because Florida is home to some of the most popular attractions in the country, she and her family often drove to visit different theme parks.
She was in her first year of high school when her family got to Florida. When it comes to hitting the theme parks, most kids that age want to know how long they'll have to wait in line for their favorite ride.
Miranda wanted to know how it all worked.
"I used to peek in and try to figure out what exactly was going on before the ride started, the different parts involved," she said. "I was a very bizarre teenager who read patents in her free time."
She also made a visit to the Turtle Hospital in Marathon, Florida, an experience that would put her on a path toward a string of accomplishments that combine her love of engineering with a love of animals and conservation — all before taking her last final.
She learned that sea turtles are vulnerable to boat collisions, which damage their shells and cause a dangerous condition known as "bubble butt syndrome." The impact can trap air in the turtle's shell leaving them afloat and unable to swim away from other dangers. To treat the injured sea turtles, aquariums epoxied weights to the shells to weigh them down. But the process can cause inflammation, and the weights eventually shed off.
"That stuck with me," she said.
Two years later, Miranda and her family moved to Minnesota. There, she took part in a research program that funded student projects from start to finish. It's where she developed a weighted vest customized for sea turtles, which allows them to swim comfortably and stays secure for an extended amount of time.
"I was told I couldn't do it," she said. "I had to find mentors to help with the project and everyone I had gone to initially said, 'no, that's impossible, you can't do it, you're not going to be able to do it, nobody has done it.' So, it took me a while to even find a mentor for the project. Then as I started it, I realized it was definitely not going to be as easy as I thought it would be."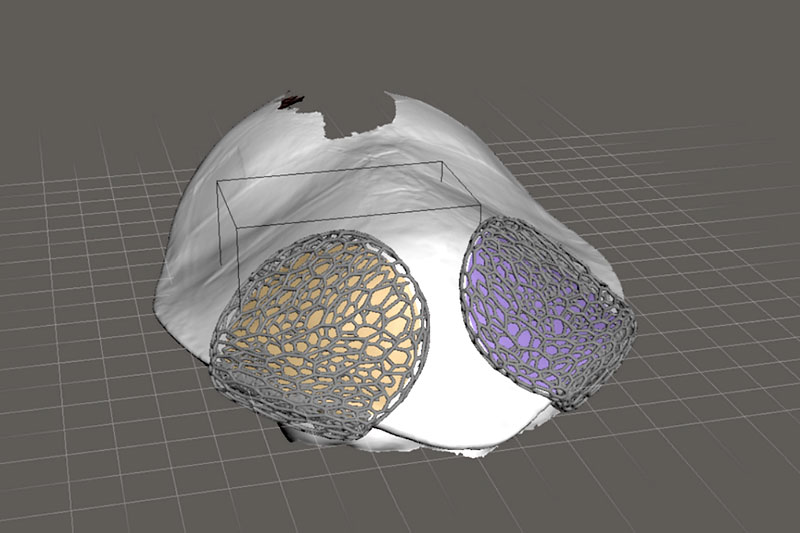 It took several iterations to develop a prototype. Fitting the vest was another challenge.
"You would think getting a turtle to stay still would be easy," Miranda said. "It's not. So, all the fittings and iterations to make sure they're comfortable is no easy task."
That persistence, drive and innate curiosity would take her to new heights when she arrived in South Bend four years ago to pursue a degree in mechanical engineering with a minor in studio art.
"Research was a must," she said. "I had to be somewhere I could do research. I loved what I was doing with my research. I definitely wanted to keep it going and make some kind of contribution."
She settled in and found a place to grow as a lab assistant at the IDEA Center's Innovation Lab.
"That was a really good place for me," she said. "The idea of 'fail boldly' that they teach there — everyone is learning that lesson. Being comfortable with failure is a big one that I've learned. Perfection is not attainable."
If research was a must, having support was critical.
Miranda credits Kati Schuler, assistant director for student engagement at the Flatley Center for Undergraduate Scholarly Engagement, as one of her "greatest cheerleaders."
She found inspiration in Victoria Goodrich, associate teaching professor of chemical and biomolecular engineering and the recipient of College of Engineering's 2022 Outstanding Teacher Award.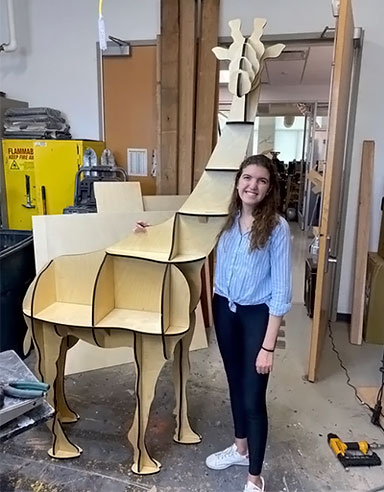 "I always say I want to be her when I grow up," Miranda said. "She's a fantastic example of what it is to be a strong woman in STEM. It's not easy. You deal with situations of people not even realizing they're treating you differently. It's ingrained. Your ideas are not heard, or you say something and a boy in class rephrases it. I've learned to be aware as a woman in that situation, you have to stand up for yourself. And if you're with other women who are getting shot down, have the courage to make sure that the other women are feeling heard when they might not raise their voices themselves."
When she collects her diploma during the University's 178th commencement ceremony, Miranda will return to where it all began — this time as an associate engineer in ride and show at Universal Creative — and she's "pleasantly surprised" with how her thoughts and input have been received at the office.
"My boss is the president of engineering and safety and three times my age — and he listens to every single thing I bring to the table," she said.
"I'm in love with what I do," Miranda said, "understanding how to frame technical concepts and complex ideas with ethical considerations. I can't imagine, at this point, applying engineering in a way that's not to support other people."
Looking back, Miranda reframes a bit of advice she gave while attending a dinner for Sorin Scholars that she would advise any incoming first-year students.
"Let Notre Dame change you," she said. "Because the person you come in as, as a freshman is not the person you get out as a senior. I think my biggest lessons were outside of my GPA. There's such a pressure sometimes that you have to do everything — you have to keep your GPA up, or friends invite you to dinner, or there's a midterm and you're asked to go get ice cream.
"Do it. Twenty years from now, I feel like I'll remember those moments a lot more than what I got on a general chemistry midterm. Notre Dame is made by the people. I learned something from every single one of my friends and every single one of my peers. "