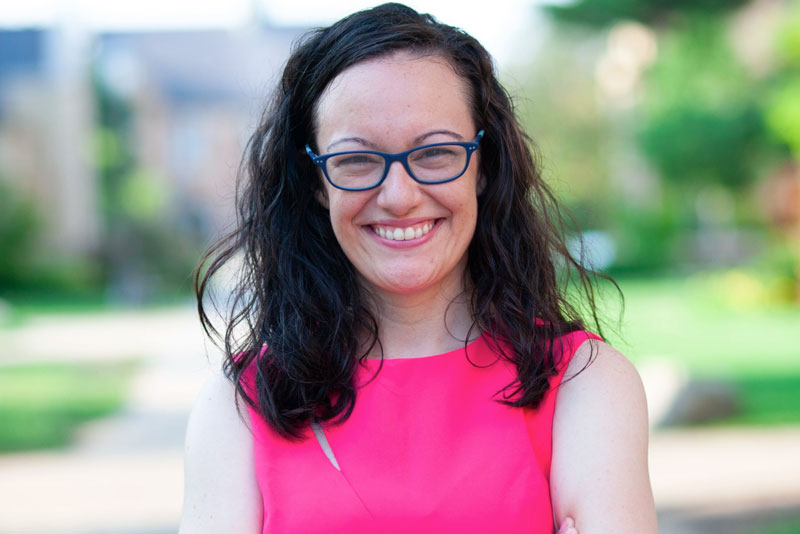 Abigail Jorgensen
Fulfilling her purpose with hands, heart and mind
May 15, 2023
In her dissertation research, Abigail Jorgensen found that many women associate motherhood with struggle.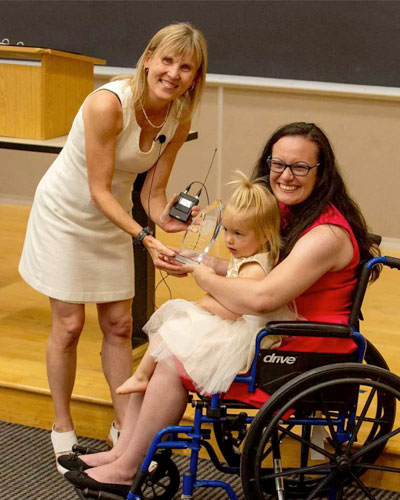 It's something she can relate to.
While pursuing her doctoral degree in Notre Dame's Department of Sociology — studying women's transition to motherhood and how it shapes their identities and political views — she brought home her newborn in the midst of the pandemic. Then, five months later, she contracted COVID-19 in November 2020.
A healthy young mother in her 20s, she expected to recover without incident. Instead, after months of debilitating and often terrifying symptoms, she was diagnosed with long COVID and now uses mobility aids including a walker and wheelchair much of the time due to ongoing heart issues.
As she struggled to adjust to her own identity as a mother with a new disability, Jorgensen never lost her sense of purpose or her passion for her research. A Notebaert Fellow graduating this May, Jorgensen credits the mentors and friends she found at Notre Dame for helping her keep her focus.
"The encouragement and mentorship I've had throughout my time here, not just from my own department, but from friends at the Writing Center, at the library, has been incredible," she said. "Having that community of people around you who care about things as deeply as you do — even if they're not the same things — and who really want to make this world a better place is such a gift. That's been my experience at Notre Dame, and I'm so grateful for it."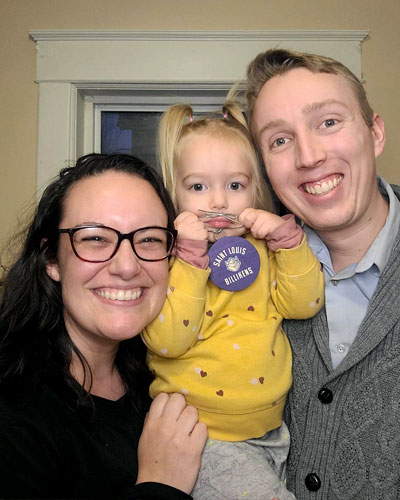 Jorgensen's dissertation project, "Becoming the Mommy Politic," is a longitudinal study examining the political behavior of three groups of women: mothers, those seeking or intending to become mothers, and those who do not wish to become mothers. She recently accepted a position as an assistant professor of sociology and health care ethics at Saint Louis University and plans to continue the study from there this fall.
"As you might imagine, the past four years have been a really interesting time to be studying motherhood and politics," she said. "With COVID and all of the things that have happened in the world, it's been really fascinating. But now, many of the people who at the beginning of my study were just about to get pregnant have children who are going to be entering kindergarten. So, as their children reach school age, that invites a whole new set of questions about identity and politics.
"I'm so happy that Notre Dame gave me the resources necessary to embark on such a large project, and I'm excited to be able to continue it at SLU."
Jorgensen, who has a graduate minor in gender studies, also worked as a doula and childbirth educator in the South Bend area while she worked toward her doctorate, focusing particularly on supporting bereaved parents after miscarriage, stillbirth or infant loss. In addition, she teaches classes for obstetricians, nurses and chaplains on how to handle these situations compassionately.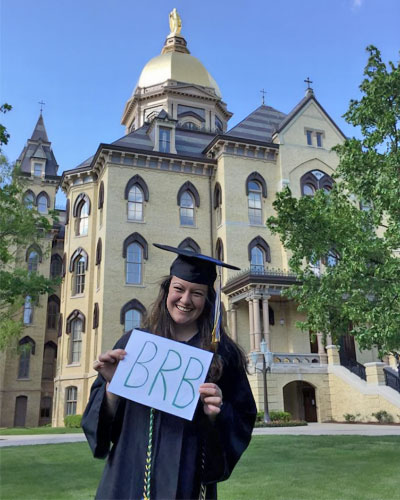 She recently completed writing a book that will serve as a compassionate handbook of Catholic teaching regarding miscarriage, stillbirth and infant loss, which will be published in early 2024 by Ave Maria Press. And, last year, she was honored with the Graduate School's Social Justice Award for her work.
"Working as a doula and educator has been a really gratifying way to use my hands and heart to do the same things that I'm using my mind to study," she said. "And this book is an opportunity to bring together all the things that I've cared about and studied over the years to hopefully create a resource for Catholic families in need and those who work with them."
For Jorgensen, who completed her bachelor's degree in Notre Dame's College of Arts and Letters in 2016, the choice to return to the University for graduate school was an easy one.
"I would do it all again," she said. "At Notre Dame, I've been surrounded by scholars who are passionate about doing research that really matters and about helping us sharpen our skills so that we can use them in service of others. Notre Dame has given me so many opportunities that I just can't imagine getting elsewhere."