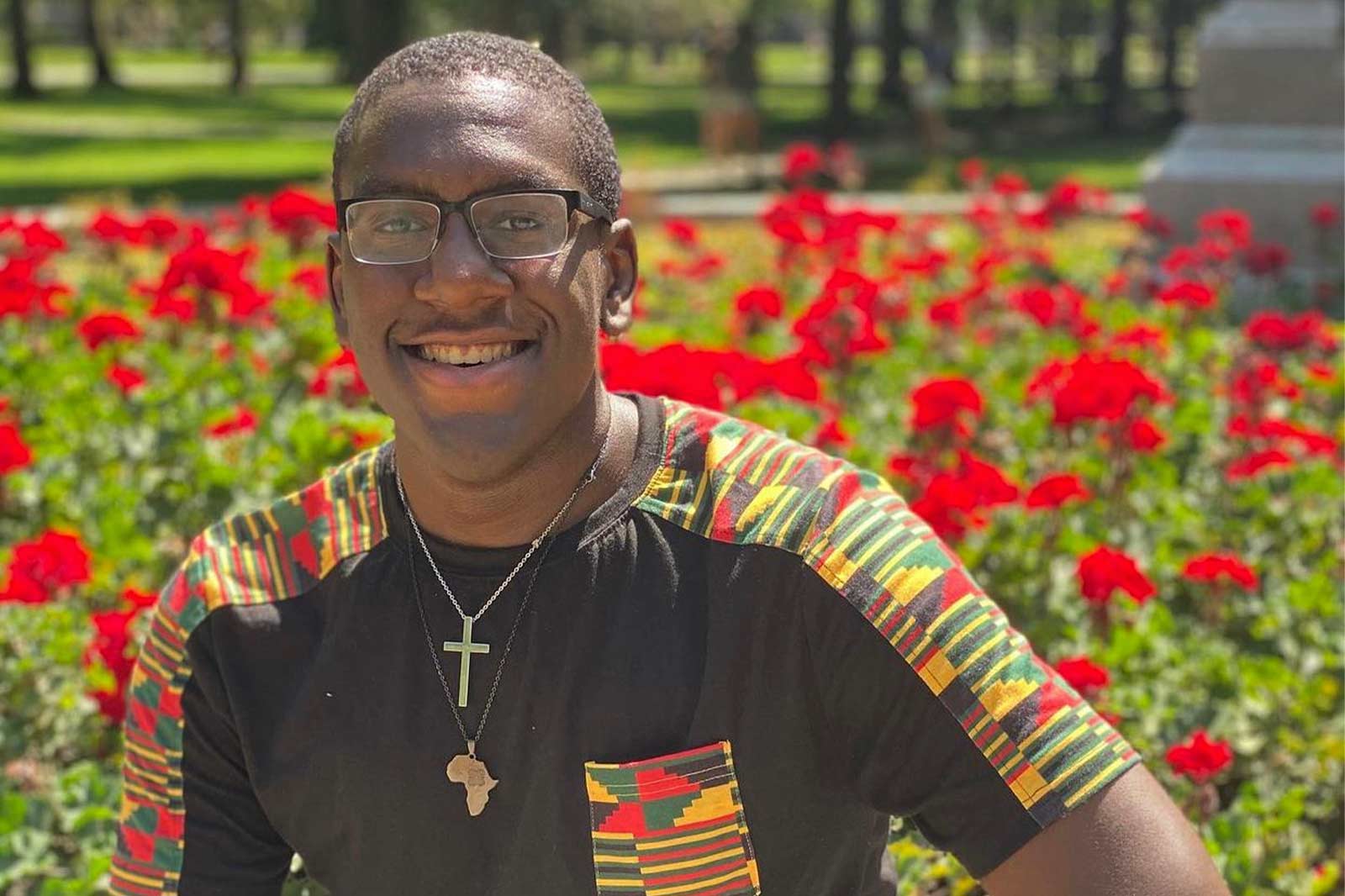 Tarik Brown
Finding He Belongs
May 9, 2022
The Tarik Brown who will accept his diploma at this May's Commencement would hardly recognize the Tarik Brown who arrived on campus four years ago — shy, short on confidence and clueless about Notre Dame culture.
First semester, the first-generation native of Jacksonville, Florida, figured he'd try out for the marching band as a small hobby, but he couldn't even imagine himself in the Irish Guard. His roommate was so different in background that Brown tried not to talk for fear of making him mad. And then Brown's father passed away.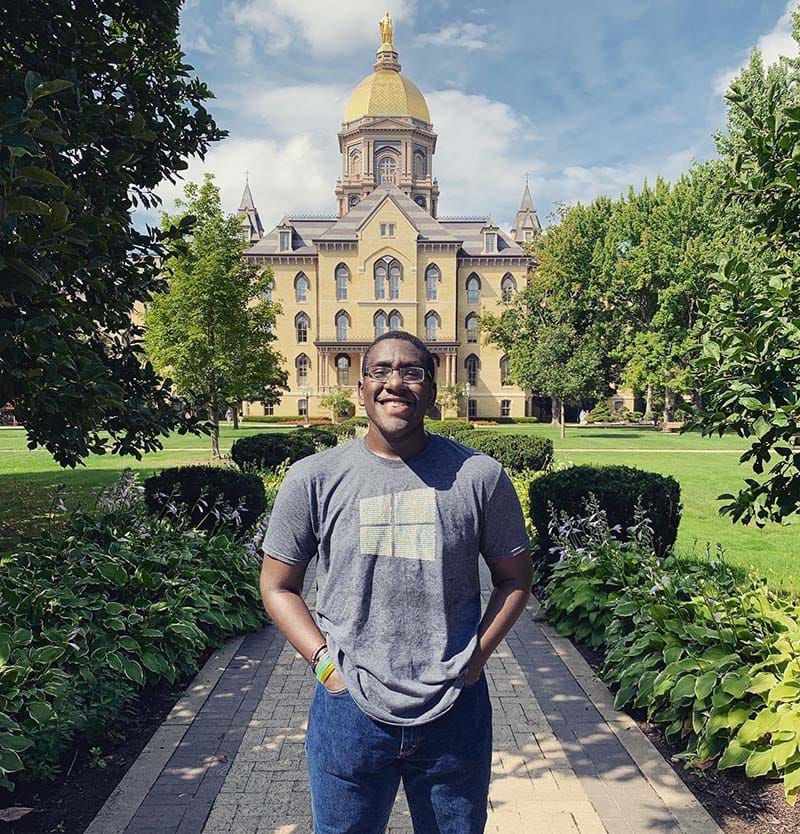 "That was a very difficult time for me," he said in late April. "I think, at any other university, I would have dropped out and I would not have been able to achieve the things I have achieved. Because in my first couple of months at Notre Dame, I felt like I had people — I mattered to people — who cared about me when I was still really introverted."
Brown, a Truman Scholar and Irish Guard member who will earn his computer science degree, is not shy now. He will soon take his dizzying list of achievements to a job at Microsoft and hopes to use his Truman award to pursue a master of public policy from the Harvard John F. Kennedy School of Government.
Brown was born in Augusta, Georgia, and moved to Jacksonville with his mother and older brother when he was young.
"We didn't have a lot of resources growing up, but we did have a very close-knit family nature," he said. "And one thing that my mom really stressed was education."
After attending under-resourced elementary and middle schools, Brown said his magnet high school opened up new doors: inspiring people focused on college, and a robotics team that turned him onto technology.
Through Questbridge, a national nonprofit that connects low-income students with top universities, Brown visited Notre Dame after his junior year for a summer program. He'd never heard of the school before but quickly fell in love.
"Notre Dame was the only school where I was like, 'I can really just develop as a person.' I think it's something that you can't really buy; you have to be in an environment where that can happen."
"The main thing was that I felt like I mattered," he said. "I felt if I could just surround myself — this environment with these people — I felt like a lot could happen for me personally. Notre Dame was the only school where I was like, 'I can really just develop as a person.' I think it's something that you can't really buy; you have to be in an environment where that can happen."
Still, that first fall brought a lot of challenges. He'd had hearing loss in one ear from an early age, which he said affected his speech and social skills. He said he felt confident but couldn't express it. "I never really dealt with that until I got to college," he said.
He and his roommate didn't talk for the first semester — they just co-existed, all while Brown dealt with his father's death. Finally, he decided it didn't make sense.
"We talked and we realized we just came from very different backgrounds," he said. "We were both just scared to interact out of fear of offending each other or that we wouldn't get along. But we actually get along very well and we've been friends for four years now."
A similar trajectory held in the marching band. He played tenor saxophone but also aspired to the Irish Guard, which seemed too tall and white for him. "Maybe just culturally, it would not be a fit," he told band friends. They disagreed and encouraged him to try out.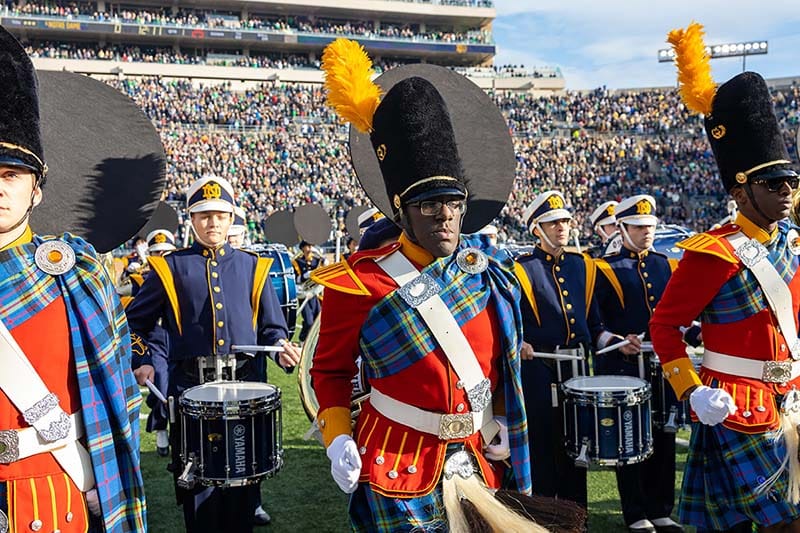 "I was able to get put into a lot of great communities that caused me to be more outgoing," he said. "Really to just grow into what I already was as a person."
He hasn't stopped marching since. He is a QuestBridge and AnBryce scholar, served as president of the Notre Dame QuestBridge Chapter and is a member of the National Society of Black Engineers and the Black Cultural Arts Council. He is founder and former president of the Financial Literacy Club of Notre Dame, which provides financial literacy resources to first-generation, low-income students, and successfully advocated for an annual reception to uplift those students.
In his junior year, he made the Irish Guard, though he didn't get to march on the football field until senior year due to the pandemic.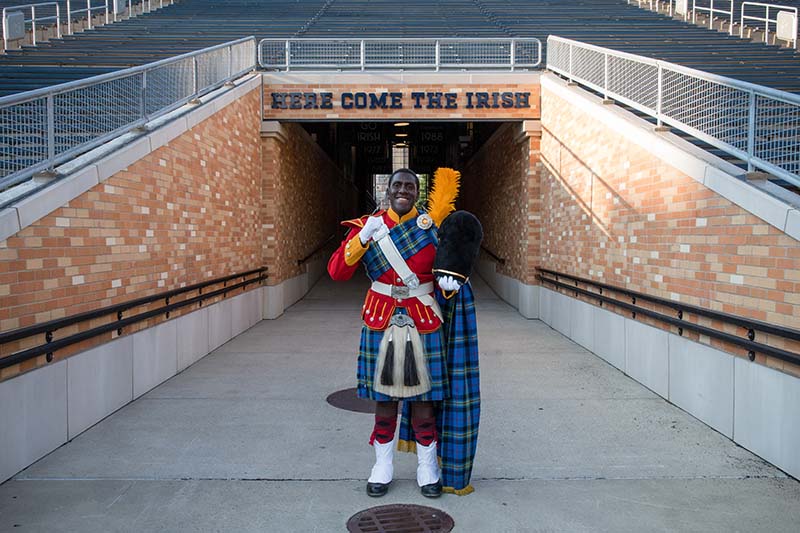 Off campus, he helped establish robotics programs at multiple elementary and middle schools in Jacksonville, and worked with local schools to establish STEM enrichment programs. He volunteered for Black Girls Code in Seattle and planned and led leadership workshops for college-bound high school students from underserved communities through AnBryce. He works with Renaissance Jax, a nonprofit that works with Jacksonville schools to expand access to technical robotics education. He also created and runs Founding Pathways, a scholarship program that empowers first-generation, low-income students to pursue STEM degrees.
"I just feel passionate about the power of technology and the educational aspect to really transform lives like it did for me," Brown said.
These experiences led to internship opportunities at Google, in robotics at Johnson & Johnson and as a software engineer at Microsoft. He will work at Microsoft after graduation so he can get some work experience and decide how to use his Truman Scholar award. He still hasn't forgotten a conference at the Harvard Kennedy School that opened his eyes to public policy.
"My plan right now is to work for two to three years and then go to graduate school," he said. "My dream job would be to do nonprofit work in communities. And just make change in people's lives directly. I don't know what that would look like yet, but that's what I want to figure out."