Campus
A Thanksgiving Reflection
Notre Dame marks 178 years since its founding
The visionary and fearless Father Edward Sorin, C.S.C., receives most of the applause when we call to mind Notre Dame's founding. Yet the context of his endeavors and the support he received were key components of enduring success.
On November 26, 1842, Father Sorin took possession of a missionary outpost with a history dating back to the late 17th century. French explorers and missionaries were the first Europeans to set foot in northern Indiana, and in 1686 founded a mission outpost on the south shore of St. Mary's Lake. This outpost (commemorated with a replica log chapel on campus today in roughly the same spot) was a fixture with remarkable longevity, until the British expelled Catholic missionaries from the area in 1763 after the French and Indian War. Nearly 70 years later, Father Stephen Badin — the first priest ordained in the United States — re-established the mission at the request of Leopold Pokagon, a local chief of the Potawatomi. It was a decade later that Fr. Sorin arrived.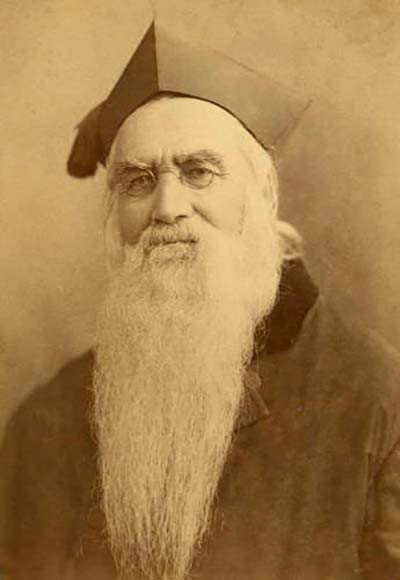 Father Sorin's charge was part college founder and president, and part priest for a wide swath of geography, from the present-day cities of Kalamazoo, Michigan, in the north to Plymouth, Indiana, in the south. Even while the work of education began, the work of ministry did not cease.
But when he arrived on the shores of Saint Mary's Lake 178 years ago on November 26, Father Sorin was not alone. He was accompanied during the University's earliest days by a band of seven Holy Cross brothers, without whose effort and skill Notre Dame surely would have floundered. Soon, Brothers Francis Xavier, Gatian, Patrick, William, Basil, Peter, Francis and Father Sorin were joined by an even larger array of women and men who offered their talents — building, teaching, farming, cooking, nursing, firefighting and more — to the work of creating Notre Dame. And never to be forgotten are the members of the Pokagon Band of the Potawatomi, who were constant friends and supporters of the fledgling university.
On this Thanksgiving, we can be particularly grateful for the countless thousands of our colleagues who, from 1842 until today, have quietly offered the very best of their skill and energy to build a great Catholic university: In the midst of the cholera outbreak in 1854; in the aftermath of a fire in 1879; during eras of war and depression, storms and tragedy; in moments of joy and celebration. And now, we continue this tradition during the uncertainty of a worldwide health crisis, which marshals from us every ounce of our creativity, expertise, endurance and conviction.
During these 178 years, our University has been made stronger each day by generous souls who have willed into fruition Father Sorin's steadfast vision: Notre Dame, through the grace of God and the sacrifice of many, would be a powerful force for good.
As we think of that band of weary adventurers who arrived here on November 26, 1842, let us be ever grateful to them and to all who offer their hope, muscle and ingenuity to this mission we call Notre Dame.