A new movement for sacred music
Graduates bring enthusiasm and expertise to community worship
Jonathan Embry knew the teenagers at St. Peter's United Church of Christ in South Bend weren't exactly enthused about the annual Christmas pageant production. The organist at the church and a graduate student in Notre Dame's Program of Sacred Music, Embry decided to make the most of a script clearly written for younger kids.
"I told them this is cheesy, so you need to embrace it and have fun," he said. "You have to go all out with it and make it your gift to the church." The teens responded, injecting humor by adapting the campy aspects to their peer set. They pretended to headbang during a musical number and used a flashlight app on their cell phones to mimic ancient torches.
…it's better to be bold and make mistakes than to be timid and make mistakes.

Jonathan Embry
"People said it was the best musical in a long time," Embry said. "We learned something about performing – that it's better to be bold and make mistakes than to be timid and make mistakes. They taught me it's more important to give a moving and memorable performance."
A hundred and fifty miles south, Samantha Dotterweich's musical life could not be more different than Embry's. Her concentration was vocal while his was organ. He's from the extreme East Coast and she's from the West Coast. She works in Catholic grade schools in Indianapolis while he works in a Christian church in South Bend.
Yet Dotterweich brings a similar energy and expertise to her students both in the classroom and in their weekly Mass. And she also has a deep appreciation for sacred music developed in her studies at Notre Dame.
The goal of the Program of Sacred Music is to keep alive great musical traditions of the Western world. By training young people in the history and breadth of sacred music, the program aims to reinvigorate Christian churches through a new generation of parish musicians that can help lead liturgical services and also create new music.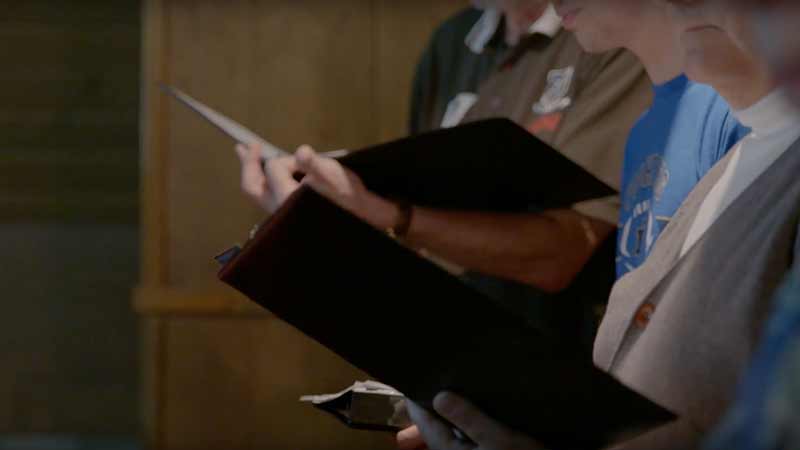 Margot Fassler, the program director, and her husband, Peter Jeffery, the associate director for academics, left Yale and Princeton universities for the opportunity to build a world-class program at Notre Dame, the heart of Catholic academia in the country. Since her arrival in 2010, the program has expanded dramatically, adding students and children's choirs and a doctoral-level degree. Along with the Department of Music, it will move into a dramatic new space attached to the south end of Notre Dame Stadium in 2017.
"Our students are agents of cultural change," said Fassler, who is also the Keough-Hesburgh Professor of Music History and Liturgy. "They know how to bring a community to life. I have a slogan: A great church musician pays for him or herself within five years."
That slogan certainly applies to Embry, former intern Nick Mourlam and St. Peter's. Pastor Scott Bowie said St. Peter's congregation had dwindled from about 130 in 2000 to about 50 when he arrived in 2011. He enlisted the help of an internship program to have Notre Dame students play the organ. On Mother's Day this year, the congregation numbered 107.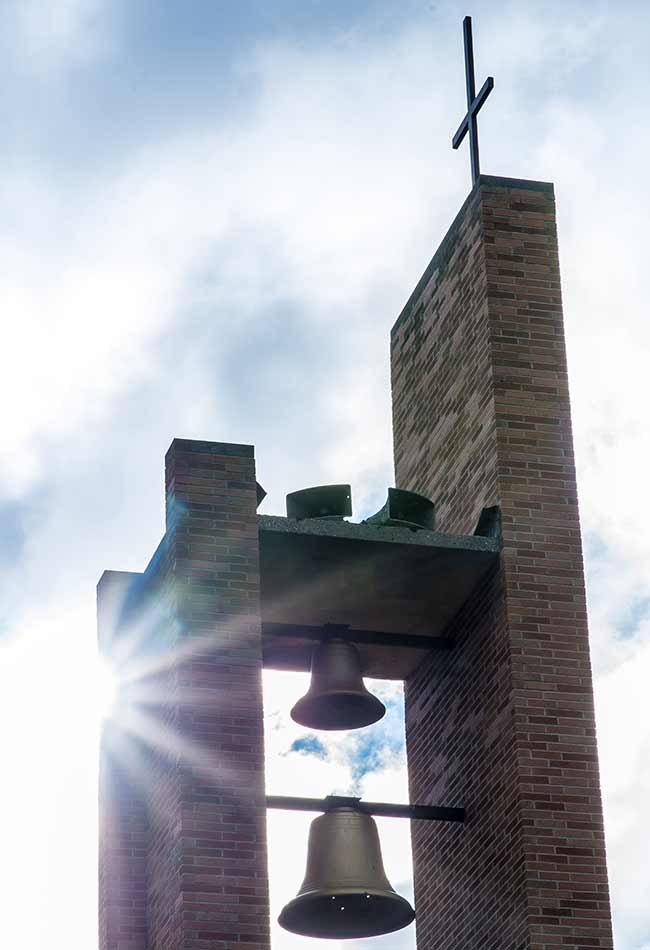 "It's not because of me as a personality, I'm convinced, but because of what we've done with worship, and music is a huge part of that," Bowie said. "I think music is one of the most central aspects of our worship. People go away remembering the music more than the sermons or scripture."
As an example, Bowie mentions a hymn from Gustav Holst's "The Planets." Bowie said the interns, as classically trained keyboardists, allowed the church for the first time to play this "stirring and powerful" tune. Bowie has a strong appreciation for sacred music, in part because his wife is a music director at Saint Mary's College Church of Our Lady of Loretto.
A Catholic himself, Embry said he has appreciated the opportunity to practice and perform at St. Peter's, often coming by late at night to work on his skills.
"I get a spiritual high playing the organ that's hard to get sitting in church, even though this is a different denomination," he said. "I love playing hymns. I think they have the same weight as concert music."
At a recent Sunday service, Embry wears special shoes with smooth, thin soles so that his feet can glide over the 32 foot pedals on the large pipe organ first installed at another location in 1927. Playing the double-decker keyboard and foot pedals simultaneously requires a kind of full-body dance motion that Embry has mastered. He pumps out an impressive volume for the opening song, "Oh Christ, the Healer, We Have Come," and creates improvisations of other hymns to fill the offertory and communion interludes.
Embry grew up on a small island on the Maine coast and didn't start playing piano until high school. But his dedication and fast learning led him to study music at Syracuse University before earning his graduate degree at Notre Dame. He will study at McGill University in Canada next year. Forty people from the St. Peter's congregation came to see his final recital in April.
…music is one of the ways we praise God.

Cara Swinefurth
At two grade schools in Indianapolis, Dotterweich's employers show a similar appreciation for the musical talents she brings to the community. "It's really crucial and essential because music is one of the ways we praise God," said Cara Swinefurth, principal at St. Thomas Aquinas, one of two schools where Dotterweich teaches. "We all have different talents and traits; for some, music is how they connect. If the kids didn't have that, there would be an important part missing."
Dotterweich grew up in Sacramento, California, and studied music and pre-med as a Notre Dame undergraduate. Her senior year, she converted to Catholicism and got engaged. She was arranging music for Masses in her dorms when it "all kind of clicked." Rather than go on to medical school like her husband, she decided to get a master's degree in sacred music.
"I saw teaching music as a way to express faith and music at the same time," she said.
The young couple moved to Indianapolis so he could finish medical school. She applied for part-time teaching jobs at St. Thomas and Holy Cross, two small Catholic schools in the same diocese. The previous year, a tech teacher doubled as the music teacher at Holy Cross.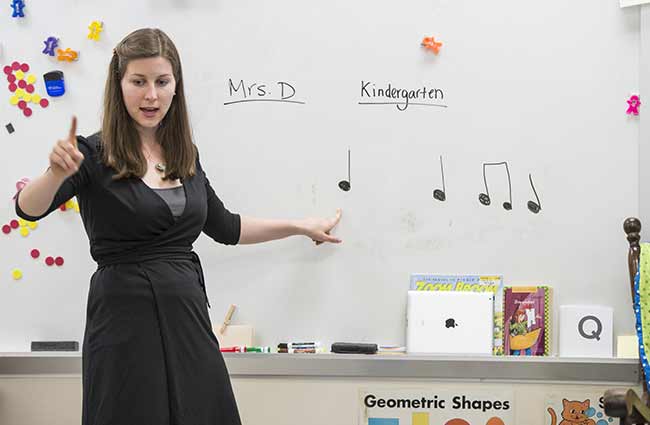 Neither school could support a full-time music teacher, which limits the quality of applicant. By splitting Dotterweich's services, both schools made use of her talents. Coincidentally, Holy Cross, which serves a primarily low-income population, is one of five schools in the diocese that next year will become Alliance for Catholic Education (ACE) academies, a Notre Dame program that aims to strengthen and sustain Catholic elementary schools in underserved communities.
In the classroom, Dotterweich changes the activities frequently to keep the students' attention, especially the younger kids. She leads musical games that work like "Simon Says" and encourages motion and dance to help children burn off their natural energy.
"Sometimes, when they're singing the same music their parents sang 50 years ago, yes, it's part of tradition, but it no longer excites them," said Ruth Hittel, principal of Holy Cross. "Samantha has brought new music and movement into the music at Mass so that the entire child is engaged."
Dotterweich seeks a balance of new and old in the two choir classes she teaches to prepare for the weekly Mass. She has the hesitant kids throw out their arms and purse their lips to emphasize the "lu" syllable in a contemporary version of "Hallelujah." When one student says they can't learn the "Ave Maria" in Latin, Dotterweich counters that it just takes practice. "Who thought they couldn't learn the songs last week and then found they could?" she said. Another gapes open-mouthed when she informs them that the song is 800 years old.
Next year, she will expand her portfolio by working with the Indianapolis Children's Choir and pursuing her own professional singing.
"I decided that this musical gift I had was a gift from God, and the best way I could use it is by bringing my talents to liturgical music in the form of singing and cantoring and leading music and teaching it to others," she said.
In some ways, Fassler said the parishes Embry and Dotterweich serve are not typical of graduates of the Program in Sacred Music. Most of her prodigies are recruited to top cathedrals and thriving parishes that can afford to hire the best talent. But Fassler said that reviving struggling parishes and schools is an integral element of service to the universal Church.
For instance, the Notre Dame Folk Choir since 1988 has taken regular trips to Ireland in an effort to encourage singing in Irish parishes. Another group of students and faculty have worked with the diocese of Leeds, England, where thousands of children are singing in Catholic parishes in a program led by Ben Saunders, who visited campus as a guest conductor last year.
"Our graduates get jobs around the country and the world," Fassler said. "They know how to help people discover their voices. That's how you bring kids to church, and that's the first step in transforming a parish into a community of worship."