ND Law student wins house case for local woman
James Cheney, a recent University of Notre Dame Law School graduate, was at work at the Notre Dame Clinical Law Center when the phone rang.
It was late October, and Cheney was working under Judith Fox, a professor of clinical law, in the Economic Justice Clinic, one of five faculty-run clinics that provide free legal services to individuals, small businesses and nonprofits. He had been trying to contact Emma Gillam, a prospective client, for several months about the disputed sale of her home to a local real estate investor.
Earlier in the day, Cheney, who is from the Bay Area of Northern California, had sent a letter to Gillam, pleading with her to contact him directly "or else there's nothing we can do for you."
Fortunately, the person on the other end of the line, a member of Broadway Christian Parish, a local church with a long history of homeless outreach, had good news: They'd found Gillam, living in a homeless encampment beneath an old railroad viaduct in downtown South Bend.
"I got the call, and she was like, 'Yeah, she should be there right now,'" Cheney said of the caller, parishioner Ronda Hughes. "And I was like, 'Let's do it.'"
Cheney jumped in his 1996 Jeep Grand Cherokee and drove south to the viaduct. Surrounded by vacant lots and buildings, the 1920s-era structure sits in the up-and-coming Renaissance District, a business and technology district south of downtown that includes the sole remaining former Studebaker Corp. factory — soon to be a massive tech hub — and the city's minor league baseball park.
He parked in a crumbling parking lot next to the viaduct and quickly located Gillam among the mess of blankets and cardboard mats, the men and women sitting and talking and eating and sleeping and drinking in the ramshackle encampment.
"I was embarrassed," Gillam said. Her clothes were dirty. She hadn't bathed. The encampment itself smelled of urine and other foul odors. "I started crying."
But experience had taught her to question the kindness of strangers — even genuine-seeming ones like Cheney, a tall, easy-going California "kid" with gentle, probing eyes, neat blonde hair and an easy smile — so she hesitated.
"I couldn't trust nobody looking for me," Gillam said. "I didn't know James."
Still, she agreed to follow Cheney to his car, where the two talked for an hour about her situation — the last in a series of actions on Cheney's part that day that Fox described as "above and beyond the call of duty."
Afterward, Cheney said, Gillam exclaimed, "I got me a lawyer!"
For Cheney, whose real-world legal experience to that point had consisted of interviews and plea deals on behalf of licensed attorneys, it marked the start of a real-life court battle — his first as a law student.
"I really view lawyers as champions. I like the idea of fighting for people..."

– James Cheney
For Gillam, it was the beginning of an emotional journey home after 10 long months on the street — exposed, broke and often alone — after her husband, drunk and upset after a fight, "sold" their home to a local investor.
The son of a teacher and a software engineer, Cheney arrived at Notre Dame in 2015 by way of California Polytechnic State University, or Cal Poly, where he studied political science as a "stepping stone to law school," following a path that he first laid out for himself before high school.
"I've known since middle school that I wanted to be a lawyer," Cheney said during a recent visit to the viaduct. "I really view lawyers as champions. I like the idea of fighting for people, and I think the courts, the justice system, they're like a battleground."
Fox said, "He's very dedicated to the ideas of justice and making sure things come out the right way. He's very, very passionate about representing people like" Gillam, who, because of class, race, income or other factors, struggle to take advantage of the legal system or, worse, become victim to it.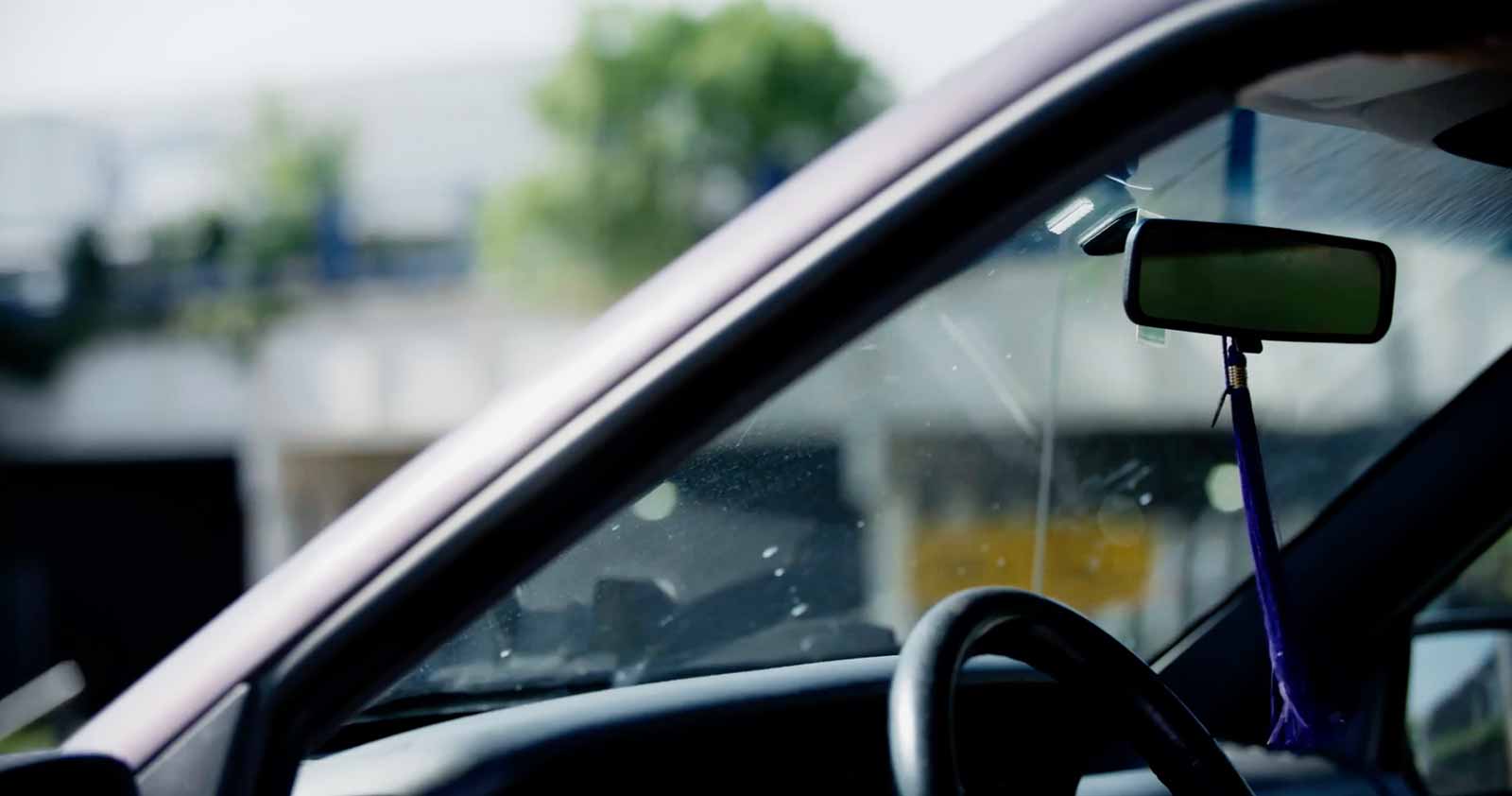 On a cool, dry day in April, Cheney wandered over to the spot where he found Gillam, a small patch of sidewalk next to a damp concrete wall. The encampment was gone, but the place was only slightly better for it. The hard surfaces amplified the noise of passing vehicles. Exhaust lingered in the air.
"She was down here with her husband," Cheney said of Gillam, whom he described as having a "very vocal personality … a big smile and eyes that kind of shine through."
"She tends to make herself known," he said, meaning it as a compliment.
"One of the things that drew me to Notre Dame was all of the opportunities for clinical work."

– James Cheney
A native of Pleasanton, California, outside San Francisco, Cheney joined the Clinical Law Center in fall 2017. He previously interned with the St. Joseph County Public Defender's Office, where he worked with criminal defendants at the St. Joseph County Jail.
Part of a 60-year legacy of clinical programs at Notre Dame, the Clinical Law Center operates five clinics — the Economic Justice Clinic, the Low-Income Tax Clinic, the Applied Mediation Clinic, the Intellectual Property and Entrepreneurship Clinic and the Community Development Clinic. Together, the clinics provide opportunities for second- and third-year law students to practice law for academic credit and under the supervision of full-time faculty.
"One of the things that drew me to Notre Dame was all of the opportunities for clinical work," Cheney said. "I've always wanted my education to be a practical one, to be able to get to work as soon as possible."
In Gillam's case, that meant a lawsuit, which Cheney filed on Nov. 6, 2017, just a week or so after that first, cautious encounter under the viaduct.
Though unique in its particulars, Gillam's case is depressingly common, Fox said. It falls into the category of house theft, in which someone takes possession of another person's property, often an elderly person, through a combination of identity theft and title fraud or by other fraudulent means.
The trouble began in December 2016, when Gillam retreated to her daughter's house in Elkhart after a fight with her husband. While Gillam was away, Woods, an admitted alcoholic, got "very drunk," according to the lawsuit, and agreed to sell the couple's home on Eastbrook Drive in South Bend to a local real estate investor.
"I was fully intoxicated," Woods recalled, explaining he was upset about Gillam leaving and about the overall state of their marriage.
No money changed hands, and no written record of the sale exists, according to the lawsuit. But the investor changed the locks and paid to have Woods removed from the property the very next day, according to the lawsuit. He later rented it to a tenant, pocketing $6,150 in rent.
When Gillam returned several days later, she could no longer access the property, according to the lawsuit, and "it was pretty soon after that that she was homeless," Cheney said.
Gillam and Woods bought the house on Eastbrook Drive for $20,000 in September 2016, according the lawsuit. The seller, a limited liability corporation, had purchased it for about $11,000 in a tax sale a few months earlier.
Situated in Keller Park, a middle-class neighborhood on the west bank of the St. Joseph River, northwest of downtown, the home had two bedrooms and one bathroom along with a small kitchen and living room. A narrow driveway along the west side of the house led to a one-car garage in the back.
Gillam liked that the house had an above-ground pool in the backyard. She looked forward to using it on hot days. Woods liked that it had a garage, and that the previous owner had agreed to leave behind some lawn equipment. He hoped to start a landscaping business.
After the alleged sale, Gillam and Woods tried to return to the house, according to the lawsuit, but the investor "forcibly and threateningly prevented (them) from" entering it.
(The investor, in his response to the lawsuit, denies any wrongdoing. He also claims to have invested $20,000 in the property after the alleged sale).
Eventually, Gillam filed a complaint in small claims court seeking the full value of the home from the investor. But the complaint was dismissed because the amount was well above the $6,000 maximum for the court.
With no other options, the couple sought shelter elsewhere, including with friends, Cheney said, but eventually landed on the street.
It was around this time that Broadway Christian Parish, which operates a food pantry and a "hospitality room" with food, showers, laundry equipment and clothing for the homeless, contacted Fox about the case and asked for help. She assigned the case to Cheney.
In attempting to locate Gillam, Cheney sent letters to her home, communicated by phone with her son and left messages on Woods' cell phone. He had trouble connecting with her son because of scheduling conflicts. Woods, meanwhile, was in jail at the time on an alcohol-related offense and so without access to his phone. He would not be released for another month or so.
All the while, Cheney continued to attend class and go to work, waking early each day to shuttle off-duty airline personnel back and forth between the local airport and a downtown hotel. He would later add a newspaper route to his daily schedule. (He worked at Cal Poly, as well, for a moving company called "Meathead Movers.")
When Cheney did locate Gillam, he went straight to work.
"I went immediately back to the clinic and I looked up the property and I saw on there Emma Gillam and Steven Woods; they owned the property. And I was like, 'What the heck? I can't believe this is happening,'" he said.
Even with clear title to the property, it would be months before Gillam and Woods would be allowed back into the house. The judge issued an order in January 2018 granting the couple immediate possession of the property. But even then, the investor refused to comply with the order. He would later be held in contempt of court.
When the couple finally were allowed back into the house, in mid-January, they were shocked at the condition of the place.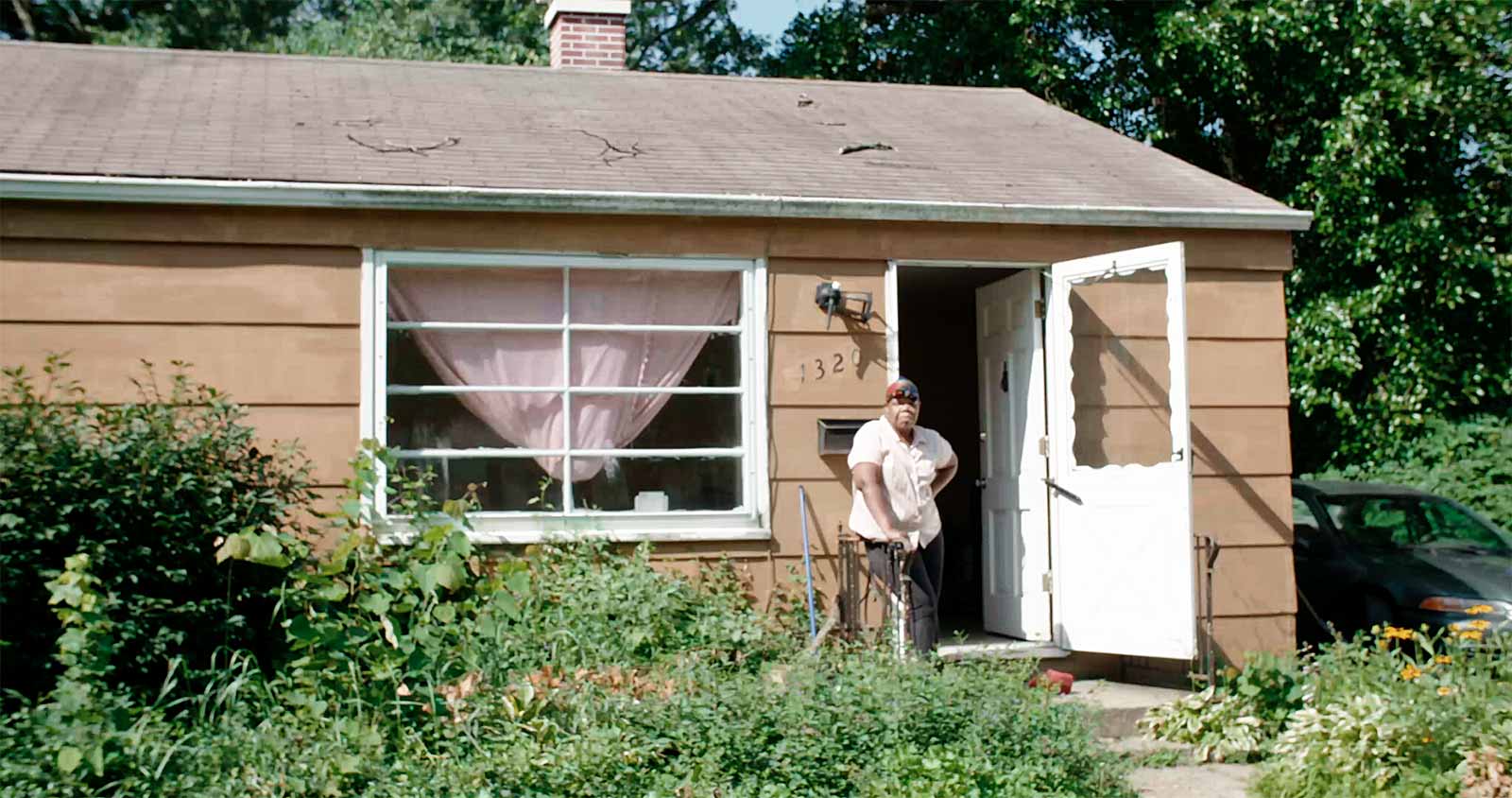 According to the lawsuit, not only had the investor stopped paying the utilities and property taxes, meaning there was no heat or water, but he had removed most of their belongings from the house, including their furniture, which had been donated to the couple when they moved into the house.
"I was kind of stressed out," Gillam, relaxing at home on a recent weekday, said of her emotional response to the situation at the time. "I went back (to the house) and I didn't see the pool. The garage was empty. They had cut trees down."
The sun was out, and it shined brightly into the front room, where Gillam, in tights, a blue top and yellow socks with peace signs on the ankles, reclined comfortably on a mattress on the linoleum floor, an unfinished word search next to her on the bed and a small television set tuned to the local public television station on a stand to the side of the mattress.
"I knew the Lord was always going to straighten things out."

– Emma Gillam
Cheney sat nearby, using an upturned metal toolbox for a stool.
Woods, in jean shorts, gray socks and a T-shirt emblazoned with a picture of the St. Louis Arch and the motto "Gateway to the West," stood in the doorway between the kitchen and the living room, occasionally pacing back and forth like a caged cat.
The room was mostly bare otherwise, save for a glass-top table with two white figurines of an angel and a dove, an unopened Bible and a used ashtray beneath the front window, a second television set on the floor to the left of the mattress and a bright red fire extinguisher on the floor to the left of the kitchen doorway.
"I'm glad I had help," Gillam said, referring to Cheney and Fox. She began to cry. "I knew the Lord was always going to straighten things out."
The lawsuit, which seeks about $35,000 in damages, including more than $11,000 in lost personal property, is still ongoing, with Cheney and Fox preparing to file motions for discovery and/or summary judgment in the case.
But the money is secondary, Cheney said.
"They want a lot and deserve a lot," he said of Gillam and Woods. "But, at the same time, the real problem was that they were kicked out of their house, and they're back in it."
Personally, he said, the case has been eye-opening on a number of levels, particularly in regards to the "minutia of lawyering" — writing complaints, filing appearances, preparing of exhibits.
"I did all of that," Cheney said. "And those are the things that you wouldn't necessarily think of but that are absolutely crucial" to a successful case.
Back at the viaduct, Cheney reflected on his work in the public defender's office, where he helped indigent defendants understand and navigate the complicated criminal justice system.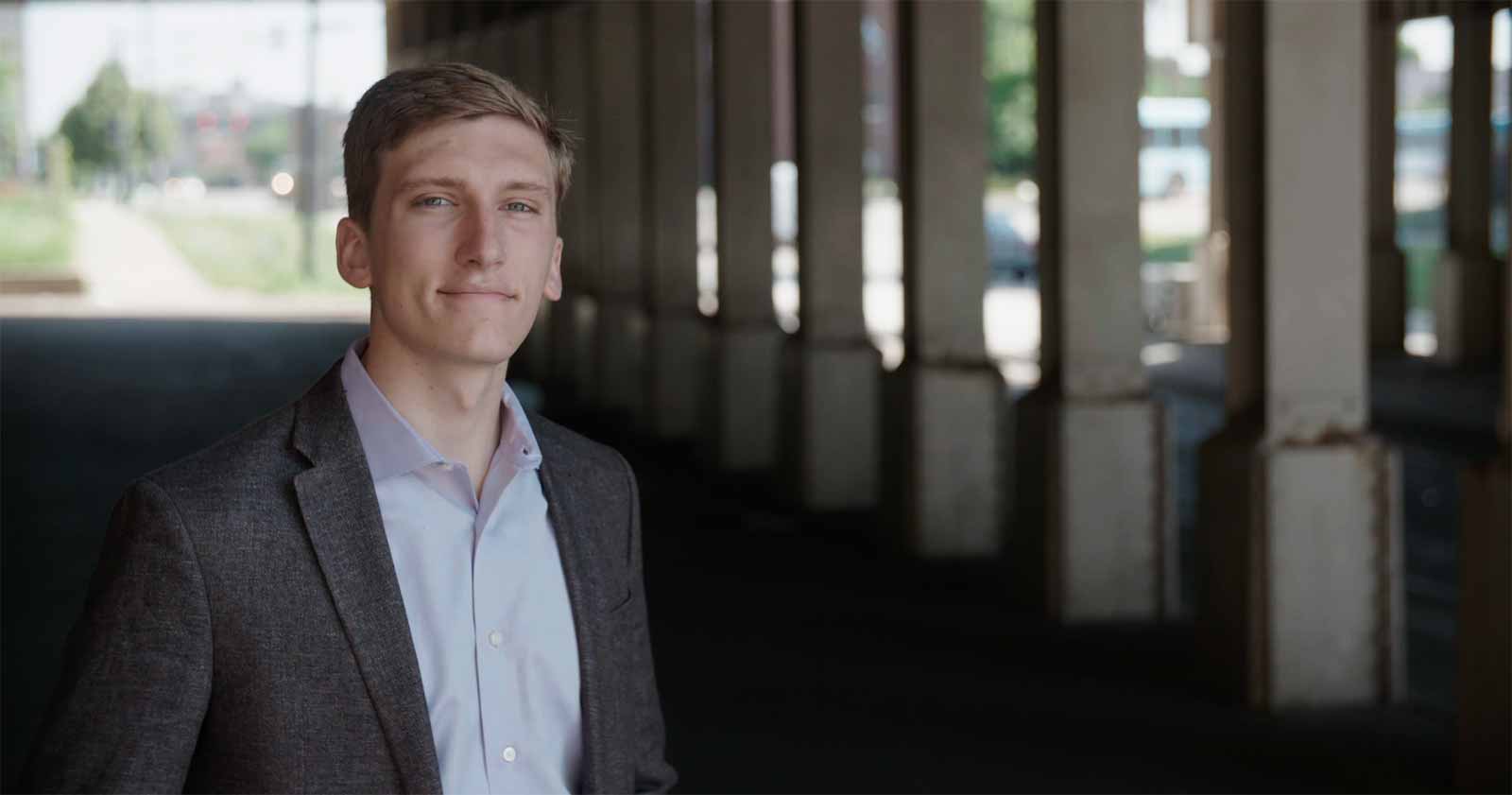 "I really like speaking to people. I really like hearing people's stories and trying to connect them to resources and make them feel heard."
"I really like speaking to people," he said. "I really like hearing people's stories and trying to connect them (to resources) and make them feel heard."
To that end, he plans to return to the Bay Area and practice public defense or public interest law once he passes the bar exam — perhaps with the Neighborhood Law Corps, a unit of the city attorney's office in Oakland, California, that works with community partners to improve quality of life in the city.
Through lawsuits and other civil actions, the law corps fights for social, environmental and economic justice with a focus on abusive landlords, substandard housing, human trafficking, violence and public nuisances, including illegal dumping, according to the group's website.
"James is very passionate about justice," Fox said. "I was, and continue to be, impressed by how much he cares about his clients and how much he cares about seeing the legal system as a force for good."