Research
The Crossroads of Everything
The Medieval Institute celebrates 75th anniversary
November 17, 2021
Fall Saturdays on Notre Dame's campus are filled with familiar touchstones. Helmeted competitors preparing to face off. A glint of sunlight reflecting off a majestic wing. Cherished objects brought out for admiring fans. Spectators reveling in the pageantry of it all.
But this year, some of those displays predate American football by centuries.
Thanks to the University's Medieval Institute — which celebrates its 75th anniversary this year — home game Saturdays have featured medieval objects and traditions, from fencing demonstrations to falconry, blacksmithing, astronomy and more.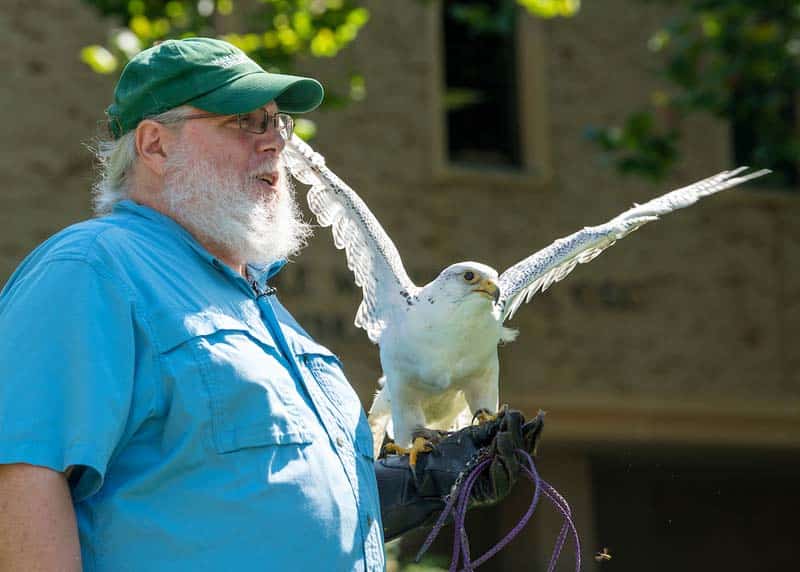 Bringing the Middle Ages to life through events like these is part of a broader strategy of outreach that allows the institute to share the importance of the medieval era with a wider audience, said Thomas Burman, the Robert M. Conway Director of the Medieval Institute.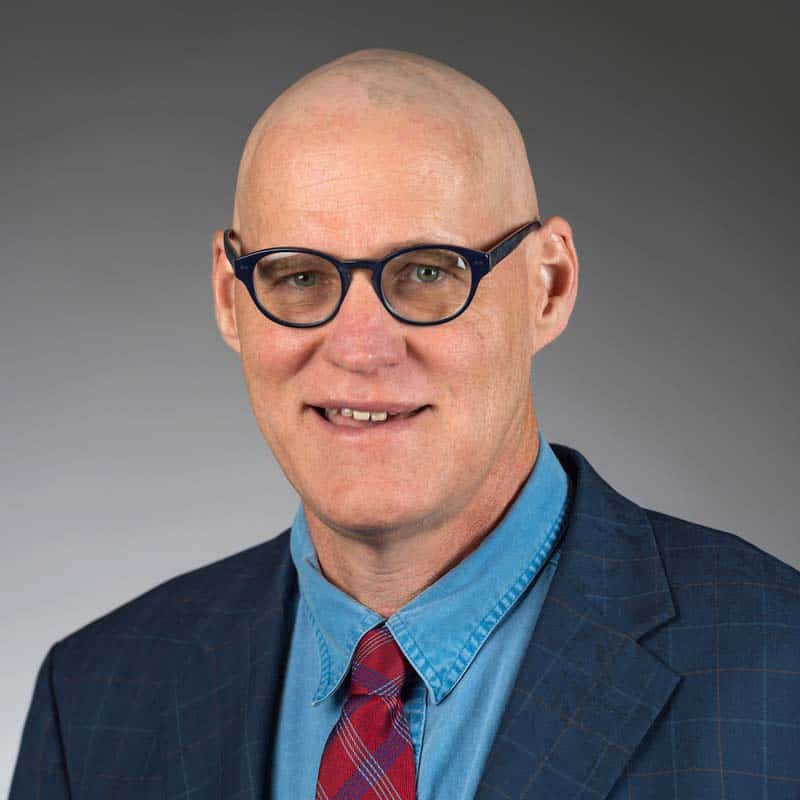 "The Middle Ages are amazingly important to understanding the modern world. That's part of the reason we say they are 'the crossroads of everything.'" —Thomas Burman
"The Middle Ages are amazingly important to understanding the modern world," said Burman, who came to Notre Dame to lead the institute in 2017. "That's part of the reason we say they are 'the crossroads of everything.' There are all kinds of things about modern culture that are medieval in origin, including scientific traditions, universities and representative democracy. And many fundamental institutions and practices of the Catholic Church have their beginnings in the Middle Ages as well."
In today's increasingly polarized world, studying the Medieval era may offer an even more important lesson, particularly at a Catholic institution, Burman said.
"There is an enormous amount to learn from the medieval Church's interactions with religious others around them," he said. "For more than 1,000 years, Islamic, Jewish and Catholic leaders in the Mediterranean world have been living and interacting together. And while some of that relationship has been violent, much of it was quite amiable and positive. There's a lot to learn from that."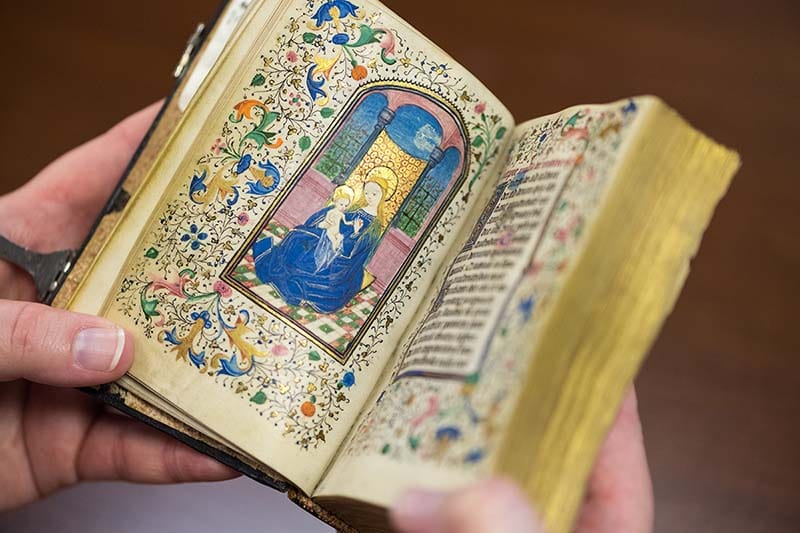 Humble beginnings
The Medieval Institute was founded in 1946 by Rev. Philip S. Moore, C.S.C., then dean of the Graduate School, and was the first program at Notre Dame to award doctoral degrees. It is not only the oldest institute at Notre Dame, but also the oldest and largest of its kind in the United States and a leader in the study and teaching of all aspects of medieval culture.
The institute began with only a handful of faculty members and focused primarily on the 12th-century philosophers and theologians who were the intellectual forebears of St. Thomas Aquinas. But in 1963, President Rev. Theodore Hesburgh, C.S.C., foresaw its potential for growth and dedicated an entire floor of what is now the Hesburgh Library to the institute.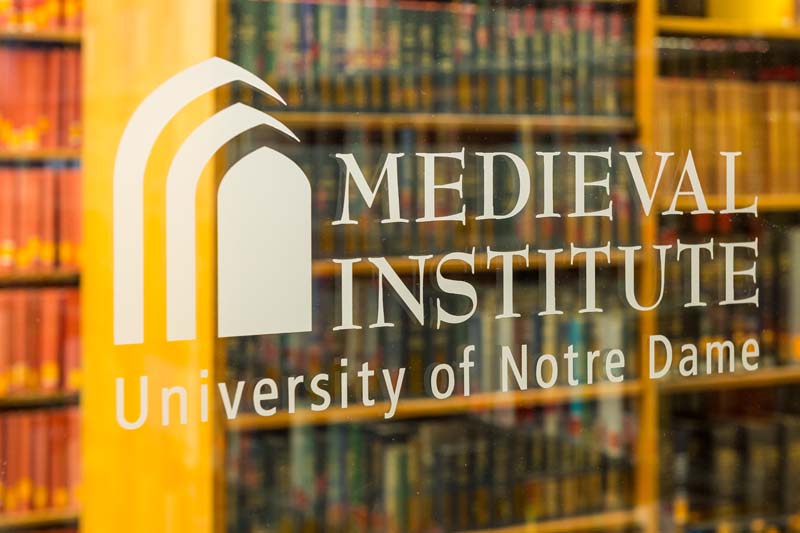 "Father Hesburgh clearly had a great fondness for the institute, and I think that is one of the reasons we flourished early on," Burman said. "He envisioned having a preeminent institution of this kind at Notre Dame, and it was a tremendous advantage for us."
In the mid-1980s, the institute entered a new era when John Van Engen, now a professor emeritus of history, was named director. While previous directors had maintained a fairly narrow focus during their tenures on church history, Thomist philosophy or even the history of universities, Van Engen sought a different approach.
"I had come out of a different kind of training, and I was interested in a multidisciplinary approach to medieval studies," Van Engen said. "I really tried to emphasize that, and we had great success. The goal was to create an interdisciplinary body of scholars who, in addition to their own departments, had a home on the seventh floor of the library and together generated this energy and made the whole University stronger."
As the institute expanded, so too did its resources and library collections. The addition of the renowned Anastos Collection, a research library gathered by scholar Milton Anastos, in the 1990s became the foundation for the institute's Byzantine studies program. And in 2012, Remie Constable, who was then director of the institute, opened a Byzantine studies reading room.
Broadening the initiative's geographic scope is part of Constable's legacy, said Margot Fassler, the Keough-Hesburgh Professor of Music History and Liturgy. Constable was director of the Medieval Institute from 2008 until she passed away in 2014.
"Remie focused on Spain and the Mediterranean world, as well as Muslim cultures, and she brought in a really valuable perspective," Fassler said. "And we lost her so tragically at such a young age. But her legacy is in the direction she pointed the institute in and the major collections she helped bring here."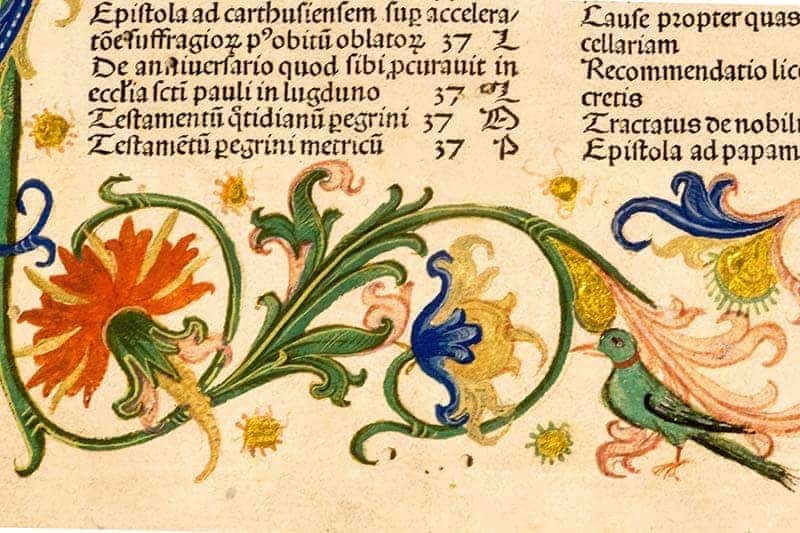 Extraordinary interdisciplinarity
Today, the Medieval Institute is thriving, with 50 affiliated faculty fellows from various departments, 25 doctoral students, 40 undergraduate majors and minors and nearly 100,000 volumes in the medieval studies library collection.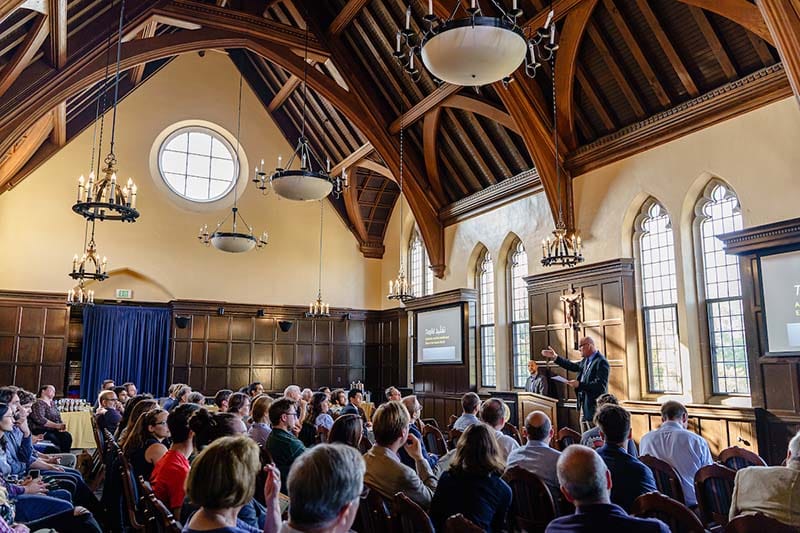 Under Burman's leadership, the institute has continued to expand its geographic focus, with scholars exploring medieval Buddhist texts, Islamic history and connections to Central and East Asia. Going forward, he hopes to continue moving toward an emphasis on the global Middle Ages — and to continue efforts to connect with the community, including an upcoming partnership with Adams High School in South Bend.
Burman has also added working groups in medieval liturgy, religion and pluralism in the medieval Mediterranean, the transformation of classical texts in the Middle Ages, and Christianity and philosophy in late antiquity to increase collaboration among scholars of different disciplines and at different points in their academic careers.
Fassler, a past president of the Medieval Academy of America, holds joint appointments in the Departments of Music and Theology but said the Medieval Institute is the center of her intellectual world.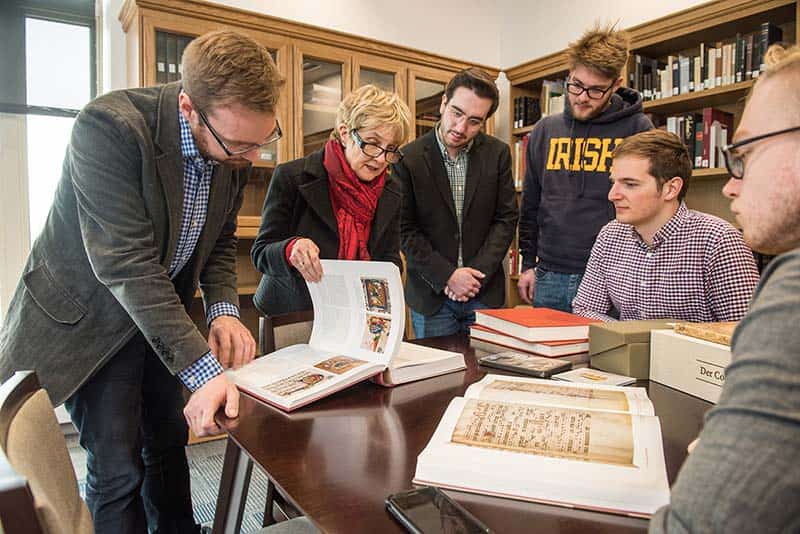 "It is the best place, probably in the world, to work because it is so smart and so beautifully put together," she said. "We have this heritage through the Medieval Institute — and through the larger mission of the University — to ensure that the Middle Ages are taught and taught well here. And the institute gives all of us who are medievalists the resources we need, as well as a place to come together and share scholarship and ideas and fellowship."
Eleonora Celora, a doctoral student in medieval studies, came to Notre Dame from Italy specifically to work with scholars such as Fassler in the Medieval Institute. Her experience in the institute, including discussions she's had in the medieval liturgy working group, has helped guide the trajectory of her research.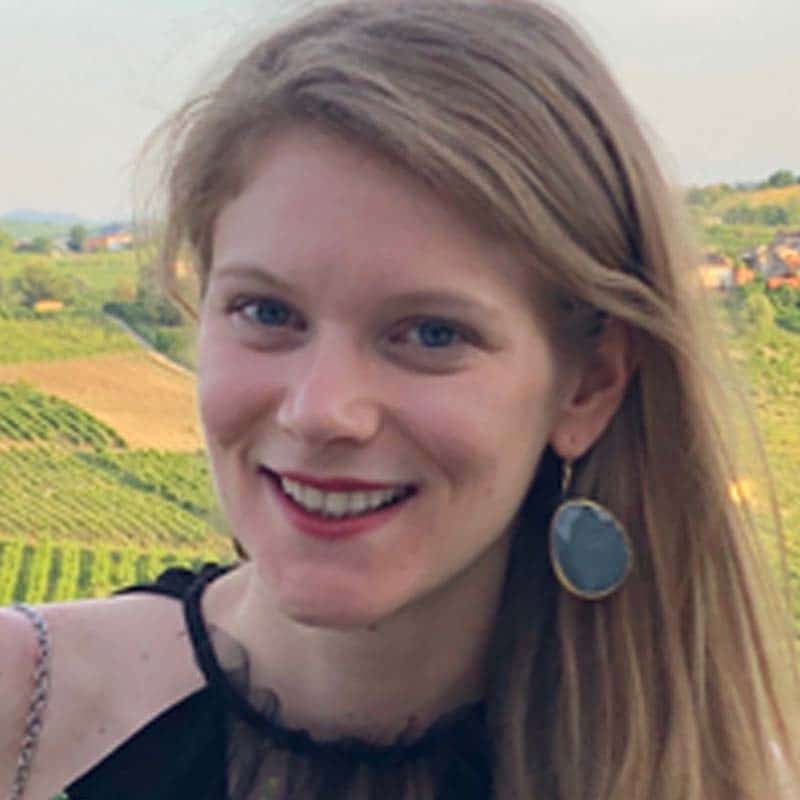 "We are all part of the institute and, even though we are working on different topics and have different skills and knowledge, we belong to the same community." —Eleonora Celora
"For me, it has changed everything," Celora said. "I started out knowing I wanted to work with liturgical manuscripts from Western Europe. I was interested in paleography and liturgy, but I've discovered other interests through discussions with professors and other students. For example, I am now learning about Byzantine liturgy and manuscripts — and these new elements and interests have changed and enriched my research.
"It's a fairly small community, but there is a strong sense of identity among us. We are all part of the institute and, even though we are working on different topics and have different skills and knowledge, we belong to the same community."
That interdisciplinarity, Fassler said, is not only one of the institute's greatest strengths, but is also reflective of the Middle Ages themselves.
"People sometimes ask me why I am a medievalist, and I say, 'Because of the extraordinary interdisciplinarity of the scholars who lived then,'" she said. "They made a world that was so rich and multilayered — a sort of glass onion that you can look through and see the layers. And that's the excitement of being a medievalist is you get to look at things in this way and see all of these strata of understanding, as they relate to art and music and theology and liturgy and all of these things, and see them all at once."