When Elijah, a fifth-­grader at Santa Cruz Catholic School, drove past Casa Maria with his father he took note of the people visiting the small building on a dusty street corner. Sometimes they'd stop to talk to those waiting for a bag lunch, sometimes they'd offer a little money.
When his teacher, Rose Raderstorf, taught Elijah's class about human dignity and solidarity, he got an idea.
"He lit up and he said, 'I know! Let's make sandwiches for the homeless people in the park across the street,'" Raderstorf says, describing Santa Rosa park, within walking distance of the school. "We could take the sandwiches and eat with them so that we can spend time with them and then they would have someone to talk to."
Love Thy Neighbor
Raderstorf's fifth-grade class spent the beginning of the school year learning about Catholic Social Teaching, specifically the Life and Dignity of the Human Person – the idea that all human life is worthy of respect, and Solidarity – the idea that we are one regardless of national, racial, ethnic, economic and ideological differences.
That's the reason hundreds of sandwiches – turkey, ham, and the classic peanut butter and jelly – are repackaged in the original bread bags on the cafeteria tables by the fifth-graders, in charge of this service project, and fourth-graders, who are learning to take over the project for next school year.
The tables are smeared with jelly and other ingredients provided by the parents of the students with some occasional additional assistance from Raderstorf.
"It was really all the kids," she says.
"They went home and they talked about it and taught their families about Catholic Social Teaching and taking care of our neighbors and supporting them."
That first time, students and a few volunteer parents made hundreds of peanut butter and jelly sandwiches to take to Santa Rosa park. After the group handed out the sandwiches to those at the park, they had a lot left over, which is when a parent offered Casa Maria's location just around the corner.
Casa Maria is a Catholic Worker house that runs a free kitchen six blocks from the school. Many of those who are homeless or under-resourced in Pima County – which contains the highest density of homeless populations in Arizona – visit the house, which provides more than 500 bag lunches and 100 bags of groceries to community members each day.
Brian Flagg, who both lives in and oversees Casa Maria, was waiting for them without knowing it.
Casa Maria had run out of food that day and wasn't going to be able to provide the 500-600 lunches it needed to serve the next day.
"Brian said, 'This is literally a miracle. You have no idea how much this helps us,'" Raderstorf says, which prompted the students to ask if they could help Casa Maria again. "I turned to Brian and said, 'Count on us every month.'"
In addition to sandwich delivery, Raderstorf occasionally takes the fifth-graders to Mass at the house, which has given them an understanding of those who rely on Casa Maria.
Casa Maria doesn't have a church building. Instead, visiting priests, including Santa Cruz pastor Rev. David Guzman, worship in an outdoor shelter.
"All the seats were already filled, so we took milk crates and turned them over and sat on them. There were pigeons all around eating the scraps of food and it didn't smell great," Raderstorf describes. "[My students'] eyes got really big and the lightbulb went on that this is how people live and this is why we're doing this – it's so that these people can have a little bit extra for their day."
Over the past year, the kids have gotten to know the neighborhood and the neighborhood has gotten to know them. Some of Casa Maria's patrons tell Elijah they remember him as they say thank you for the sandwich, which provides all the reward he needs.
"I know that I can make a difference by giving the poor sandwiches," he says.
College and Heaven
This sort of activity is not unusual at Santa Cruz, one of four established Notre Dame ACE Academies in the city of Tucson and Tampa area, with another four newly announced in the Diocese of Orlando.
The Notre Dame ACE Academies are a unique, university-school partnership between the diocese, local community, school and the University of Notre Dame's Alliance for Catholic Education (ACE). Currently, Notre Dame prepares more teachers for Catholic schools through ACE than any institution in the country, and many of the teachers at the Academies, including Raderstorf, are current or former teachers in the ACE Teaching Fellows. These teachers are full-time students who earn their Master of Education degree from Notre Dame through summer and online courses, while devoting two years of teaching in under-resourced schools.
Aside from focusing on boosting enrollment and reading and math scores in the schools, the Academies also work toward sustainable financial practices and creating a strong, positive, authentic Catholic school culture. Signs of that influence are literally on display at the schools. One reads, "Our goals: College and Heaven" and another lists the core values that students and teachers strive to live out each day – seek, persist, excel, love and serve.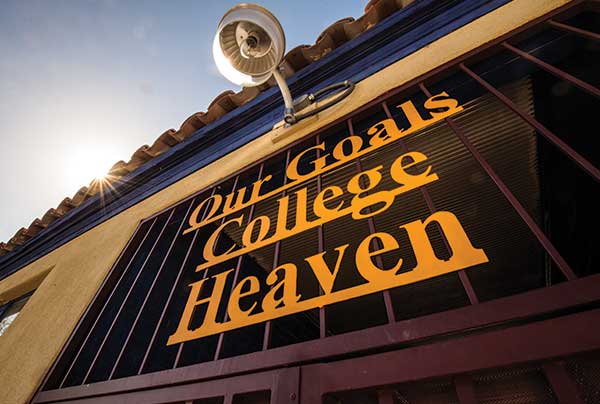 "Working toward the goal of getting into heaven is obviously a continuing process every day," Raderstorf explains.
"In the fifth-grade class, it's mostly about being the best person you can be and being your best self and taking care of people and realizing that God is in everyone."
And while the fifth-graders are passing the job of making sandwiches on to next year's fifth-grade class, they aren't done serving others.
"There was one student who came in one morning and said, 'Miss, I've decided how I'm going to keep practicing Catholic Social Teaching,'" Raderstorf smiles.
"'I'm going to discover a cure for cancer.'"
Credits
Author: Liz Harter
Page design: Taylor Packet
Photographer: Matt Cashore
Videographer: Tony Fuller
Developer: Erik Runyon