Domonique Minnis has four growing kids to feed but sporadic access to a car to drive to a grocery store. She wanted to make chili for dinner and needed two green peppers, the kind of fresh produce the local corner store doesn't carry.
The 35-year-old mother said she tries to avoid convenience stores because they charge higher prices, and one nearby won't take food stamps unless she buys a certain amount. Minnis lives on the near west side of South Bend in what nutrition experts call a food desert because there are no grocery stores within a reasonable walking distance.
Minnis' round trip on the bus took over two hours to shop at a Kroger grocery 4 miles away on a beautiful September day. She bought water bottles, juice and the green peppers. But that kind of time isn't always possible when she needs something quick.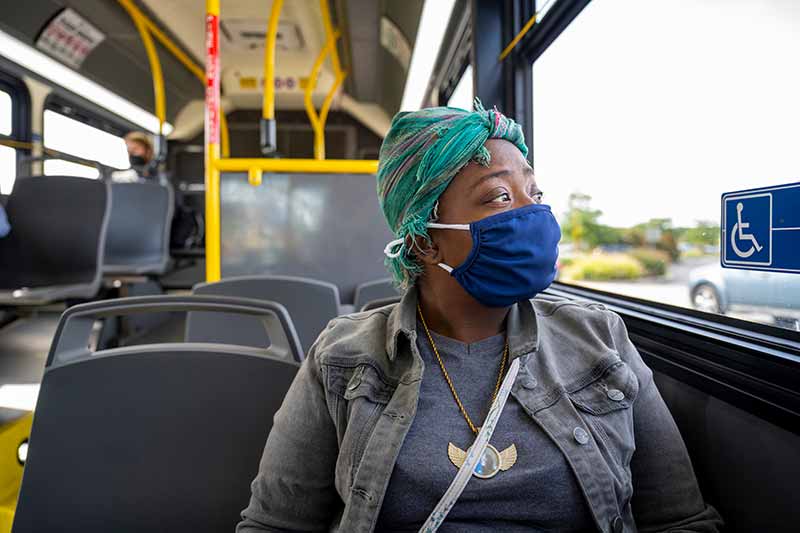 Lack of access is why many people who live in food deserts end up with unhealthy and costly options for their meals. A Notre Dame engineer who specializes in data visualization and human-computer interaction is aiming to solve this problem by creating a way for people to buy healthy food online and have it delivered to an accessible pickup location.
"An online app that delivers would be convenient, especially for older people," Minnis said. "You can survive walking over to the Kroc Center [across the street], but older people don't like to use the bus when it's freezing out."
"It's not necessarily that people don't know what's good for them and what they should be buying; sometimes it's just that they just can't get it." —Ron Metoyer
Ron Metoyer, a computer scientist who came to Notre Dame in 2015, divided the problem of food deserts into two main areas — information and access — and has been working with other researchers and community partners to design a solution. They are about nine months into a 3.5-year study to develop an app that will help people in food deserts go online to find healthy and affordable food, have it delivered to a hub location within walking distance, and suggest healthy meals that fit their budget.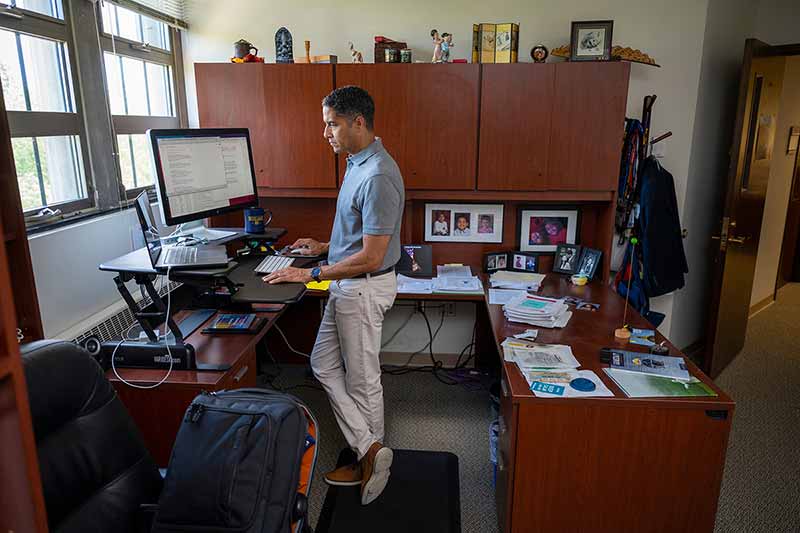 "It's not necessarily that people don't know what's good for them and what they should be buying; sometimes it's just that they just can't get it," Metoyer said. "Very often it's the constraints that are being put on them as to what they can purchase with certain resources and where they can purchase them."
The study is funded by a $1.7 million grant from the National Institute of Food and Agriculture, part of the U.S. Department of Agriculture. Metoyer's expertise will help the app use the same technology that corporate giants like Amazon or Netflix employ to analyze user choices and make appropriate recommendations — in this case for groceries or recipes.
"So given everything we know about them and what they like or dislike," he said, "can we make some recommendations for what should be in their grocery basket that week?"
Ethnographic Study
The Food Information Network study will focus on two food deserts — one in Detroit, and the South Bend census tract where Minnis lives just west of the city's minor league baseball stadium. Across the country, about 24 million people live in food deserts, and nearly half of those people are also low-income, according to the USDA.
"As a design professor with a background in ethnography and qualitative research, my job is to really go out and connect with people and understand not only their needs, their challenges, their frustrations, but also their values, their aspirations, their goals." —Ann-Marie Conrado
The St. Joseph County Food Access Council identified 11 census tracts as food deserts. The average poverty rate in these areas is nearly 36 percent, far higher than the national average of 14 percent.
The project Metoyer is leading began this summer with a study to learn more about how potential clients shop and eat and to understand the barriers and what they need. To do that, Metoyer enlisted the help of his colleague Ann-Marie Conrado as co-leader of the project.
"As a design professor with a background in ethnography and qualitative research, my job is to really go out and connect with people and understand not only their needs, their challenges, their frustrations, but also their values, their aspirations, their goals," Conrado said. "When we're talking about new systems and new concepts, we try to make sure that whatever you put out into the world really works for the people that you're trying to solve a problem for."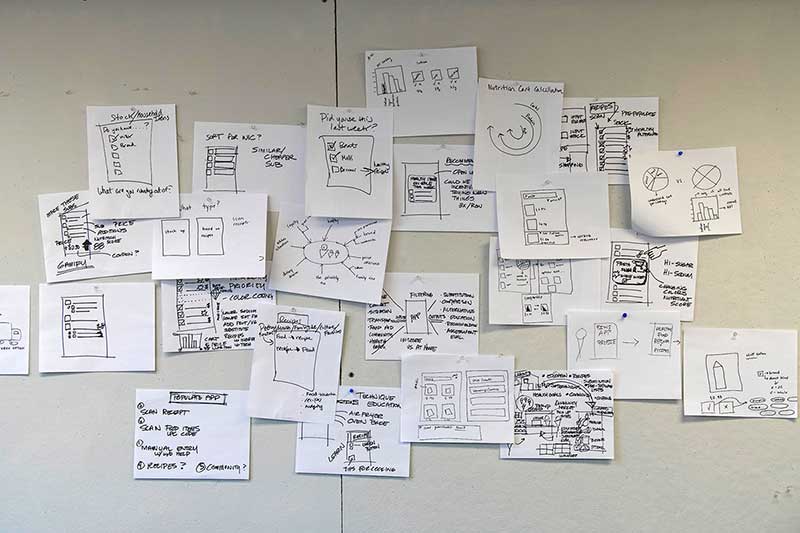 Over the summer, Conrado and her students conducted an ethnographic study, where they went into people's homes for a deep conversation about what's in their cabinets and fridges, and how they approach food shopping and meal planning. Later they will shop and cook with potential clients to understand their process. The goal is to go beyond a simple survey or focus group.
"We want to understand them at a much richer and deeper level, in a way that we can then design services and interventions that really align with them, their lifestyles and their aspirations and needs," Conrado said.
Conrado has a personal stake in the research because the grocery store near her home closed a few years ago. "I still had the blessing to be able to hop in a car and go somewhere else, but it became so clear to me how many couldn't who lived right in my own neighborhood," she said.
She said online grocery shopping didn't become mainstream until the COVID pandemic hit last year. Maybe some of the lessons learned since then could benefit people who need more healthy options. "We're also looking at how much education there is around nutrition and how maybe the process of purchasing food could support more awareness around health," she said.
She presented what she learned to the entire research team in late October. They found that people living in food deserts did not initially find online shopping appealing for the same reasons as early adopters of the practice. "Their impression was that it saves time, not money," Conrado said. "That's not what they need. So we have to make sure this is a value proposition and redefine convenience to make it a compelling solution for them."
She also found some specifics about how to make that change. For instance, the people she studied might make a list that included chicken. But if pork is on sale, they will instantly substitute that. So they are really shopping for a category — protein — which could suggest a new way to organize the online shopping experience.
Another finding was that people in food deserts believe healthy eating will cost more. One solution that many mentioned and some use is the air fryer, which allowed them to continue eating what they were used to but in a more healthy form.
"This is how people are shopping and eating," Conrado said. "How do we incorporate what they're already doing rather than try to force them to change? A lot of apps fail because they don't align with people's habits."
Kelsey Bueno's shopping exemplifies this research. Bueno said she's always on the lookout for sales and deals to stretch her food dollars. She lives on the west side of South Bend with her boyfriend and their three kids between the ages of 3 and 8 years old. She said she sometimes has access to a car, such as when she drops off her boyfriend for his work as a cook at Linebacker Lounge, a sports bar near campus.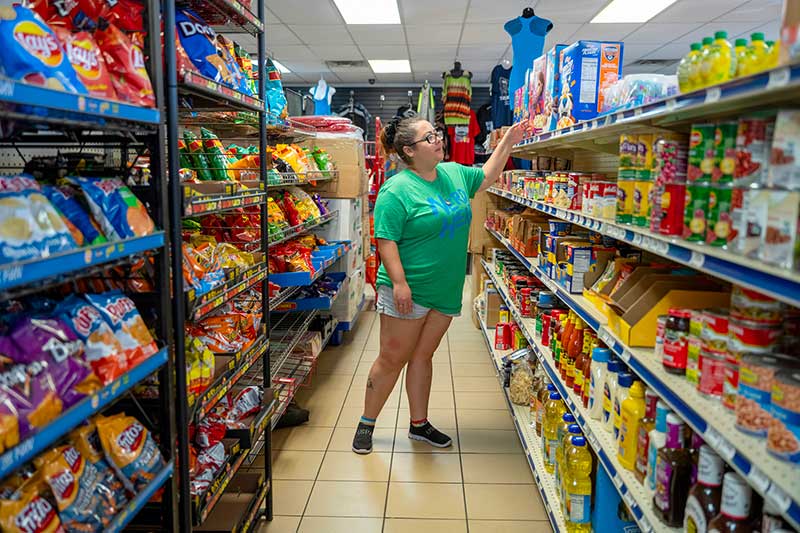 In those cases, a Kroger grocery store is a convenient drive of a few minutes. But there are times when her boyfriend takes the car and the only option is a convenience store two blocks away. She walked there in early September and bought a large box of cereal named for the Disney film "Frozen."
"My daughter loves 'Frozen,' so she'll like the cereal," Bueno said. "Anthony, my 3-year-old, likes fruit, veggies, chicken and pizza. He doesn't like pasta. The others eat whatever I cook."
Bueno said the prices weren't too bad at the mini-mart, but "there's a limit to what they have," such as canned food and basics. She said an online app that delivers groceries nearby could be helpful, as long as it lets her use coupons.
Health Benefits
The Food Information Network's health expert is Heather Eicher-Miller, an associate professor in Purdue University's Department of Nutrition Science who focuses on food insecurity and its effect on children's health.
Eicher-Miller said food deserts are physical locations, but the geography is compounded by other factors of food insecurity.
"They could likely be experiencing a lot of stress, because you don't have enough food," she said. "When you focus on having enough, you're not as much caring perhaps about what kind of food that is, and the health of the food. Often people will more rely on foods that don't have enough of the nutrients we need. So (they're getting) lower intakes of fruits and vegetables, and higher intakes of things like added sugars and sodium and saturated fats, and that leads to a lot of micronutrient deficiencies."
What can you get for $29?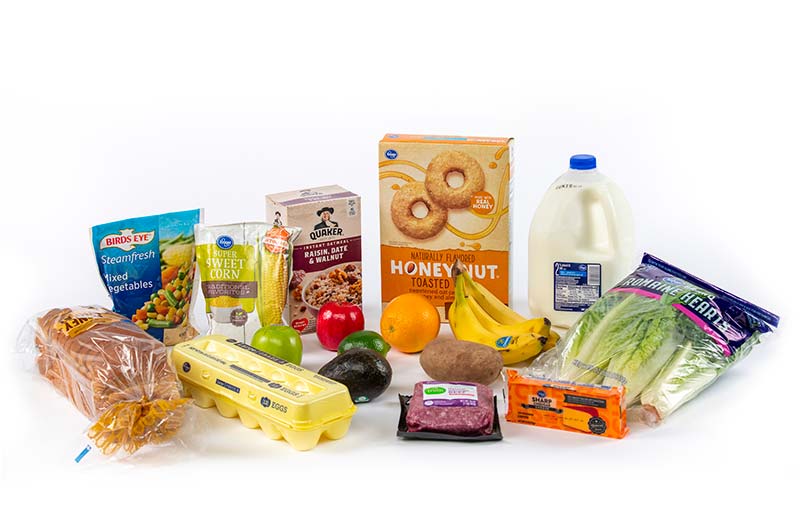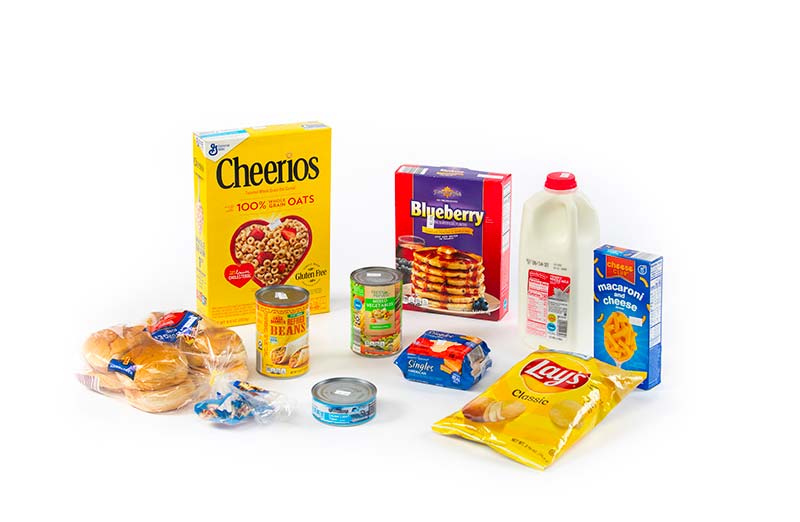 Some homes don't have a refrigerator to store fresh foods. Others prioritize foods that are shelf-stable because they won't spoil and go to waste. Bulk purchasing to save money may not be an option. Often, unhealthy foods are the logical choice because you can get more calories for less money.
The result of this need-based, less-healthy diet is chronic disease: "obesity, heart disease, diabetes — all the things that Americans struggle with as a whole impact low-resource populations even more," Eicher-Miller said.
She said this project can help people make better food choices by giving them the resources they need. "It will allow them to compare prices, putting the choices at their fingertips," she said. "It'll give people more information to make a better choice when you're trying to maximize your food dollars."
Metoyer said the project's community partners are vital because they are connected to the people who have food access challenges. Partners include the county health department, Beacon Community Impact, Notre Dame's Center for Civic Innovation, Purdue Extension and EnFocus. They are working with Walmart because that store accepts EBT cards (food stamps) online for payment and allows for pickup by a third party -- which will be the hub delivery mechanism.
Near Northwest Neighborhood (Census Tract 6)
712

Population

32.3%

In Poverty

234

Households with SNAP

77

Households without SNAP
37.2% High Cholesterol
30.7% High Blood Pressure
17.1% Poor Physical Health
11.1% Diabetes
6.6% Heart Disease
Accepts SNAP Payments:
1. CVS Pharmacy
2. Moe's Stop and Shop
3. Food Mart
4. Lincoln Way Mini Mart
Food Pantries/Community Kitchens:
5. St. Paul Bethel Baptist
6. Faith Baptist
7. Muessel Elementary School
Metoyer grew up in southern California and earned his undergraduate degree from UCLA. He did his doctoral work at Georgia Tech and started teaching at Oregon State. After giving a talk at Notre Dame, he was offered a position in computer science and engineering, as well as an opportunity as an associate dean in the college. He was impressed with the faculty and student commitment to the University mission and saw an opportunity to do research with real impact.
"We're building a model to essentially make recommendations," he said. "If you're familiar with Amazon or Netflix, they use recommendation models to tell you what other movies or products you might want to purchase based on your previous history. We want to do the same for food.
"We don't yet know the granularity that's going to be appropriate — meals, recipes or food categories — but we do believe that we'll be able to make a recommendation at some level, based on what we know about them and based on what we know about the local food situation."
Delivery to a local hub like a fire station or community center could solve the transportation issue, but Metoyer hopes the recommendations will also lead to healthier options.
The two-hour trip Minnis took to the store for one chili ingredient certainly illustrated the benefit of a local hub system. Minnis said her boyfriend has a car, but she does not have a license yet. The Chicago native is well versed in the local bus system and the four-block walk to the bus center.
"You have to walk on this side to stay away from the dumpster by the candy factory," she said, pointing to a huge swarm of bees buzzing around the dumped sugar. "The Number 6 bus will drop us right in front of Kroger's."
She said she's worried about any number of problems — kids' lunches, a job interview coming up, a meeting about demolishing her housing complex. Having a local delivery spot for groceries would be one less hassle, she said.
"Sometimes I call the older kids to meet me at the bus stop and help me carry the groceries home," she said.
Like teens everywhere, they sometimes complain but they usually help. Especially if it means chili for dinner.