Into the Whirlwind
Student journalists report on hurricane recovery in Houston
These four stories are a small sample of the ambitious reporting done over spring break by the nine students of a new class in Notre Dame's Gallivan Program in Journalism, Ethics, and Democracy. The professor and new director of the program, Richard G. Jones, a former New York Times journalist, told the students that their pre-trip worries were normal in the industry.
Sources often don't respond quickly or at all. Interview times can be hard to pin down. The students have only four days to collect material for two stories each.
"It's all right," Jones reassured them. "It will all come together when we're on the ground in Houston. It's hard to motivate action two thousand miles away. But when you're standing in front of someone, you'll be pleasantly surprised that people will want to help you."
Not that the students didn't prepare diligently during the previous weeks of the "Covering America" course. Early in the semester, they read dozens of stories and reports about Hurricane Harvey, the largest storm in American history, with damage estimated at $125 billion. They whipped through crash courses in how to film and edit video and audio stories with the latest equipment and computer programs.
While in Houston, the students would also do a service project helping repair a flooded trailer home, tour the office of the Houston Chronicle and attend a country music concert at the rodeo.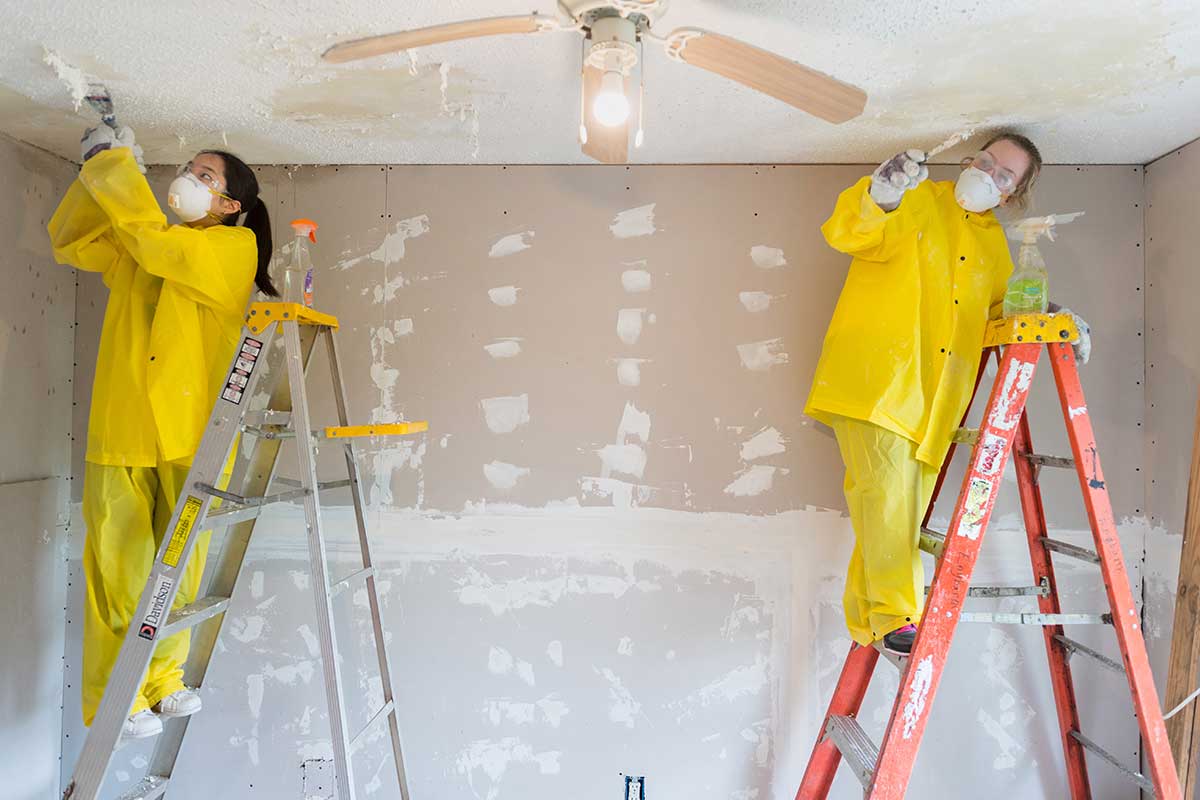 Jones repeatedly stressed that covering a disaster—in the immediate aftermath or half a year after it happened—can be done with empathy. That reporters could be human without compromising their much-ballyhooed objectivity. "Compassion and professionalism are not mutually exclusive," he said in the first class.
He also pulled in plenty of help: a Houston Chronicle reporter, audio and video specialists, and another journalism professor in the Gallivan program who happens to be his wife, Victoria St. Martin. The travel portion of the course was supported by a grant provided by Dean John McGreevy and former Associate Dean Essaka Joshua of the College of Arts and Letters. The abundant resources available signaled the corresponding expectations.
The course is also the clearest example of how Jones is transforming the Gallivan program from a minor that focused on history, ethics and writing basics into hands-on training that can prepare a new wave of journalists — like star alum Robert Costa at the Washington Post — for a field that, while shrinking and struggling, still needs fresh recruits who can tell the stories of tomorrow and hold accountable the country's future leaders.
Kelli Smith proves her journalistic chops by hopping off a plane and driving straight to two scheduled interviews. The first story is about a real estate computer expert who created a website for crowdsourcing hundreds of rescues during the hurricane. Fascinating but not very visual.
A political science and film major from El Paso in west Texas, Smith knows the second story at a Houston animal shelter would offer scenes of animals that can make her video pop. She interviews Lisa Tynan, community outreach manager for the Houston Society for the Prevention of Cruelty to Animals, a private nonprofit that took in more than 2,300 dogs and cats and 80 horses during Hurricane Harvey.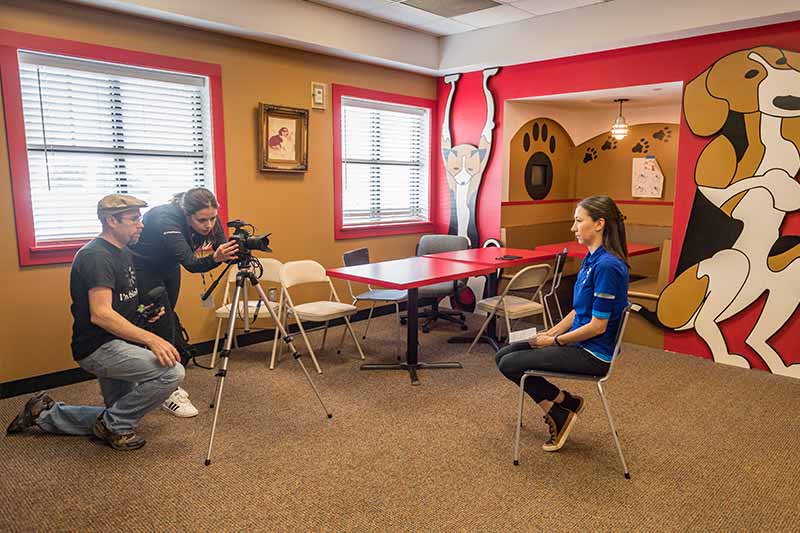 Smith has more experience with the video cameras she uses for her work with the Observer campus newspaper and Fighting Irish Media, the athletics network on campus. For this story, she uses the video function of a fancy DSLR camera.
So video expert Eric Nisly, who taught the video shooting and editing section of the course in February, assists with the technical details: framing the shot, attaching a lapel microphone, adjusting the white balance and testing the audio.
Tynan says the shelter prepared for the storm by shipping all the animals already there to partners across the state, from Austin to Dallas. That freed up space for the onslaught of rescues coming, she says, and the facility was on high enough ground to escape flooding.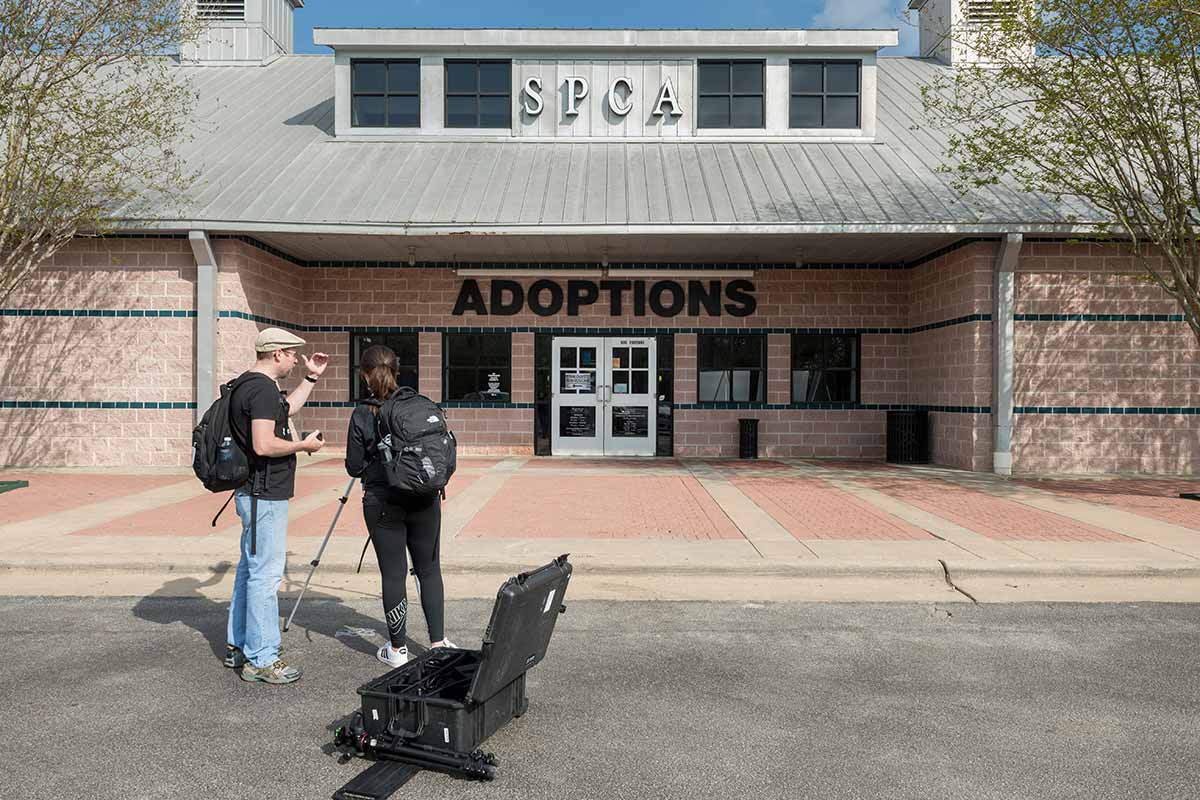 The response to the storm was overwhelming, Tynan says. Business partners and aid organizations donated more than 120 tons of food and supplies, and thousands of volunteers offered to help care for the displaced animals. Through a hotline and advertising, more than 300 pets were reunited with owners who lost them during their own escape from the floods. Most of the rest likely lacked a home before the storm, yet they too were adopted as Houston residents opened their arms.
"The sheer magnitude of the flood was startling," Tynan says. "I was on a boat with animal rescuers and I remember scraping over something we hadn't seen. It was the top of a sedan."
The numbers, Smith knows, are important for her interview, but she also wants the human touch, the personal stories that can make her piece come to life. She pulls at this thread until Tynan tells her about a reunion a month after the storm between a horse and its ecstatic owner.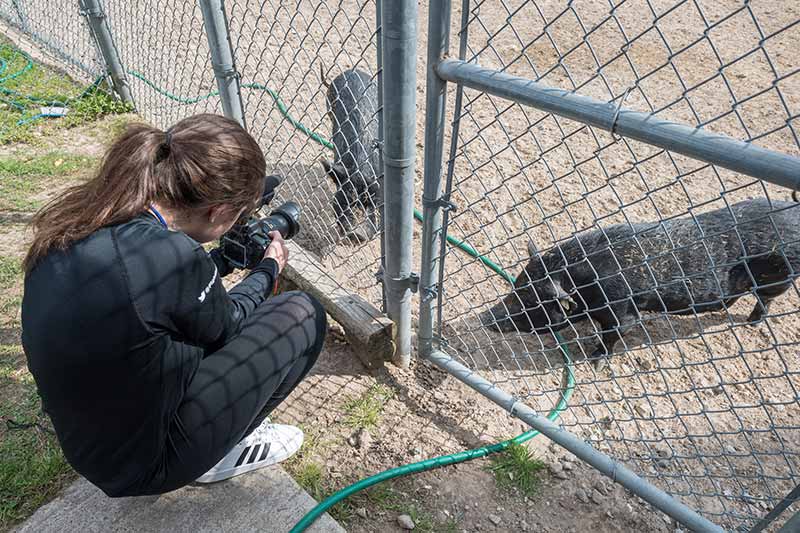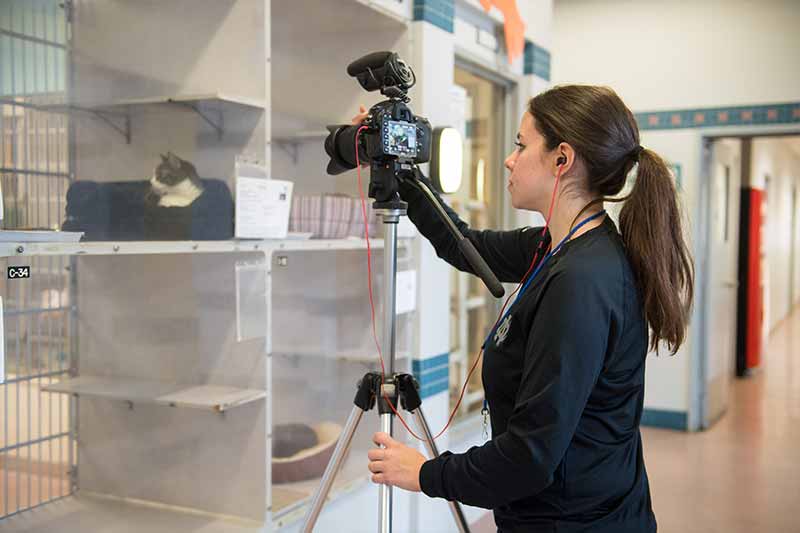 Gaither Beard had waited until the flooding was up to Billyjack's neck before heading to the highway, where a sheriff's deputy met him with a horse trailer. Beard and his family had to find their own shelter and lost track of Billyjack. Tynan says the emotional reunion the SPCA arranged may have been her favorite moment from that trying period. They have video. Score!
Smith also needs plenty of what is called "b-roll," the video shots that will show on screen while the interview is heard so viewers don't get bored looking at talking heads. Smith takes video of the only cat, Kendall, still left from the hurricane, and of a dog named Jose that had been returned to the shelter for having too much energy for the adopting family. Pigs and a rabbit too.
Like an old pro, Smith puts into practice a journalistic creed: animals, kids and weather make the best pictures. She is too polite to interrupt and video some Girl Scouts at the shelter, so there's still room to grow.
Carlos De Loera, a junior from near Los Angeles, displays a laid-back California attitude toward his two stories. On the third day there, he was still trying to nail down sources. He scraps a piece on the oil industry.
Instead, he decides to pursue his interest in music by learning more about a cool music store he discovered. His scouting run revealed that Rockin' Robin Guitars & Music flooded about a foot deep, and that instrument sales had picked up since Harvey. Since he's doing an audio story for radio, a music store holds promise.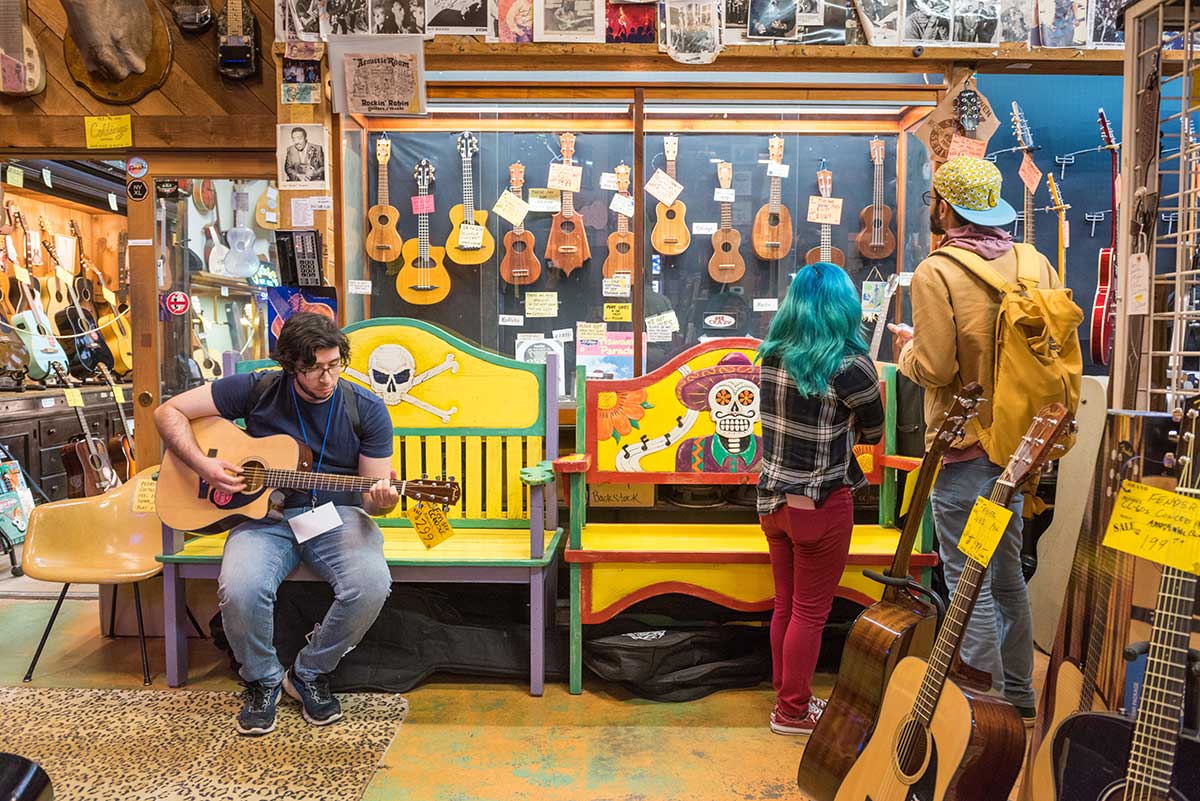 "That's great," Jones says in a daily debrief in Houston. "We have to be flexible. Some of the best stories come from just walking around talking to people. But I don't want you to give up on construction. Keep pushing. It's a great story."
De Loera walks into Rockin' Robin the next day without an appointment. A journalism cold call is always a risk, but sometimes the best kind. A worker behind the desk says he should come back in two days to talk to the owner. But De Loera, already behind, wants to get something on tape now.
When he starts to interview the clerk, the manager gets angry and says the clerk isn't the right person to speak for the store. The interview is over, but De Loera is so relaxed he picks up a guitar and strums a song before going to smooth things over.
He returns with Jones Wednesday to talk to Bart Wittrock, the store's legendary owner. Wittrock, 68, co-founded the store in 1972 and moved to this location in 1980, where it has become the lifeblood of the Houston music scene. Musician Chris Masterson, guitarist in Steve Earle's band The Dukes, grew up frequenting the joint, and rock stars from ZZ Top to Tom Petty have stopped in, sometimes playing for customers.
The store has survived the rise of big box stores and the internet, as well as previous floods. It was prepared, Wittrock says, and sales have improved since.
"I'm not sure if it's because people lost stuff, or it's the good economy, or they feel they have a new lease on life and want to try something new," Wittrock says.
De Loera interviews Wittrock's daughter and other employees in the store, who tell him about its history. Some customers play songs on different guitars for his audio recording. De Loera does interviews at a record store across the street that suffered worse damage.
"It was like night and day from the first time I went in," De Loera says.
Still running into dead ends on the construction story, he finds another idea by visiting the city's arts district. The Alley Theatre lost all of its props in Harvey flooding. De Loera has his second story.
"I went down there with two business stories and came back with two arts stories," he says.
"I guess you have to go wherever the story leads you."
Jim McIngvale, the owner of Gallery Furniture, works the front desk of his enormous flagship store wearing a Houston Astros jersey with his famous nickname on the back: Mattress Mack.
Courtney Becker, a junior recently named the new editor of The Observer, stands in front of him asking questions about the store's response to the hurricane. Mattress Mack can't stop working, answering her questions while talking to staff, shuffling forms and multitasking on his iPad.
McIngvale, already well-known for his sale ads and community involvement, became a local hero during Harvey because he threw open his furniture stores to shelter and feed around 400 people who lost their homes.
This is no ordinary store. It's a store that screams Texas from its sheer size to its kids' play area, parrots and shrine to the George W. Bush presidency. It has a restaurant and showers. There's even a glass enclosure with a staff zoologist petting white-throated capuchin monkeys.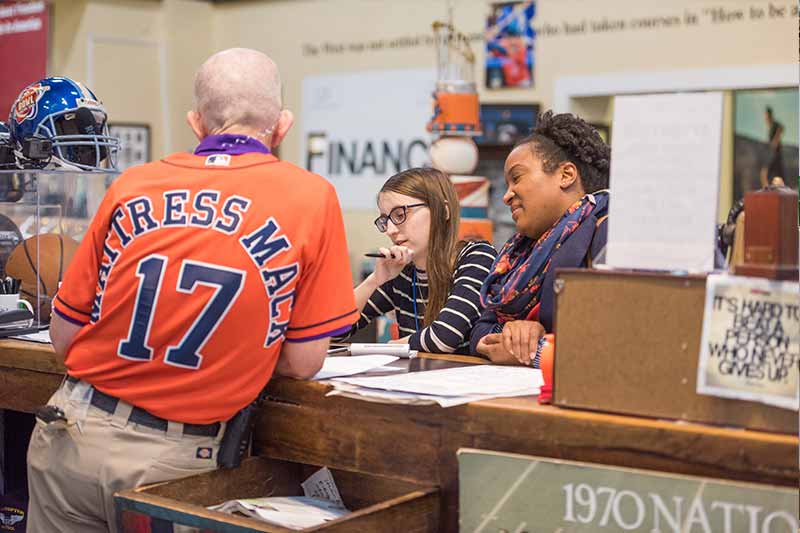 Mattress Mack and his stores are Houston institutions. Like a movie cowboy, his gruff and showman's exterior can't hide his compassion for people. For three days during Harvey, he let crowds of wet refugees sleep on his high-end furniture and laid out mattresses throughout his warehouse. He bought out all the food available at the few gas stations and corner stores that were open.
"People came from the New York Times and all and they asked, 'How could you let people stay in your fancy furniture store?'" McIngvale says. "How could I not? We're Texans; we take care of our own. I can always make more money."
He says the disaster was an opportunity to put actions behind his words and his Catholic faith. So many people were traumatized by losing everything, he says, when enough rain fell to "fuel Niagara Falls for 21 days."
"It was the defining event of my life," he says. "I say this is who I am, so I have to back it up. I'd been preparing for this hurricane my whole life. I couldn't let my people down."
Becker may be the most experienced journalist in the class. She persuades McIngvale to put on the mattress cover he used to wear like a coat when the "natural-born promoter" opened his first store in 1981 without much money.
When he is again distracted by work, Becker finds other sources for her profile. These include a local principal who came to shop, but also to thank Mattress Mack for his community support. Next is "Chef" Juma Bowman, the restaurant manager who recalls the challenge of buying and making enough spaghetti, hot chocolate and coffee for the store refugees.
"We didn't sleep for three days," Bowman says. "I was tired, but if he could keep going at 66, I had to keep at it. He motivates me with his love of people."
Then Ariel Rodriguez takes Becker on a tour of the store and warehouse. Rodriguez's tale turns out to be journalistic gold.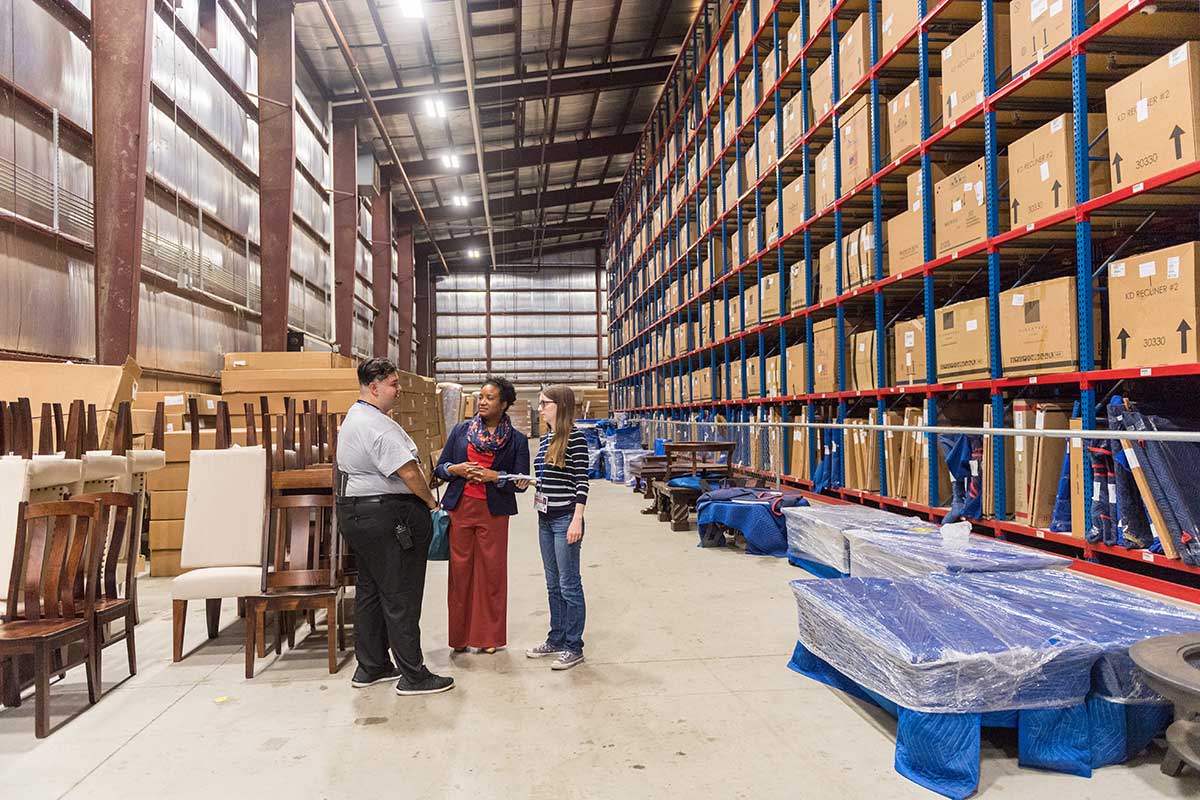 During Harvey, he found refuge in the store with about a dozen family members in a section of leather living room sets. Rodriguez, 26, volunteered to help people settle in, deliver food and blankets and help wherever needed.
McIngvale appreciated his work ethic so much that he hired him after the storm. Rodriguez shows Becker the full bedroom sets he now helps design, where some lucky families found privacy and comfort during the storm.
"I've worked here ever since the storm," Rodriguez says. "It's changed my life."
Back at the front desk, McIngvale pulls out the two binders full of press coverage from the hurricane. He shows Becker a video that his team put together of the pandemonium in the store during Harvey, set to the church tune "Here I am, Lord." He almost seems to miss the feeling of community created during the disaster.
"We set a tone for the community that the essence of living is giving," McIngvale says. "That's St. John Paul II. I'm half social worker and half capitalist."
Good to his word, he won't let Becker leave without a Houston Astros championship T-shirt. As a journalist, Becker tries to decline the offer. But she finally decides it's more important not to offend the southern hospitality of this Texas-sized personality. Another lesson learned.
Alex Park, a New Jersey native, faces one of the toughest tasks in journalism: finding the proverbial man on the street through the advocates who work with them. Representatives from the Federal Emergency Management Agency (FEMA) either don't respond or refuse to help her find families still unable to return to their homes. They can't violate people's privacy.
So Park turns to smaller nonprofit groups that are helping hurricane victims. The first is FIEL—Familias, Inmigrantes y Estudiantes en la Lucha (Immigrant Families and Students in the Struggle)—which works with Hispanic immigrants. She interviews Maria Sosa at her office and learns that she has focused on tenants' rights recently because so many of the agency's clients lost their apartments. Now they're dealing with mold, a lack of repairs and landlords evicting them without even returning their security deposits.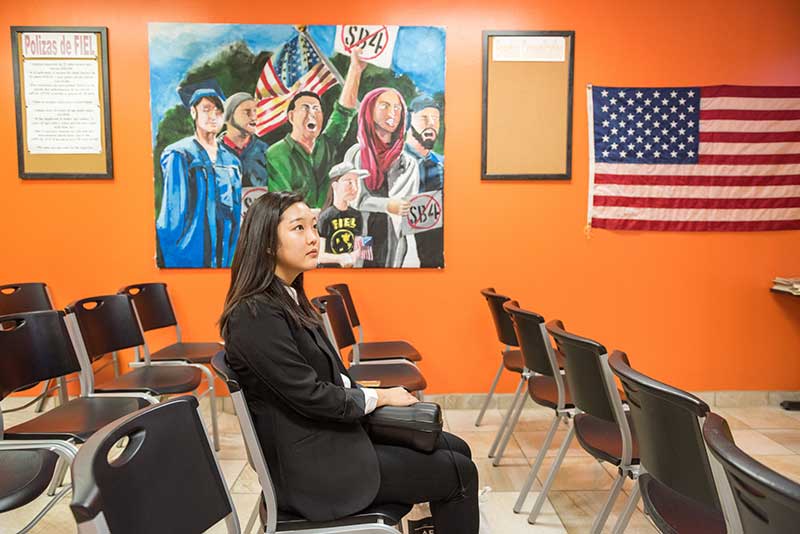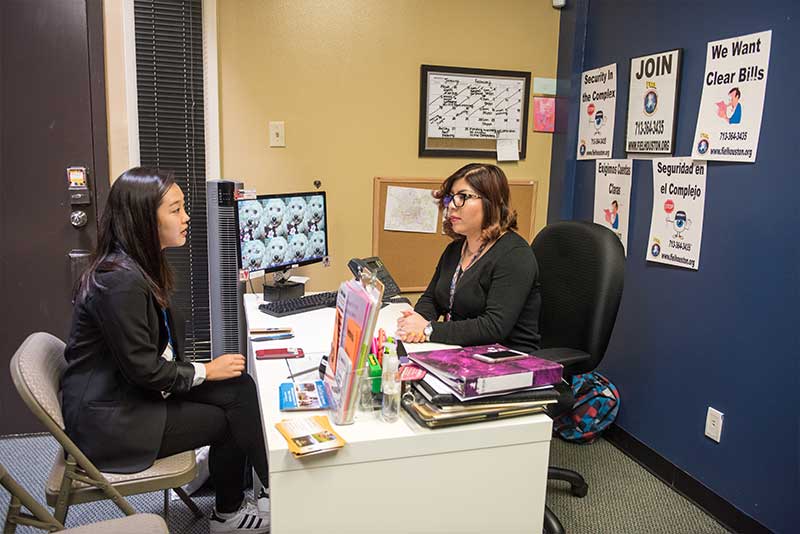 Park is hesitant to bear down on the specific details that would lead to firsthand sources. She was a pre-med and sociology major until her junior year, when she finally decided she didn't want to work in a hospital every day.
New to the Gallivan program, this is her first class and first time interviewing strangers. Jones' wife, St. Martin, brought Park to a Starbucks at the trip's start for a crash course in "man-on-the-street" interviews.
"I surprised myself," Park admits.
"It felt like a month was condensed into a week. It was wild and unpredictable. I felt like I didn't have complete control. I did a lot of things that I didn't think I could as an introvert."
She delicately pushes Sosa to call clients in a nearby apartment complex that was badly damaged and eventually receives a list of clients who lived at Rockport Apartments, including names, addresses and numbers. This is a huge step, an introduction.
The complex looks pretty devastated, with whole buildings boarded up and black mold visible. Park learns that many of the people have moved out. She shows newfound courage by approaching strangers to request interviews, but she doesn't find any jackpot stories.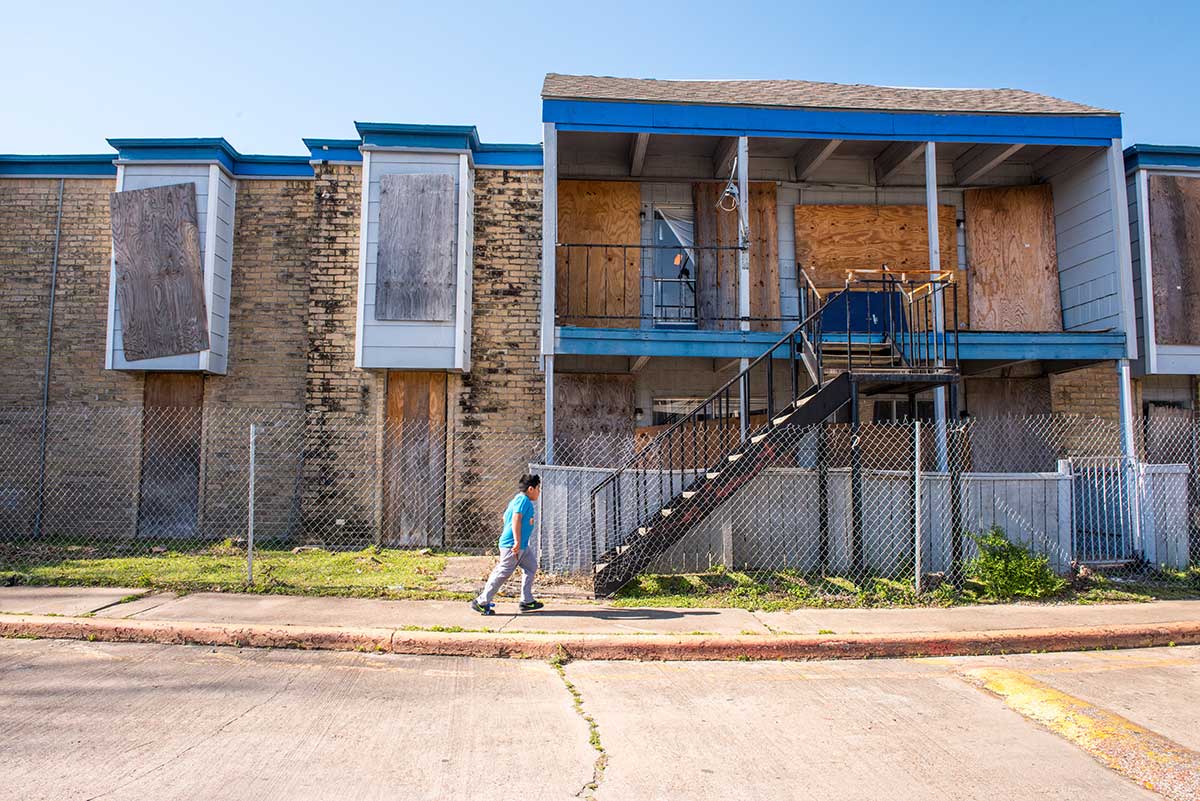 So she pivots to a source she found through Monica Rhor, the Houston Chronicle reporter aiding the class. She will focus the story on those helping the hurricane refugees.
Fabi Richards is a mother in the Kingwood neighborhood who home-schools her daughter and two sons. Many of her neighbors lost their homes during Harvey, and FEMA placed them at local hotels. Richards brought a meal to a neighbor in her home-school network and saw so many other people in need. She started a group on Facebook called Flooding Kingwood with Kindness.
It grew quickly, and Richards and others were soon supplying home-cooked meals to neighbors at five FEMA hotels on Tuesdays and Thursdays. They financed it themselves at first, but soon received donations from businesses and people who appreciated their work. Hearing that there would be a delivery that night, Park hustles to a nearby Comfort Suites and meets Brenda Pentecost, that night's volunteer meal maker.
Pentecost introduces Park to Shannon Battenfield, who has been living at the Comfort Suites since her home was destroyed during Harvey. Finally, Park has found a firsthand source. Battenfield had no flood insurance, so FEMA would pay for the hotel but not for rebuilding her home. She is now buying a trailer to put in her yard and live there while the home is repaired.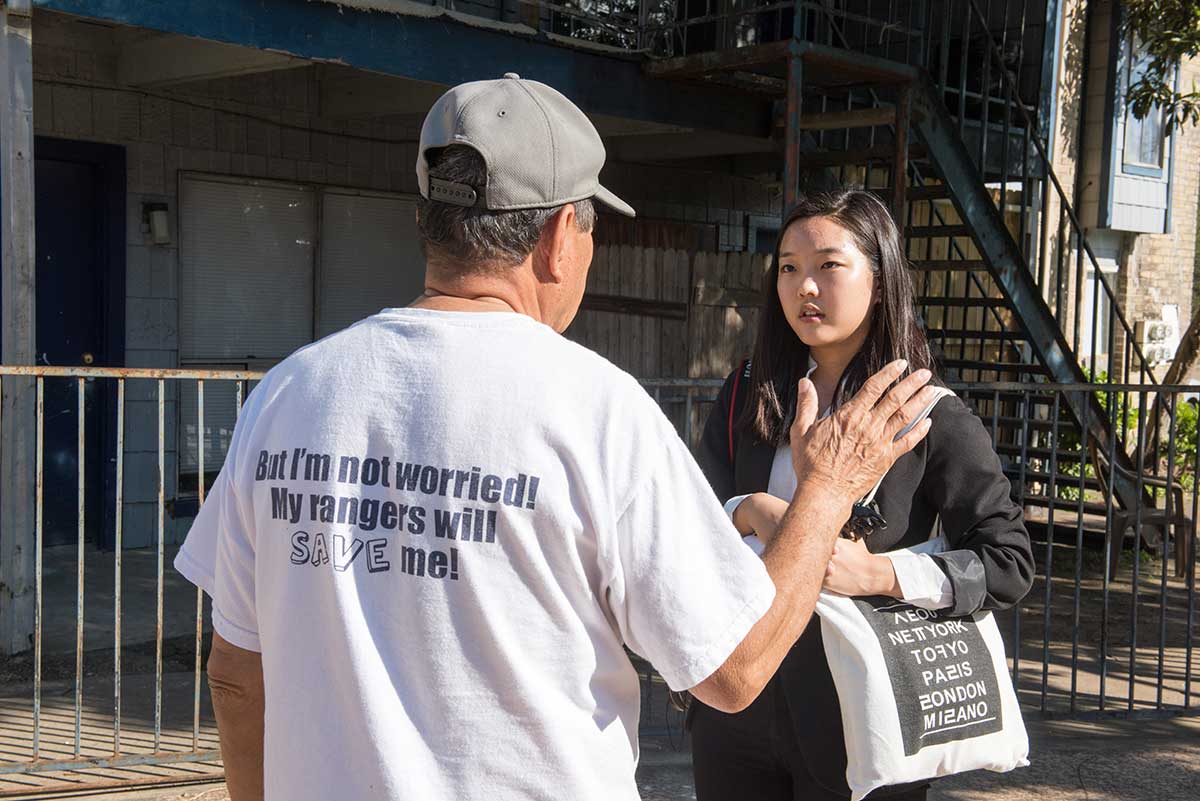 "It's just been great," Battenfield says. "We've met people and their families and their kids. It's really nice. And that they go out of their way to do this, out of their own pocket."
Park's bigger payoff for her relentless pursuit already happened the night before. She had missed the morning Chronicle tour while doing an interview. So St. Martin, who was meeting an old colleague, offered to take Park there during the rodeo concert.
They met with Vernon Loeb, the Chronicle's managing editor, who asked St. Martin about the Covering America course. Then he questioned Park about her stories.
"By this time, I'd been talking about it so much that it came out effortlessly," Park says. "I guess he liked how I presented."
Loeb must have been impressed, because he talked about hosting an internship if Notre Dame would fund the position, an idea Jones and St. Martin had suggested earlier. Park didn't realize what happened until she was in the parking lot — though he had asked about her summer plans. St. Martin explained that she had just been offered an internship at one of the country's largest newspapers.
"We were screaming in the parking lot," she says.
"It was very emotional, beyond my wildest dreams. I just got into journalism two months ago. It was lucky, definitely the right place at the right time."