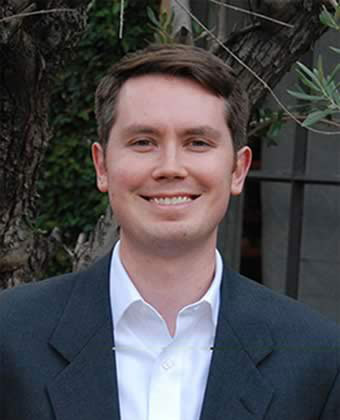 Jim Lenahan, sincere and soft-spoken, gets animated when he talks about his contest-winning design of a sanctuary for Pope Francis' upcoming Mass in Philadelphia.
The suburban Chicago Catholic, recently graduated from Notre Dame's Masters of Architecture program, learned in spring that his plan for a raised platform and sacred furniture was chosen for the World Meeting of Families liturgy to be held in front of the famous Rocky steps of the Philadelphia Museum of Art.
"Provided that some aspects of my design remain, it will be the thrill of a lifetime to know that I was part of that event in a way that was very tangible," Lenahan says. "Personally, it was a real pleasure to participate in this competition and to think about the importance of the family … hopefully holding up the family as this beacon of God's love for the world and His plan for us."
Lenahan learned about the sanctuary design contest while he was studying in Rome in his third of four semesters in the graduate program. After months of absorbing and sketching "the great architecture of the world," he used his Christmas break back home to sketch out his ideas.
He started with past designs for Papal visits and studied the backdrop and site conditions at Philadelphia's Eakins Oval, which includes a large statue of George Washington on horseback. Lenahan wanted to evoke on a smaller scale the feeling of the colossal colonnades in St. Peter's Square, stretching out to envelop and embrace people visiting the Vatican.
He came up with a pair of columns with a small canopied roof and topped by a cross – a focal point designed to "create a sacred identity for that space and also to take away the focus from the existing equestrian statue." Below the canopy and above the Papal Chair is a painting of Jesus, Mary and Joseph that was created specifically for the World Meeting of Families event.
The triangular design employs shapes that lend both structural strength and symbolic significance. "It has this stability that's inherent to the triangle and the pyramid, but also speaks to ideas of the Holy Family, of the Trinity and God as a family of love," he said.
A large cross at the back stabilizes what looks like a quarter of a pyramid, he said, evoking the flying buttresses of Gothic cathedrals and literally rooting the whole structure in the central image of Christianity.
The other furniture elements – the altar, lectern, ambo, and Papal and deacon's chairs – all carry the themes of "the cross and these triangular configurations that are stable and traditional, but also feel clean and contemporary."
Lenahan plans to attend the Mass culminating the World Meeting of Families on Sunday, September 27. He isn't sure if he'll have any special role at the event. Like many others, he hopes to meet the Pope. But he already knows it will be a once-in-a-lifetime event.
Author: Brendan O'Shaughnessy
Designer: Nevin McElwrath
Developer: Erik Runyon
Photo Credit: Jim Lenahan
Photo Credit: Archdiocese of Philadelphia