In a place whose name has come to evoke disaster—Fukushima—remnants of the 2011 earthquake, tsunami, and nuclear accident remain, even 12 years later.
Ruined homes and businesses that are being swallowed by brush and weeds—structures that withstood a tsunami from an earthquake so strong that it shifted the Earth's axis, but which are collapsing after 12 years of abandonment.
Watermarks on second-story windows recording a 50-foot tsunami that struck an elementary school just minutes after its teachers, students, and staff had safely reached higher ground.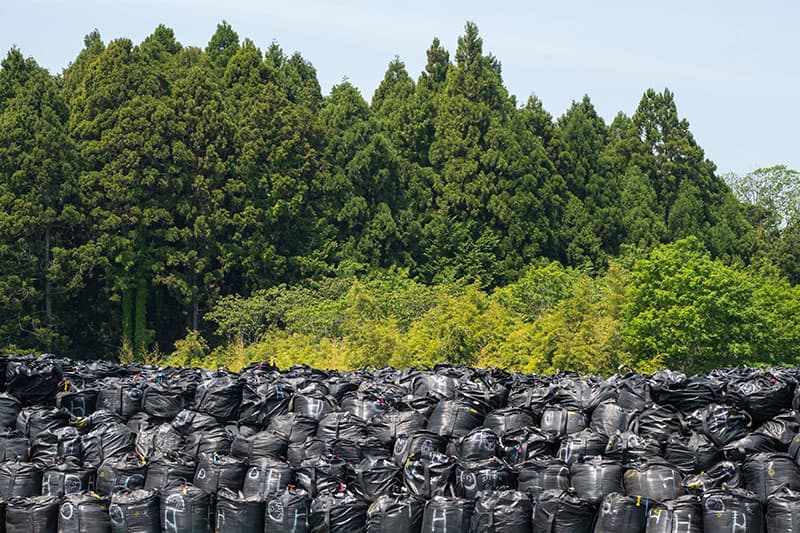 Acres of stacked black plastic bags—millions of them—filled with soil contaminated from the TEPCO Fukushima Daiichi Nuclear Power Station meltdown.
And, unexpectedly, fields of flowers. On a small farm plot in the Fukushima countryside, hundreds of rose bushes and other blossoms of every color burst from the earth. Lush, perfect flowers climbed trellises and arches, creating an irresistible stopping place for anyone driving through the devastated region.
The scene is a deliberate effort by Yoshitomo and Hiroko Yokota, who want passersby and the world to know that Fukushima should not be defined by disaster.
"We were pear farmers," Yoshitomo, 78, said, referring to the day they were forced to evacuate their home and farm, like more than 200,000 other residents. Because of radioactivity after the nuclear meltdown, farmers in the area could not sell their produce, and the Yokotas cut down the fruit trees that had provided them a comfortable life for decades.
Five years ago, when the area was reopened for evacuees to return, the Yokotas decided to plant flowers where their trees once stood. In May, a Notre Dame multidisciplinary research team of three professors, five undergraduates, and one alumnus witnessed the devastation—and the recovery—for themselves.
"We want people to know how beautiful it is here, and we want people to visit," Yoshitomo told the Notre Dame team. "This is a good area."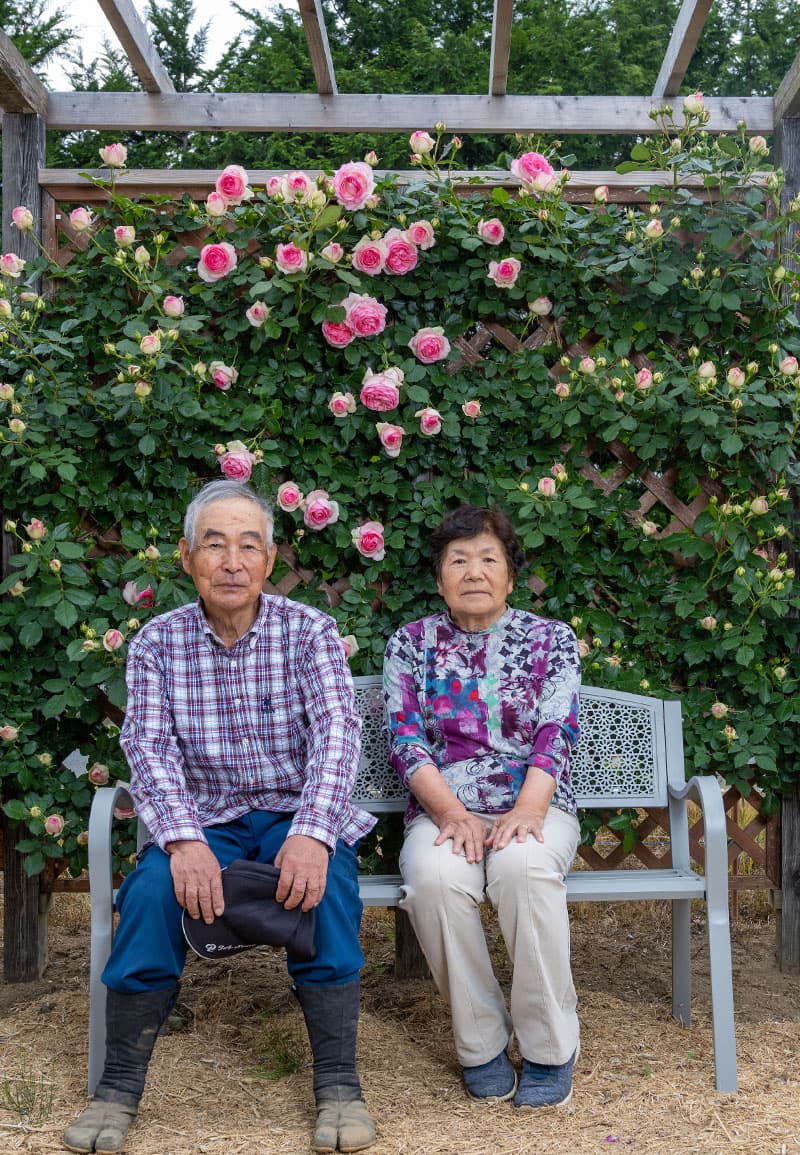 Resilience
What does it take for a community to recover from a natural or manmade disaster, or even a combination of the two? As natural disasters increase in number and severity, especially as a result of climate change, answers are crucial to help communities recover.
And resilience must be examined from many disciplines, said Jessica McManus Warnell, a professor of management and organization and the Rex and Alice A. Martin Faculty Director of the Notre Dame Deloitte Center for Ethical Leadership at the Mendoza College of Business.
"It was evident in the beginning that if you're going to address an issue like natural disaster response and recovery, you can't simply approach it through one lens," McManus said. "Our work examines resilience, economic recovery, community partnerships, and multisector engagement, all in the context of climate change—so while management and business decision-making are my focus, the study is incomplete without incorporating ideas from science, cultural studies, engineering, and other diverse disciplines.
"This is an aspect of the project that is really exciting for me, working alongside colleagues from across campus, and our faculty team is energized by engaging students in opportunities to work with a team from disciplines they may not interact with in their day-to-day classrooms."
McManus approached Notre Dame colleagues in 2018 to assemble a research team to examine resilience in Fukushima.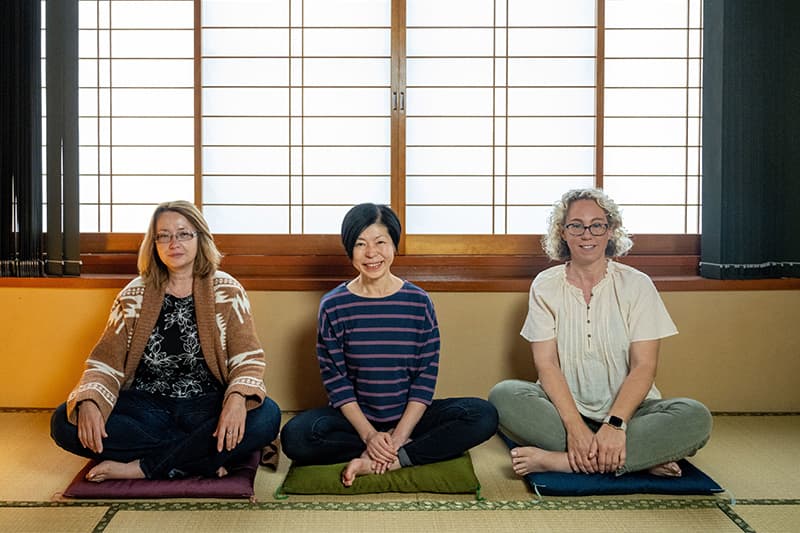 Joining the project was a way for Noriko Hanabusa, a Japanese language teaching professor, to help her home country come back from one of the worst disasters in history.
"I remember watching television the morning after," she said. "I was frozen at first, and then so upset that it was very difficult to teach. However, my students immediately looked for ways to assist the victims of the disaster. As a Japanese person who was not affected directly, I feel a responsibility to help in whatever way I can."
Anna Geltzer, a social scientist who studies biomedical science and technology and is the assistant director for the John J. Reilly Center for Science, Technology, and Values, also joined the team. The professors are faculty fellows of the Liu Institute for Asia and Asian Studies, and received funding through the institute's Justice and Asia grant to support their work in Japan.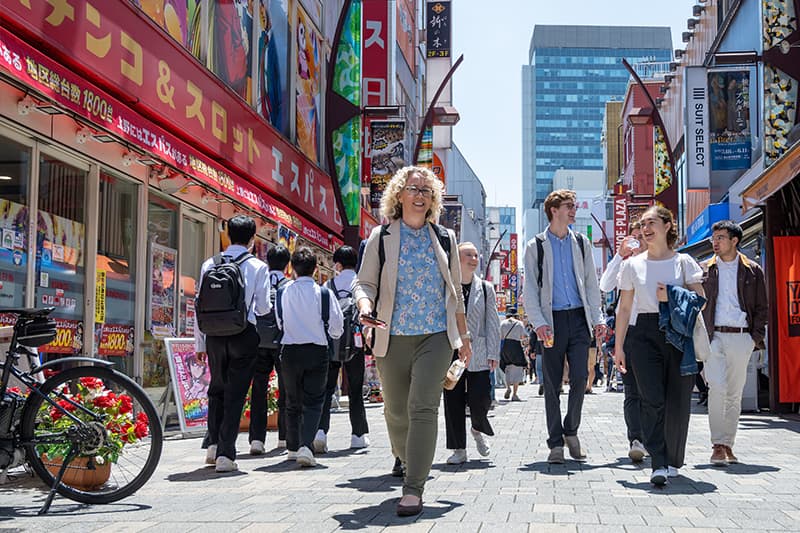 The project included bringing five undergraduates to conduct individual research projects as well as inviting Robert Wachter III, an alumnus and water resources engineer. Wachter had researched the disaster during his time at Notre Dame, even publishing a paper in his senior year titled "Relationship between Coastal Hazard Countermeasures and Community Resilience in the Tōhoku Region of Japan Following the 2011 Tsunami" in the Natural Hazards Review. The paper was co-authored by McManus and Kevin Walsh, a civil engineering professor at Notre Dame who was an original member of the research team.
"All of the faculty on our team have a strong desire to engage undergraduate students in research," McManus said. "This is especially important with the topic of climate change—students want to engage with it through their field of study, and they also want meaningful educational experiences. So this project is ideal in many respects."
During 10 days in Tokyo and several coastal towns in the Fukushima prefecture, the team interviewed Japanese researchers, farmers, entrepreneurs and small business owners, executives from multinational corporations, retirees, and others who had either endured the disaster themselves or had committed to bringing the region back.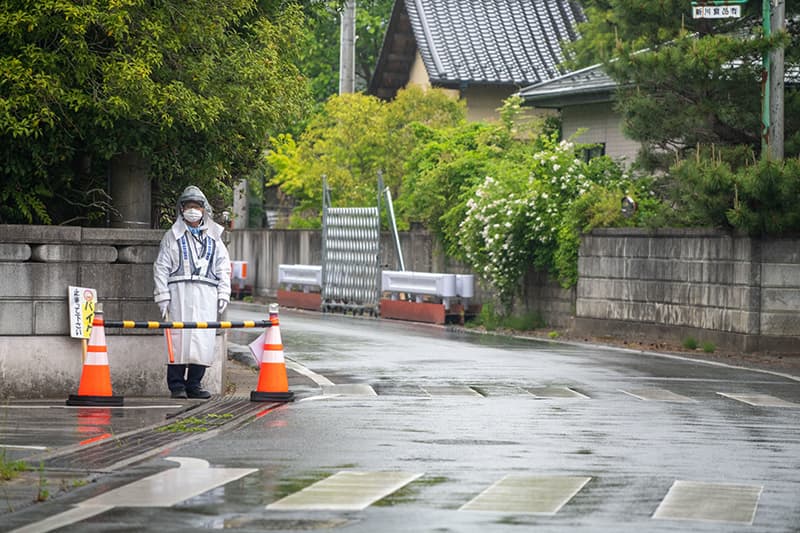 Energy Source
Carter Powers, an environmental engineering major who is earning a supplementary major in Asian studies, had just finished his first year at Notre Dame when he was selected to join the team to examine the future of renewable energy in Fukushima.
"I chose renewable energy first because the disaster was such a turning point in the renewable energy transition not only in Japan, but around the world," he said. "I wanted to see how Fukushima and Japan have tried to overcome the adversity caused by the disaster in transitioning to a low-carbon energy grid."
He couldn't have chosen a more visible topic—the tour bus passed fields of solar panels on its way to the Fukushima Daiichi Nuclear Power Station.
Touring the outside of the massive plant is a historic opportunity that few people in the world have experienced—TEPCO recently began allowing a limited number of groups to visit now that radiation levels have significantly diminished. Straddling the two coastal towns of Futaba and Okuma, the plant and its reactors are still being decommissioned, a process that will take decades.
Each tour participant wore protective gear and a dosimeter with the expectation that the radiation dose would be equal to two dental X-rays.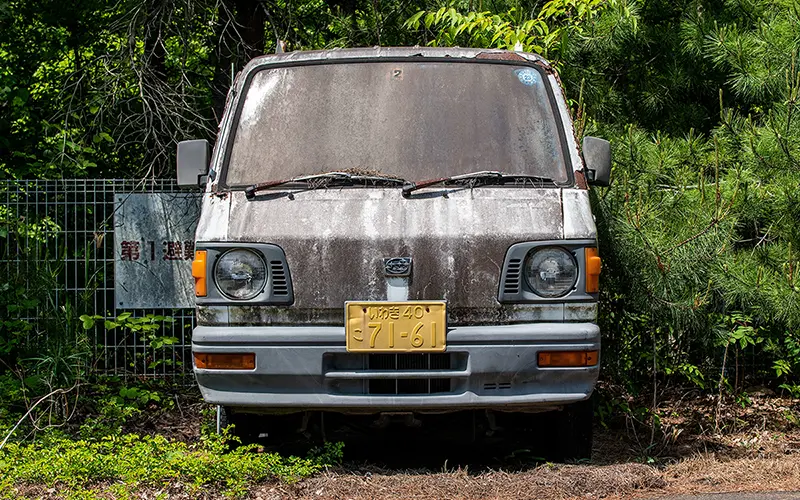 "It was surreal," Powers said of the tour. "Standing in minimal protection only a couple hundred meters away from the charred remnants of the reactor buildings, being so close to the site of a major accident that affected the lives of so many people and changed how we think about nuclear energy, was a bit of an out-of-body experience."
Powers marveled at the courage of the cleanup teams, which include about 4,000 people.
This topic, in fact, is the focus of a forthcoming article by McManus about the justice considerations of frontline workers who clean up after disasters.
"As natural disasters increase around the world in frequency and intensity, much of the discourse rightly focuses on climate policy and degrees of warming," she said. "All the while, some of our most vulnerable workers are literally cleaning our messes. From wildfires and floods in the U.S. to nuclear disasters like Fukushima, underprotected first responders rebuild."
This human element inspired Powers to adjust his research topic. "After seeing the situation firsthand, I realized that the efforts to rebuild the community and build renewable energy were not as interconnected as they could be," he said. "So I became interested in how these connections could be made and the mutual benefit that could be realized by connecting local people and small business ventures to the renewable energy conversation."
A Warm Welcome
In contrast to the cold starkness of the plant, the Notre Dame team was warmly received by residents and business owners who have remade their lives and are happy to be back home after years of evacuation.
Tomoko Kobayashi is one of the successful stories of a returnee. With her husband, Takenori, Kobayashi reopened the Futabaya Ryokan, a traditional Japanese inn, in Odaka in 2016. The inn has been in her family for four generations and abandoning it was unthinkable.
Instead, Kobayashi spent years cleaning and repairing the inn after the tsunami brought in 19 inches of water and mud. When the inn was ready to reopen, guests appeared: researchers, volunteers, reporters, contractors, and other disparate lodgers appreciated the cozy atmosphere, Kobayashi's cooking, and the couple's eagerness to share their story. The Notre Dame team returned to the inn after a prior visit with the goal of continuing to support Kobayashi's efforts.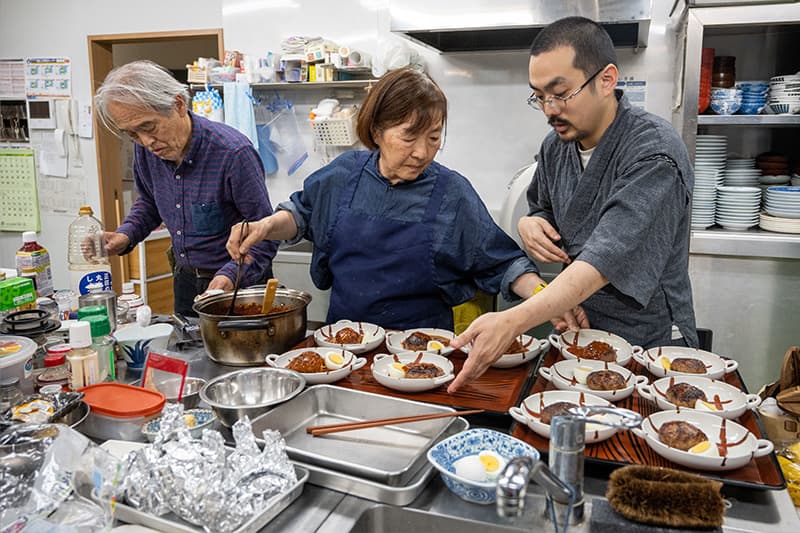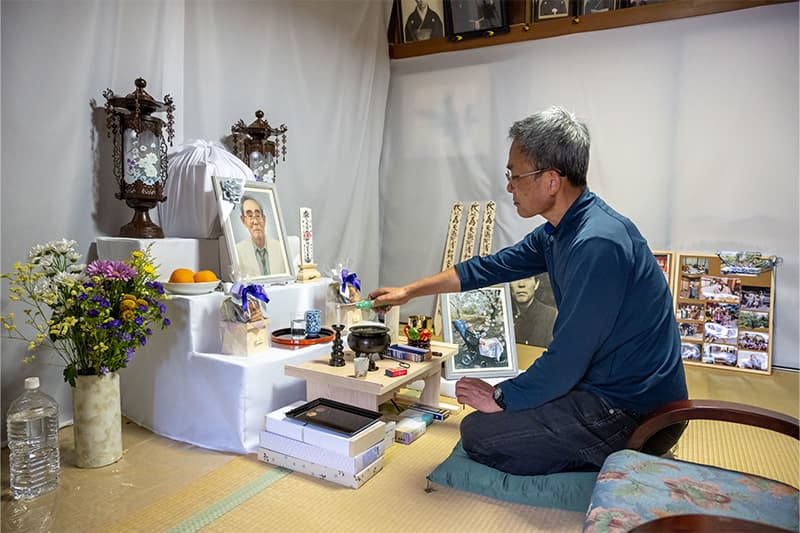 Even beyond evacuation and rebuilding their business, the triple disaster changed the couple's lives. Eager to understand radioactivity and its effects, they did online research and joined groups dedicated to education and activism. They traveled to Chernobyl three times to learn how Ukraine handled its historic nuclear disaster.
They also helped develop an impressive citizen science project in which locals track the impact of cleanup efforts by measuring and mapping radiation levels in the area, tracing how they change over time as the cleanup continues.
Colin Linnen, a junior majoring in finance and global affairs, chose a research project that examines organizational transparency after the disaster. He was impressed with Kobayashi getting her business up and running and supporting other small businesses.
"Tomoko serves as a connector for small-business owners, volunteers, journalists, and researchers through her breadth of knowledge on the local community and extensive network," he wrote in a reflection. "She truly represents resiliency, determination, and strength as a business leader in the face of incredible adversity."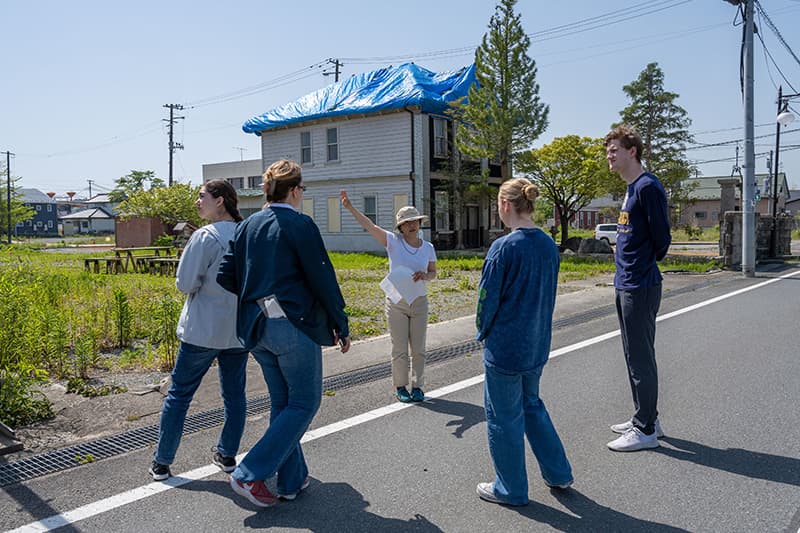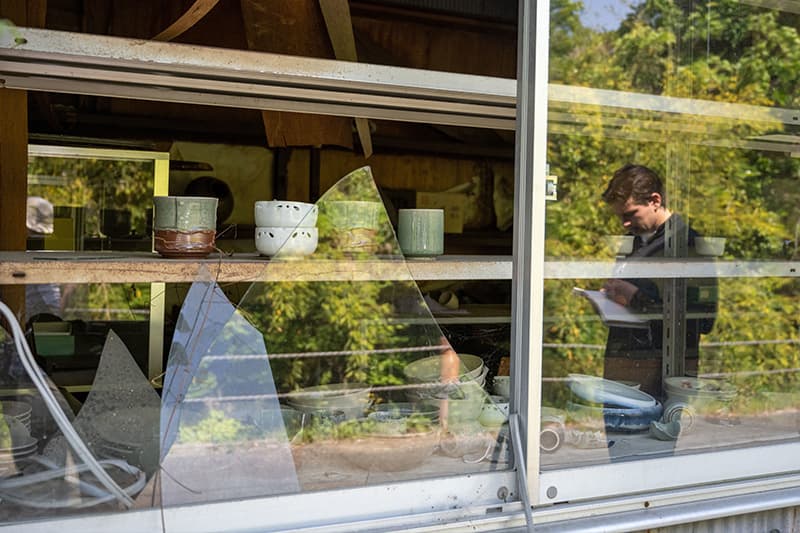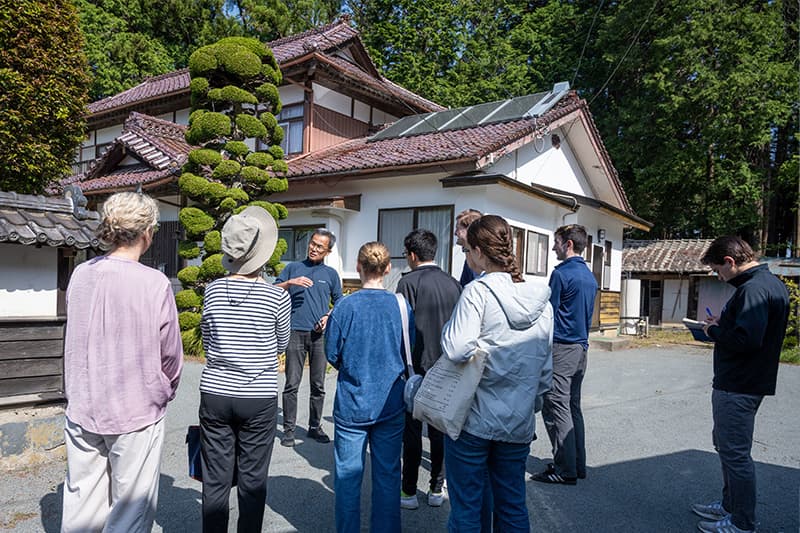 The Notre Dame team was also welcomed by some of the world's largest companies, which used their resources to participate in the recovery. In Tokyo, the team met with Deloitte Tohmatsu's Reconstruction Support Office, which is dedicated to supporting the affected region with efforts as diverse as frontline emergency response to management training and support through leadership development with local industries. In the months after the disaster, Deloitte employees traveled from Tokyo to Fukushima on weekends for hands-on engagement with communities.
"They emphasized that multinationals with their resources, networks, unique skills, and potential for impact have a responsibility to play a part," McManus said. "On a previous trip, our team met with Notre Dame alumnus Tim Andree '83, who led Dentsu, one of the largest marketing and advertising agency companies in the world. Dentsu provided in-kind and training help to affected communities and leveraged its expertise to assist with evacuation trainings and other hands-on support. So it's beyond gratifying to see the Notre Dame business community involved."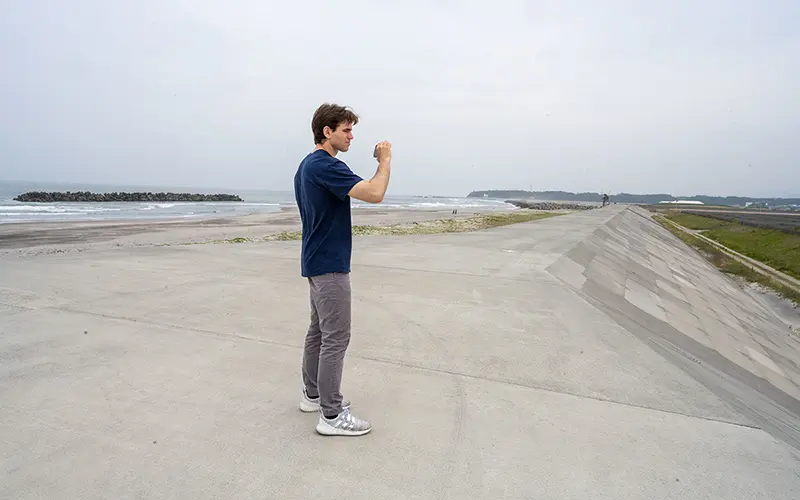 Innovation
Maya Malackowski, a junior studying finance, is examining how small businesses were affected by the disaster and how the government supported their revitalization. With a strong interest in innovation, Malackowski was impressed by the strength of the entrepreneurial ecosystem and its ability to attract young people to the reopened communities.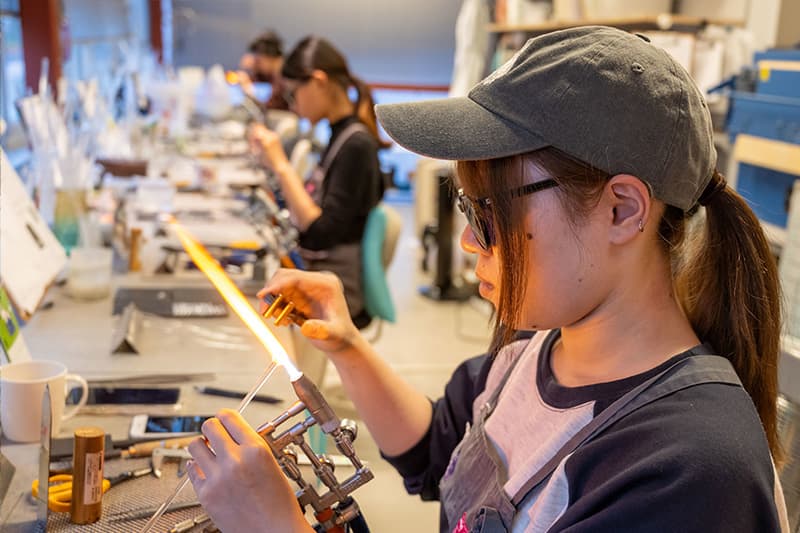 An example was the Odaka Workers Base, an innovation hub that provides space for work and meetings, and even small apartments for innovators. With the tagline of "Enjoy the Unpredictable Future" and a goal to create 100 businesses, the hub hosts a craft sake brewery and an artisan jewelry maker among other businesses. So far, 22 businesses have launched, including a grocery store and a restaurant.
Futaro Noguchi, a representative of the organization, told the Notre Dame team that the space is important beyond being a business hub. "When people come to clean their homes, there is a place for them to eat and meet their neighbors again," he said. "When people saw me start a business, they felt confident to restart their own businesses."
Malackowski found the visit to the Odaka Workers Base the highlight of her trip. "It was an exciting space full of opportunistic young innovators as well as an environment to support education through guest lectures by professors from large universities and practical teaching by successful business founders," she wrote of her experience. "Collectively, this space perfectly encapsulated how innovation and entrepreneurship can drive meaningful change."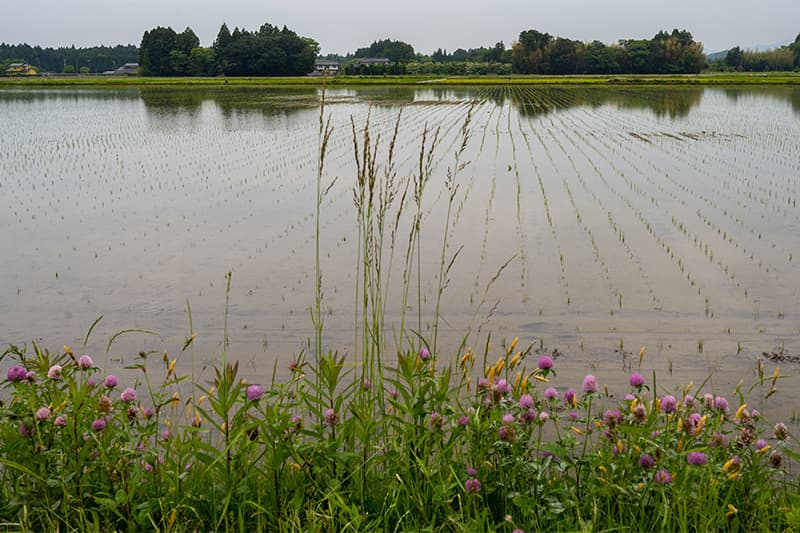 Bending
The team was also invited into the home of rice farmers Seiko and Masao Sato in Namie. Even though the tsunami didn't reach their home, the danger of radiation forced them to evacuate for 11 years, leaving the home that Seiko was born in and the farm that has been in her family for 250 years.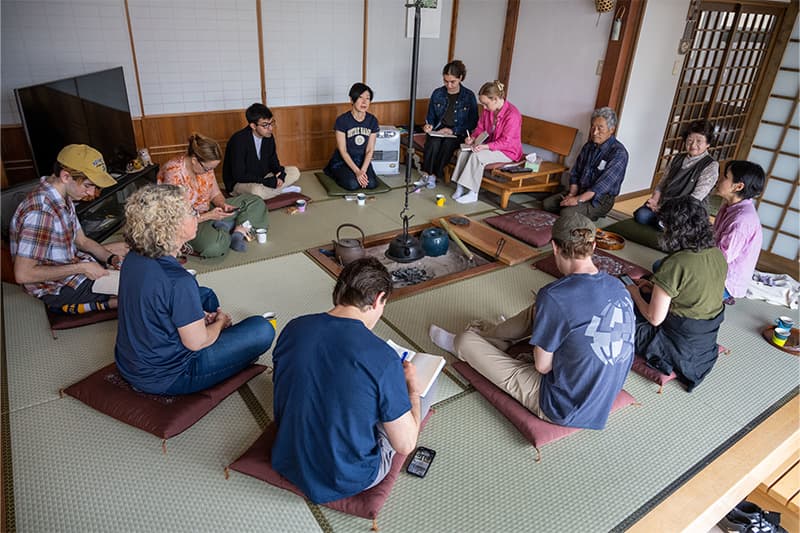 The Notre Dame team sat on cushions around a traditional Japanese irori, a sunken hearth with a tea kettle hanging from the ceiling, while Seiko served them tea and snacks.
Outside, the serene rectangular rice paddies yielded wispy green blades about three inches tall. Masao explained the intricacies of rice farming, especially that paddies have to be very flat so that the water is always level and never sloped. The size of the paddies makes it difficult to use machinery. Instead, it takes careful work by human hands.
After the disaster, farmers in the region were prohibited from growing rice for human consumption. Even now that the soil is safe after being decontaminated and tested, consumers are wary of rice grown in Fukushima, despite its previous good reputation.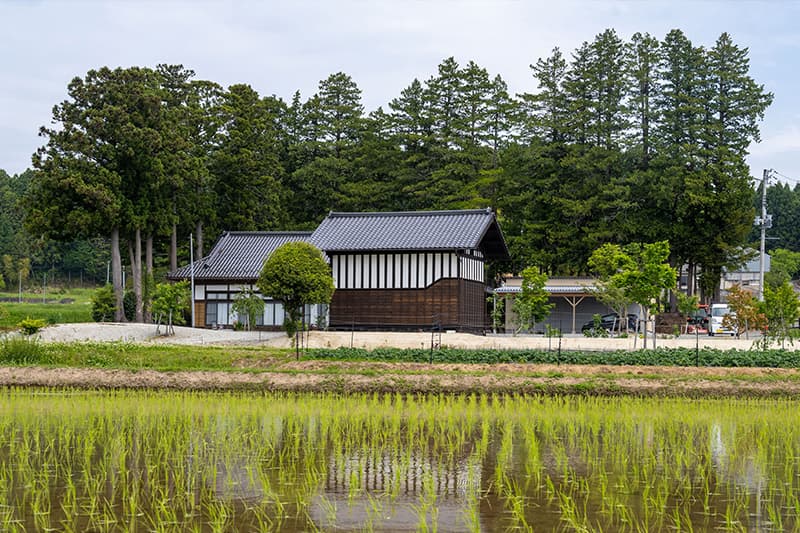 "We are growing rice for ourselves, and we are lending part of our land to the Japanese Agriculture Association," Masao explained. The rice grown in that portion of land will be consumed by livestock or used for bioplastic.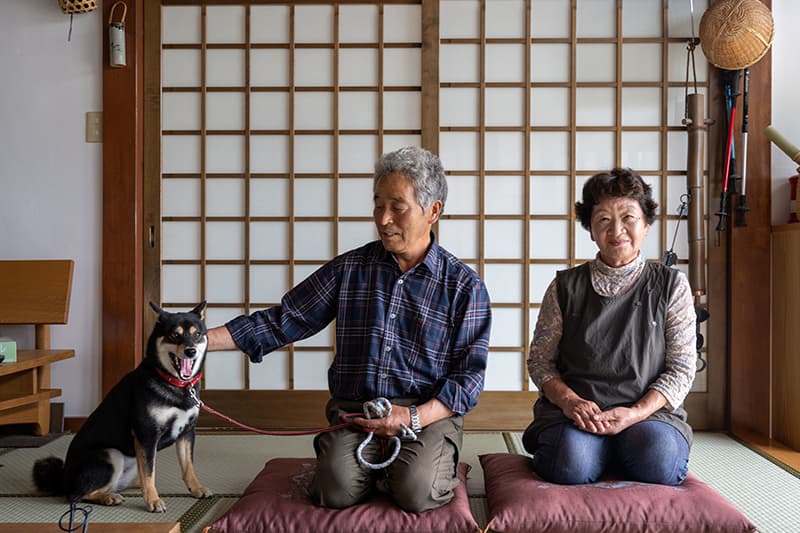 These days, the Satos try not to think about what will happen to their house and farm in the future since their children don't want to return to Namie. They are just happy to be back home, along with Seiko's 96-year-old mother, who is still healthy and mobile.
As the Satos led the Notre Dame team through their rice paddies and vegetable garden, their optimism was palpable, as was their desire for their optimism to be understood. And when Masao was explaining details of rice harvesting, he could just as well have been talking about resiliency.
"Rice has to grow tall enough so that the heads bend. That indicates it is ready to harvest," he said. "If you wait too long, it will bend too far. It needs to bend but not fall."