Community
Fueling Success
Food recovery program helps students excel in the classroom
More than 13 million children live in hunger in the U.S., according to government estimates, with many relying on federal nutrition programs, including school-based breakfast, lunch and after-school meal programs, for healthy meals during the school week.
But what about the weekend?
While the federal Supplemental Nutrition Assistance Program, commonly known as food stamps, and similar programs supplement family food budgets outside of school, not all families qualify for such benefits, and those that do still struggle to put healthy food on the table because of a lack of options in many poorer neighborhoods.
The consequences are dire.
Evidence shows that children who lack access to healthy food are less likely to graduate from high school and move on to successful careers, and more likely to experience developmental delays in areas such as language, motor skills and behavior.
But with support from the University of Notre Dame, including the William J. Shaw Center for Children and Families, as well as the Kelly Cares Foundation, a local food rescue organization is working toward a solution to the problem — one with benefits for both school-age children and the environment.
Over the course of the spring semester, Cultivate, a South Bend-based nonprofit dedicated to ending the cycle of hunger in northern Indiana, piloted a take-home meal program for kids in grades K-1 at Madison STEAM Academy, contributing to a turnaround at the school, which has a high percentage of low-income students.
Every Friday, Cultivate, with support from a $10,000 grant from Kelly Cares, delivered frozen meals in insulated backpacks to the students. Each backpack contained eight meals. Each meal had three components: a starch, a vegetable and a protein.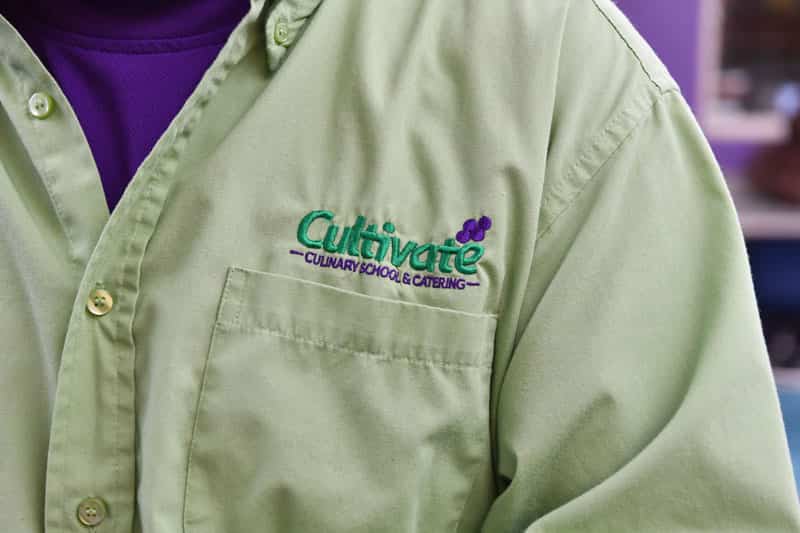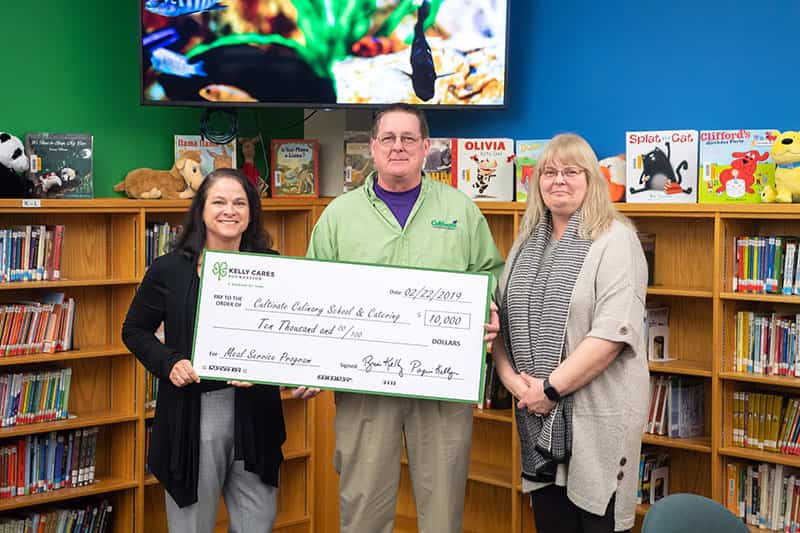 One hundred kids participated in the program — 50 from each grade — accounting for 800 meals per week, or more than 14,000 over the course of the pilot, and contributing to a turnaround at the school, which recently switched from traditional to STEAM-based (science, technology, engineering, art and math) learning.
According to Deb Martin, principal at Madison, "We were looking for a way to supplement our food program in the evenings and on the weekends because we knew that we had kids that were food deprived and we knew that we had kids that would come to school on Monday hungry.
"This was the perfect fit."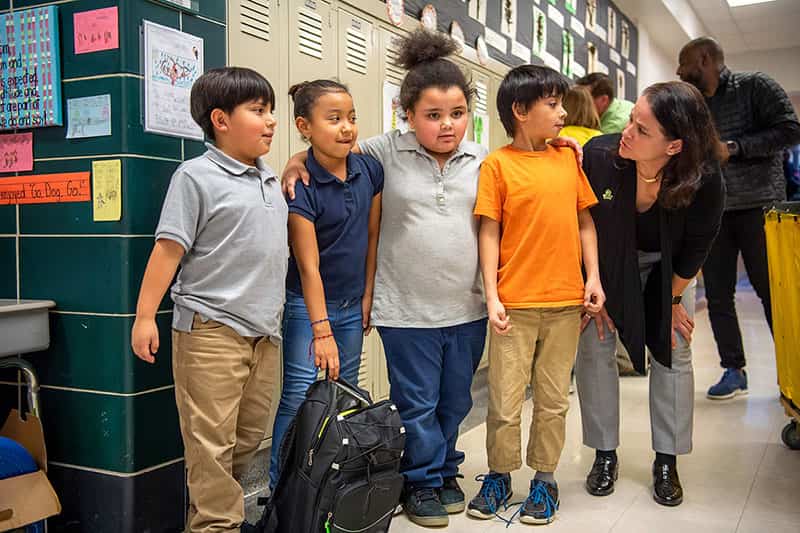 Motivated by the Christian ideal of charity, Cultivate started as a job-training program for area youth before transitioning to food rescue in 2017. The organization only recently began working with local schools.
"We fill that 68-hour gap between Friday at lunch and Monday morning at breakfast," Jim Conklin, president and co-founder of Cultivate along with co-founder, executive chef and general manager Randy Z, said of the backpack program. "And what we hope, and what we see, is that having meals over the weekend, having sustained nutrition, kids come back to school ready to learn."
As far as the number of meals, Conklin said, "We put eight meals in the backpack, way more than one kid can eat over the weekend, on the assumption that there are probably other people in the household who are hungry as well."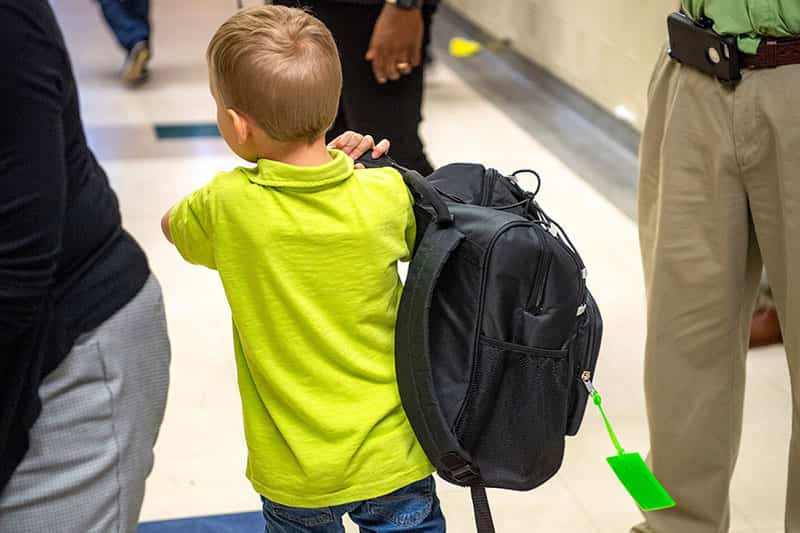 Cultivate also handed out backpacks in Elkhart last semester, though to a much smaller group of students. Plymouth and Wa-Nee schools will participate this coming school year, along with South Bend Success Academy.
"Both Paqui and Brian Kelly have a passion for helping young people, so when the opportunity arose to support this initiative, we were thrilled to support it," said Lisa Klunder, executive director of Kelly Cares. "We are proud to aid in the learning and development of these students, and commend Cultivate for the great work they have accomplished."
Motivating hungry children
As far as Notre Dame's involvement, the University is among several organizations that partner with Cultivate to rescue unserved food from venues across the South Bend-Elkhart region, providing low-cost, nutritious meals to low-income students and families and diverting tons of annual waste from local landfills.
"As a Catholic institution devoted to the common good, Notre Dame is proud to support Cultivate in its quest to end hunger in the South Bend-Elkhart region."
Cultivate rescued tens of thousands of pounds of food from athletics, dining and special event venues across campus last year alone, including nearly 12,000 pounds from Notre Dame Stadium. The organization has rescued 42,000 pounds of food since the beginning of the partnership — a fraction of the estimated 67.5 billion pounds wasted annually in the U.S.
"As a Catholic institution devoted to the common good, Notre Dame is proud to support Cultivate in its quest to end hunger in the South Bend-Elkhart region," said Jessica Brookshire, associate director for public affairs at Notre Dame. "This particular program is especially gratifying. Not only does it support the most vulnerable in our community — young children — at a critical moment in their development as learners, it also reduces food waste on campus, contributing to the University's overall goals for sustainability."
Notre Dame student-athletes, meanwhile, volunteer with Cultivate as part of Community Commitment, a division of Notre Dame Athletics.
Recently, members of the men's and women's swimming and diving teams — about 50 in total — processed food from the Morris Inn, Feed the Hungry and Monroe Circle, a local community center, in the basement of McKenna Hall, a conference center on campus.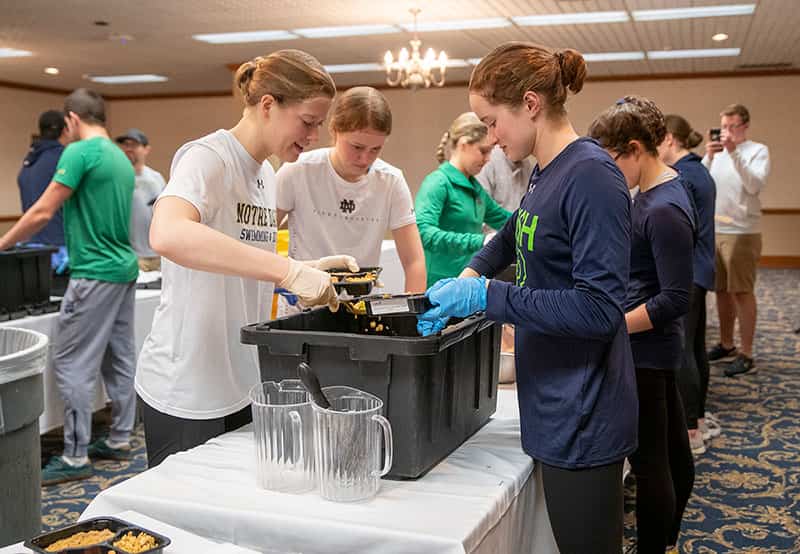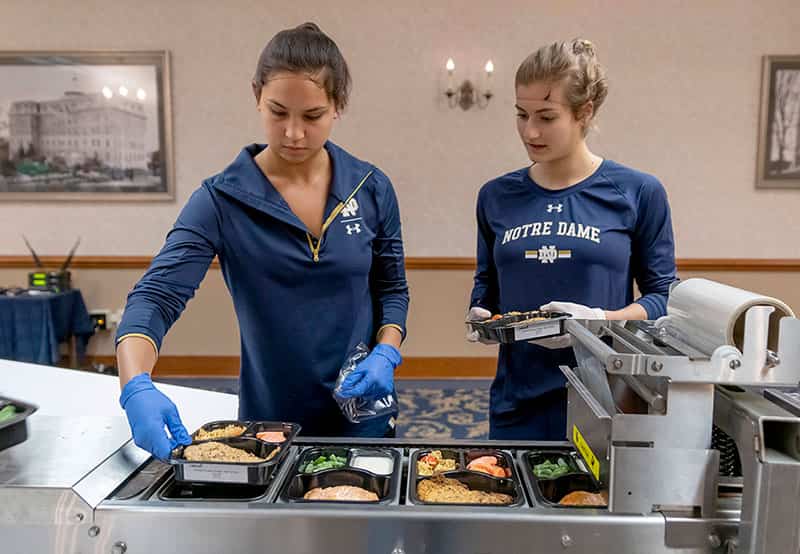 The student-athletes transferred salmon, green beans, mashed potatoes, pecan-crusted chicken, rice and vegetables from metal kitchen pans into plastic trays and then sealed and stacked the trays for transport.
Lil Nas X's "Old Town Road" boomed from a portable speaker in the background.
"Cultivate continues to be an outstanding partner for Notre Dame Athletics," said Maureen McNamara, assistant athletics director of community commitment at Notre Dame.
She continued, "This initiative perfectly aligns with our mission and five core pillars — faith, community, tradition, education and excellence. Participation among our student-athletes, coaches and staff has grown tremendously. Our collaboration with the Cultivate team has inspired so many individuals and teams to get involved, as they see the powerful, far-reaching effects on the South Bend-Elkhart region."
Featuring high-quality ingredients, the meals — prepared, packaged and stored in a certified, licensed kitchen — were later frozen, then placed into backpacks and delivered to Madison on a Friday morning for pickup later in the day.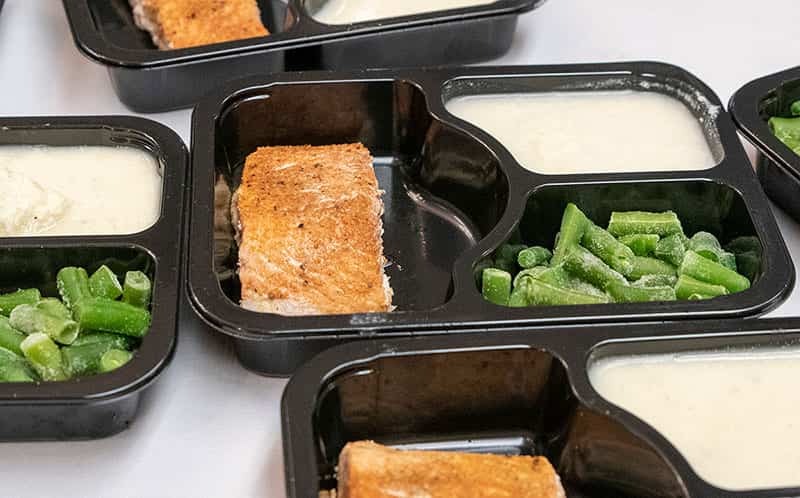 At the sound of the bell, students retrieved the backpacks from their cubbies or lockers and carried them home. Older siblings helped some of the younger students with the weight of the packs.
"They're really good meals," said Patia Hubbard, a parent at Madison whose daughter Chloe, 5, participated in the pilot. She has another daughter at the school as well. "They had roast in them, they had salmon. There was always a vegetable, a protein and a starch, and there was always a lot of variety."
According to Todd Cummings, superintendent of the South Bend Community School Corp., nutrition is vital for student development.
"When our students have access to high-quality food and nutrition, it contributes to brain development," Cummings said. "When our students have access to the food that Cultivate provides over the weekends, they return on Monday ready to go and ready to achieve their academic potential."
Further study
Based on data collected by Madison and shared with the Shaw Center, a research center focused on children and families, the pilot succeeded in the basic task of delivering quality meals to students with only minor complications.
"We're hoping to build enough substance here so that other schools in other communities can start programs similar to this."
According to Jennifer Burke Lefever, managing director of the Shaw Center, the students enjoyed the meals and, with few exceptions, returned the backpacks on time. The students also shared the meals with family, Burke Lefever said, especially siblings. And they discovered new foods that they might not have encountered otherwise.
One issue: A significant number of students withdrew from the program mid-semester due to transiency, or the unexpected movement of students from one school to another — a common symptom of housing insecurity and broader economic disadvantage.
Of the need for such information, Burke Lefever said, "This is research that the community needs so that they have evidence that the program is feasible and that it works. That will make the program more sustainable in the future."
Researchers at the Shaw Center, Burke Lefever and Braungart-Rieker, plan to examine the program further — in particular, its effects on student health and wellness, attendance and classroom performance — with support from a $25,000 Community Health Partnership grant from the Indiana Clinical and Translational Sciences Institute.
"We haven't seen the crunched data," Martin, the principal, said, "but I can tell you this: The kids who were getting the food, they weren't running in first thing (Monday) morning (for breakfast). If they were running in, it was to tell you the new thing they ate" over the weekend.
Ideally, Conklin said, any further data would be used to apply for grants to sustain or expand the pilot to even more schools — both locally and beyond.
"We're hoping to build enough substance here so that other schools in other communities can start programs similar to this," Conklin said.
After all, Martin said, food insecurity is not just a local issue.
"Every community, every town has a population that is food deprived," Martin said. "So I think this is going to be a new trend. This is something that is going to fill a void that every community has."