Colleges & Schools
Form and Function
The School of Architecture marks 50 years of the Rome Studies Program
On a brilliantly sunny autumn morning, Professor Richard Piccolo's watercolor graphics class made the walk from the Rome Global Gateway to Campidoglio, an iconic hilltop square designed by Michelangelo that includes three Renaissance-era buildings that together make up the Capitoline Museums. From the steps of one of the buildings they had a unique perspective of two other landmarks: The Basilica di Santa Maria in Aracoeli, built in the 13th century, and the rear of the Altar of the Fatherland monument, completed in 1935. The students' assignment this day: Draw the altar, basilica and facade of the adjacent museum building.
It was a daunting task that required careful attention to proximity and scale of the structures. The differing size of the structures made it difficult to determine relative depth and distance from one building to another. Piccolo walked among the students, looking over their shoulders and guiding their work. "You're playing with fire," he told one pupil.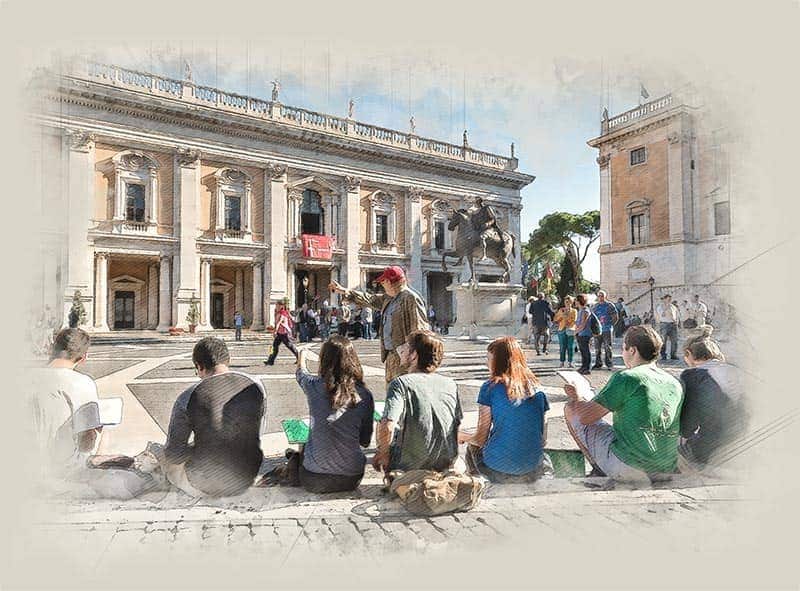 The students worked while tourists occasionally took a glance at their sketchpads and pigeons fluttered here and there. The sketches and watercolor paintings they produce at sites like these are truly beautiful in and of themselves, but it's not just aesthetic value that's important in the exercise. Moments like these help to show the interplay of both form and function, how a city thrives with several centuries of history on top of each other in a way that is rare the world over, yet makes it easy for throngs of pedestrians to move from one spot to the next.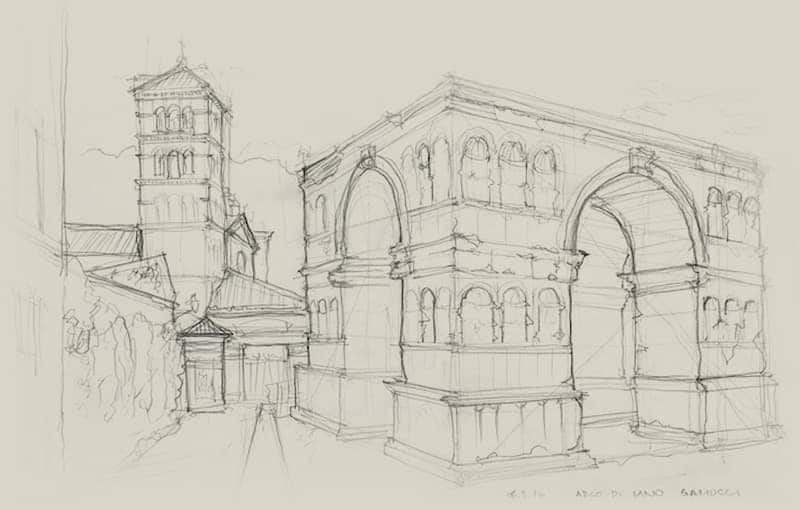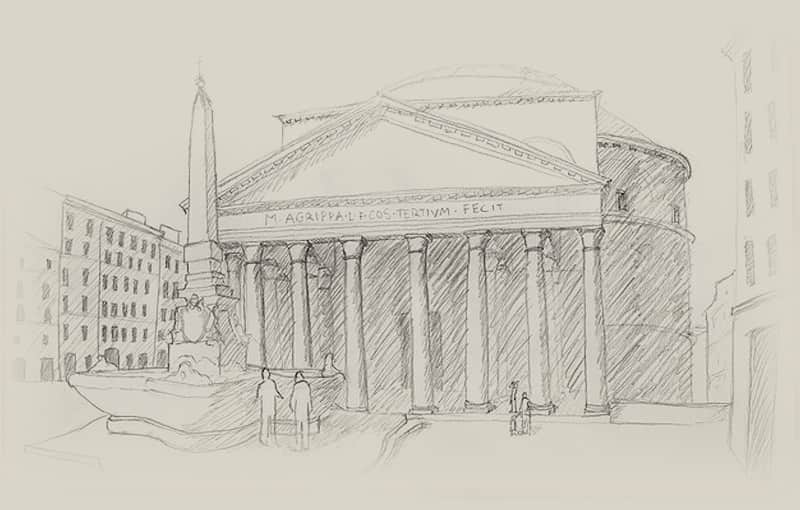 For the last 50 years, every third-year student in the School of Architecture has lived these experiences as part of the Rome Studies Program.
"You have to know where you came from to know where you're going," said Michael Lykoudis, the Francis and Kathleen Rooney Dean of the School of Architecture. "Rome is important because … you find that you're walking around the buildings and streets that are designed by extraordinary people for over 20 centuries. That's a remarkable thing.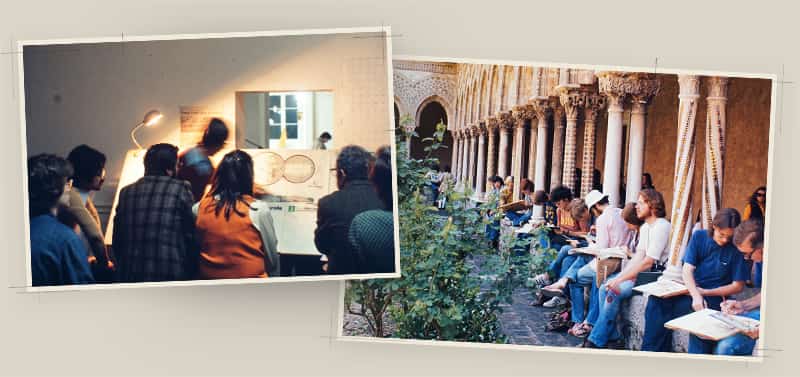 "When you think that one grows up in suburban USA or some other place in the world that hasn't seen this, this is a remarkable experience."
The Rome Studies Program is the only foreign studies program among American university architecture schools required for all students. They take courses on architectural theory, architectural history, drawing and watercolor, along with a design studio — not necessarily topics that are outside the norm for third-year "arkies" as they're called, but the curriculum gains new meaning in the context of the Eternal City.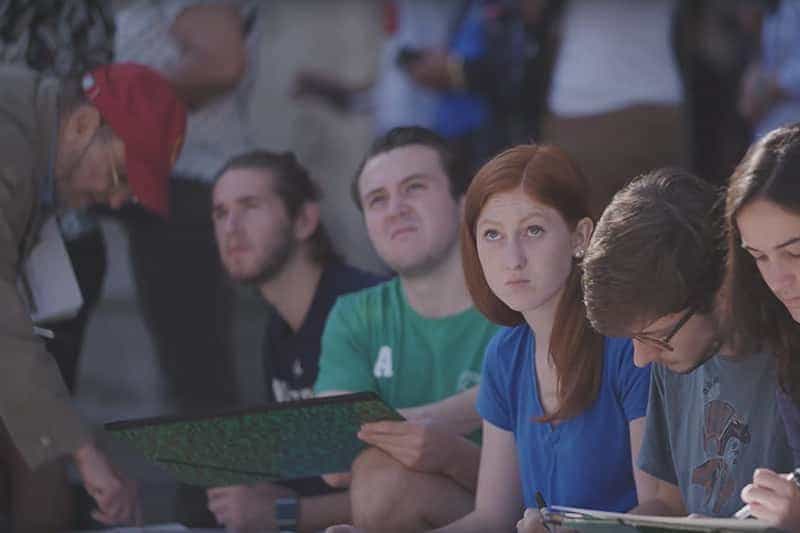 Like many Roman institutions, there's a bit of lore around how exactly Frank Montana, who chaired the Architecture Department (then a part of the College of Engineering) from 1950 to 1972, established the physical basis for a permanent program. Legend has it he was walking along Rome's Via Monterone, a couple of blocks from the Pantheon and a few more from the Piazza Navona, and saw a for-sale sign in the window of an apartment building. He called the advertised number and with seemingly little obstacle, Notre Dame had purchased a building in Rome. It was only after the fact on a return visit to campus that Montana notified then-University president Rev. Theodore Hesburgh, C.S.C., of the purchase. Father Ted reportedly responded matter-of-factly, "You can't just do that, Frank."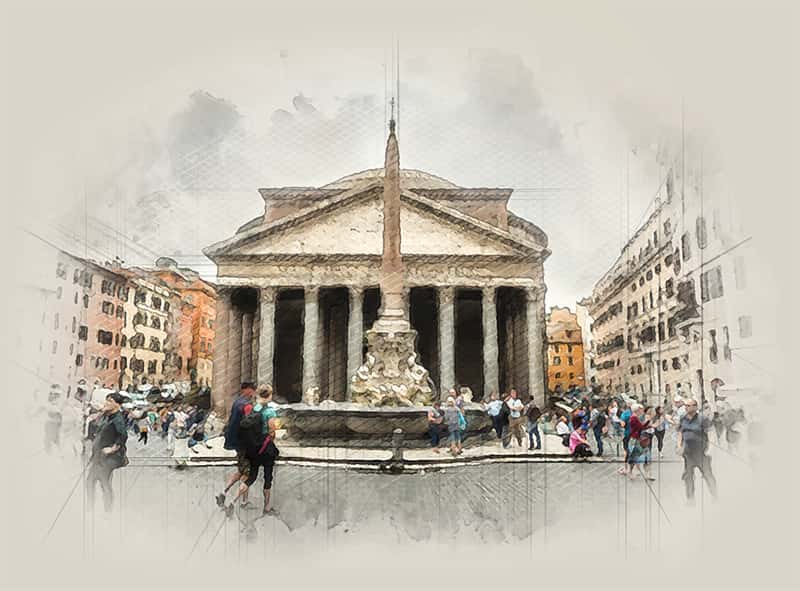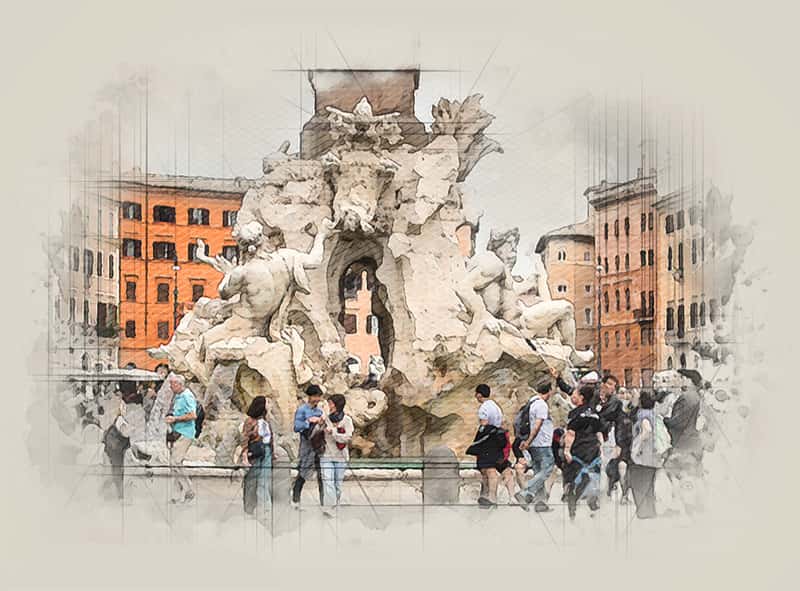 If the story is true, Father Ted's response was likely a directed at the means, not the end. There is an enduring significance to Rome that reaches deeper than its obvious attributes, and its impact is profoundly felt by those who have participated in the Rome Studies Program the last five decades.
"The value of Rome has been very clear to every administrator of the School of Architecture since Frank Montana started it," Lykoudis said. "Irrespective of the direction the school takes, Rome is a consistent piece that ties it all together."
"It's proven itself in every situation," said Rev. Richard Bullene, C.S.C., the Rome Studies Program academic director. "You want to teach architecture a certain way? Rome will work, whatever that way is."
Notre Dame's School of Architecture has proven the premise. When the Rome Studies Program began, the school's curriculum was typical of the era, with an emphasis on Modernism. In the early 1990s the program shifted its focus to traditional architecture and urbanism, with an emphasis on sustainability and buildings that endure. The terms "modernism" and "classicism" aren't always helpful to lay audiences or to budding architecture students, as both need context and extrapolation to be understood. Hence Rome.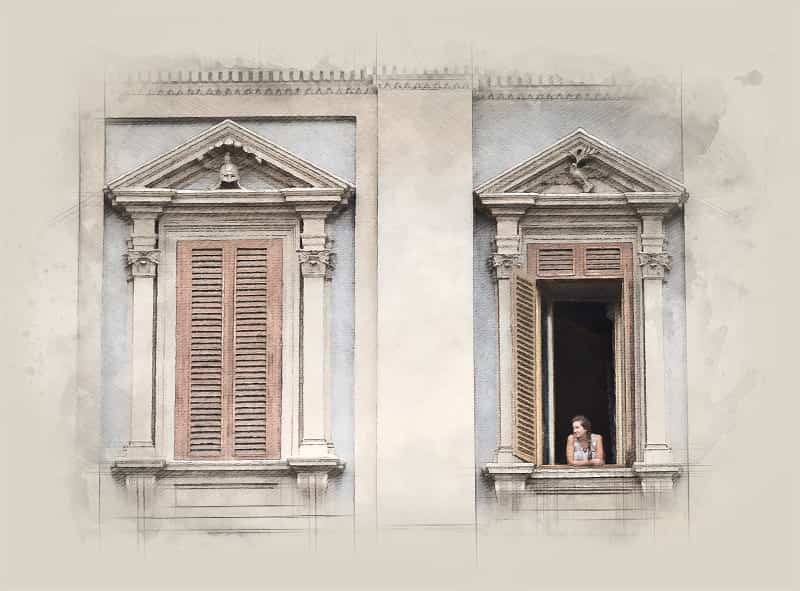 "Our school is known for classicism, but in fact it's not about columns," Lykoudis said. "It's about a comprehensive and intellectual approach to all things having to do with architecture. Nothing does that better than the idea of a city."
Especially a city like Rome, which learned to be a sustainable city early on. The famous cobblestones in the streets are recycled after road projects. The buildings, centuries old, are meticulously maintained and repurposed through retrofitting and adaptation. The order of the buildings and streets with their famous piazzas in between are conducive to pedestrian life and work to build community, yet there are plenty of wide streets to allow for practical large-scale people-moving. In 2019, we'd call these practices of durability and conservation "modern," but perhaps it's more appropriate in this context to say what's old is new again.
"It's an inclusive city. It's a resilient city. It's a sustainable city. But above all, it's a beautiful city," Lykoudis said.
And it hasn't lost its capacity for surprise. Doha Morchid '21, a third-year student from Marrakech, Morocco, made an unexpected visit to the Pantheon last semester. "I didn't want to visit it," she said. "There was a piazza that was not big. It was a small piazza and then there was something dragging me into the space. I followed the path, then I turned and then I found myself in front of the Pantheon. Living that experience makes you want to design something that is similar, that gives people that experience. If you're walking through that space, you want to live the same experience and reach to a space that where like, 'Wow! This is a magical moment, I want to live this experience.'" Morchid incorporated the real-world lesson into her midterm review, which focused on drawing people into spaces.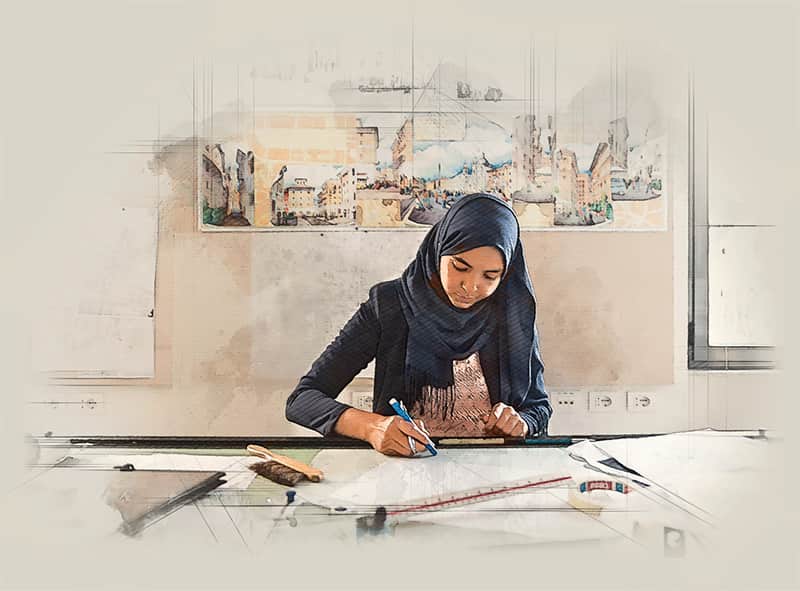 Moreover, the School of Architecture has used its presence and expertise to conduct research that makes contributions to the understanding, maintenance and appreciation of Rome. Professor Krupali Krusche and a team of faculty and students conducted an unprecedented 3D mapping of the Vatican's Belvedere Courtyard, a project that Vatican officials can use to understand which parts of the courtyard could use restoration and which can be kept intact. Krusche presented her findings to the Vatican in March.
In addition, Professor Selena Anders and the Hesburgh Libraries' Architecture Library are compiling selected travel guides from the 16th, 17th and 18th centuries for a project that aims to give scholars and the general public a sense for how the city has been perceived over the centuries. Each travel guide text has been digitized, translated, illustrated and geo-located. The project, part of the Historic Urban Environments research group, includes a website and mobile app from which users can create curated walking tours, allowing access to library resources while exploring the city.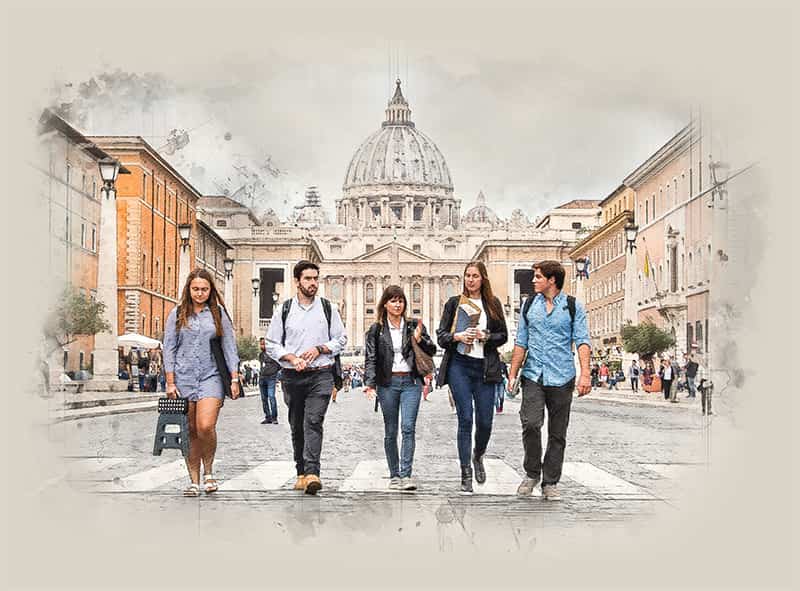 Like Piccolo's drawing class and the architectural history courses that include engagement with sites foundational to the field, these are the kinds of encounters the Rome Studies Program was set up to deliver: the unique context for a discovery ultimately achieved by the student. It's the type of learning experience that transcends pedagogy or stylistic emphasis. Students come here to learn how to make something the right way, but also to make it their own. These are lessons that Rome teaches in a way other cities — let alone a textbook or a college campus — cannot: the relationships between space intersecting with layers of history and the present day. Rome teaches students how to read a city, how to make a city out of streets, blocks, squares and buildings both sacred and municipal.
"For the last 1,500 years everybody that's done anything significant in architecture has known there's something here to see," said Judy DiMaio, dean emeritus for the School of Architecture and Design at New York Institute of Technology. DiMaio is a visiting professor in the program today and one of the early faculty members near the start of the program. "You may dislike it. You may decide it's not something you want. You may decide it doesn't help your creative juices. But there is a draw here, not only for the history, but the collisions of the different layers of history.
"And because I'm an architect and not a historian, the way I teach Rome — be it the Roman antiquity, Medieval, Renaissance, modern or Baroque, whatever — I want you to look at a piece of architecture and be able to understand its essence, and be able to use that as an anthology of ideas for your own design.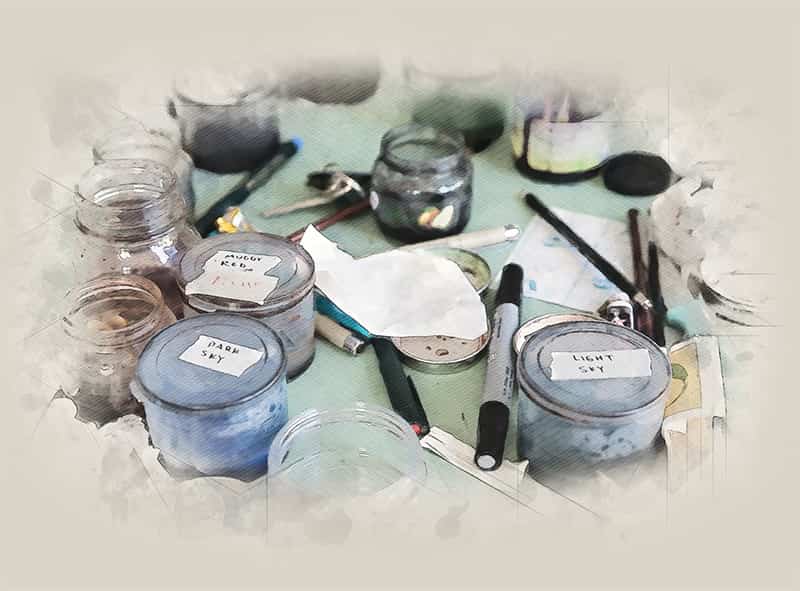 "No architecture can be copied. You can try to copy Beethoven but if you can't play like Beethoven, it's not going to work," she said.
DiMaio taught alongside Montana and helped design the studio courses as well as the field trips students take to places such as Florence and Venice — trips that are still a part of the program today. She recalls those early years as a period of "intense camaraderie." That hasn't changed; the students form a bond forged through shared experience that is deep and enduring. This has lasted through shifts in curriculum as well as location: The Rome Studies Program is now based at the Rome Global Gateway, just a few blocks from the Colosseum. "It's more of a Roman neighborhood (than the previous location)," observed Father Bullene, who has the unique perspective of being a student in the program in the 1970s and returning as director in 2018. "We're right on the edge of tourist Rome or monumental Rome, but we're not in it. We have the privilege of easy access, but also the privilege of rubbing shoulders with ordinary Italians."
All of which contributes to another, tangential benefit of the program.
"I think when the kids come here — and we recognize this as educators — they grow up," Lykoudis said. "I tease their parents when they come as first-year students, 'You will see your kids going off to Rome as boys and girls and they come back as men and women.' They're on their own, they have to fend for themselves, they're together. That's part of maturing, that's part of growing up."
"Rome leaves an indelible impression on you," DiMaio added. "The students I taught in the late '70s here still remember the experience of being in Rome, they still talk about it. It's affected them, and it's affected their work."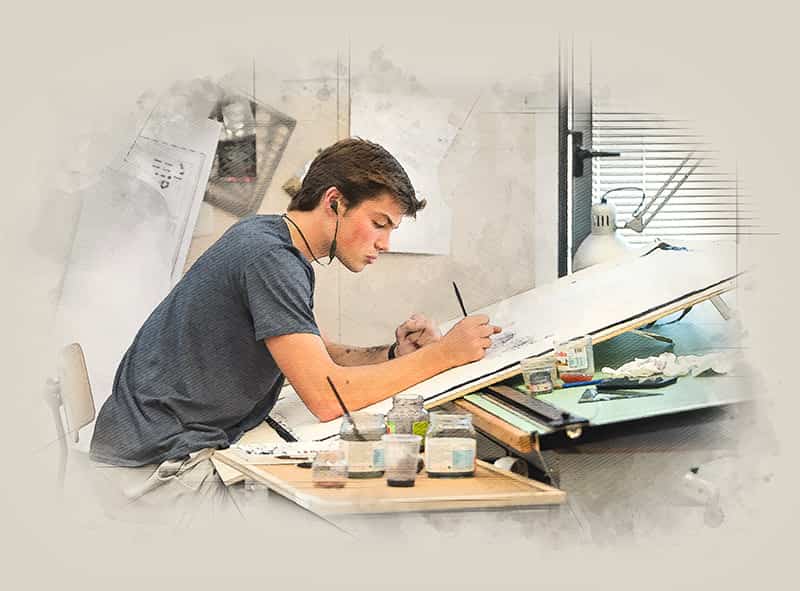 "We refer to Rome as the Eternal City," Father Bullene said. "Maybe you could say it also has eternal impact, in that lessons learned here that will improve American cities. Not that we're going to try to transplant Rome to the U.S. or to Guatemala or wherever else our graduates are working. But the pattern of thinking, the way of understanding buildings and their urban spaces is very valuable to not only our students for their personal enrichment, but to their profession as a means of cultural enrichment for the rest of the people they will serve as architects."
There's another popular spot among students for drawing practice: the famous Trevi Fountain. It's a truly iconic Roman landmark, with a backstory that could read like an abridged history of Rome itself. The origins of the Trevi Fountain can be traced back to 19 B.C., when a young woman led Roman soldiers to the source of a freshwater spring outside the city. Engineers would later build an aqueduct to bring the water to the city's center, providing water to the Baths of Agrippa. Barrels of the water from the fountain were delivered to popes for centuries, and the current sculpture that acts as a backdrop for millions upon millions of mobile-phone selfies each year was commissioned by Pope Urban VIII in 1629.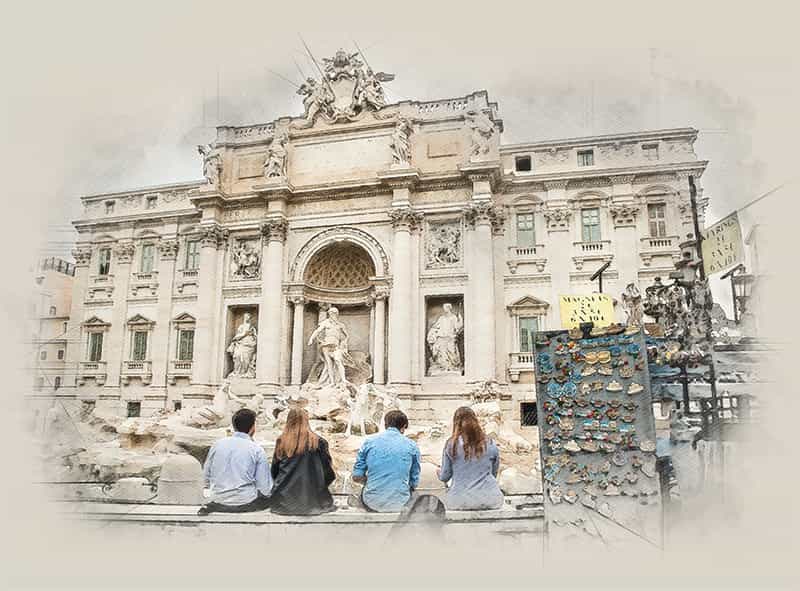 In this one landmark the thematic elements of faith, feats of engineering, historic military might and milestone societal advances are all evident. It's the stuff that makes Rome … Rome. The city explains itself to visitors in this way, by impressing first through its beauty, and then through its history and meaning, not to mention its adaptability to the current day. Like the sketches and watercolors the students have produced here over the years, there's a vibrancy that captures the eye, and a usefulness that excites the mind.
There's a superstition involving the Trevi Fountain that arose somewhere along the way. It says that if you toss a coin over your back into the fountain — right hand over your left shoulder, specifically — you'll one day return to Rome.
It's unknown whether Frank Montana performed this ritual in 1969 when he founded the Rome Studies Program. But as the School of Architecture celebrates the 50th anniversary of the program with a series of lectures, site visits and gatherings April 10-13, the former students and faculty in attendance will likely find time in their itinerary to carry a coin or two to the Trevi Fountain, in the hopes their road will again lead back to Rome.