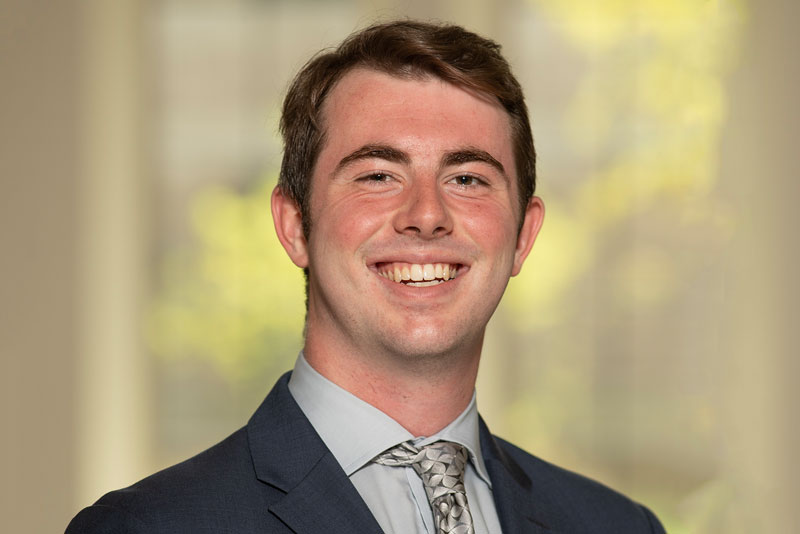 John Sexton
One whistle changes everything
May 15, 2023
If you follow Notre Dame football, you've seen John Sexton on the field for every home game for the past four years. You may not have noticed him much for his first few seasons. He was usually one of the last guys to take the field.
As a senior, though, John got his turn at the front of the rotation. He led his team members through campus on their traditional walk through throngs of fans on game days, down the north tunnel at Notre Dame Stadium and under the "Here Come the Irish" sign for a 100-yard jaunt on the turf amid a roar of 80,000 eagerly awaiting fans.
"It's incredible how one whistle changes everything," John said. He would know. He was the one at the front of the pack, wearing an all-white uniform, his head cocked waaaaaay back, thrusting the mace into the air, blowing that whistle and high-stepping his way to lead the 380-plus-member Notre Dame Marching Band onto the field this year as drum major.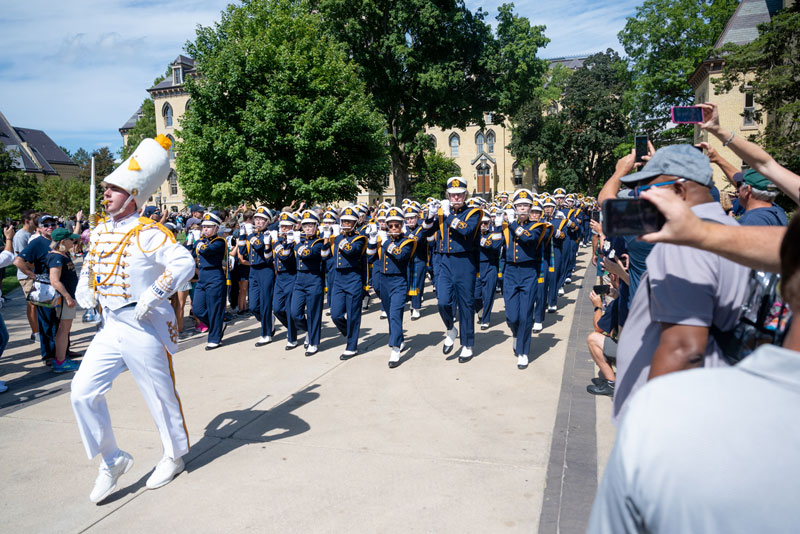 "As you make your way down the tunnel, you can hear the people in the stadium talking or cheering, there's music playing or something on the video board. But the second that I blew the whistle to call the band out on the field, there was complete silence and then a sudden eruption of the largest cheer from 80,000 fans that you've ever heard, all responding to the band," he said, beaming.
John has been involved with music since he was 5 years old. The graduating senior began his melodic journey learning piano in Georgia. His parents, Shawn and Kathy, were no strangers to the Notre Dame campus or the marching band. Shawn played the trumpet as an undergraduate, and both Shawn and Kathy worked at the University. Throughout his childhood, John and his family returned to campus regularly for band reunions and events. After a few legendary campus tours by band assistant director Larry Dwyer, John's mind was made up — he was coming to Notre Dame and would play in the band.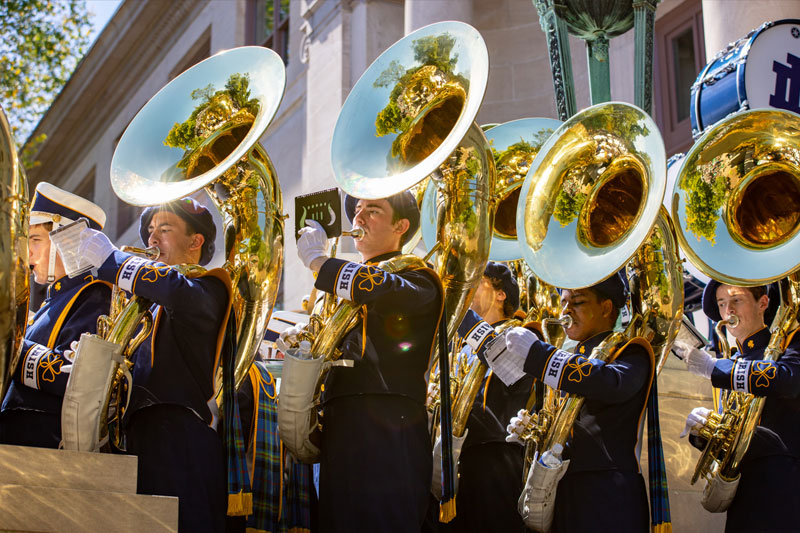 But which instrument would he play since there's no piano in the marching band? Mallet percussionist or drumline seemed like the most comparable pairing. After some coaching from Dwyer, though, Sexton thought he would try something different: the tuba. He learned the instrument prior to his arrival, was selected for the band and found himself at the very back of the line with his fellow tuba players, toting the 45-pound brass beast.
Learning a new instrument before starting your first year of college may seem like a daunting task. But John has never been the type to shy away from a challenge. The family's greatest challenge had presented itself while John was in middle school when his father was diagnosed with ALS.
As Shawn's ALS diagnosis progressed, the need for supportive medical equipment grew quickly. They soon realized that by the time Shawn acquired the medical devices he needed, his condition had worsened and the technology he relied on was no longer helpful. That's when his network engineering career knowledge, John's desire to tackle problems and Kathy's caregiver perspective came together to help Shawn navigate through his illness. When John was in high school, they developed a multi-function technology to assist Shawn and his caregivers through various stages of his disease. As an electrical engineering major at Notre Dame, John began seeking support to grow and develop the technology. The family absorbed themselves into learning about medical equipment manufacturing, technology development and navigating insurance and startup industries all while living with Shawn's declining condition. The result is a product the Sextons call LifeDrive.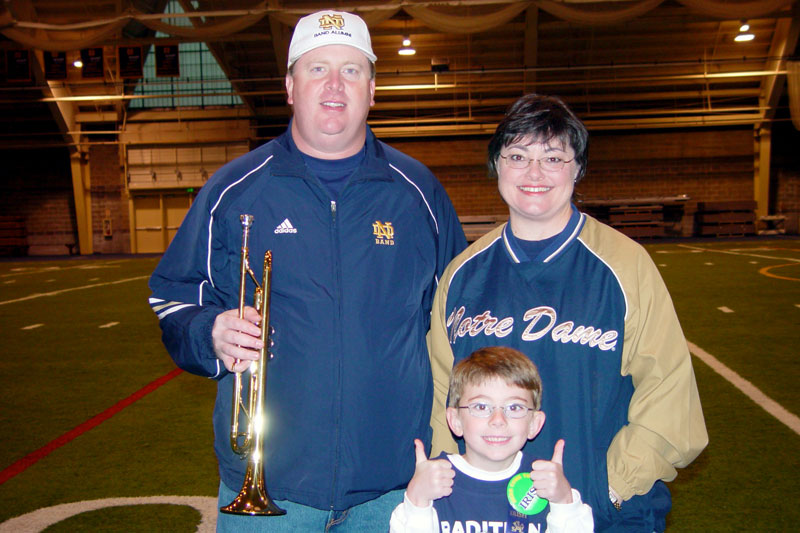 John describes it in this way: "LifeDrive is a suite of alternative wheelchair control solutions, including eye, voice and mobile joystick control, that allow individuals to control their power wheelchairs regardless of need or stage of disease progression.
"LifeDrive creates adaptive technology for people with disabilities, empowering them to greater independence even if their needs change."
Throughout his time at Notre Dame, John has worked with friends, faculty and staff to grow the LifeDrive technology and brand. He has traveled to medical equipment trade shows and competed in various startup competitions in order to earn much-needed awareness and funding for the continued growth and development of their technology. In March, LifeDrive was awarded first prize in the Atlantic Coast Conference (ACC) Inventure Prize competition, an innovation competition consisting of teams from ACC universities that pitch their inventions or businesses, competing for $30,000 in prizes.
As John looks to graduation and his next act, he will be working for Epic Systems, a medical health records software company. His family will continue to develop LifeDrive in the hope that one day it is the whistle that changes everything for people with disabilities.