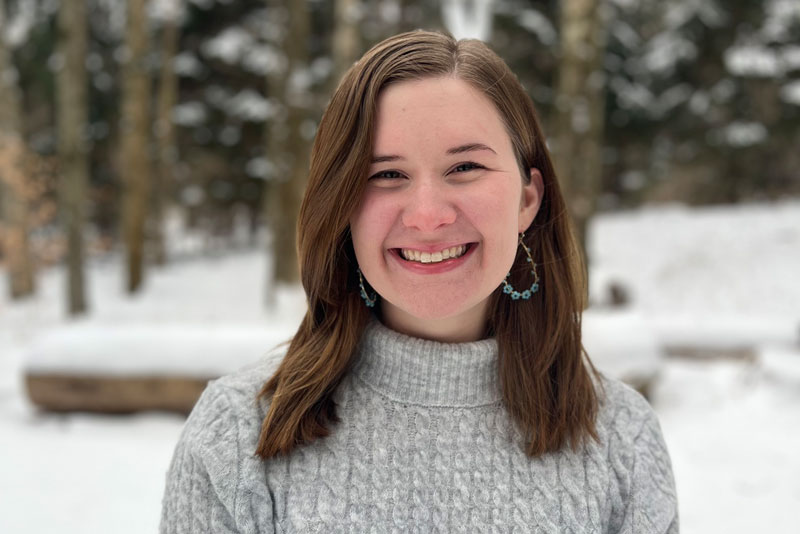 Audrey Miles
Toward a more sustainable future
May 15, 2023
Growing up in a suburb of Cleveland, Audrey Miles dreamed of being a writer. Then a high school teacher introduced her to the so-called central science.
"I had a really excellent chemistry teacher who made a huge difference," she said.
It may have helped that, like writing, chemistry seeks truth and understanding from within.
"It was so fascinating to get down to such a small scale and learn about the way the world is built and works," Miles said. "It made me curious about even the most everyday things."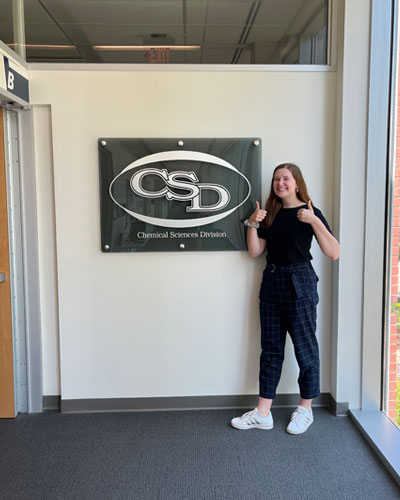 A chemistry major with a concentration in computing and a supplementary major in theology, Miles, who is a Glynn Family Honors and Goldwater scholar, will pursue a master of philosophy in nuclear energy at the University of Cambridge next year as a Churchill Scholar.
Following that, she will continue her studies at the University of California, Irvine, as a National Science Foundation Graduate Research Fellow.
Miles became interested in nuclear energy while working with Amy Hixon, associate professor of civil and environmental engineering and earth sciences at Notre Dame, in the Hixon Lab, where she first discovered the secrets hiding at the bottom of the periodic table.
"What got me interested in (nuclear energy) in the first place is that, relative to the rest of the periodic table, we know very little about the heavy elements," Miles said. "I was fascinated when I encountered this ceiling of scientific knowledge and, at the same time, realized its relevance to clean energy generation and environmental stewardship."
Acknowledging valid concerns about nuclear energy, Miles nonetheless views it as an important part of the move away from fossil fuels and toward a future with net-zero emissions, so long as society keeps ethical conversations at the forefront and manages used fuel in ways that protect both the environment and human communities.
"We have a real responsibility to properly dispose of nuclear waste, so one thing I'm interested in is harnessing the chemistries of those heavy elements to develop more environmentally conscious waste management techniques," she said. "I also hope to design novel fuel forms that will increase both the safety and power output of the nuclear fuel cycle."
"I'm extremely proud of Audrey and all that she has accomplished as a member of my research group," Hixon said. "Her research creativity and productivity are more characteristic of a graduate student and very worthy of all the accolades she has (and will continue to) receive. I'm excited to see where Audrey's career will take her in the future."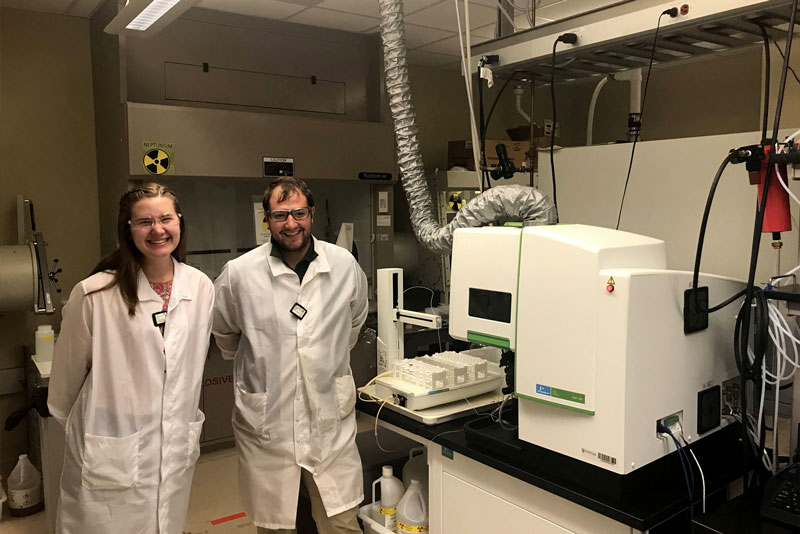 In addition to Hixon, Miles credits William Schneider, the Dorini Family Chair in Energy Studies and concurrent professor of chemistry and biochemistry at Notre Dame, and Bahram Moasser, associate teaching professor of chemistry and biochemistry at Notre Dame, with fostering her love of science.
"Audrey thrives on challenges, and she has continually demonstrated curiosity and drive in the laboratory and in analysis and interpretation of data," Moasser said. "Her most enduring characteristic is that she is intellectually adventurous. She is fearless in taking on challenging problems with the mental acuity of a much more experienced thinker. Her maturity, perceptiveness and ability to thrive under pressure make her exceptionally well-prepared for a career in research."
Miles' path to theology followed a similar route, beginning with a required theology course during her sophomore year — part of a two-course sequence required of all Notre Dame students.
"I took my first (theology) class because it was a requirement," she said, "but I kind of fell in love with it."
And while some see science and theology as in conflict, Miles said she prefers to think of them as two sides of the same coin, acting in distinct but complementary ways to explain "how the world works."
In addition to her academic and research work, Miles is treasurer for the Notre Dame Figure Skating Club and plays piano for her residence hall. She has also volunteered with the Clubhouse of St. Joseph County, a community serving individuals with mental illness.
She said what she will miss most about Notre Dame is "the people."
"I have incredible mentors here and the faith community is really special, so that's definitely something I'll miss, just the high caliber of human beings that surround me every day," she said.
At the same time, she credits Notre Dame with making her into a more fully formed student and person, intellectually motivated and curious but also genuinely concerned for the common good.
"I absolutely feel like I have grown into a person that I don't think I could have become anywhere else," she said. "This place is really unique because the focus is primarily on forming the whole human person and a real commitment to care for others. They always say the mind and the heart and the spirit here, and I think that manifests itself in the wonderful community we have."