At Notre Dame University Bangladesh:
Following Papal Visit, Superstar is Born
DHAKA, Bangladesh Dec 4 — Still to hold its first full-fledged commencement, Notre Dame University Bangladesh (NDUB) was nonetheless a star in its own right up until Saturday. Then it exploded to supernova prominence here with the visit of Pope Francis over the weekend.
The pontiff left the NDUB campus on Saturday to chants from the 10,000 in attendance of "Long live Pope Francis," and "Long live Notre Dame."
Notre Dame has lived long in Bangladesh already, beginning with the fact that the mother of Jesus is a revered figure in the Quran. Also, the Congregation of Holy Cross has been a presence in this overwhelmingly Muslim country since 1853, when Holy Cross priests, brothers, and sisters were dispatched here by Blessed Basil Moreau at the request of the Vatican.
Since then, the near 70-year legacy of the order's highly regarded Notre Dame College has fueled the more recent impetus from Catholic bishops, respected educators, and community leaders for the Congregation to establish a four-year undergraduate institution, to include master's degrees in business administration.
Rev. Adam Pereira, C.S.C., the registrar, said that Bangladesh officials from prime minister on down helped to fast track the NDUB application for licensing, leading to its official recognition in April 2013. "Everyone knows Notre Dame," Father Pereira said of the college's reputation for academic excellence and character formation. The new university, Father Pereira said, will produce students who are not only academically accomplished, but "they will have values in the heart, also."
Multiple levels of Bangladesh society welcomed the expansion to a four-year college, Father Pereira said, because "people want what is good for the country and good for the formation of young people." NDUB enrolled its first class of students in September 2013, and its first commencement is scheduled for next year.
NDUB graduates, "will be, I think, among the best citizens of Bangladesh," said Mahfuza Khanam, a renowned physics professor at the University of Dhaka and a member of the NDUB board of trustees. When she was thanked her for her service on the board, Professor Khanam, who was also the first woman to be elected president of the World Federation of Teachers Unions, said, "Thank me? We should thank Holy Cross for all it has done for Bangladesh and for our children." 
University of Notre Dame President Rev. John I. Jenkins C.S.C., said Notre Dame College's "reputation for excellence" explains the eagerness within Bangladesh to have a new university established by the Congregation of Holy Cross.
Notre Dame Vice President for Mission Engagement and Church Affairs Rev. William l. Lies, C.S.C., said that NDUB "was founded on the shoulders of Notre Dame College." The new university's student body includes "Catholics, for sure, other Christians, for sure, but many Muslims too," Father Lies observed. The faculty is also a mix of Christian and Muslim scholars.
Political independence is also a factor. Party politics reportedly play a role in who is accepted at Bangladesh's leading state-run schools. When the government tried to decide who was accepted to Notre Dame College, the Congregation filed a lawsuit and won in a case decided by the nation's Supreme Court.
Rev. Frank Quinlivan, C.S.C., who has taught in Bangladesh for 30 years and is the new university's director of development, said the current enrollment of 1200 students was in fact mostly Muslim, and 50 percent female.
Rev. Thomas McDermott, C.S.C., the university's deputy controller for examinations and senior lecturer in English, said that NDUB has the unique opportunity to address some of Bangladesh's most pressing issues as they unfold by producing graduates who can provide ethical corporate leadership in the nation's garment industry; by helping identify solutions to global warming and other environmental problems that disproportionately impact this country of oft-flooded delta plains; and by exploiting Bangladesh's established reputation for religious harmony to combat radicalism and advance global interfaith dialogue and peace.
While Bangladesh's Christian community comprises only one-fifth of one percent of the population, the government recognizes Christmas as a national holiday.
So it came as a shocking departure when, in July 2016, five ISIS terrorists open fired on a group of mainly foreign visitors in Dhaka's financial center, resulting in the death of 29 people including two police officers and the five terrorists themselves.
NDUB's board of trustees is comprised of 15 trustees, eight of them Holy Cross priests, along with representatives from the Sisters of the Holy Cross, C.Brothers of Holy Cross, the bishops of Bangladesh, and prominent Bangladesh educators, two of whom are Christian and two Muslim. Architects at the University of Dhaka have designed a modern, 15-story structure to house NDUB. Meanwhile, the University uses temporary quarters on Notre Dame College's seven-acre campus.
A small group of master of business administration students have already graduated. Undergraduate programs include bachelor's of arts and science degrees in computer science and engineering, English language and literature, pre-law, economics, and business administration, according to Father Quinlivan.
NDUB's stated values sound as though they were formulated by the current pontiff: pursuit of truth, rational thinking, respect for human dignity, nonviolence, social responsibility, commitment to human development, solidarity, justice, peace and charity, gender equality, global unity, communal harmony, and respect for creation.
The University's vice chancellor, or president, Rev. Patrick Gaffney, C.S.C. said "we who work at in NDUB are committed to providing excellent academic training in every field, with an emphasis on moral integrity and social awareness while providing opportunities for personal growth in terms of both intellectual development and ethical perception."
The University's motto, drawn from Congregation's own constitution, is "the competence to see and the courage to act."
Papal Blessing
Pope Francis blesses cornerstones of Holy Cross schools in Bangladesh
DHAKA, Bangladesh, December 2 – His Holiness, Pope Francis ended his historic visit to this impoverished and overwhelmingly Muslim nation today by blessing the cornerstone of the Congregation of Holy Cross's latest triumph in Catholic higher education, establishment of Notre Dame University Bangladesh (NDUB). He also blessed the cornerstone of Notre Dame College, Bangladesh's most prominent preparatory school, founded in 1949.
The Pope's visit served as "the inspiration, the guidance and the vision" for NDUB, whose first commencement class will graduate next year, said Rev. Patrick Gaffney, C.S.C., the university vice chancellor. "We regarded it as a turning point," Fr. Gaffney said.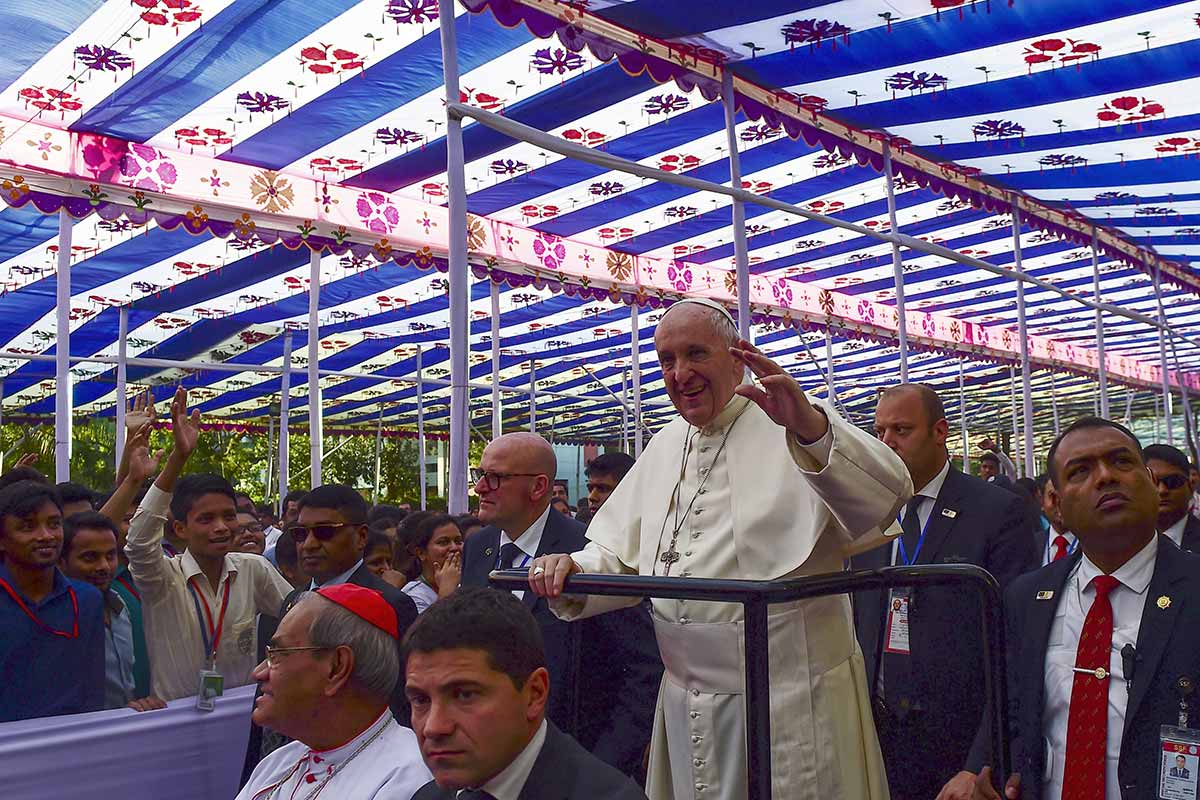 Father Gaffney was among three C.S.C. priests to welcome the pontiff to the seven-acre campus. The others were Bishop Subrata Howlader, C.S.C. and Rev. Hemanta Pius Rozario, C.S.C.
Ten thousand school children from the region's Catholic schools greeted Pope Francis with cheers as he circled the football field-long venue in a golf cart. The audience, which included C.S.C. Cardinal Patrick J. D'Rozario, Cardinal Oswald Gracias from Mumbai, and ranking clerics from Islamic and Protestant communities, listened as Francis described Bangladesh as a place of harmony for the three religions. "I am happy that, together with Catholics, we also have with us many young Muslim friends and those from other religious backgrounds. In gathering here today you show your determination to foster an environment of harmony, of reaching out to others, regardless of your religious differences," the Holy Father said. Almost on cue, calls for prayer from nearby mosques echoed under the huge billowing tent that had been constructed for the pontiff's outdoor visit.
Advertised as "Holy Father with the youth of Bangladesh" students from Notre Dame College and its sister school, Holy Cross College, performed various song and dance numbers in traditional Bangladeshi costumes. The pontiff smiled and patted their heads, as many of the students kissed his ring and genuflected to touch his feet.
Five Holy cross priests were among the 16 ordained at the outdoor Mass attended by an estimated 80,000 yesterday. "We took all our preparations to arrange the Mass where Catholics from our eight dioceses across Bangladesh joined with His Holiness Pope Francis for offering peace and prosperity for all the people of Bangladesh," Cardinal D'Rozario said.
Bishop D'Rozario said that the Pope came to celebrate peace and harmony in Bangladesh, a matter of immense joy, hope and pride for the Christian community here.
A 21-gun salute heralded the arrival of the 80-year-old Pope Francis when he alighted from a VIP flight of Biman Bangladesh Airlines in Dhaka, wrapping up his three-day Myanmar visit.
His call for justice, human rights and respect for all to Myanmar people were widely seen as applicable to the Rohingyas, who are not recognized as citizens or as members of a distinct ethnic group.
Pope Francis is the second pope to visit Bangladesh. About 31 years ago, on November 19, 1986, His Holiness Pope John Paul II had officially visited Bangladesh.
Pope Francis also visited Mother Teresa House here with priests, religious and consecrated men and women, seminarians and novices in the church of the Holy Rosary in Tejgaon.
Rev. H. Thomas McDermott, C.S.C., deputy controller for examinations at NDUB and senior lecturer there, described the meeting with religious as intimate and moving with Pope Francis urging those in attendance to lives filled with joy, sharing Christ's love. He also had practical advice about the demands of living the religious life, warning "gossip can destroy communities."
Meanwhile, Dhaka Metropolitan Police (DMP) took special security measures that included deployment of additional numbers of police, the Rapid Action Battalion, bomb disposal units, and intelligence personnel to install closed circuit television (CCTV) cameras, archways and watchtowers in and around the papal venues.
No one was allowed to enter papal venues without being searched.
The DMP also imposed stringent security arrangements at hotels, the airport and papal vehicle routes. All the venues where the pope had meetings were swept by bomb squads and police dogs.