Surrounded by her fellow ROTC battalion mates, Nicole Butler was shocked to see her own face projected by ESPN2 on the huge TV in the Duncan Student Center in December.
It took several seconds to register that the national broadcast was announcing the Notre Dame senior as the Army ROTC student of the year, an award sponsored by the Navy Federal Credit Union to honor ROTC seniors from across the country who best demonstrate leadership, scholarship, service and military excellence. The cadets broke into applause. Butler blushed.
"Being the center of attention isn't normally my thing," she said. "But it was a great moment to know that I had the support of my peers that had helped me along through this process. It's a close-knit culture. The award and the attention is important because I think a lot of the work people do in ROTC goes unnoticed."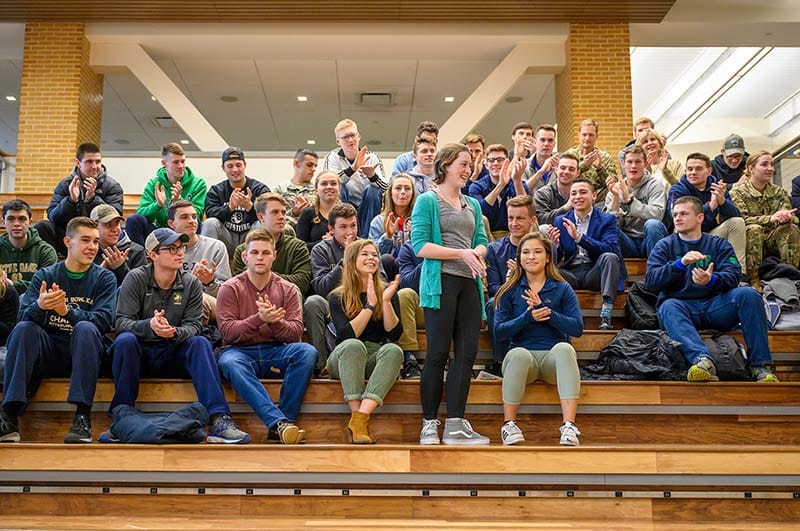 A desire to increase awareness of the dedication of ROTC students, and the path to opportunity ROTC affords, is what prompted Lt. Col. George "Trey" Lachicotte, who leads the Army program and teaches military science at Notre Dame, to push Butler for the award, now in its second year.
"I nominated Nicole Butler because she sets herself apart by going above and beyond," Lachicotte said. "It's a tremendous task to take classes plus ROTC, plus balance all the extracurricular and service events that go on here at ND. That wasn't good enough for her."
What really impressed Lachicotte was Butler's leadership, dedication to physical fitness and top grades, her biochemistry major in preparation for medical school — and despite all that, picking up a second major in Arabic.
"I nominated Nicole Butler because she sets herself apart by going above and beyond." —Lt. Col. Lachicotte
"To single out one thing that shows Nicole's leadership ability would be doing her a disservice," Lachicotte said. "It's her everyday attitude, everyday leadership: how you treat people, how you influence people and motivate people, and how you manage individuals. Her skills have really developed by her senior year, so much so that I made her my senior operations officer."
The senior operations officer is in charge of managing the battalion's leadership labs and other events, coordinating with different entities on campus to produce orders and manage people. On a frigid February morning, that meant getting up before dawn to attend physical training (PT) at 6 a.m. in the Loftus Sports Center.
The cadets shed their coats and sweats and lined up in their matching battalion t-shirts and shorts. Butler led the Army group through a series of punishing team exercises: 50-yard wheelbarrow walks, partner drags and partner carries, plus individual crunches, push-ups and lunges.
Butler credits the ROTC program with teaching her the skills needed to lead her fellow cadets.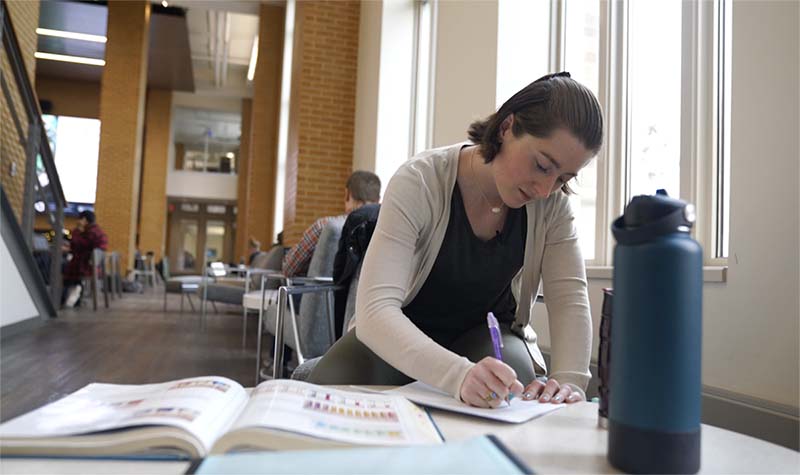 "A huge emphasis is that there are different forms of leadership, but in the end you want to lead by example," she said. "That means you're showing the people you are leading what you expect from them by acting it out yourself. The mark of a good leader is not necessarily how well you do but how well the people you've led do in their future."
Butler grew up in Spring, Texas, near Houston, and picked Notre Dame because of its supportive environment and education. She said she chose the ROTC route because, "I've always had a passion to serve."
Service is an integral aspect of ROTC, and Butler is president of its Alliance to Lead and Serve (ATLAS) program. It only makes sense to serve your local community, she said, when you're preparing to serve the country. The program visits with local veterans groups, but also volunteers at the South Bend Center for the Homeless, the Humane Society of St. Joseph County and local food banks, among others.
Butler chose biochemistry because she knew she wanted to go on to medical school, which she will attend in the fall. Normally, she would be assigned to an Army unit after graduation and train to be an officer. But she received an educational delay, which allows her to defer her assignment until she completes four years of medical school.
"The mark of a good leader is not necessarily how well you do but how well the people you've led do in their future." —Nicole Butler
"In the future, I'll be stationed at an Army hospital, and I hope to be a practicing orthopedic surgeon," she said.
She added a second major after studying Arabic for nine weeks through an ROTC study abroad program in Muscat, Oman. "I really just fell in love with the language and the culture and decided to pursue the major back at Notre Dame," she said.
Lachicotte called Butler into his office in the Pasquerilla Center in the fall to explain that he'd nominated her for the ROTC student of the year award. "I was sure there was no way I was going to be the winner," she said.
Twelve finalists in each military branch were chosen for exhibiting leadership and service, and for ranking in the top 25 percent of their ROTC program and academic class. In a slightly different format last year, Notre Dame's Kirsten Cullinan was recognized as the Air Force ROTC student of the year.
Still, Butler only knew she was a finalist on Dec. 12 when ESPN2 revealed during the program "College Football Live" that she had won the award. She thanked her unit and ROTC leaders before interviews with a film crew hired by Navy Federal Credit Union. She said her parents were "over the moon" for her and spread the news quickly to all her relatives.
Butler and the two other top students were invited to the Military Bowl on Dec. 27 at the U.S. Naval Academy in Annapolis, Maryland. Allowed a guest, she invited her boyfriend "mainly because I couldn't decide whether to take my mom or my dad, and my sister is living in Italy."
In Annapolis, the honorees attended a dinner with seven Medal of Honor recipients, getting to hear about their service but also their lives. The next morning, they sat in a truck to participate in the Military Bowl Parade, where people lined the route. "They were mostly confused about what three people from different schools were doing waving at them, but it was such a cool experience," Butler said.
At the game, the three winners were announced at the end of the third quarter and went down on the field.
"We got to say what the award meant for us," she said. "It's a lot of hard work and time and dedication that everyone is putting into it, and I think by highlighting that, it's bringing awareness of ROTC to a lot of people who have never heard of it, or maybe don't know what it means to be a cadet in ROTC."