A Higher Scale
Department of Music transitions into O'Neill Hall
Aileen Markovitz steps on the stage a week before her junior recital, wearing a black dress with a sparkling rhinestone neckline. Her accompanist seated at the brand-new 9-foot Steinway grand piano launches into a Schubert love song, and Markovitz belts out "I greet you! I kiss you!" in soaring German.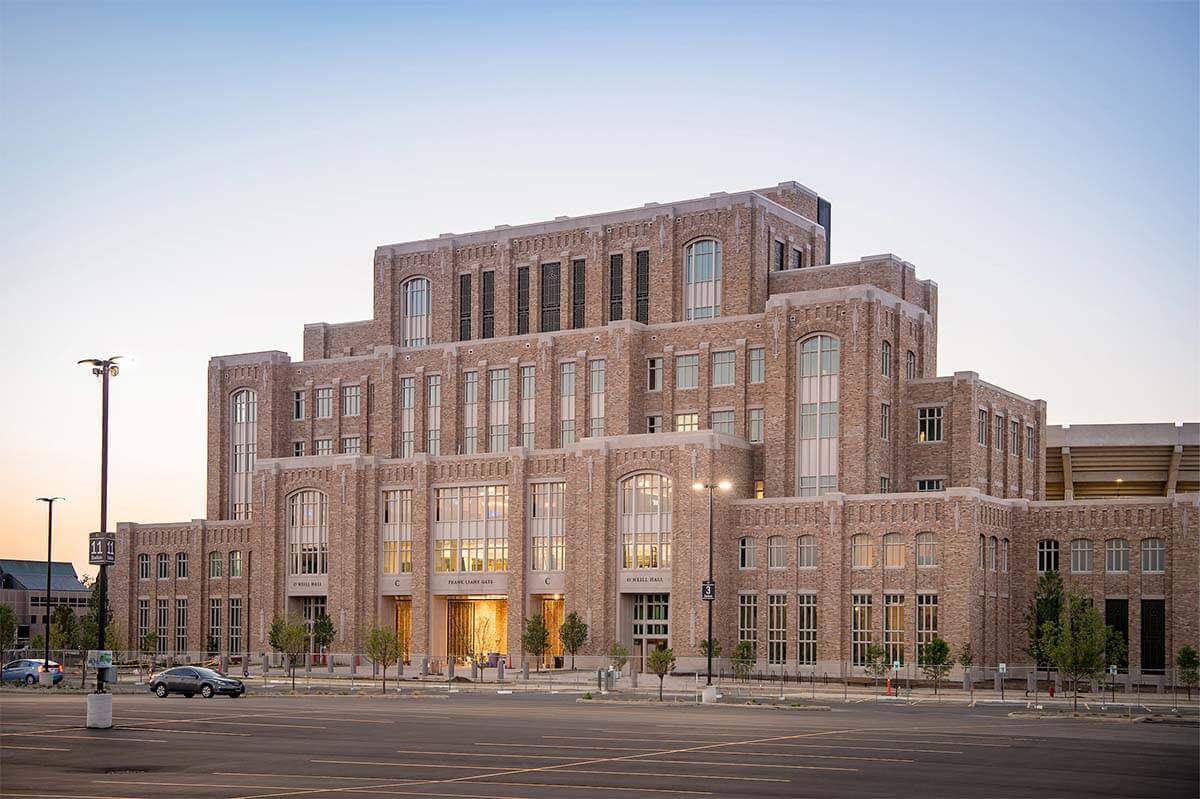 Out of sight, sound engineer Daniel Stein opens or closes a set of acoustical banners behind special diffusers around the new LaBar Recital Hall to adjust the space to the needs of her voice, taking into account details like the size of the audience absorbing the sound waves.
Markovitz is taking part in a new tradition called Fridays at Noon, where music students take turns showing off what they are learning in their new home in O'Neill Hall, which opened in January.
"Every performance space varies acoustically," Markovitz says. "This is great because the concert is a very informal way to try out the difficult pieces and build vocal stamina before the big day."
The opportunity is also remarkable for the huge step up in scale from the experience in Crowley Hall, the department's former digs. There, sound from all the other students practicing piano, violin or singing often bled together. While sweet in solo, the combination became cacophony. Markovitz said the opera rehearsal hall also had several large support columns in the middle that made the rehearsal of precise staging a real challenge.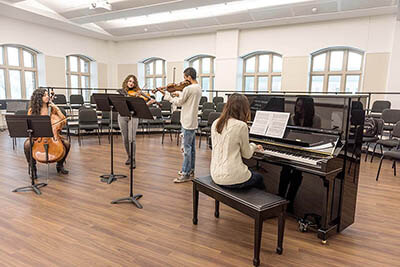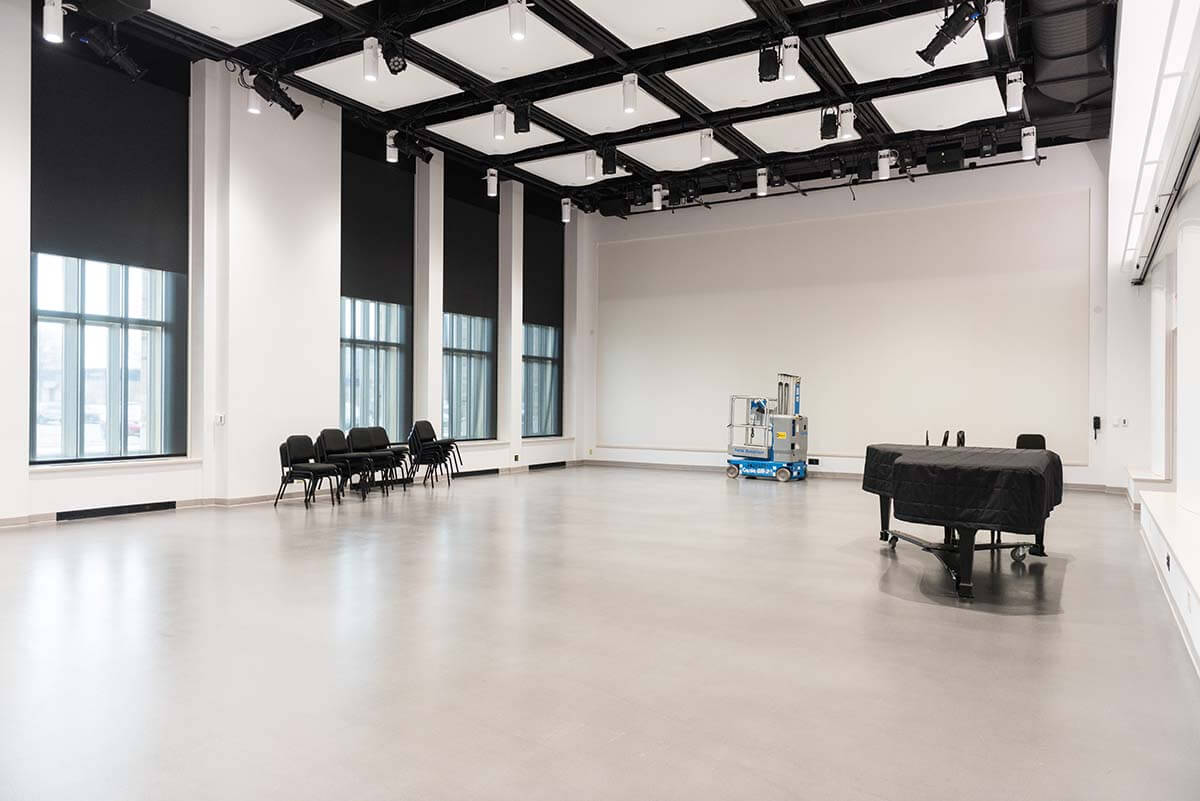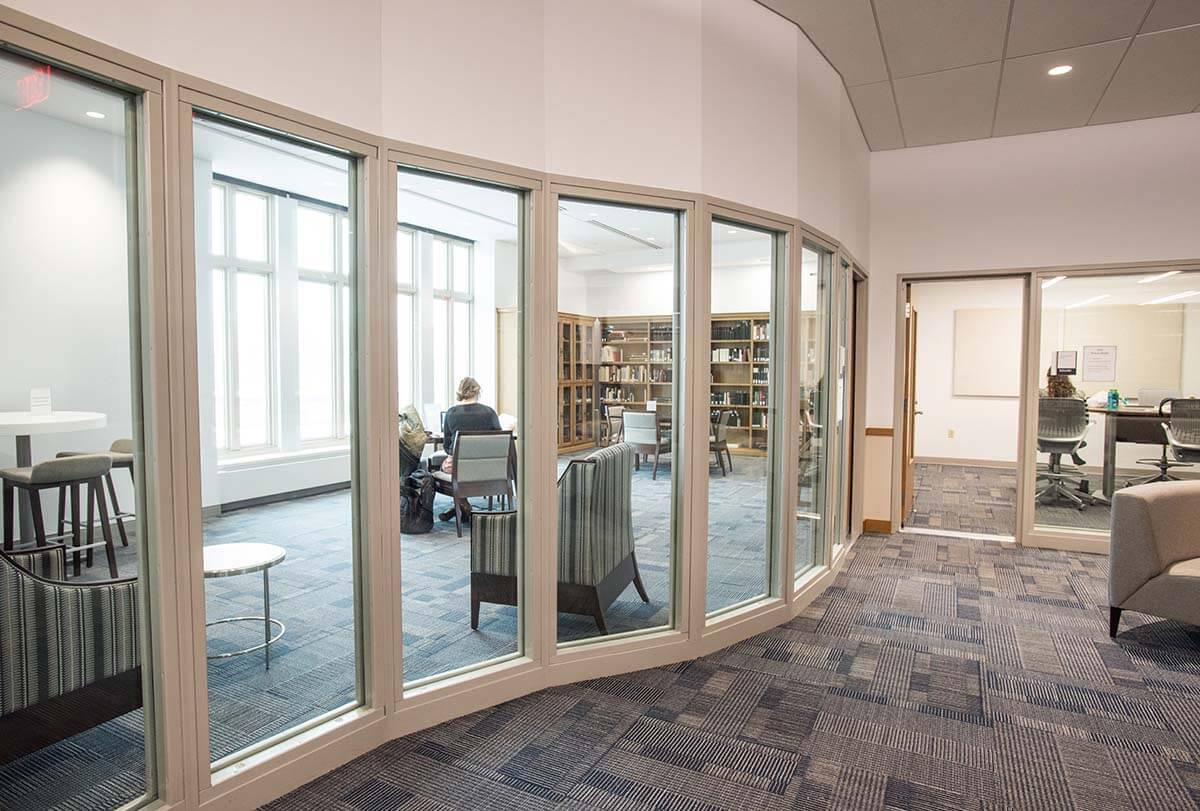 The move to the seven-story O'Neill Hall at the south end of Notre Dame Stadium is a game changer, opening up new opportunities for students of music and sacred music. The building brings together everything the two departments need under a single roof: performance spaces, rehearsal halls, practice rooms, a music library, instrument storage, classrooms and faculty offices. It has substantially more space, better climate control and proper sound isolation that keeps the noise in one room from bleeding into the next. The move included the purchase of two practice organs, 11 new Yamaha practice pianos and four new Steinways, including the industry's gold standard, the 9-foot grand accompanying Markovitz's voice in the recital hall.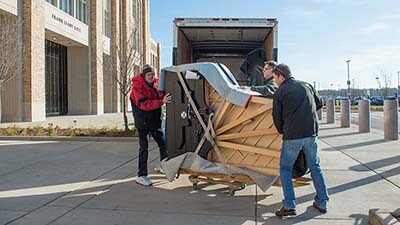 Peter Smith, the music department chair, said one of the most transformative elements of the move to a custom-designed building is the heightened ability to recruit the most talented students and faculty members. Formerly, students practiced in Crowley Hall and performed in the DeBartolo Performing Arts Center. But Debartolo's Decio Theater was designed for plays, and its 900-seat Leighton Concert Hall was made to accommodate large performances and audiences.
"Until this space opened, Notre Dame did not have a recital hall for intimate performances and designed with the high-quality acoustics required for music," Smith says. "The space itself is inspirationally beautiful. It's great for the music department, but really for the broader campus community, to have a facility like this that will be able to attract and host outstanding guest artists."
"It's great for the music department, but really for the broader campus community, to have a facility like this that will be able to attract and host outstanding guest artists."
The Department of Music has about 60 undergraduate majors, many of whom also major or minor in another discipline. Part of the College of Arts and Letters, the department is not meant to be a conservatory, where the students focus only on music. Still, Notre Dame students with the talent and dedication to pursue musical careers have done so with great success, including tenor Paul Appleby, who has sung lead roles at the Metropolitan Opera and in concert with the New York Philharmonic. The Program of Sacred Music at Notre Dame has about 25 to 30 graduate students engaged in more specialized, pre-professional training at the masters and doctoral levels.
Though these numbers are relatively moderate, more than 250 students on campus take one-on-one lessons in different instruments or voice each semester. And more than 750 participate in ensembles led by the department's professors, ranging from an award-winning children's choir to the Notre Dame Symphony Orchestra and the Glee Club.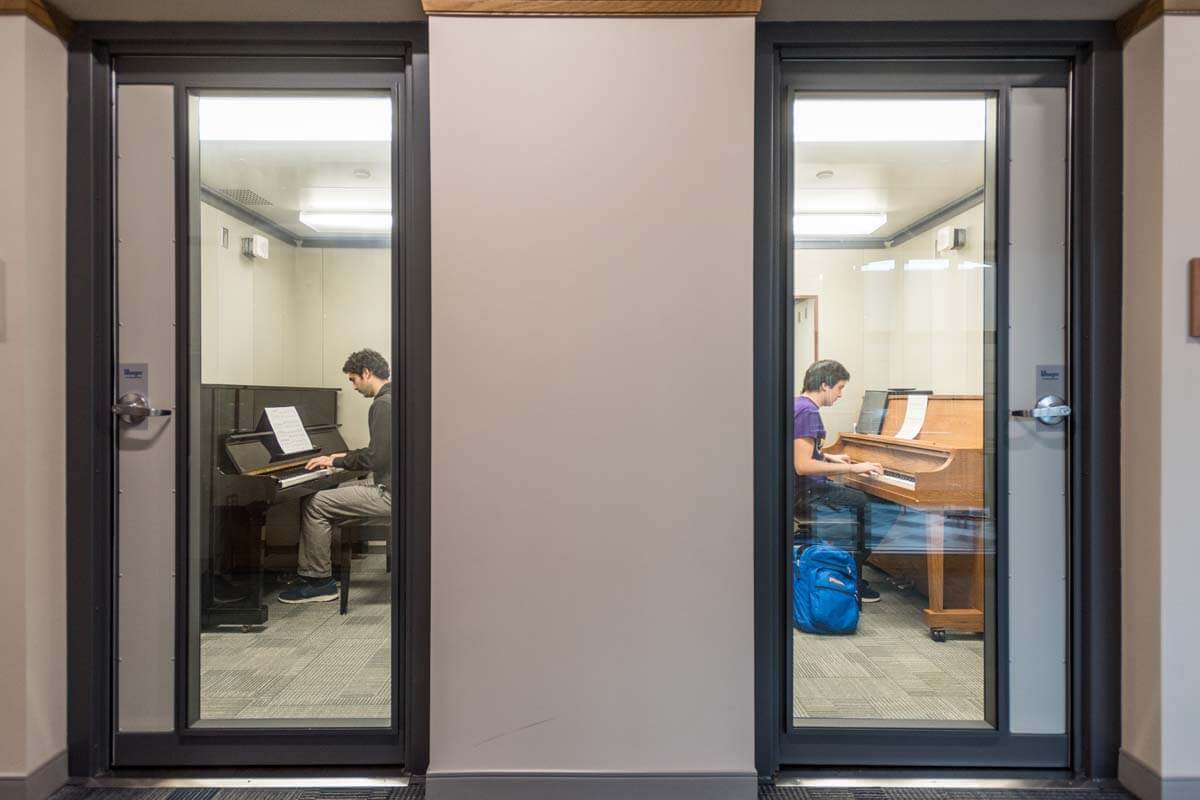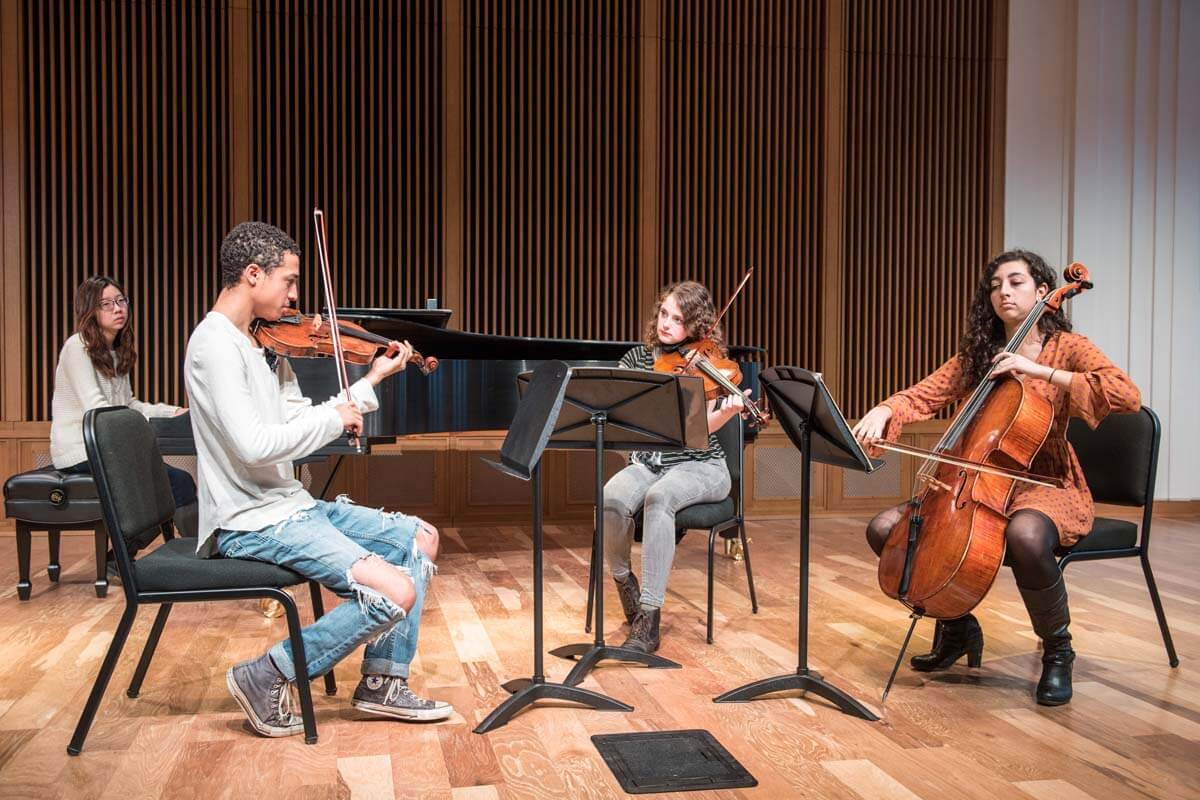 The rows of sound-proofed practice rooms on the fifth and sixth floors of O'Neill Hall are already seeing heavy use from music majors and those just needing a break. On a frigid afternoon in February, freshman Jack Sitarski practiced next door to Gaston Vilela, a law student from Argentina who said he stopped in to blow off some steam. Downstairs, music majors Veronica Mansour, Ella Wood, Joanne Kim and Travon DeLeon joined in an impromptu collaboration for a photo shoot.
The move to O'Neill Hall can also help the students in less visible ways. The new spaces required a sound engineer — Stein — who can also make the high-quality videos students need for their portfolios in applying for jobs or graduate schools. With more pianos, the department hired its own technician to tune the instruments and keep them in good repair. These specialties used to be hired out intermittently and at a high cost. Here, on a wall panel in the recital hall, students can pop a thumb drive into a slot and record their performance for instant feedback.
The impact of all these changes will be felt over time, but an early signal could be the hiring of a new artistic director of Opera ND. Alek Shrader is a professional singer who recently received his second Grammy Award nomination and has sung lead roles at many of the world's great opera houses.
Smith says the students are already rising to the challenge of the new facility.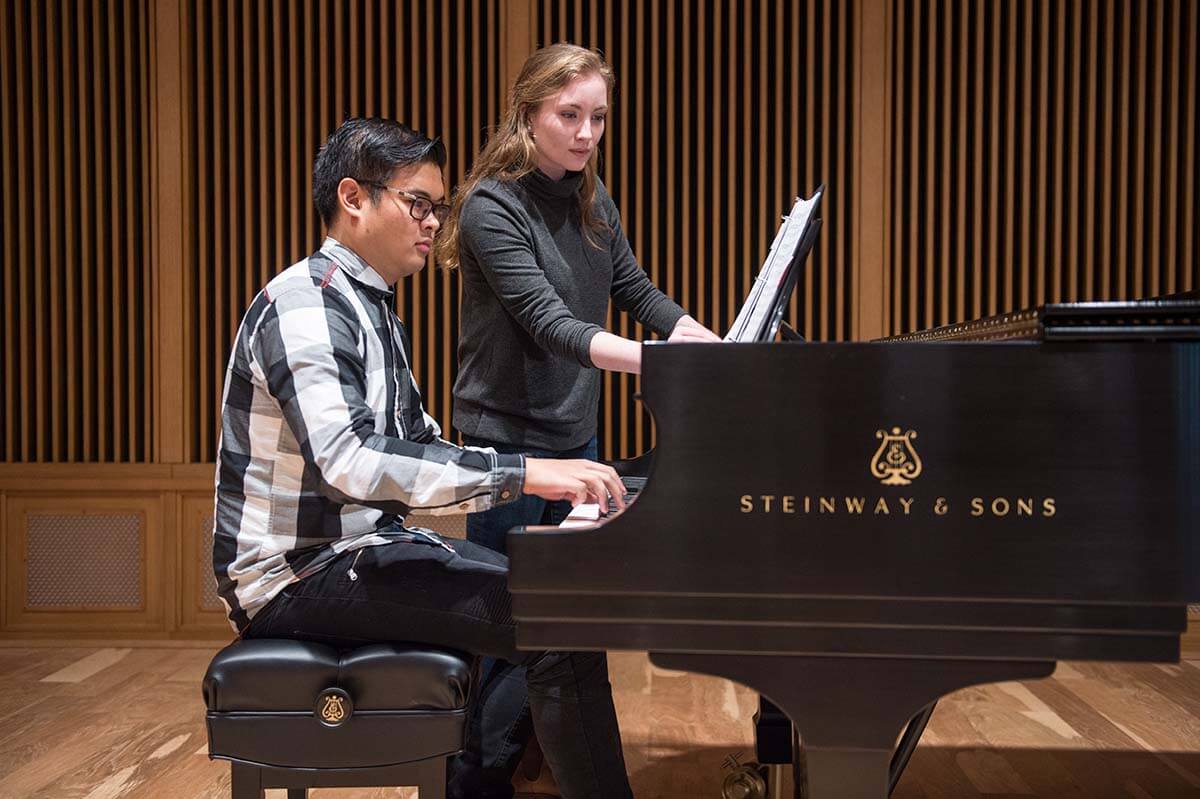 Joseph Tang, a California native who majors in piano performance with a concentration in composition, is also a pre-med student at Notre Dame. He recently stepped up his involvement in music, starting a new club for musical composers on campus.
He says he started piano when his mother forced him to take lessons at a young age. Over time, he came to enjoy the artistic and emotional expression the music allows. He enjoys the camaraderie of music, showing a lighter side by posting a rendition of Ed Sheeran's "Galway Girl" for his fellow travelers who studied in Ireland last spring. He wants to be a doctor but said piano will always be a big part of his life.
"It's not so much about physical dexterity in the fingers, though that is good for some medical specialties," Tang says. "It's more about having a creative outlet."
Likewise, Markovitz started a new classical music club on campus. She began taking voice lessons in high school but said she didn't realize her potential until she was accepted into a young artist program with the Opera Theatre of St. Louis.
Besides vocal performance, she also majors in economics and minors in constitutional studies. She hopes to pursue a career in opera and concert performance or possibly in the business side of the classical music industry. Her passion is evident as she finishes her noontime practice recital with a "rage" aria by Mozart, completing the emotional cycle.
"I can't wait to see where this new facility takes the music program at Notre Dame," Markovitz says. "It's exciting and it shows the University is really committed to music."