No textbook required
Next: Going Seamless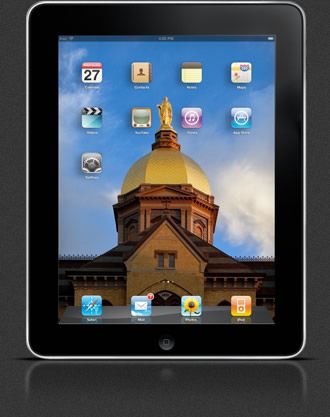 The 40 Notre Dame undergraduates who signed up to take Project Management last fall were in for a bit of a surprise when they checked their course materials lists. Instead of a trip to the bookstore to pick up textbooks, they were instructed to show up to the first class with something lighter and, well, way cooler – an iPad, the much-hyped eReader device Apple had released just a few months earlier. "I was pretty excited about the opportunity to use the iPad," recalls Wes McGinnis, a then-senior majoring in management consulting. "But I was also a little anxious to see how it would fit in within that setting."
Also curious about how it would go was Corey Angst, the faculty member behind the unusual request. An assistant professor of management and a member of Notre Dame's ePublishing Working Group, Angst wanted to see what would happen in an entirely paperless classroom. "We wanted to know whether students felt the iPads are useful and how they planned to use them," Angst said at the start of the pilot course, which was part of a unique, year-long study of eReaders. "I expected the students would rely on them to develop creative ways of collaborating with their teammates. They were able to share documents, timelines and to-do lists, and show sketches to their clients. The possibilities were endless."
The University-loaned iPads were a pretty big hit, according to the results of Angst's research, which showed students actually liked them more for their interactive capabilities than as a substitute for a textbook. "It wasn't the eReader function of the iPads that won over the students," Angst explained. "It was a host of other features that support learning."
Checking statistics, watching videos and the ability to instantly pull up information to contribute to discussions were among the tasks that earned the device high marks. "Those sorts of things made the class more interesting and dynamic and could never have happened in the past," said Angst, who surveyed his students after the course and found, among other things, that given the choice, the vast majority of them would opt for an iPad over a textbook in future courses. "They made our project more streamlined and efficient," said senior Gabrielle Tate. "I definitely had a much better experience in class because of it."