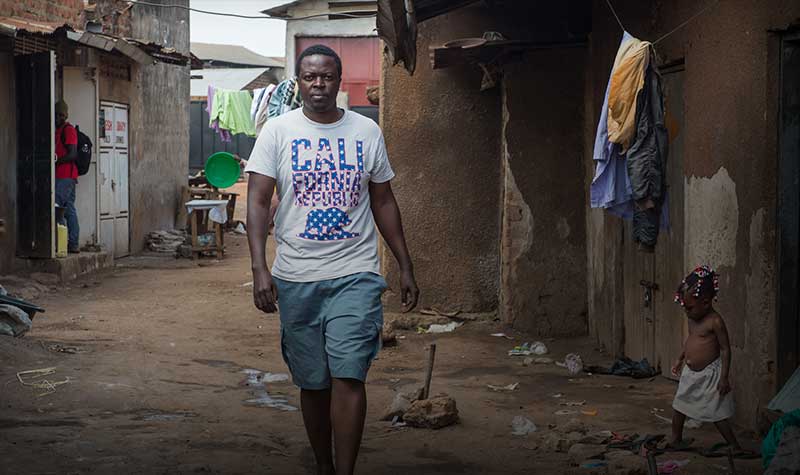 Alex Kawooya
A trip back to his origins in a Kampala slum reminds Kawooya how far he has traveled. Through ambition and education, he now owns businesses in telecommunications and internet service.
The first place Alex Kawooya drives us is the home where he grew up in the Kalerwe area of Kampala, Uganda. It's not far from a western stereotype of an African slum: narrow dirt footpaths through crumbling mud buildings with patchwork tin roofs, ditches that drains the sewage and trash, people washing clothes in plastic buckets, clothes drying on drooping lines, and kids running around barefoot or slung on their mother's back.


He moved out of Kalerwe with his family when he was 11. He now owns two successful businesses employing 15 people in telecommunications and internet hardware, setup and service. He studied business and entrepreneurship for six weeks at Notre Dame in the summer of 2016 as a YALI fellow. Now he's applying for the University's Engineering, Science & Technology Entrepreneurship Excellence Master's (ESTEEM) Program.




Many Ugandans still carry around two cell phones, one for calls and the other for texting. The business was agile enough to adjust when new services such as WhatsApp transformed the market, so it was cruising along when Kawooya saw his next opportunity.
Customers often inquired about problems with their Internet service or computers, figuring that techies would know about tech. So he started a second company, Rackmount, that sets up and repairs office hardware and software for businesses, government and NGO's.

"They gave us a bigger picture," he says. "It made us sit back and think about this more seriously. Now when I think about my work, I'm really not thinking next month, but where will I be in the next five years."
Kawooya also appreciates the connections he made in the U.S., other African countries and Uganda. He now has contacts at firms like IBM, Hewlett-Packard and Facebook. He shows me WhatsApp chats going on with both his international cohort from Notre Dame and the 60-plus YALI alumni in Uganda. He is running to replace Zalwango as president of the Uganda alumni chapter.
"We still communicate and talk every day in a group chat," Kawooya says. "Those relationships are key, both personal and in career. If I want to start a business in another country, the first person I'm going to call for advice is the YALI fellow from there."

He says his educational journey still has a long way to go, possibly even back to Notre Dame. His world is so much bigger now than the Kalerwe slum or even Kampala, yet his humble origins still provide the driving force.
"It goes back to that trip we had to the place where I grew up," he said. "I can see the broader picture of – this is where I was, this is where I am now. I want to improve myself personally, do my master's. I want to expand my business, hire as many people as I can, have many international partnerships. Up until I'm at that point, I don't feel like I'm there yet."